The Zwift experience with Lionel Sanders – Wednesday 3rd January
Well, that was quite a way to kick off 2018 with the fourth TRI247 Winter Series Group Workout on Zwift. Wednesday night's 70-minute session was set and lead by the current ITU Long Distance Triathlon World Champion (and World Ranked #1), Lionel Sanders from Canada.
Well known for his uber-biking ability, the session provided by Lionel was one of his "bread and butter" sets – and over 300 riders online, from all over the world, were going to ride it with him.
Thankfully, the wonders of the Group Workout function on Zwift meant that we could all work to our individual power (FTP) fitness levels, replicating the session that Lionel uses on a regular basis. I certainly wouldn't have wanted to attempt this at Lionel's power numbers…!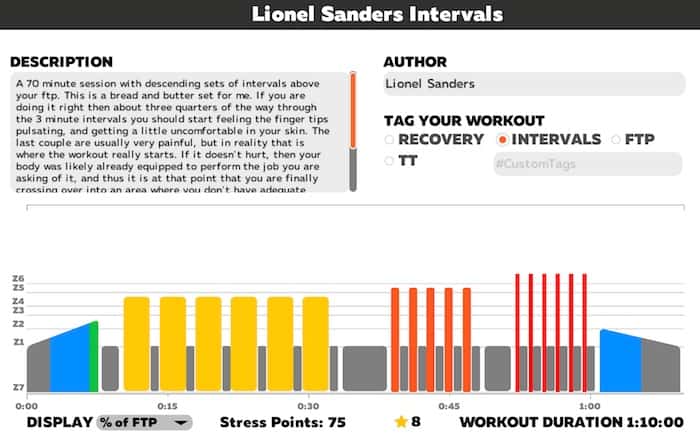 Even at my own weekend warrior levels, this was going to be a tough set. Beforehand, Lionel had said, "If your FTP values are accurate, then about three quarters of the way through the 3 minuters you should start feeling the finger tips pulsating, and getting a little uncomfortable in your skin. The last couple are usually very painful, but in reality that is where the workout really starts." No sugar-coating it then!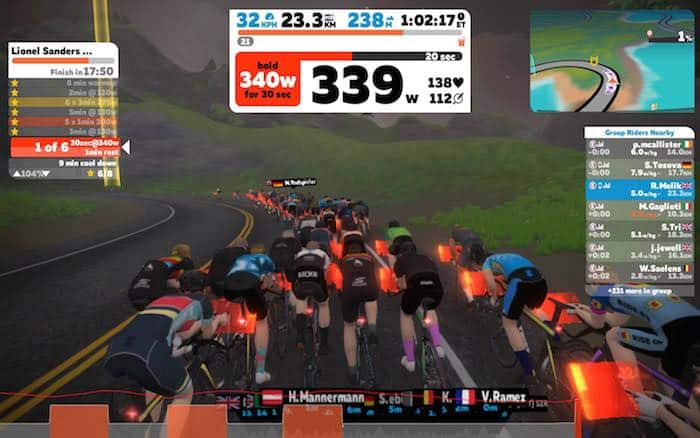 At 7pm on the dot we were off, and after the initial warm-up period was complete, it was 6*3mins at 105% of FTP with just one minute of recovery in between – which seemed to get shorter and shorter as we approached the final rep. However, the 'group' dynamic really helps – and even though you can't 'see' anyone physically, knowing that so many other people all over the world are doing exactly the same thing, at the same time, all represented by their Zwift Avatar on the Watopia course, is a huge motivation. Seriously, I'm not sure I would have completed the session on my 'own'.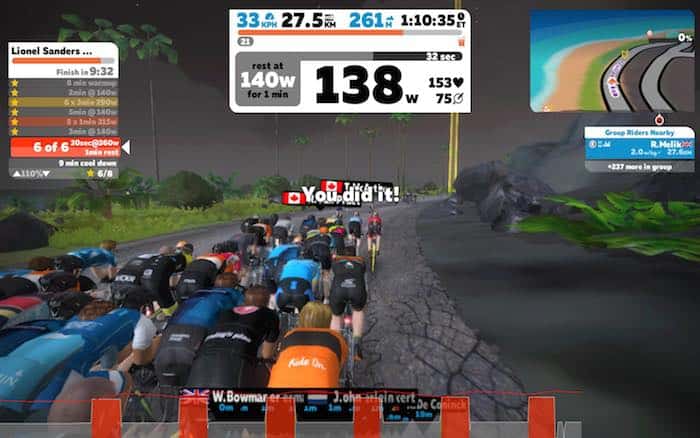 We've already had lots of great feedback on the event – if you've not tried it yet, join us in future weeks on a Wednesday night!
Well that was a blast! 300 brave Zwifters joined the @tri247 Zwift Winter Series hosted by @LSandersTri on Wednesday 💪💪🏾💪🏼

More coverage from yesterday's event including a download link to Lionel's Custom Workout file👉https://t.co/uCdcsEI5cv pic.twitter.com/tGkcTedyG3

— Zwift (@GoZwift) January 4, 2018
Late on the turbo tonight so slightly unplanned jumped on @GoZwift session run by @tri247 with guest host @LSandersTri. Loved it, bit broken but boy that was a good session!

— Simon Tubb (@simontubb) January 3, 2018
Even Lionel has told us post-session that the group dynamic improved his own performance:
Thanks for having me on. It was fun. I pushed more power than I would have had I done it by myself.
https://www.instagram.com/p/BdgTM5cHMdh/?hl=en&taken-by=lsanderstri
If you missed the session you can download the custom workout HERE.
The next session?
The next TRI247 Winter Series session on Zwift will be held on Wednesday 10th January 2018 at 7.00pm UK time with the ride leader to be announced shortly. If you are not on Zwift yet, then see the details below on how to RIDE ON!
https://www.youtube.com/watch?v=XNTXAkky4qE