TRI247 Workout Series #145 – Stages Power Builder Series Week 1


YOUR CHANCE TO WIN A GPS BIKE COMPUTER
Wednesday, 4th November 2020 – 7.05pm UK time on Zwift
As we announced on Friday (CLICK HERE FOR MORE), we have an exciting addition to the weekly TRI247 Group Workout Series this month.
In conjunction with Marc Jenkins and Rhys Jones at JinxSport (www.jinxsport.com), we have a four week Power Builder Series. As well as the Wednesday night group workout which will be lead by Athens 2004 Olympian, Marc, the Jinx Sport team will also be providing detailed advice and guidance on other sessions you can do during the week to complement the group workout, along with additional tips on making the most of your training.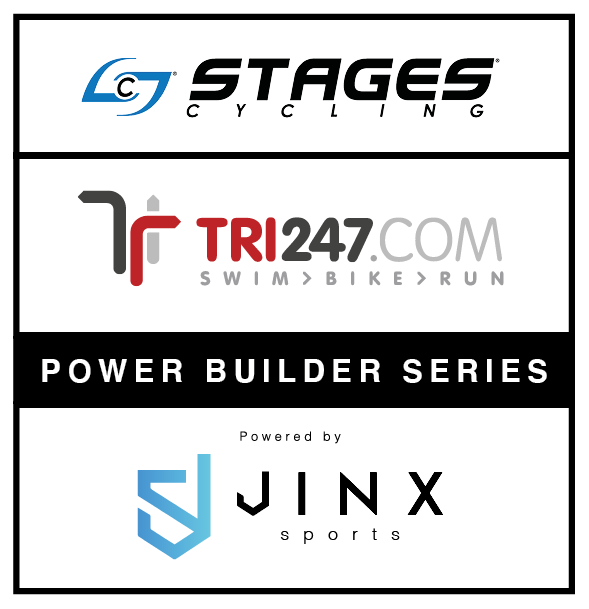 Not only that, but with a huge thanks to Stages Cycling (stagescycling.com), each week one rider from that Wednesday night group session will win a Stages Cycling Dash M50 GPS Bike Computer loaded with a wide range of training features that make workouts like this one easier to execute. That's a prize worth more than £200!
If you've not yet experienced Zwift (www.zwift.com), the market-leading indoor training platform, then what better time to give it a try. These links will help you get started – hopefully we'll see you (virtually!) online soon.
And with that introduction, here's the update from Marc and Rhys on this week's plan.
---
WEEK ONE
The first week of any plan is usually the most difficult as we have to change things around within our day-to-day lives to make everything fit. The best way to start this four week plan is to look at our week as a whole, and then slot in the workouts around everything else we have going on in our lives.
The main areas not to neglect from a performance standpoint is to get enough sleep (7-9 hours per night), proper nutrition, good recovery strategies (massage, foam rolling etc.), and functional equipment (no one wants to waste time on basic bike maintenance just before a hard set). We also need to be honest with the effect work and personal lives have on our bodies, as a stressful day can have a big effect on the quality of a session. We never ask an athlete to push a big session when they are tired. We simply re-plan and place that key workout at a time that's going to give the greatest benefit.
Intensity
Prior to this four weeks block it would be very useful to have completed an FTP test or at least have a very good knowledge of your current FTP. However, an educated guess can be used then adjusted as you progress through the weeks. You will still be able to complete this 4-week block if you don't have access to a power meter by using a RPE scale where 1 is sleeping and 10 is max effort. For example, 95% FTP would be a 8/9 out of 10 in effort, depending on the duration of the rep.
The Week's Outline
The key workout on Wednesday evening will focus on riding at an intensity that will improve your maximal aerobic capacity without adding a large amount of fatigue for the following days training. That's not to say it's not challenging, but performance is all about consistency and we want you to be able to get up the next day and train again… not blow your legs off in one ride!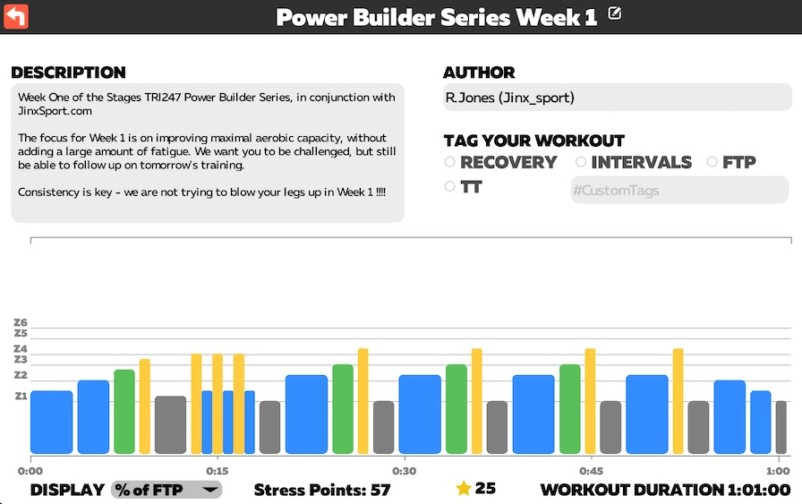 (ZWIFT EVENT LINK >>> https://www.zwift.com/events/view/1176011)
The rest of the week should include the following:
longer ride up to 2 hours where you work at a lower intensity between 65/75% FTP as this will improve fat metabolism and allow your muscles to form the correct movement patterns for higher intensity work in the future.
A 60/90min ride where you attack any climbs around 80/85% FTP for short periods. this is Tempo/Zone3 work that will improve aerobic capacity and help us get used to a small build up in lactic acid. Complete the rest of the ride at a low intensity e.g .4x8min at 80/85% FTP with 8min at 65/70% ftp.
A shorter 45/60min ride which you can possibly do fasted (if health allows), to again improve fat metabolism or add in single leg drills for form and an extra core strength element, eg 1min left leg, 1min both legs, 1min right leg 1min both and repeat 5/10 times.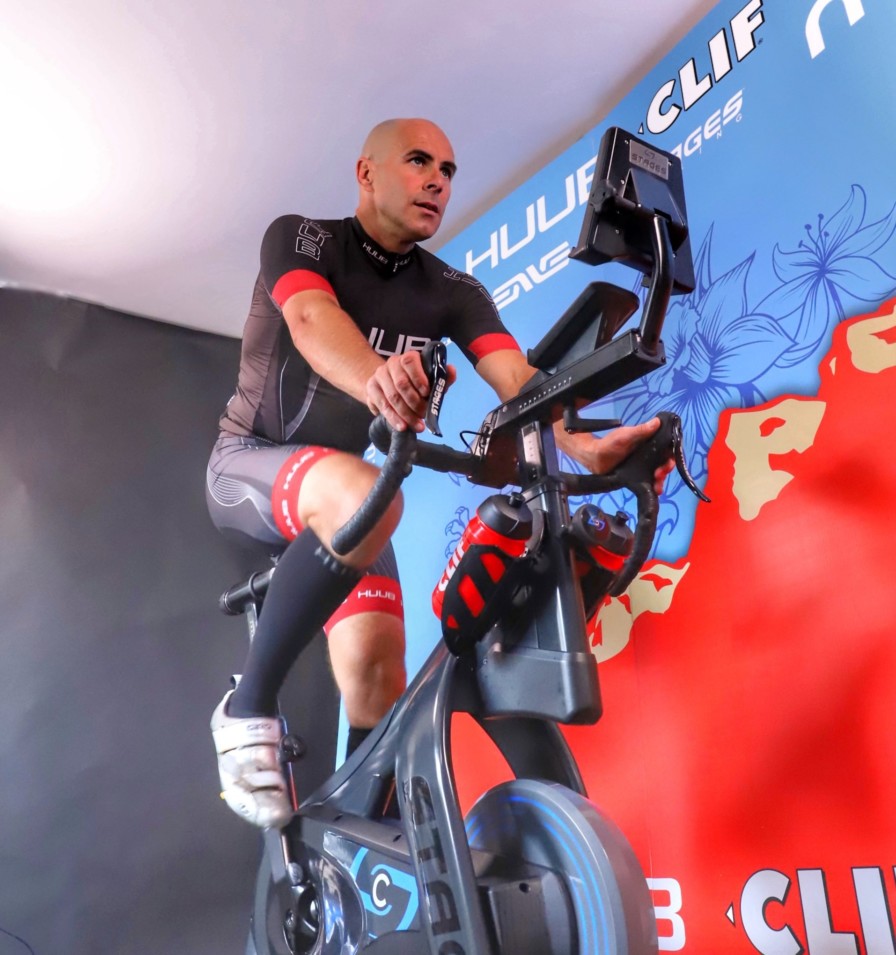 Other Training Tips for the Week
Flexibility and mobility are usually neglected by endurance athletes and many of the overuse injuries we get are to do with tight or weak muscle groups. Get yourself booked into a yoga or pilates class to help improve this (that might be a challenge in the current COVID environment). A more flexible mobile body is a faster body.
Sports nutrition is also an area to work on as a triathlete, so add in some energy gels and protein bars. We love CLIF BAR Bloks to keep the energy high on hard rides and eat far too many chocolate CLIF BAR protein bars to aid recovery.
Have a great week and we look forward to seeing you on the ride Wednesday. If you have any questions about, comments or feedback from this week's sessions, please feel to reach out on [email protected] or @jinxsport on Facebook.
Marc and Rhys
JinxSport.com
(PS – Don't forget that these sessions and advice provide are generalised for the wide audience of TRI247.com. You can always make them harder or easier depending on your personal ability. Also, if you are unsure about your health or wellbeing it is always worth checking with a medical professional before undertaking any physical activity.)