The TRI247 Winter Series #3 – Train with Lucy Gossage
Wednesday, 27th December 7.00pm UK time on Zwift
Following on from our successful train with Lucy Charles and train with Joe Skipper events over the past two weeks, the next session in the TRI247 Winter Series on Zwift is brought to you by 9x iron-distance champion Lucy Gossage. Lucy has put on her Santa Hat and we have got the 12 Days of Christmas to work through! So, get your turbos ready (hopefully Santa has dropped some new ones off?!), Slade on repeat… and maybe a couple of gels near by?!
The '12 Days of Christmas' session by Lucy Gossage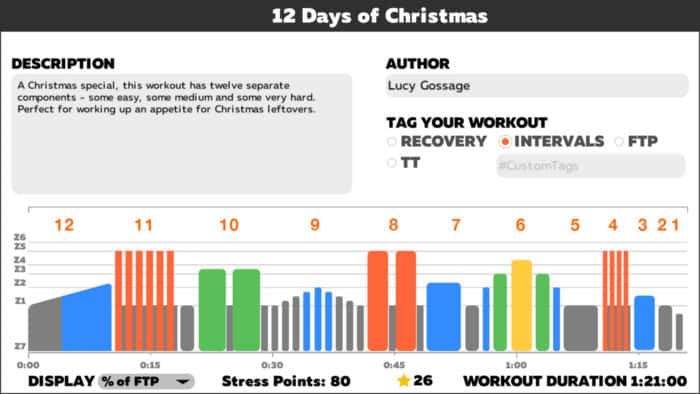 The workout will begin promptly at 7.00pm UK time*, Wednesday 27th December 2017. It is worth logging in 10 or 15 minutes before the session to make sure you are set up and ready to go.
* As well as Ironman Champion Lucy Gossage is also a full time cancer doctor and is working on Wednesday 27th. If she is a bit late for the session we are more than prepared to forgive her 🙂 You on the other hand have to be there! 
https://www.youtube.com/watch?v=XNTXAkky4qE
Look for the TRI247 Winter Series event in the list on the right of the screen once you have paired your sensors. Click to JOIN and you will be taken to the start line ready to begin the workout.
Make sure you have set your FTP level correctly before you join the workout as all the intervals are based on a percentage of FTP so it is important to get that right. If in doubt, dial the FTP number down 10 or 20 watts as it is better to finish the session than to feel like it is too challenging.
If you have never used Zwift before but don't want to miss out, head to the Zwift support page for tips on how to get the most out of your setup.
In future weeks, we plan to get more professionals and characters from the UK triathlon community involved, so it would be fantastic to see a large turnout every Wednesday evening. After the session head over to the TRI247 Facebook page for some post ride chat.