TRI247 Workout Series #21 – Simon George
Wednesday, 2nd May 7.00pm UK time on Zwift
Wednesday's TRI247 Workout Series group session on Zwift will be lead by Simon George.
Simon is a GB athlete with a focus on middle distance races, notably the Outlaw events at Nottingham and Holkham organised by OSB Events.
He was part of one of the most exciting finishes we have ever seen at Holme Pierrepont in 2016, when after leading almost from gun-to-tape at the Outlaw Half Nottingham, he was overtaken in sight of the finish line by Karl Alexander, another athlete who has previously hosted our Wednesday night Workout Series (HERE and HERE).
The 2018 Outlaw Half is fast approaching (20th May), and both Simon and Karl will be back, hopefully to provide similar drama… though this time, Simon will be hoping for a different ending!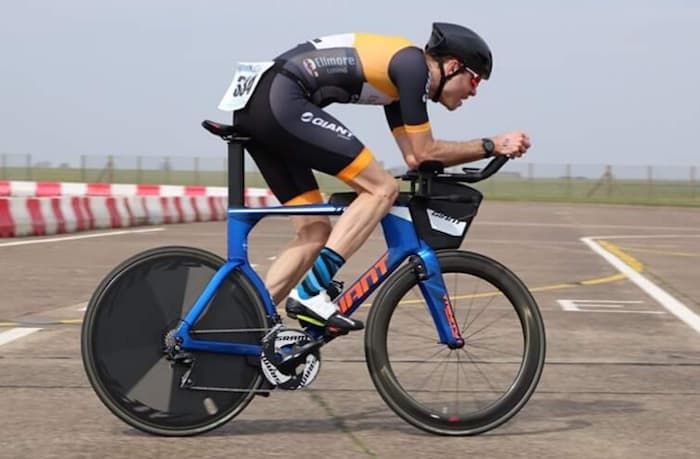 Given that Simon in six foot five inches tall, and rides a Giant bike (courtesy of Giant Lincoln – who are also the bike partner for OSB Events), it will be no surprise to hear that this weeks session is called The Giant! Here is Simon's comments on the workout:
"This is a GIANT of a session, so be prepared to hurt for this one as it's a real leg burner! After a couple of short efforts and few minutes of Sweetspot work to warm the cockles up, it's time for the real meat of the session – three blocks of 10x 30 seconds on / 15 seconds off at 125%FTP, with three minutes recovery between blocks.
"It's not your conventional type of interval session, but my training never really fits with the norm and I need a lot of bang for my buck… So, expect to have to dig deep, and suffer. The pain is worth it in the end!"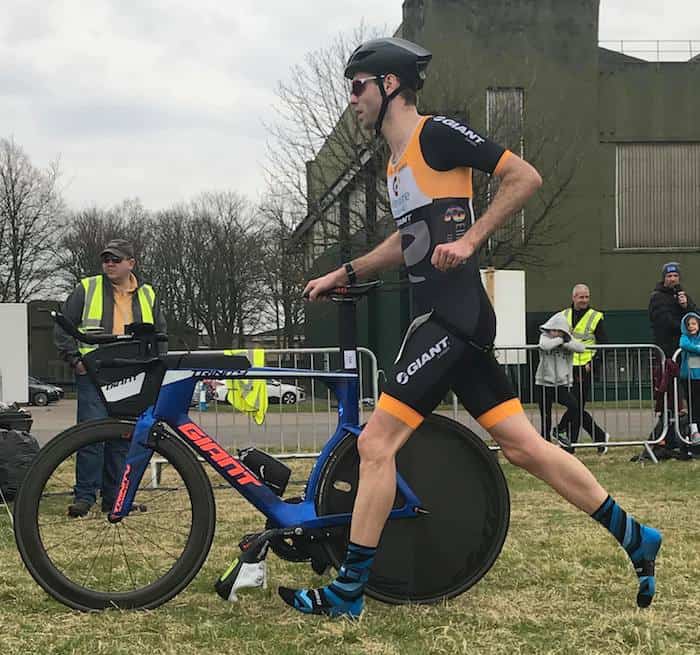 The Session:
Following a progressive warm up and ending with a cool-down period, the main elements of 'The Giant' one hour session are:
Set 1
5*10secs ascending Z6 [120/130/140/150/160%]
20secs Z1 [50%] recovery intervals
Set 2
5min Z4 [90%] Sweetspot
Sets 3/4/5
10*30secs Z6 [125%]
15secs Z2 [60%] recovery intervals
3min Z1 [50%] recovery between sets
Set 6
5min Z4 [90%] Sweetspot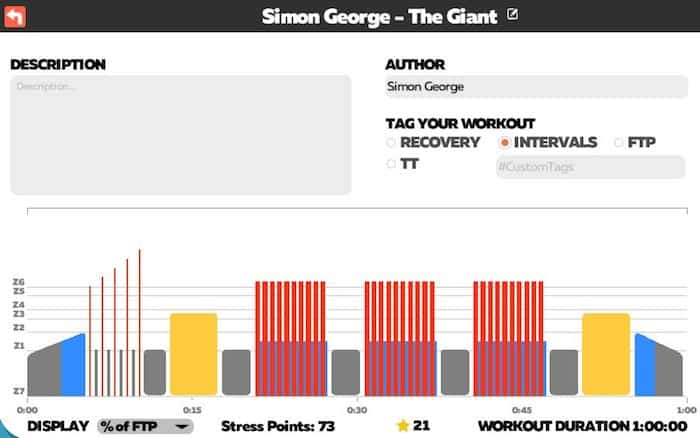 (As with our other events to date (Lucy Charles | Lucy Gossage | Lionel Sanders | Joe Skipper | John Levison | Ruth Purbrook | Tim Don | Reece Barclay| Harry Wiltshire | Paul Shanley | Karl Alexander | Jenny Gowans | Matt Bottrill | John Levison #2 | Sam Begg | Paul Shanley #2 | Karl Alexander #2 | Richard Stannard | Race Force), we will publish the Zwift Custom Workout file from the session after the event, so that you can also do the session in your own time).
Joining Instructions:
The workout will begin promptly at 7.00pm UK time, Wednesday 2nd May 2018. It is worth logging in 10 or 15 minutes before the session to make sure you are set up and ready to go, where you will be able to warm up in the virtual 'holding pen'.
https://www.youtube.com/watch?v=XNTXAkky4qE
Look for the TRI247 Workout Series event in the list on the right of the screen once you have paired your sensors. Click to JOIN and you will be taken to the start line ready to begin the workout.
Make sure you have set your FTP level correctly before you join the workout as all the intervals are based on a percentage of FTP so it is important to get that right. If in doubt, dial the FTP number down 10 or 20 watts as it is better to finish the session than to feel like it is too challenging.
If you have never used Zwift before but don't want to miss out, head to the Zwift support page for tips on how to get the most out of your setup.
After the session head over to the TRI247 Facebook page for some post ride chat.
Zwift Group Rides: TRI247 Workout Series
The cool thing about a group workout on Zwift is that varying levels of ability can ride together in a group and all finish the session together having done the same relative effort, even if the actual watts are significantly different. It is not a race, but a shared goal to get a good session in the training log.