If the idea of a triathlon race is interesting, but swimming doesn't appeal, then Duathlon could be just the thing for you!
Governed by World Triathlon, Duathlon is an athletic event which comprises of two disciplines, namely running and cycling. A Duathlon is typically held in a continuous run-bike-run format, with the transitions between the disciplines also contributing towards overall race times and positions. The clock never stops.
Over the years the sport has attracted both Duathlon specialists and Elite triathletes to the highest profile events. Well-known triathletes including Emma Pallant-Browne, Richard Murray, Tim Don and Vanessa Fernandes have all earned Duathlon World Championship titles.
Duathlon has also developed its own specialists too, including the late, great Benny Vansteelant, Sandra Levenez and Rob Woostenborghs.
Duathlon distances
So, how long is a Duathlon? Just like Triathlon, there is no simple answer.
As with almost all events falling under the governance of World Triathlon, Duathlon distances are not rigidly set and enforced, and events are available on the racing calendar across a range of non-conventional distances. That said, the majority of Duathlon events will typically align with the following guidance:
Sprint Distance – 5km run | 20km bike | 2.5km run
Standard Distance – 10km run | 40km bike | 5km run
Middle Distance – 10km run | 60km bike | 10km run
Long Distance – 10km run | 150km bike | 30km run
There are World and/or European Championship events held across these distances annually, for both Elite and Age-Group athletes.
Training for a Duathlon
A 'how to train' could fill an entire website by itself, but here are some Duathlon-specific tips to think about:
Transitions
During a race you will typically have a run-to-bike transItion (T1) and a bike-to-run transition (T2). Don't wait until race day to try them! As well as learning the 'how', it will also give you confidence that you have all of the kit you need prior to race day. As this is a beginner-focused feature, don't be afraid to seek some guidance and advice. We've all started from ground zero at some point!
Train your weakness
Again, if you are new to this, it's quite possible that you may have arrived here to find out more about Duathlon as either a 'cyclist' or a 'runner'. You do need to train both sports – but if you already come with a strength in one, don't be afraid to give up some of that to learn your new sport too.
Of particular note if you are a cyclist – due to the additional impacts, you should introduce running frequency, distance and intensity gradually to reduce the chances of injury.
Back-to-back training
Regularly referred to as 'Brick' training (combining two sports), it makes sense to prepare for what you will be doing on event day. So, for example, following a bike ride with a run – even a short one – regularly in training, will help get you familiar with the 'jelly leg' feeling that all duathletes and triathletes are familiar with!
If you train indoors at a gym for example, that's a relatively easy way to combine training via a treadmill and a static bike for example.
Where can I do a Duathlon near me?
There are a number of online resources available when searching for potential events located in your area. The national governing body of your region (for example Great Britain or the USA) is often a reliable place to start, along with numerous event search engine options.
We will again share the same advice we have outlined elsewhere – namely, join a local club! if you are totally new to the sport, then that really is a great way to find out what is going on locally.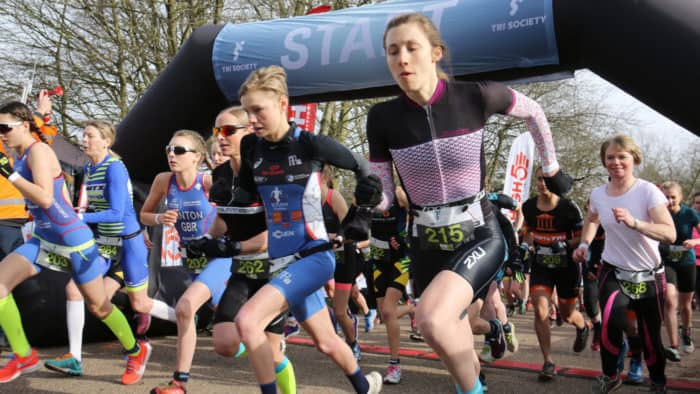 Research shows that running is the sport from where the largest number of new entrants into triathlon and multisport events originate. With many of those not necessarily having a swimming background, Duathlon can provide an excellent entry point.
Eliminating the need for a potentially expensive swim venue (pool hire or lake plus the required water safety crew for example), Duathlon events are often used as a way to introduce new athletes to the sport too, via initiatives such as British Triathlon's 'GO TRI' programme.
Just 'Du' it!
Duathlon kit
What do you need to take part in a Duathlon event? Here are some of the basics, along with some tips and thoughts on what to do (and not do!).
Running Shoes: Don't wear new ones for the first time on race day! Unlike triathlon and aquathlon events, given that you will typically start with a run, we would highly recommend that you wear socks from the start and throughout the race. Another time-saving tip is to use elastic laces or lace-lock systems such as Greepers laces. When you are tired and trying to save time between disciplines, this will allow you to quickly change out of (run to bike) and into (bike to run) running shoes! Trying to tie and untie standard laces under race conditions, while tired, is not an easy or quick task.
Trisuit: A trisuit solves the problem of having one item of clothing which you can wear for the whole event and would certainly be our recommended option. However, you do need to also consider the weather conditions and potentially adjust accordingly. In the UK at least, some duathlon events will take place in the autumn or winter months, and so additional coverage/layers (e.g. arm warmers / running leggings / a cycle jersey or gilet) may be appropriate additions. Cold conditions tend to have the most impact while cycling (due to the wind chill effect) so gloves can also be useful.
Race belt: Most events will require you to display a paper-style number, usually on your front, during the run leg and the back during the cycle discipline. Trisuits are generally tight-fitting and technical garments which are not designed to have safety pins put through them. A simple race belt typically costs well under £10 and you can pin your race number to that and slip/clip it around your waist in transition before your start the run leg. We can tell you from experience that is far more preferable than putting holes into potentially expensive racing kit! A race belt will typically last years too and is a great addition to any multisport athlete's kit bag.
A bike: Of course! While there are a world of different options and budgets available for bikes when you are starting out, the most important considerations are a) that the bike fits you appropriately, and b) that it is in good and safe mechanical condition. While there are some specific rules around bikes (e.g. BTF Competition Rules), broadly speaking, any 'regular' type racing / hybrid style bike will be suitable when starting out. If you have one on those already, we would certainly suggest using that initially before perhaps spending what can be significant money and then quickly realising that wasn't really suitable for your needs. A little bit of experience – and our ever-present suggestion of joining a local club if you can – can rapidly increase your knowledge and confidence in what can often seems a complex area.
Cycle helmet: This is essential, compulsory equipment and you will not be able to race without one. In truth, you really should always train with a helmet anyway. Modern cycle helmets are light, comfortable and available without spending huge amounts of money either. From the BTF rulebook, "Approved cycling safety helmets of ANSI Z90.4, SNELL B90, EN 1078 or an equivalent national standard must be worn by competitors…"
Cycle shoes & pedals: This is an optional one. You broadly have three choices when cycling. 1) Cycle in your running shoes on normal/flat pedals. 2) Cycle in your running shoes, using toe-clips on your pedals. 3) Use cycling-specific shoes in conjunction with 'clipless' pedals.
The benefits of using cycling shoes and pedals is efficiency. Cycle shoes are very rigid in the sole, meaning that power transfer to the pedals and into speed is enhanced. While initially the idea of being 'clipped in' might seem quite scary, it's actually safe. A simple move of the foot will allow a pedal to disengage, in a similar way to skis and ski boots. Start with whichever you are most comfortable with, but sooner or later you will likely see the benefits of sport-specific shoes and pedals. Further to that, there is a wide range of multisport specific cycling shoes which will invariably use velcro closures, further enhancing speed of entry/exit in transitions! They are also a good buy, because pedals are very easy to switch between bikes, so if and when you upgrade/change your bike, you simply keep your pedals and fit them, typically with a single Allen key.
You can click here for our beginner's guide to bike pedals
Hat/Visor/Glasses: All optional, but on a sunny/hot day, one or more of these may make your run more comfortable – personal preference!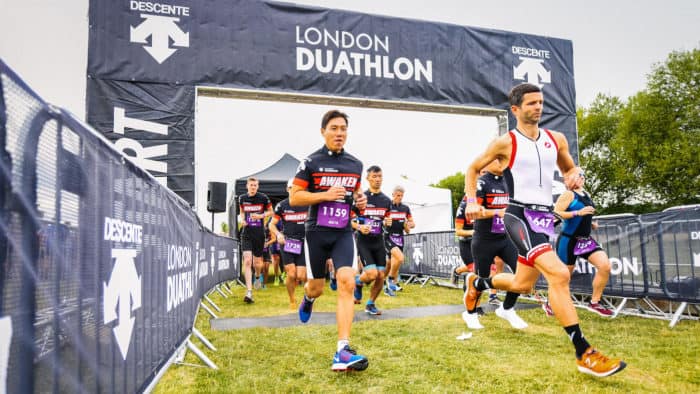 DUATHLON FAQ
We answer some of the questions you may well be asking about Duathlon.
Is Duathlon easier than Triathlon?
That's an interesting one – and you will probably get different answers, depending on who you ask! On the surface, preparing for two disciplines (cycling and running) eliminates the need for swimming (which itself is quite a technical sport and difficult to master, especially if you are starting later in life).

That said, many – and we would agree – feel that Duathlon races can feel harder than a Triathlon. With no impacts in swimming, your speed is often limited by your own technical skills (or lack of!), rather than simply physical effort. Starting a race with a run, heart rate can be very high from the start and combined with the physical impacts of running (with a cycle and a second run still to come), many find the overall impacts of Duathlon racing harder.
Should I aim for my best time on the first run?
Absolutely not! Pacing in Duathlon events is important because it is very easy to mess your race up within the first few minutes of the first run.

Think of it this way. If your absolute best, 100% effort for 5km is say 25 minutes (perhaps at a local parkrun), does trying to repeat that at the beginning of a Duathlon – while still expecting to perform well on the bike and then second run – make sense? Clearly not.

A few seconds gained in that first run can easily lead to losing many, many minutes later in the race if you are already 'blown' at the first transition! Save the 'PB' run attempts for running races, and thInk of Duathlon as one sport.
Can I use running and/or cycling kit, as I don't have a trisuit yet?
Absolutely. When starting out in particular, we would actively encourage you where possible to make use of any kit or equipment you have. Aside from giving you the opportunity to find out if a new sport is one you want to continue with, as you gain experience you will also gain knowledge which will help you make the best choices if and when you do buy additional kit.

Cycle shorts are not perfect for running (the chamois / pad is typically quite large), while running shorts are not ideal for cycling (no padding / potential chafing from seams etc), but if you are a beginner, starting with short-distance events, they are not deal-breakers as such.

A loose / flappy running vest is not ideal for the cycle section, so a close fitting cycle jersey or running top is probably a better choice.

There's nothing like learning from experience, so give it a try and good luck!