If you're a beginner looking to take on the triathlon, then firstly, congratulations. You're about to enter the addictive world of multi-discipline endurance sport.
Secondly, there's no escaping the fact that you're going to need to invest in some kit, but that doesn't mean you need to spend a fortune. Unsure of what you need? No stress, we've put together the essential triathlon kit list for beginners.
Already have the triathlon gear you need? Time to put it to use – time to start your training with one of our FREE triathlon training plans or why not check out the our recommendations for the best triathlons for beginners in the UK & Ireland, Europe and USA.
What gear do you need for a triathlon?
The essential kit you will need for your first triathlon includes a bike, helmet, puncture repair kit, running trainers and a race number belt. Optional items include a trisuit, wetsuit (temperature dependent) and a transition towel, bag or box.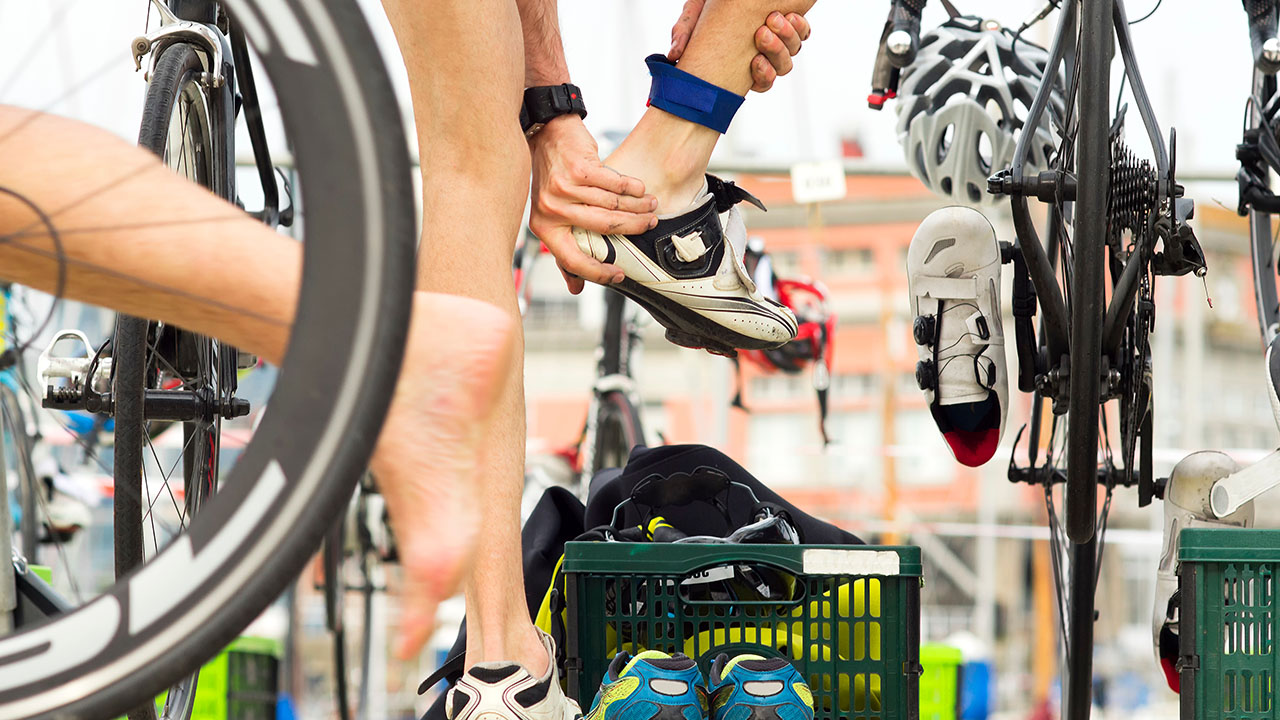 Triathletes love their kit, but that doesn't mean you need to spend a fortune. You maybe able to get by without a couple of the beginner triathlon gear below but we wouldn't recommend it!
Wetsuit
If you're swimming in cold water, you'll need a wetsuit. Depending on the event distance, wetsuits are often mandatory below a certain temperature. Luckily wearing a wetsuit has added benefits, particularly for beginners. Wetsuits provide buoyancy, helping you to float more easily which can be particularly helpful for weaker swimmers.
Is a wetsuit necessary for triathlon?
For open-water swims wetsuits are often mandatory so make sure you check the rules for any race you are considering entering. It is also important that you practice in your wetsuit before race day!
Do you need a trisuit for a triathlon?
Trisuits are almost always worn by experienced and elite level triathletes but they are not essential for beginners. They are specifically designed for triathlon and offer a combination of comfort, convenience and performance benefits.
Goggles
Goggles might seem like the most basic item in your triathlon kit bag but they're key to a successful swim section. Poorly fitted, low-quality goggles will slow you down or even stop your swim, as you struggle to clear the lenses or stop water leaking in. While a top-quality, great fitting pair will see you zip through the water, the finish line clearly in sight.
Swim Cap
Another small but mighty tool in your triathlon kit is the swim cap. A good quality swim cap will make you more streamline in the water, keep you warm, protect your hair and keep it out of your face.
Some events will provide mandatory swim caps as they use them to differentiate between waves, so always check the race information carefully. Many triathletes will wear a swim cap below the mandatory race cap. The second cap covers their goggle straps, both to keep them in place and to reduce drag in the water.
Either way, a silicone swim cap, although a little more expensive, will be the most durable to add to your triathlon kit. Pick a bright colour if you don't need to wear a race cap, this will help swim safety spot you.
Bike
If you're just starting out or aren't completely sure if triathlon is for you then a standard road, mountain or hybrid bike is good enough. And it doesn't need to cost a fortune. Road bikes will provide the best gearing and smoother tires. However many participants race on mountain bikes or hybrid bikes which still do the job. What's most important is that the bike fits you and is comfortable to ride over a long distance.
What is best bike for triathlon beginner?
If you're just starting out a standard road bike is good enough. However many participants race on mountain bikes or hybrid bikes which still do the job.
Helmet
Never skimp on safety. Bike helmets are compulsory on all triathlon courses so don't miss one from your triathlon kit. Marshals will ensure that they are fastened properly before you remove your bike from the rack until you rerack it at the other end.
Invest in a high-quality helmet and you'll not only ensure your safety and comfort but also reduce your drag, possibly saving you precious seconds. Ensure your helmet fits snuggly, is lightweight and provides enough ventilation to keep your head cool.
Top tip: A clasp that's easy to use when your hands are cold is a life-saver.
Tyre Repair Kit, Tools & Pump
A road-worthy bike is the bare minimum for entering a race. Take your bike for a safety check, or learn how to perform one yourself to minimise anxiety ahead of race day.
Keep in mind however that even if you get your bike checked there's always a possibility you could get a puncture during the event. Ensure you have a puncture kit, and tools to remove / replace the tyre, with you during the race and that you know how to use them.
Stay calm, get it fixed and get back into the race. Compressed gas canisters are a compact replacement for a pump and are easily carried with you on the bike.
Transition Towel
Whether you're using it for training or on event day all triathletes need good quality, quick drying, lightweight towels. In particular because a large, bulky towel can be a nightmare to lug around and pack ahead of race day.
For transitions in particular, you'll want a thin, super absorbent towel so you can get your feet dry as fast as possible. We'd suggest choosing a brightly coloured or uniquely patterned towel, so that you can easily spot it in the transition area. Many triathlon towel brands offer towels that come with small bags, so nutrition or valuables can be kept safely in one place.
Running Shoes
We don't need to tell you that comfortable running trainers will make the world of difference to your triathlon performance. But specifically you'll want to look for a pair that offers support and cushioning without being heavy. Breathability is also important as any remaining moisture could create discomfort, bad odour and even fungi.
Do you need special shoes for triathlon?
A good pair of running trainers can be worn on both the bike and during the run whilst training and during triathlon races. As you progress you may want to consider adding a pair of cycling shoes that allow you to be more efficient on the bike.
You'll find plenty of running shoes designed specifically for triathletes but realistically they don't offer much more than a good pair of running trainers. However some may come with elasticated laces which can save you time during transition. Whichever you choose to add to your triathlon kit, just make sure they're not box fresh on race day to avoid unwanted blisters.
Sunglasses
No matter the weather a good pair of sunglasses is vital to your bike and run sections. The large wraparound style of sports sunglasses might not be to your aesthetic but they will protect your eyes from both glare and wind.
We recommend choosing a pair that fits snuggly and features UVA lenses, to protect your eyesight in the long-term. Some brands will offer reactive or even interchangeable lenses so they can be worn in different light conditions.
Do you need sunglasses for triathlon?
Whilst not essential sunglasses do provide valuable support for triathletes, particularly on the bike, offering protection to your eyes from the wind, dust and sun.
Race Number Belt
On top of the basic triathlon kit listed above you'll also want easy access to energy gels, sun cream and lube. A race number belt, worn around the hips or waist, is primarily used as a place to attach your race number.
This is so you can always wear your number in the correct position (on your back for the bike section and on your front for the run) without wasting time moving it during transition. However most race number belts now also come with pockets and rip-tabs so you can carry the essentials with you without being weighed down.
---
This list of essential triathlon gear for beginners will ensure you're ready to race and feel confident on the start line. The next stop? One of our triathlon training plans, of course!