Based in the northeastern coastal city of Alcudia, this lesser visited region offers the fantastic weather and terrain that Mallorca is famous for, but maintains a more intimate Spanish charm than the Palma metropolis.
For some, the enduring popularity of the island as a tough cycling destination might make it seem an unlikely place for the less experienced athlete. However the team have created a course that offers a superb racing experience, but with a course suitable for even the most hill-shy cyclist.
With a warm ocean swim, single lap bike course and huge support on the run all make Ironman 70.3 Mallorca a great first time middle distance race.
Location – Sporting Haven
Established at the head of a broad sweeping bay at the northeastern most point of the island, access is quick and easy from the well serviced international airport in the capital, and largest city on the island, Palma.
The well established European summer holiday destination sits alongside thousands of years of history, with the Alcudia Old Town castle walls standing tall since the 14th century. With a rich mediaeval history and a long standing love affair with world class sporting events, Mallorca is the perfect match for IRONMAN.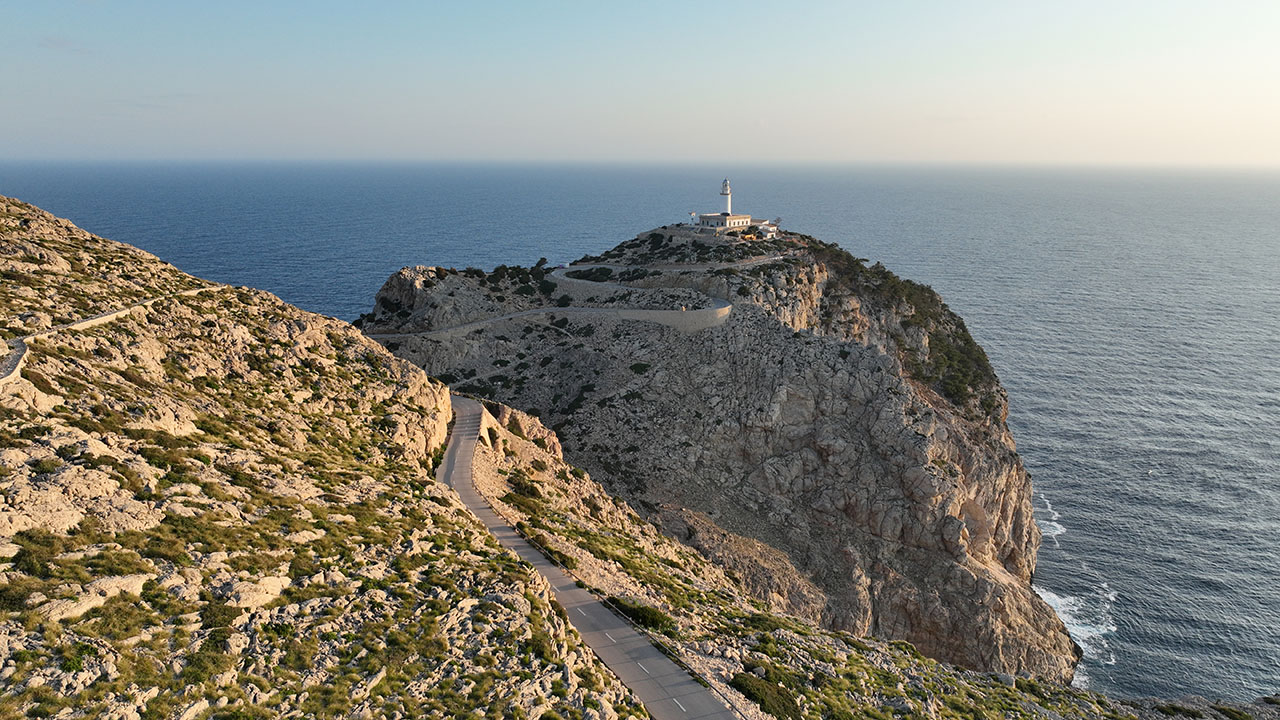 Whilst Mallorca does have a small rail network, they don't serve any of the coastal resorts, and with buses being affordable but infrequent, taking advantage of the plentiful private hire cabs is the best way to get around. Expect to pay around 60 euros for your transfer, but make sure you're aware of additional luggage costs! Also ride sharing services like Uber are actually illegal on the island, so don't rely on these to get around.
If you feel like a road trip, there are ferry services from the Spanish mainland to the island, however they're fairly expensive at around £350 return and take between 5 and 8 hours sailing time each way.
Course – Flatter Than Expected
With a sheltered swim and a comfortable average temperature of around 18°C / 64°F, it's a confidence inspiring and straight forward out and back route. Coupled with a single loop bike course with only one climb to speak of, and a lapped city run with plenty of support, this is a great place to experience IRONMAN 70.3 racing.
Swim
The swim course tracks the outer wall of the Alcudia harbour, making for easy sighting on the out leg. The south to north orientation should also keep visibility clear in the early morning, so with effective drafting and maintaining buoy visibility, it should be a quick course.
The route from swim to bike and into T1 is around 500 metres, so be prepared for the extra distance and try to be as organised as possible to minimise time loss.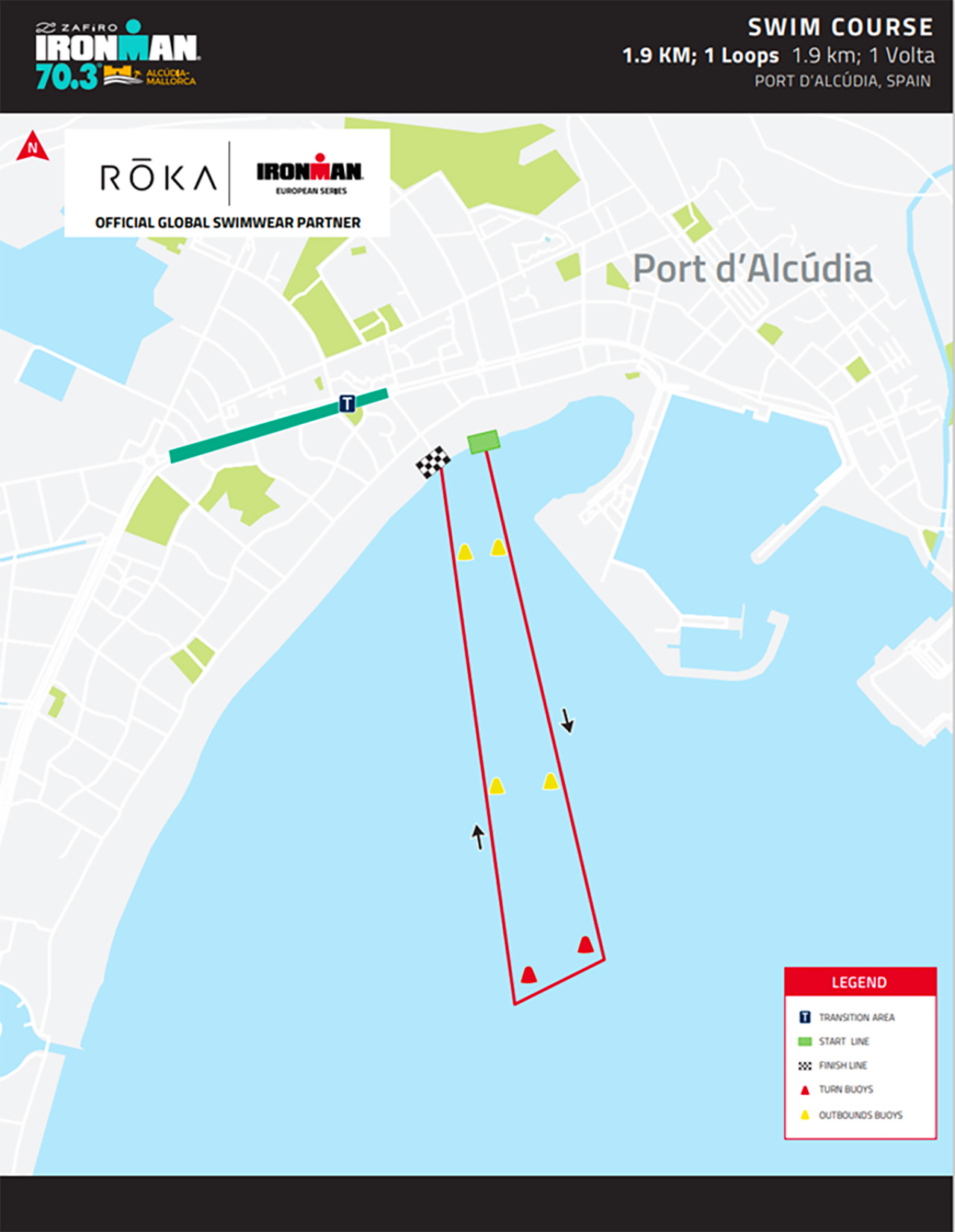 Bike
The bike course, whilst not extreme in pure numbers, does have a long climb and a technical descent that will suit the experienced bike handlers. The 6.5km climb might seem to favour a road bike, but with a well appointed TT rig you'll pick up plenty of time in the long fast descent back towards T2. Pack your shallower wheels to help maintain your aero position and not be caught out by gusty island winds.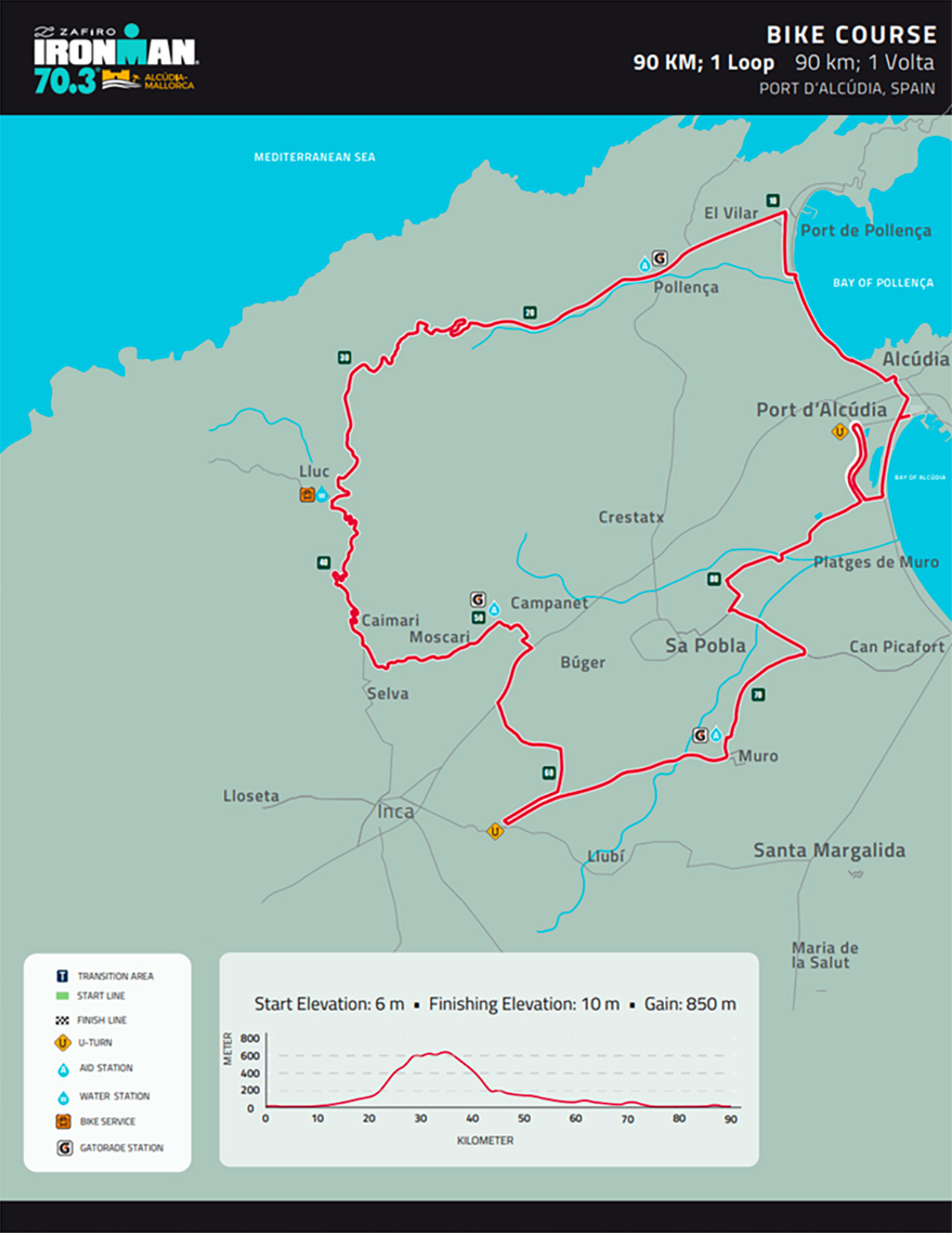 RUN
Into T2 and onto the fast and flat run course, taking the athletes along the beach path of the Alcudia Bay. The lack of elevation should make for some quick splits, however there are some 180 degree dead turns that can be sapping to the already fatigued athlete.
Afternoon temperatures can easily top 30°C / 86°F in May, so it's essential to take advantage of the aid stations, every 2 km or so along the route. With 3 laps to cover, there's plenty of opportunity to soak in the cheers of the legendary spectators, often up to 3 deep alongside the Platja de Muro. Swing into the finish chute and cross the line just yards from the beach and celebrate your well earned achievement.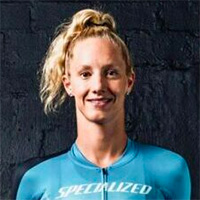 Pro TIP
My top tip is that you can really attack and make up good time on the incredible hill. Make sure you go for a practice ride to see the beauty of it well before the race so you can practice the descent then ignore views in the race, attack it and you can gain a lot of time.
Emma Pallant-Browne
2022 Champion
Spectators – Beat The Run Crowds
The compact race village and single transition is perfect for spectators to enjoy all day and the beachfront swim offers fantastic views across the bay.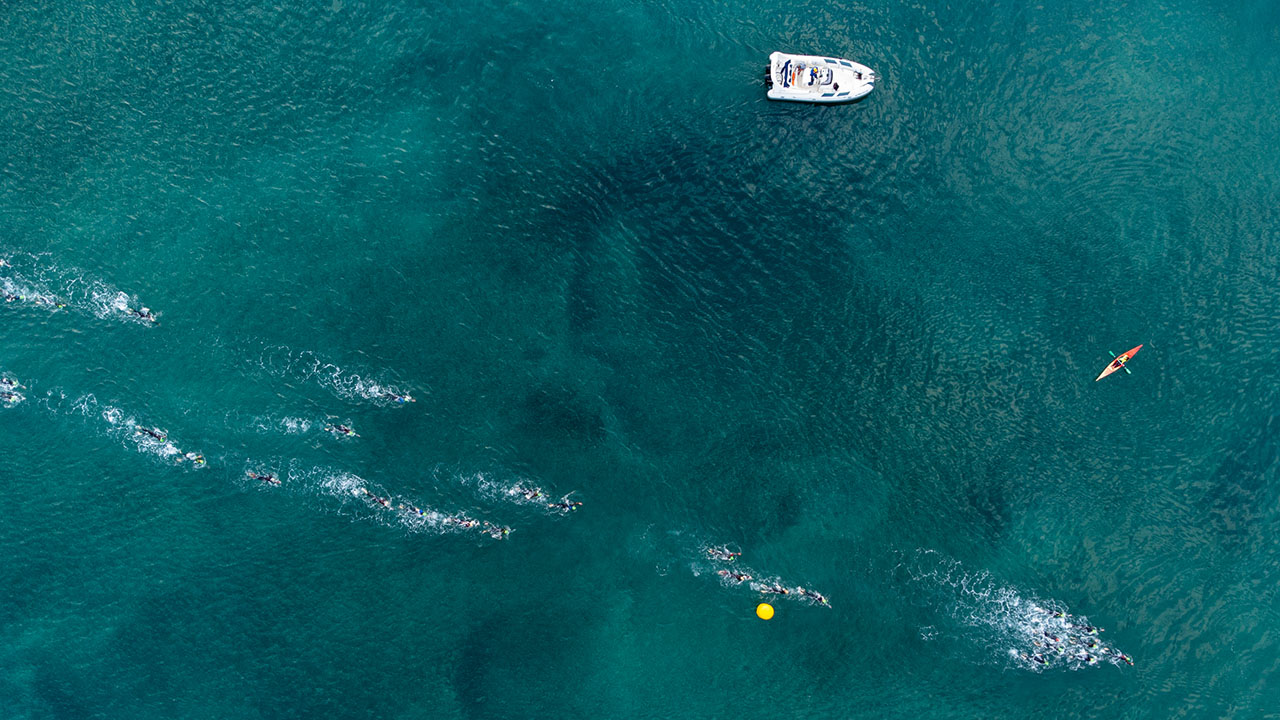 Whilst the single lap bike course does make it a little challenging to find a viewing point, just a few miles up the coast from the race venue is Port de Pollenca. A classic staging point for the finest cycling routes on the island, there is a regular local bus service from Alcudia, every 20 mins or so.
If you prefer to stay closer to town, stake your claim to your run course spot early, the crowds are known to descend. Whilst your athlete is out on the course, keep the family entertained with jet ski rides, right from the beach by transition or for some culture, head for the Roman city ruins or the local weekend market.
TRANSPORT YOUR BIKE RACE READY
Why choose ETI Tri Bike?
ETI Tri Bike, the market leader in Tri Bike transportation throughout Europe. Offering full transport options for all European races and European Championship races for 2023 and beyond.
Approved fully insured carrier offering you peace of mind
Transport your bike fully assembled
Convenient pick up / drop-off locations
Why Race IRONMAN 70.3 Mallorca-Alcudia?
Enjoy a Mediterranean escape at the world's most appreciated IRONMAN 70.3
Discover why Mallorca is a cycling Mecca with incredible roads & vistas
Enjoy the calm waters of the Mediterranean and an unbeatable seafront run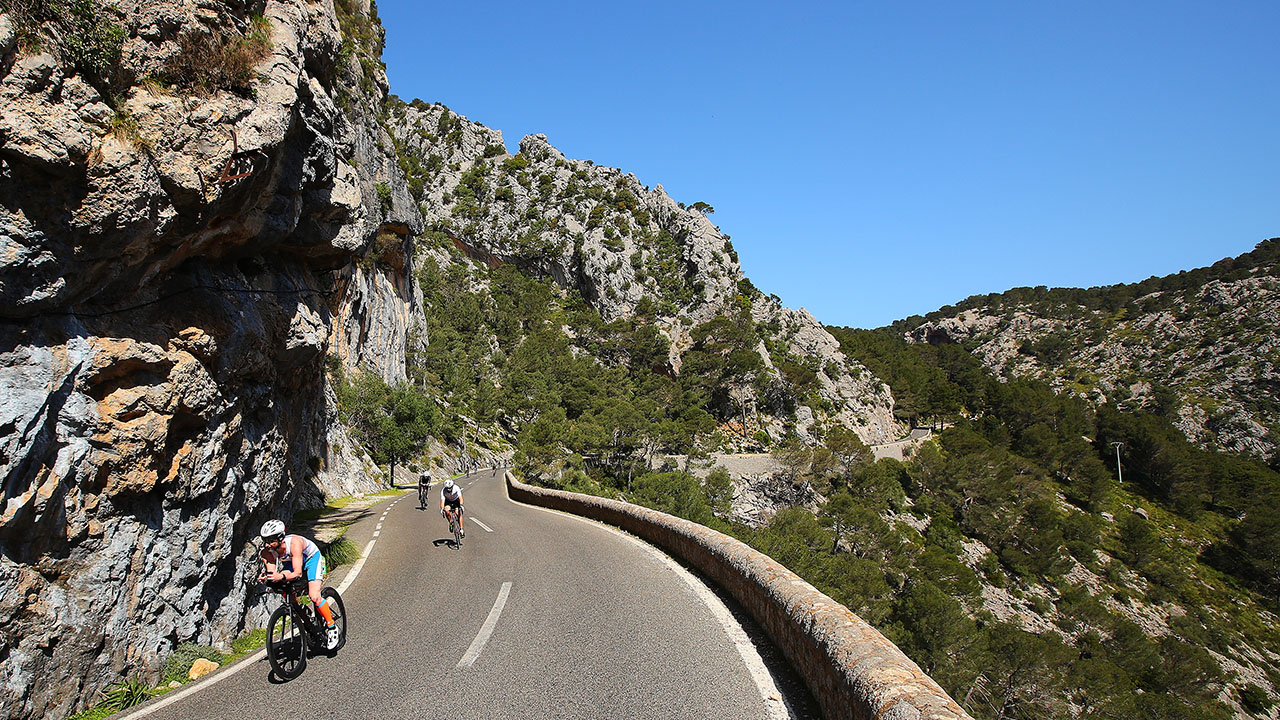 RACE-cation – Indulge Yourself
When the buzz of the finish line fades and the post race recovery is in full swing, make the most of the RACE-cation, there's culture, great food and relaxation in spades.
For the foodie, there's no less than 5 Michelin mentioned restaurants in Alcudia, an unforgettable way to celebrate your race day.
Head out of the city and experience the S'Albufera Nature Parc, beautiful wetlands just 5km form Alcudia. With cycle and run trails and a world famous bird watching area, it's a great respite from the heat and beach culture.
Back in town, why not enjoy the ultimate Spanish gastronomy experience with time honoured family recipe Paella. Check out La Ponderosa and Can Gavella for their show stopping rice specialties.
For the younger members of your spectator team, head for KartingMania and find out who's the fastest off the triathlon course! Round out your stay with a dolphin watching boat trip, making memories for a lifetime.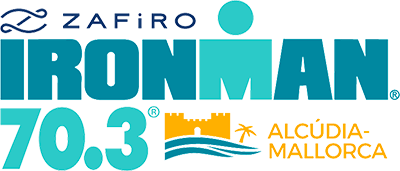 RACE IRONMAN 70.3 Alcúdia-Mallorca in 2023
If you are looking to step up this year and are looking for a friendly event with racing on Saturday and relaxing on Sunday, this is your race.