If you are looking for a European mid-summer race that can double up as a holiday, then this Challenge middle distance course is surely the perfect contender thanks to its vacation location.
The lively seaside town of Salou lies in north eastern Spain, 100km south of Barcelona on the Costa Dorada or Golden Coast thanks to the colour of its Blue Flag beaches.
Combined with a string of family-friendly attractions and activities, Salou is a hugely popular holiday destination in Catalonia, a region which has its own identity and language due to its distinct history and where many locals call for its independence from the rest of Spain.
Politics aside, the different dialect, cuisine and culture certainly add a unique flavour to racing in this part of the Mediterranean.
And the Challenge race directors have made the most of its sun, sea and sand location with the Mediterranean sea swim and palm tree-lined bike and run routes through Salou.
Location – Europe's beach
Nestled by the Mediterranean coast, Salou was founded as far back as the 6th century BC but is now a compact holiday resort town with a relaxed atmosphere, plenty of accommodation options and delicious local Catalan cuisine.
Its proximity to the city of Barcelona 100km along the coast with daily scheduled flights from most European cities makes it easy to reach.
To get to Salou from Barcelona airport you can either take the hourly bus to Salou or by train, it's a 20 minute journey to Barcelona Sants then 1 ½ hours to Salou-Port Aventura station and a short cab ride into Salou. Driving takes about an hour.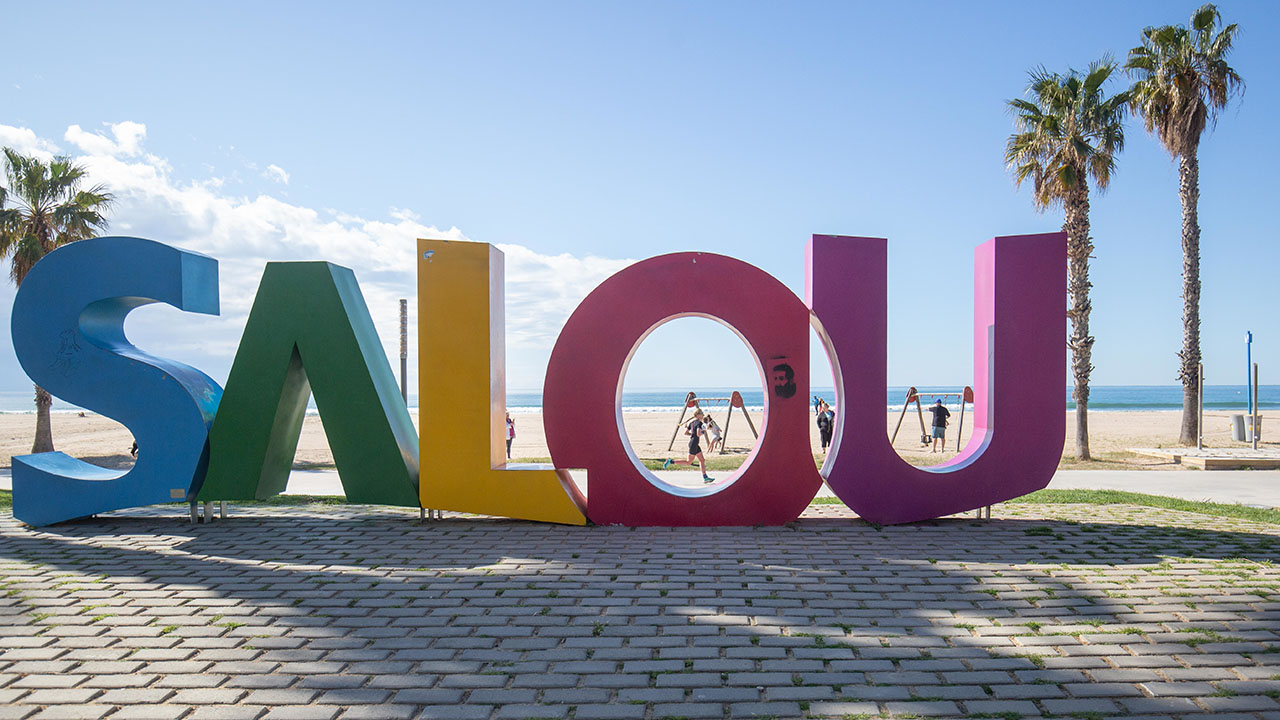 As a Challenge event, you can expect a well organised race set up.
The race village is on the pedestrianised, palm-tree lined promenade in front of Llevant Beach, the most central Salou beach, and has everything from the expo/registration and transition area to the start and finish lines all within a 200m radius.
While the heat can be fierce in high summer, June temperatures are ideal for racing and also for some beach time.
And Salou is also the perfect location for a post-race break with dozens of golden sandy beaches to relax on plus rollercoasters and theme parks to keep the adrenaline pumping.
THE VOICE OF EXPERIENCE
"It is a privilege to have an international event close to home and to be able to share the course with top triathletes at an international level. It is an ideal race to debut since the bike does not present too much difficulty, as well as being quite fast. For me, the run course is its strong point: flat, parallel to the Mediterranean Sea at all times and with the support of family, friends & the general public."
Òscar Montserrat, ESP
As a busy holiday resort, Salou is packed with restaurants and cafes to suit every taste, from Spanish tapas to the ubiquitous Irish pubs and you are spoilt for choice when it comes to reasonably-priced places to stay from large hotels to self-catering apartments or campsites – Camping and Resort Sangul Salou is very handy.
Course – Looped & flat
The course suits most abilities or those looking to step up from Olympic level. The sea swim can be challenging to weaker swimmers if the water is choppy but the bike and run courses are both flat which will suit most levels from beginners to the experienced age-groupers looking for a fast time or just an easier, entry-level race.
SWIM – 1.9km
The one lap triangular swim course takes place in the shallow waters of the sea off Llevant Beach. Given the usual warm temperatures, wetsuits are optional but the race director gives the final decision on race morning.
With a rolling start from the golden sandy beach, novices will probably benefit from practising running into waves and then getting back out onto the beach. And if you have time before the starting pistol, stop and admire the far-distant views of the Ebro Delta national park and Mussara mountain range.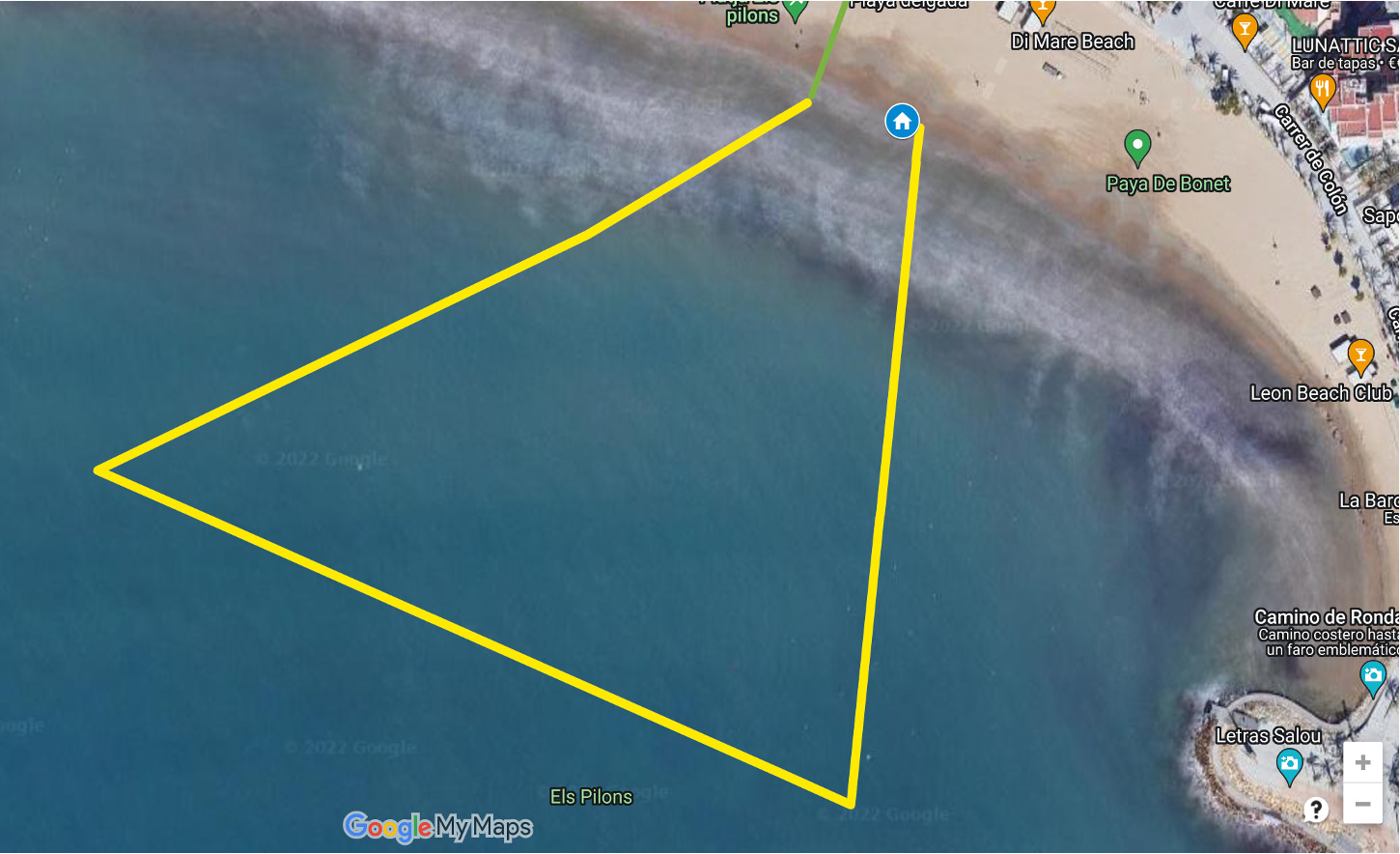 BIKE – 85km
If you're chasing a PB, then you'll like this course. It's fast and flat with a just couple of short hills – you'll barely be out of the saddle with just 588m of climbing – so it's one for aero-bars or a time trial bike.
The course is closed to traffic and takes you to the outskirts of Salou on a dual carriageway so if you're a Speedy Gonzalez, you can really put your foot on the gas before heading back into Salou centre.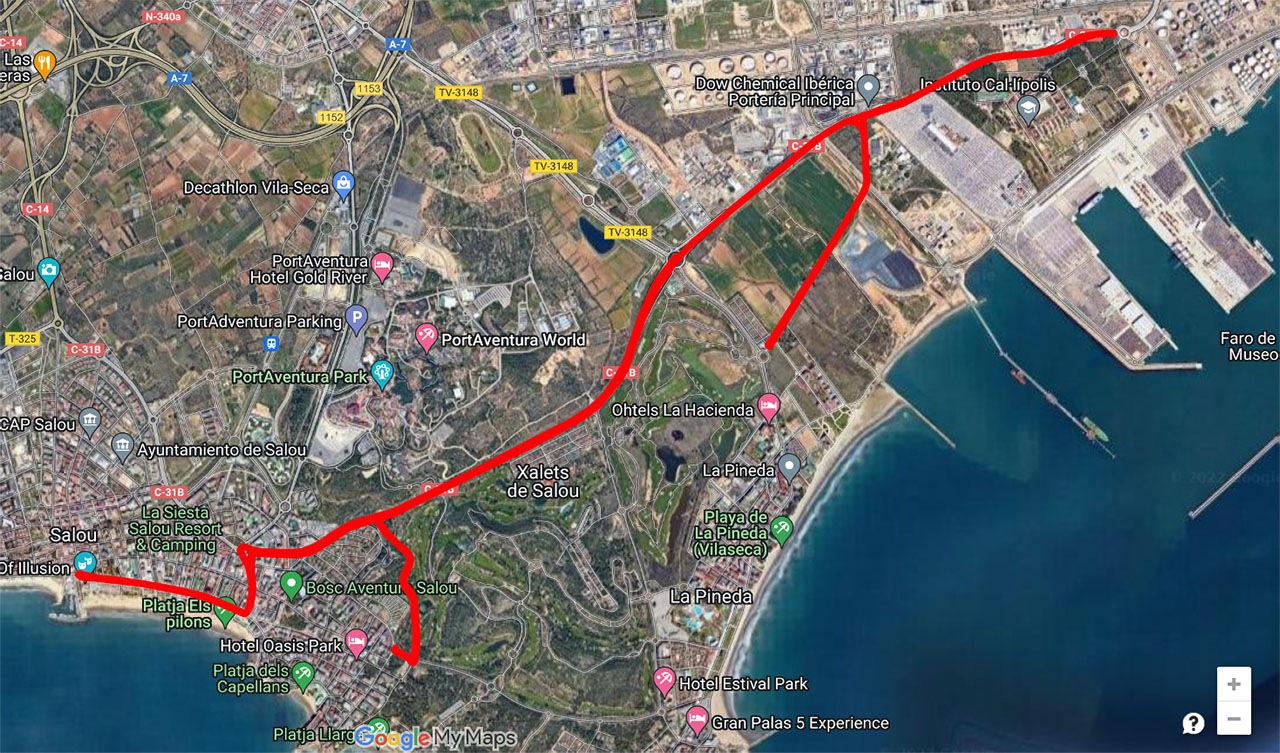 RUN – 21km
The run course is also flat so you'll have to be careful to pace yourself in the heat. On your loops of the town, you'll discover the charm of the Costa Dorada and there will be plenty of cheering from spectators along the route.
At the red carpet beachfront finish, which is always lively thanks to the noisy crowds, you'll receive your well-deserved and 100% sustainable wooden medal. Your friends and family can join you for the final 100m – always a great photo opportunity- then it's time to refuel with a big plate of Catalan paella at the finisher's party.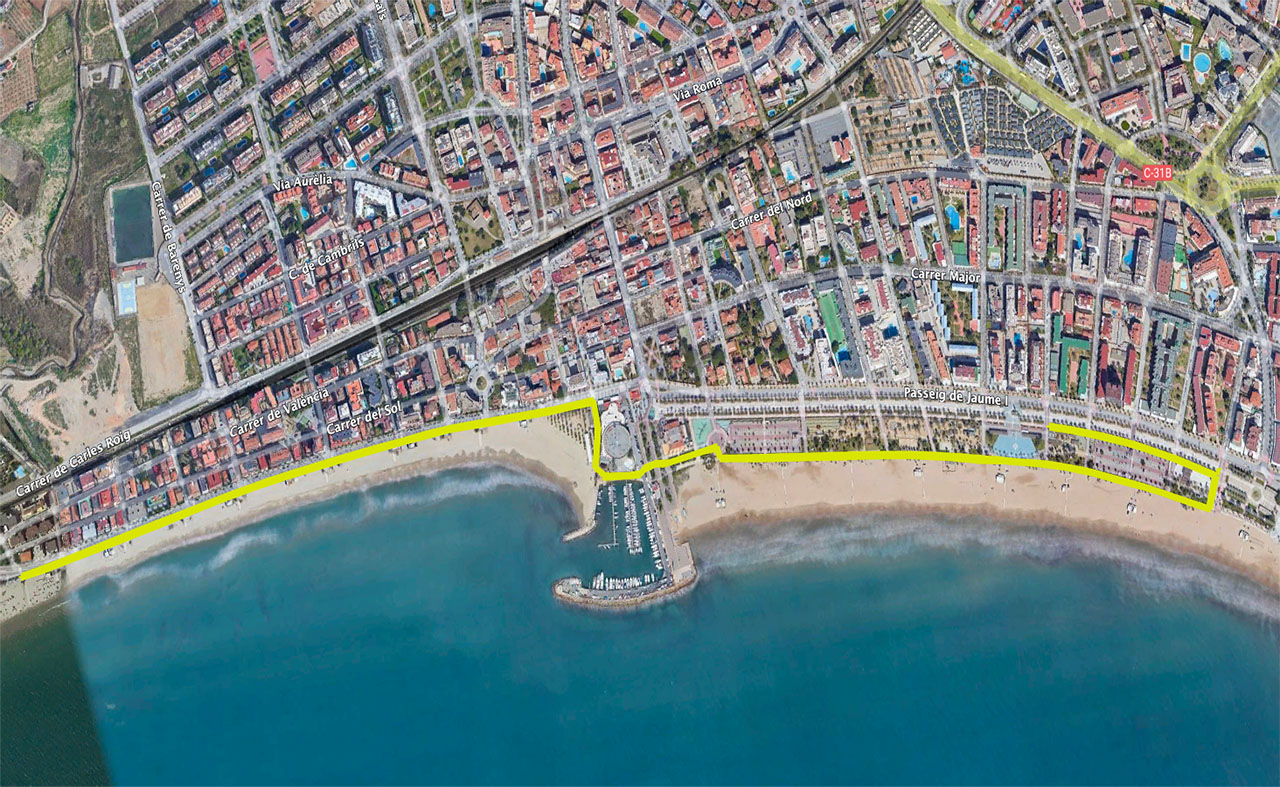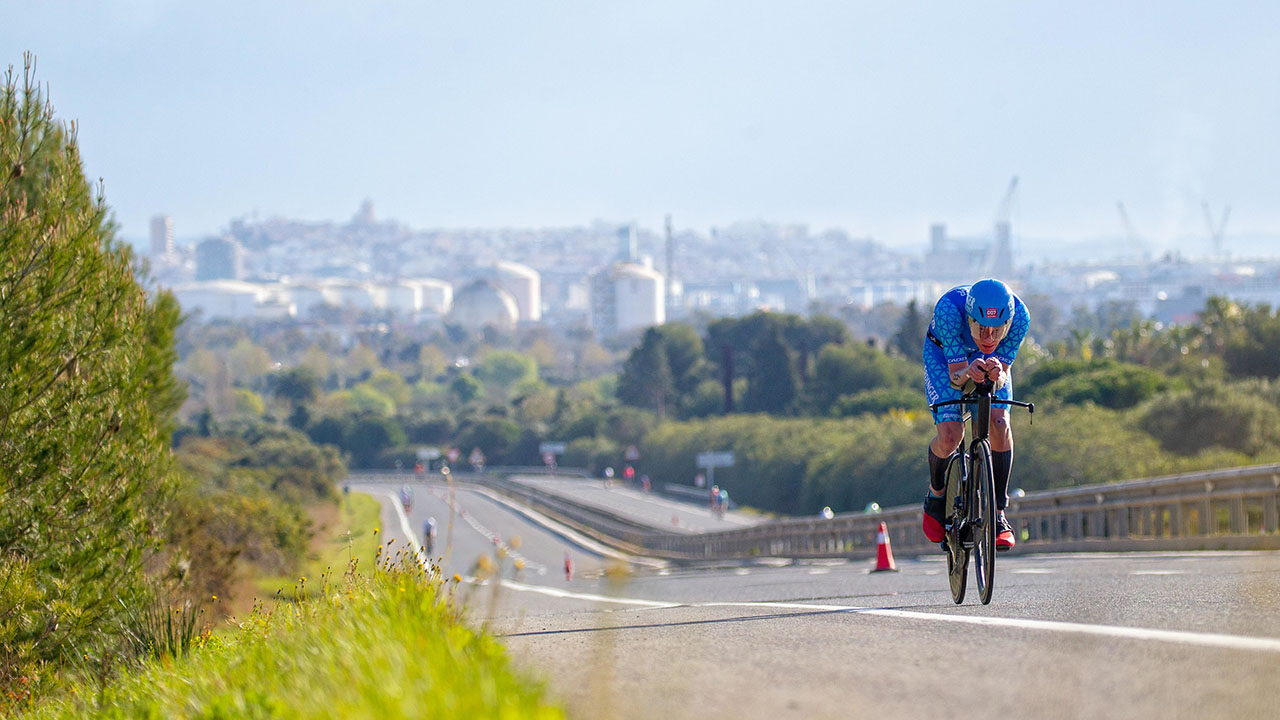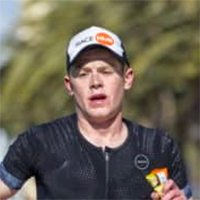 Pro TIP
"The bike is fast and flat for the majority but it does have a couple of short fast hills, where ideally you'll still be in the aero position. Practice being able to push hard for 2-3 minutes in the aero position to ride over the top of the hill, and still be able to get back up to speed straight after."
Spectators – Family and holiday-maker friendly
For friends and family, the race organisers have designed a race that makes watching the action pretty easy and stress-free providing multiple opportunities to spot their athlete with minimal walking involved.
The race village is just metres from Salou's main beach, Llevant where the swim course takes place so, while you swim, your fans can just sit or stand on the golden sands, enjoying the stunning views. And being so close to the race village, they can lap up the lively atmosphere as well access the food and drink stalls.
On the bike course, they can stand anywhere as the route is mostly contained with Salou town although not straying far from the centre or race village will be better for the crowd atmosphere as well as the chance to nip into the cafes, restaurants and shops to keep themselves fuelled up for all that cheering.
They are then in the perfect position to spot you on the looped run along the beachfront and give you a hero's welcome at the finish line.
If you have younger supporters who get easily restless, then the town's theme parks or water sport activities are all within easy reach.
Why Race Challenge Salou?
A fast, flat course closed to traffic on fast roads and palm tree-lined seaside boulevards
A true festival of sports with multiple events for all ages and abilities over the weekend
Ideal for a post-race family-friendly holiday with theme parks and golden beaches on your doorstep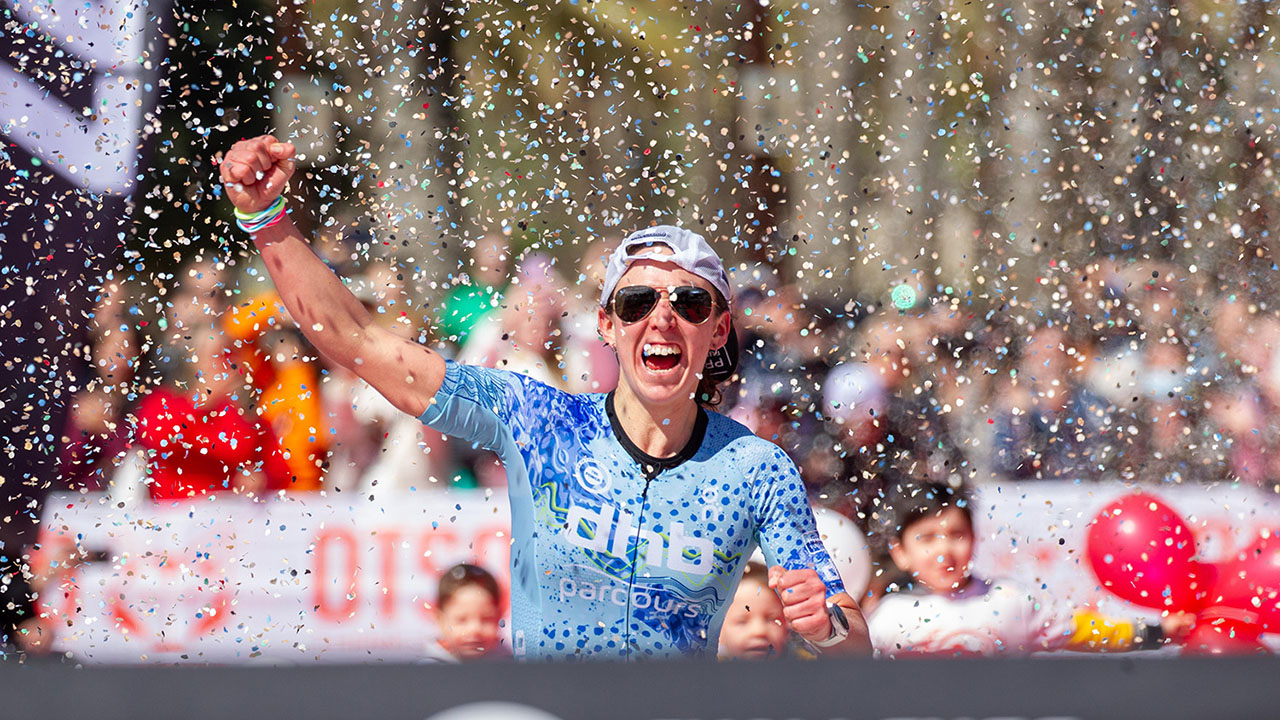 THE VOICE OF EXPERIENCE
"Participating in one way or another in Challenge Salou has always been a pleasure.
First as a participant and over the years, as a volunteer, it has always been an unforgettable experience, since the service that was given to us as a competitor was brutal and being a volunteer later allowed me to see from another point of view the great work that Challenge family does."
Elektra Garcia, ESP
RACEcation – Sun and fun for all the family
With all that sun and golden sand on the shores of the Mediterranean it will be hard to resist staying on after your race whether you prefer a lively city break or chilling out.
You can either flop on one of Salou's dozen beautiful, quiet beaches or stroll around the town's promenade enjoying some delicious tapas in its many restaurants and cafes.
At night, don't miss the 10:00pm spectacular light show at the fountains on the main boulevard or if you're here to party, head for Avinguda de Carles Buigas for lively bars and trendy nightclubs
Travelling with youngsters? Salou is a family favourite due in no small part to it Port Aventura and Aquopolis theme parks where you can keep everyone entertained for days not just hours.
Port Aventura is now so big it has three theme parks, the latest being Ferrari Land which will delight thrillseekers and petrolheads alike with its F1-themed rides including, if you dare, Red Force, Europe's highest and fastest roller coaster.
Just a short drive away you'll find the picturesque walled medieval city of Tarragona, the site of many Roman ruins including an impressive Roman amphitheatre.
And of course, if a city is more your thing, then cosmopolitan Barcelona, renowned for its art and architecture including Gaudi's fantastical Sagrada Familia church, is just an hour along the coast.

RACE Challenge Salou
Voted best Challenge Family race for families by the athletes in 2022, this is one not to miss to combine racing and holidaying along the golden beaches of Spain.