Triathlete Richard Anderson sets a new record in the Lake District
The ultimate lockdown challenge?!
What do you do when regular 'racing' stops? If you are Richard Anderson, you can still find an epic challenge to keep your training focussed.
Richard is a talented athlete – a previous winner of the Helvellyn Triathlon, twice winner of the Bala Middle Distance and second at the Lakesman Triathlon just a few of his highlights – all around a full-time job as an accountant.
Having spent most of his life exploring and training on the fells, the 'new normal' provided the ideal opportunity to attempt the Frog Graham Round (www.froggrahamround.co.uk), a challenge which takes inspiration from the better-known Bob Graham Round fell running challenge, with lake swimming. It all starts and finishes at Keswick's Moot Hall.
The previous fastest known time was something we have reported on before, by Ben Abdelnoor. Grab yourself a coffee, and enjoy the in-depth story of Richard's "…incredible day out on the fells and in the lakes in one of the most beautiful places on Earth."
---
My name is Richard Anderson, I am a 30-year-old triathlete and fell runner from Carlisle.
On Saturday 19th September I set a new fastest known time for the Frog Graham Round ('The Frog') (https://www.froggrahamround.co.uk/introduction). My time was 10 hours 25 minutes, which was 30 minutes faster than the previous record. This is how I did it!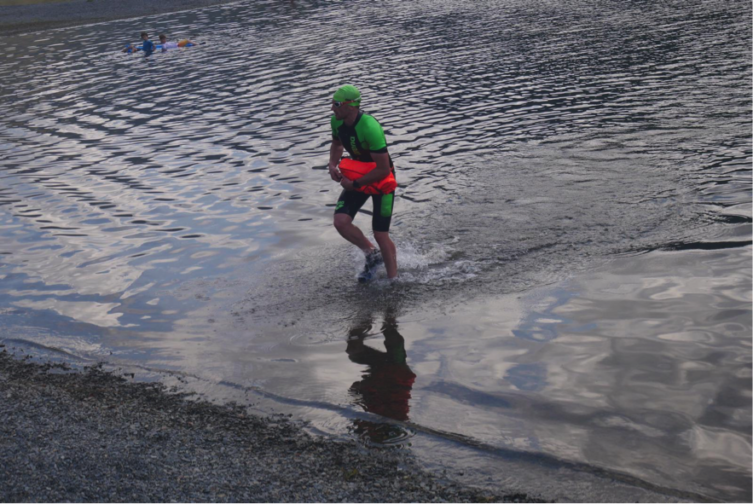 The Frog is a 40 mile swim-run challenge, starting and finishing in Keswick. It includes 15,750 feet of climbing, 18 summits and two miles of swimming across Bassenthwaite Lake, Crummock Water, Buttermere and Derwentwater. The spirit of the challenge is one of self-support, meaning you set off from Keswick with everything you will need for the day.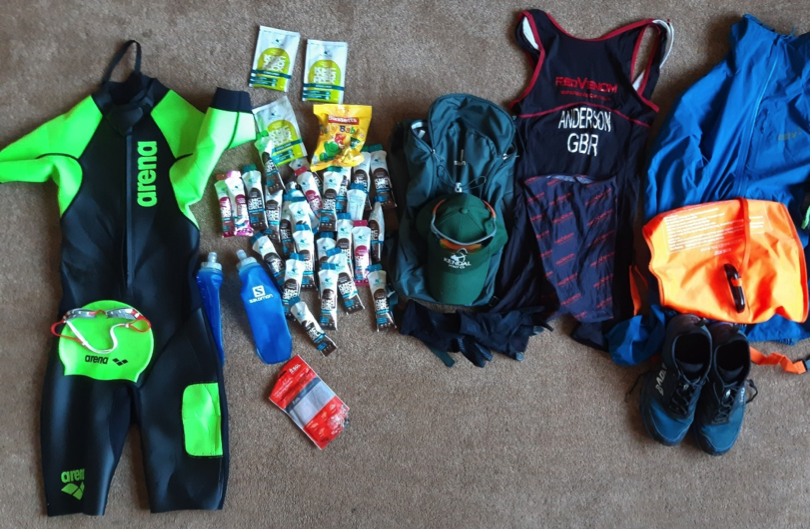 In the absence of anything better to do, I trained hard throughout lockdown and got myself into good shape. Whilst I enjoy running, cycling and swimming for their own sake, the racer and competitor in me is always happier when working towards something. Options were a little thin on the ground but the Frog stood out as one that suited me as an athlete, was geographically convenient and suitably challenging!
I always find such challenges are even more fun when doing them with a friend and I managed to convince training partner Beau Smith that we should have a crack at the Frog. In early June the plan was hatched and we began to prepare. After a couple of months of training and recceing the course we were ready to go. On 15th August we set off from Keswick Moot Hall on our swim-run adventure. We got off to a decent start, summiting Skiddaw in just over an hour but it was hot going. We dropped to Bassenthwaite Lake and were very relieved to dive into the lake for a swim to cool off. The swim passed without event but on exiting the lake we both cramped.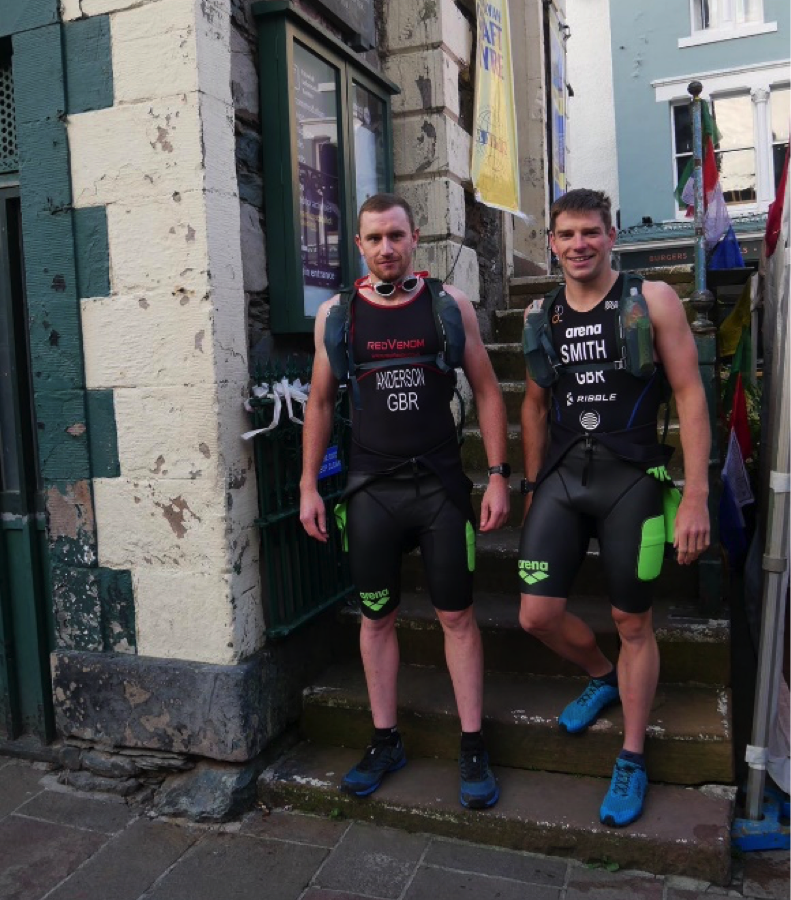 As the day went on, the heat ramped up to the mid 20's. We both suffered and ultimately succumbed to the heat and a lack of water. Beau dropped out at Whinlatter. I made it as far as Robinson, when my body literally ground to a halt. It was excruciating to drop out with less than 10 miles to go, but I really had no choice. It took a good few days to rehydrate and recover but as soon as I did I began plotting a second attempt! Sadly Beau managed to break his wrist, so second time around I was going solo!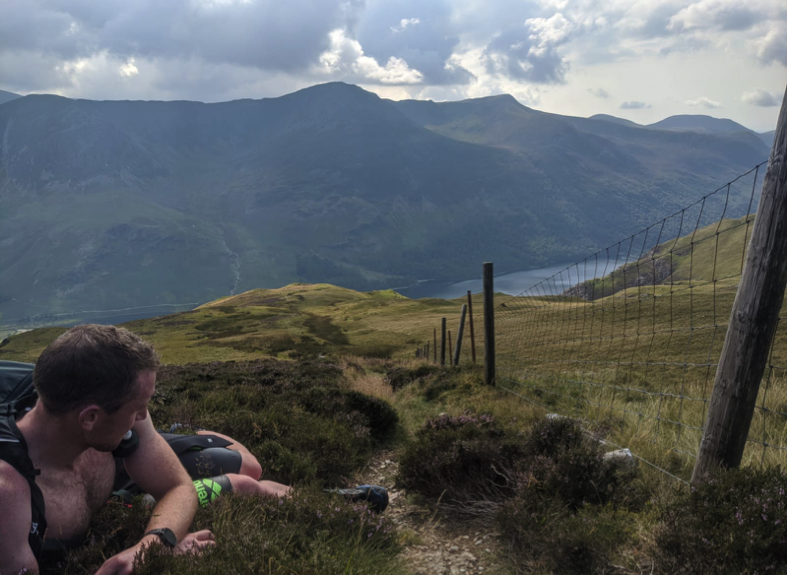 On 19th September I was back at the Moot Hall at 7 am, ready for another big day of swim-run. The first leg of the Frog climbs 3,000 feet to the summit of Skiddaw. I ran all the way to the top in under 60 minutes without having to walk a step and began the descent in high spirits. On hitting the steep scree slope off Skiddaw I got really bad cramp in both quads and IT bands. I thought it was game over; I'd had a similar episode in training a few weeks back and had to hobble off the mountain! This time I wasn't giving up without a fight. I stopped, stretched and walked the rest of the scree. The cramp eased a bit, so I ran the rest of the descent to Bassenthwaite Lake. My legs were painful but it was manageable. The question was would it be manageable for the next 9 hours? Only one way to find out…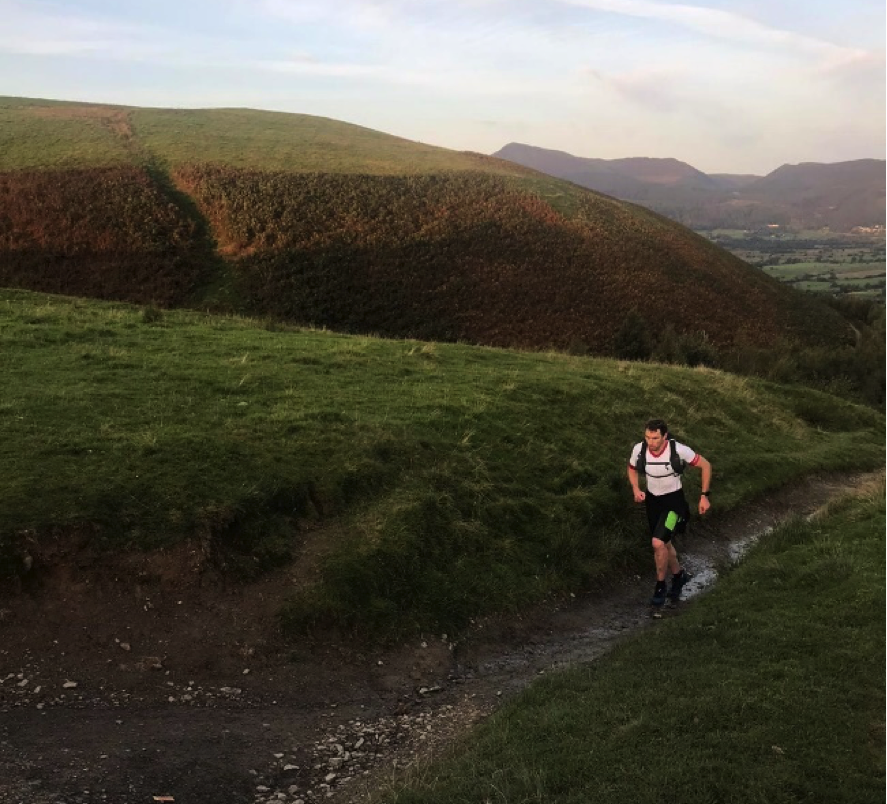 Next up was a 20-minute swim across Bassenthwaite Lake. I was a bit concerned that the cold water would exacerbate my cramp but it actually seemed to help things and I held my schedule across the lake. From Bassenthwaite the route heads up onto the North Western fells. The first job on this section of the route is to wash your wetsuit and swim kit to ensure that non-native invasive species which are present in Bassenthwaite and Derwentwater, are not spread to Crummock and Buttermere. Helpfully there is a beck on the climb to Barf, so I stopped and thoroughly cleaned my kit.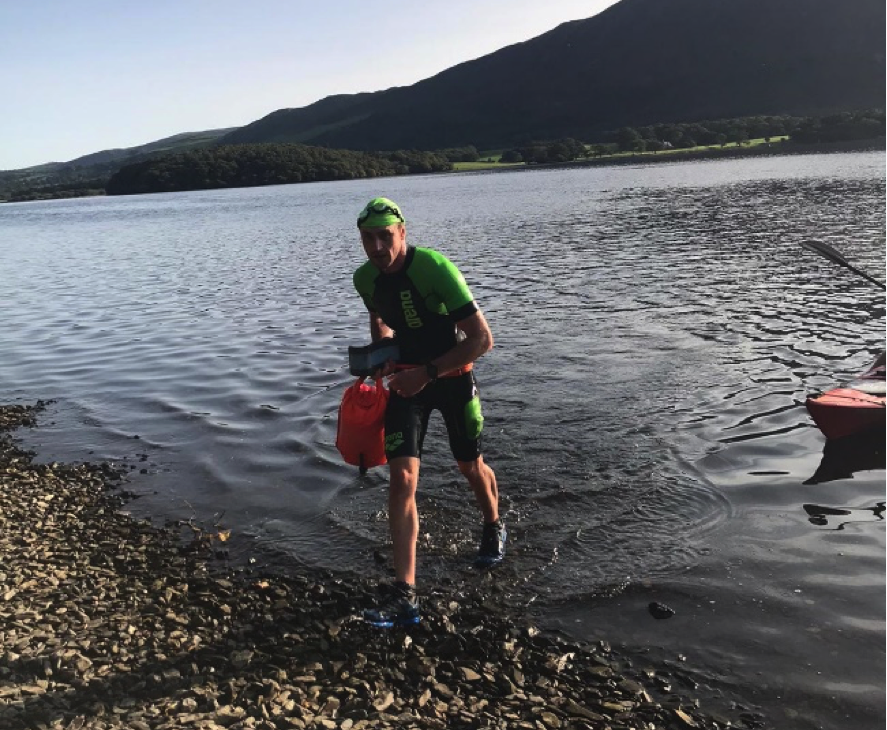 I've been running and walking the North Western fells all my life. Back in December I ran all 29 of them in a single day to celebrate my 30th Birthday (I added on Latrigg to make it 30 Wainwrights at 30). On familiar ground, the miles and climbs just flew by. I bagged Barf, Lords Seat and Ullister Hill in less than an hour and passed through Whinlatter a couple of minutes up on schedule. From Whinlatter I took the steep ridge to Grisedale Pike, across to Hopegill Head before dropping to Sand Hill and Coledale Hause, where I was able to refill my bottles from the stream. From my first attempt, I knew this was the last chance to get fresh water until the bottom of Red Pike, which was over two hours away. So I took the time to drink as much as I could and ensure my bottles were full to the brim. I wasn't having another attempt spoilt by dehydration!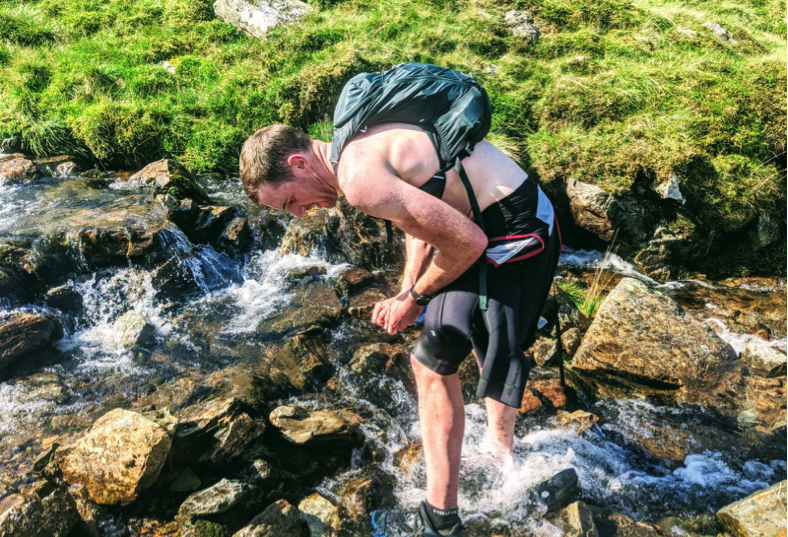 After Coledale Hause, you head up the scree to Eel Crag and Sand Hill. Then it is (mostly) downhill to Crummock Water, via Wandope, Whiteless Pike and Rannerdale Knotts. I really enjoyed the descent, my legs were ok, energy levels fine and I was now a good 10 minutes up on schedule after 20 miles.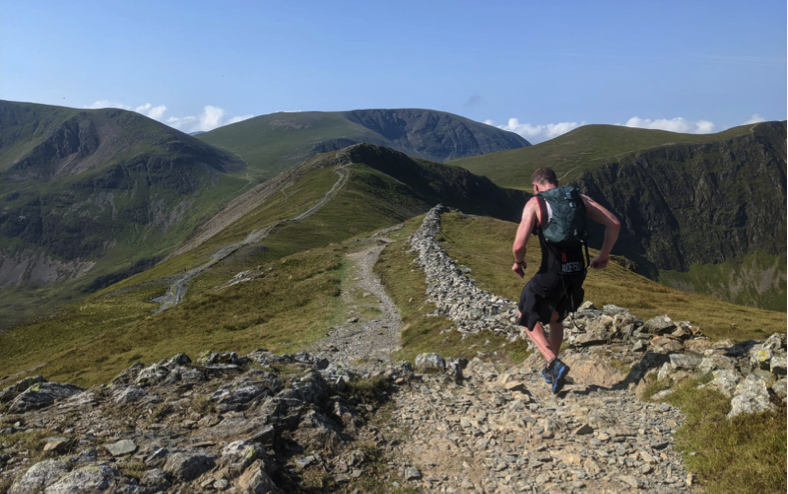 The section from Crummock Water to Buttermere was where it all went badly wrong on attempt one! The swim across the lake gives your legs a welcome 10 minute break from running but after that you are straight up the face of Mellbreak in the mid-day sun. There is no path and I'd challenge anyone to run it! Having recced this section four times, I had identified a decent line up the face, which I followed to the top in around 30 minutes.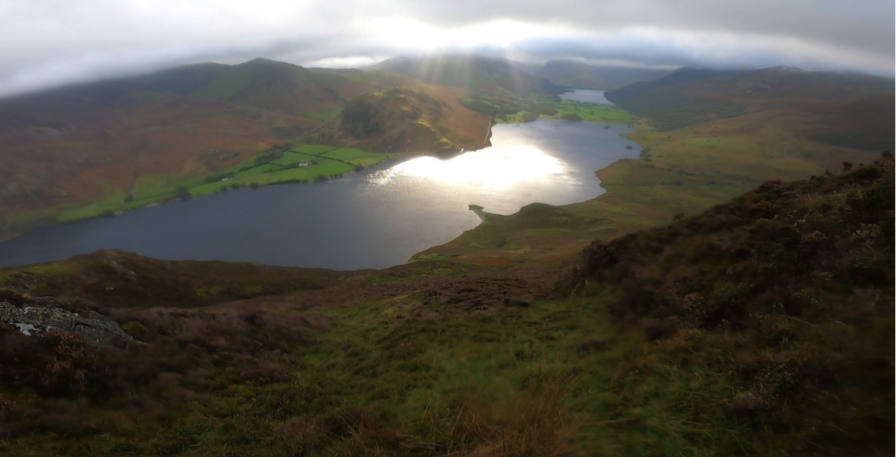 Everything was going remarkably well but just like on Skiddaw, that changed in an instant. I trod on a rock, which somehow managed to pierce the sole of my shoe and cut my foot. It hurt like hell and I could tell it was bleeding but there was no chance it was stopping me. I ignored the pain and cracked on up the long drag to Red Pike and High Stile. The descent off High Stile is a decisive moment; get the line right and you can be on the shores of Buttermere in less than 30 minutes, get it wrong and you find yourself in a boulder field and it can take over an hour (or more). My line wasn't perfect and there was a bit of scrambling and jumping over boulders, but I made it to the lake without losing any time. A short swim across Buttermere and I was at the start of the final leg.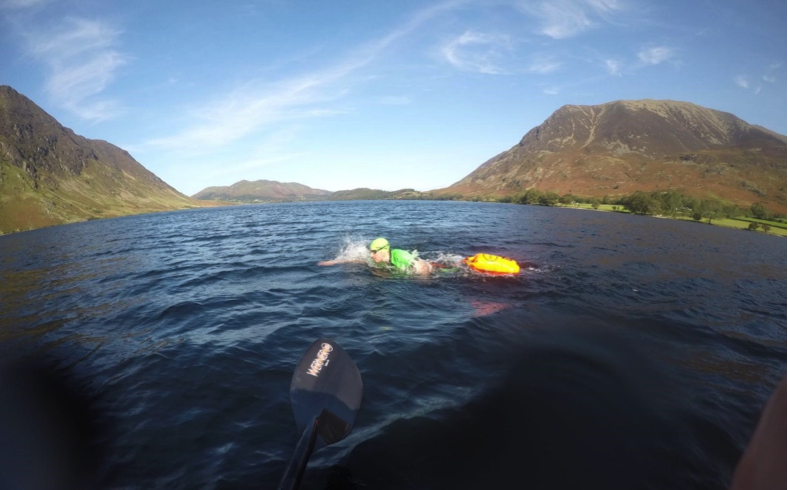 I got into a good rhythm on the climb to Robinson and reached the summit in 45 minutes and quickly traversed the ridge to Dale Head. Next was a short descent to Dale Head Tarn and a final bottle refill of the day. And just like that, I was on the last proper climb to High Spy. On top of High Spy you get a really good view of what lies between you and the finish in Keswick; a nice run over Maiden Moor to Catbells, a steep descent to the lake, a mile swim across Derwentwater and a short run back to the Moot Hall. The run to Catbells and descent to the lake were as routine as I'd expected but as soon as I got to the lake I realised I'd massively underestimated the final swim!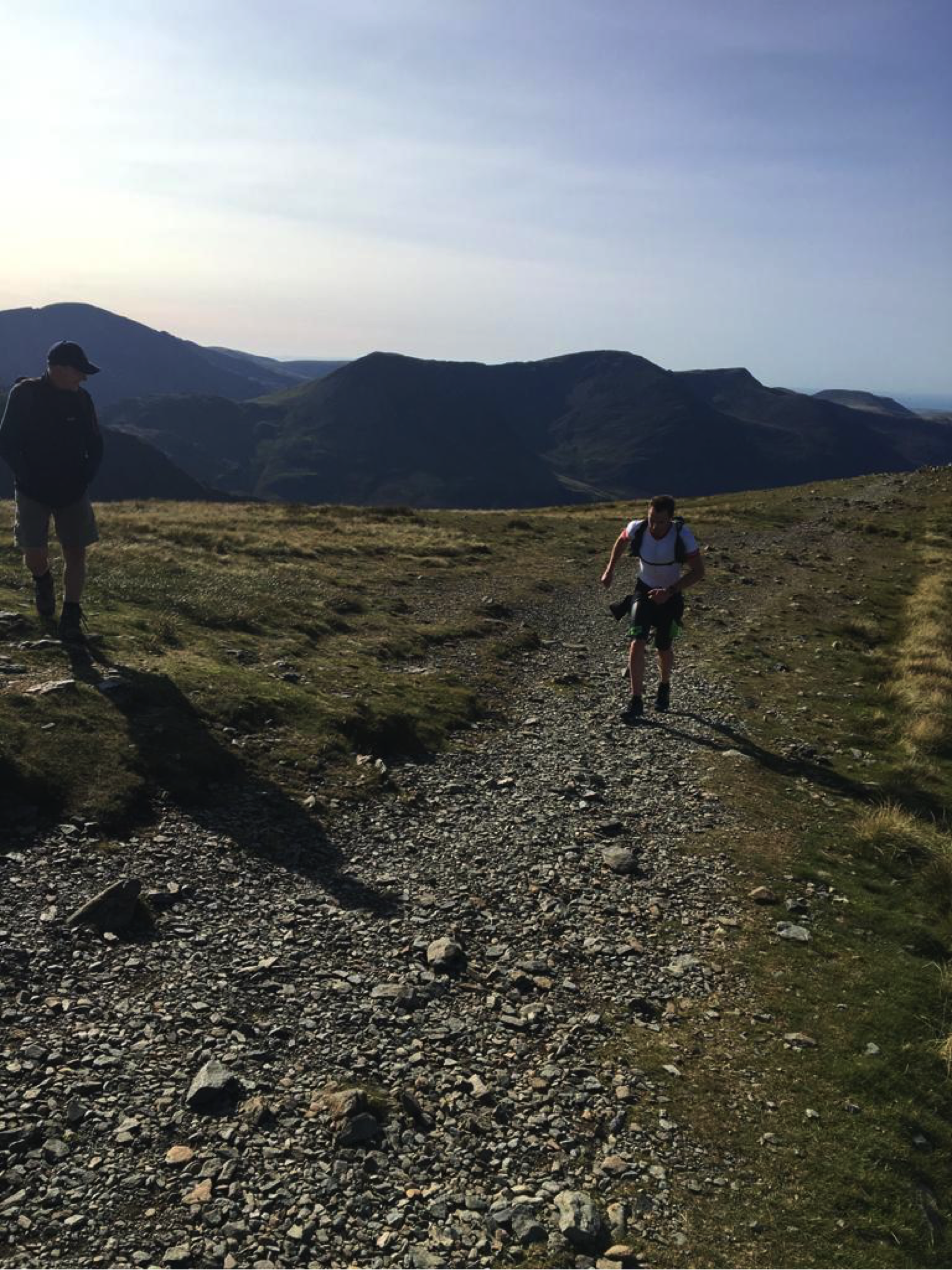 The wind had been blowing out of the east all day, I hadn't really thought much of it on the fells but it made the final swim much harder and longer than I envisaged. I had to swim straight into the swell, which combined with the weight of my dry bag and nearly 40 miles of running in my legs, made for very slow going. The rules of the Frog are that you have to swim across the lake via 3 islands; Otterbield, St Herbert's and Rampsholme (you have to stand up and cross each). Exiting the water became increasingly difficult at each of the three islands as I started to really feel the effects of the day.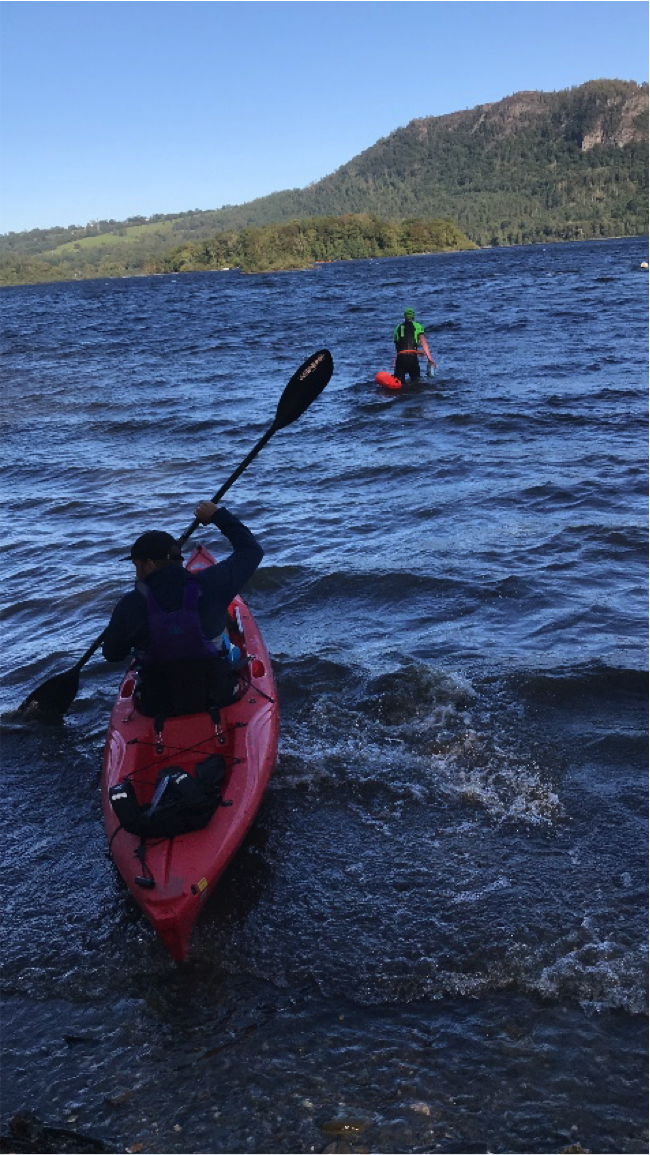 After 37 minutes of swimming and stumbling across islands I made it to Calf Close Bay and crawled out of the lake! This didn't inspire those watching with confidence, but it was the safest option. I clumsily deflated my dry bag for the last time and stuffed it into my run pack. I didn't think to unzip my wetsuit or take off my swim hat or goggles, I just started to run towards Keswick!
I don't remember much of the run-in but I think the supporters who followed me on foot/bike were slightly concerned at some of my cornering on the planks along the side of Derwentwater. I manged to avert disaster and even managed to lift the pace a bit for the final run up to the Moot Hall! I just about made it up the steps without tripping, touched the door and stopped my watch… 10 hours and 25 minutes and a new fastest known time by 30 minutes!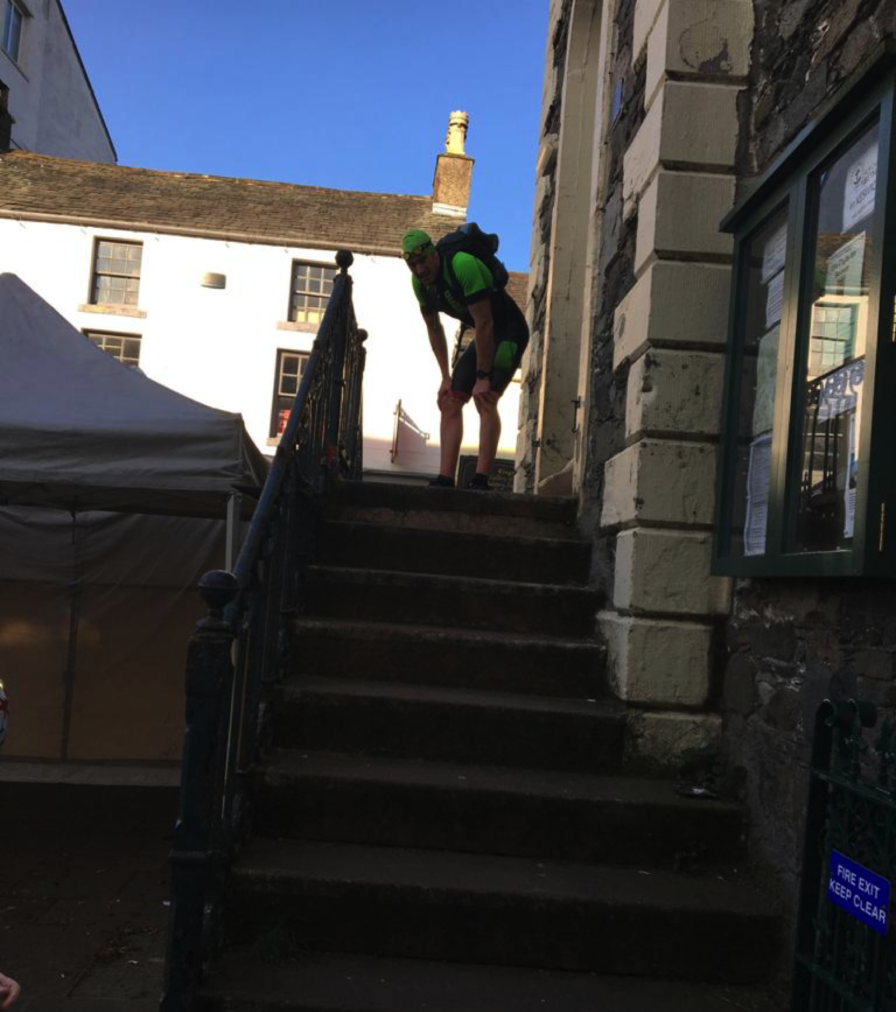 Looking back, I'm immensely proud of my run. The spirit of the Frog Graham is one of self-support and I feel as though I truly embraced it. I set off from the Moot Hall carrying everything I needed for the round. I ran solo on the fells all day and refilled my bottles from mountain streams. I was responsible for my own navigation, relying on knowledge from recces and nearly 30 years of exploring these fells. I swam alone in the water, with a kayak beside / behind me for visibility and safety only. I ran in my wetsuit and swam in my trainers. I enjoyed some great support at the road crossings and at the finish but this was moral support and encouragement only.
On the day I was also supported by three great sponsors. Arena provided me with a swim-run wetsuit, Kendal Mint Co. my nutrition and RedVenom compression kit for before and after.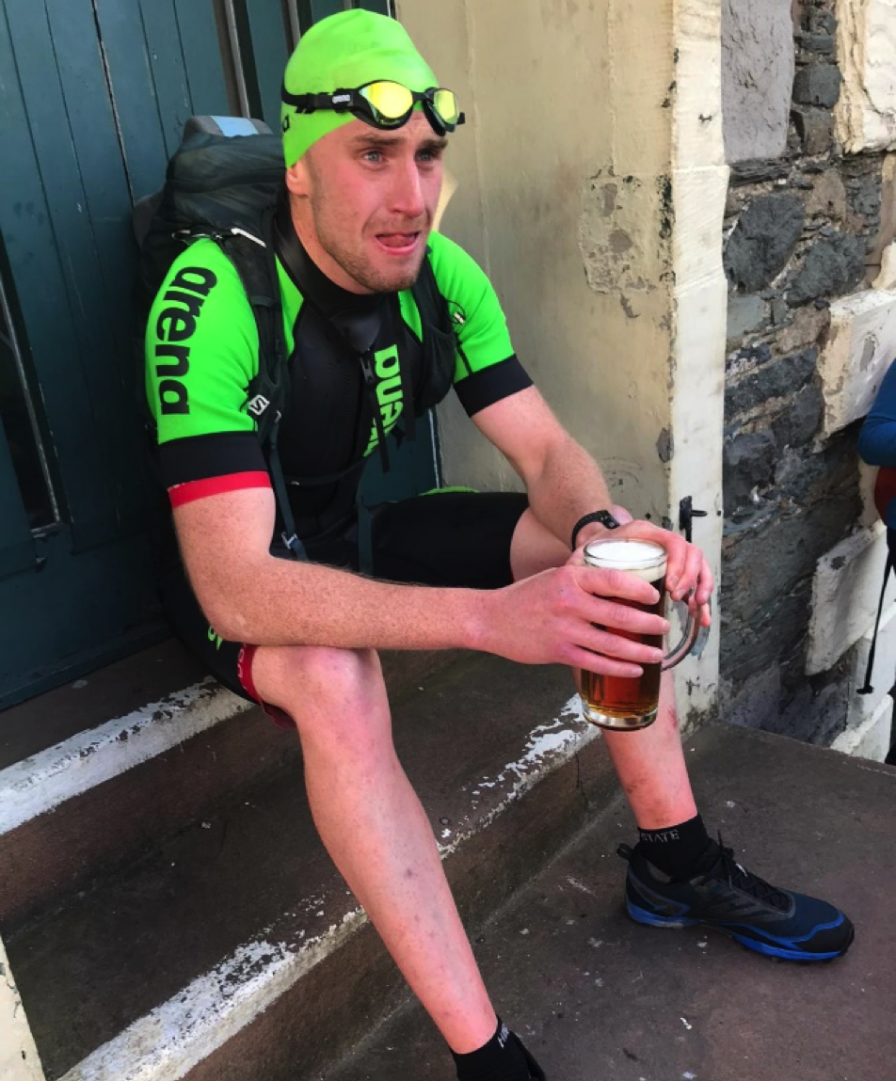 I know there are athletes out there who could come and go faster, and I look forward to seeing them try. I have lived and breathed this challenge for most of the summer and my advice would be to embrace the ethos and spirit of the challenge, respect the natural environment and stay safe! If you train hard, the time will take care of itself and you will have an incredible day out on the fells and in the lakes in one of the most beautiful places on Earth.