Industry chat with Brian Adcock – Castle Triathlon Series founder
From one race at Hever Castle in 2009, the Castle Triathlon Series (www.castletriathlonseries.co.uk), has developed into one of the biggest names in the UK Triathlon events market, with several races all over the country – and now in Ireland and France too.
Last week they hosted the second Pop-Up City Triathlon in the financial district of Canary Wharf (full report below), and we took a visit to check out the action – and also to catch-up with founder, Brian Adcock, to talk about that event, the growth development of the Castle Series and the state of the events industry generally.
We also found out that we may well be seeing a new event in Scotland in 2018… watch and listen to the interview for more details on that one.
---
Hundreds of city workers sweated it out as they competed against banking rivals in Montgomery Square, Canary Wharf last week (24-27 April) in a staged event, which included 10 tonnes of water in an endless pool. The 'Pop-Up City Triathlon is organised by Castle Triathlon Series in partnership with Novotel London Canary Wharf, Macmillan Cancer Support and KPMG, creating a huge triathlon buzz with corporates.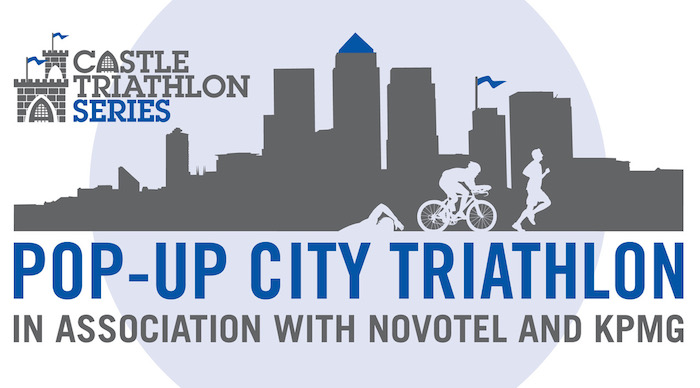 Lets Do This, the endurance sports listings website, took the winning slot on the competitive leader board covering an impressive distance of 4595m as their team swam for three minutes in an endless pool, cycled for four minutes on a cycle ergometer and ran for three minutes on a treadmill.
The event saw the top three teams battle for the winning spot in a Grand Final that was exceptionally close. See the full results here.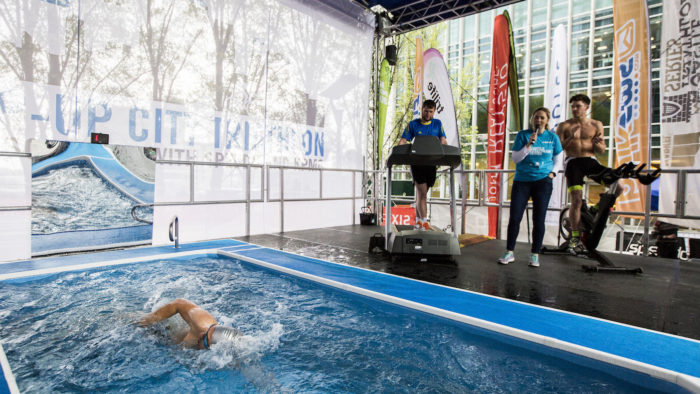 There was an impressive selection of teams taking part in the event including last year's winner Credit Suisse, Deutsche Bank, Lloyds, Barclays and many more. The teams were made up of three individuals, competing in one discipline each and representing the same company.
Nick Tyler, who led the team from Adelphi Capital (asset investment managers) to third place, said "Adelphi Capital were delighted to enter a team into this year's Pop Up City Triathlon and to beat some very large City organisations to finish third in the Grand Final.  We are very proud of our team of Gemma Hearn, Emmanuel Renard and Doug Bendle and will definitely be back next year."
Lets Do This received a winning trophy, a £1,000 charity gift which they have donated to Macmillan Cancer Support, and each team member will also receive many more prizes including free races, massage, training plans and kit.
Three highest recorded distances:
Lara Nyman from Credit Suisse covered 258m in 3 minutes in the endless swimming pool
Doug Bendle from Adelphi Capital had the winning distance on the bike covering with 3.7km
Sam Browne from Lets Do This ran the winning distance of 900m in 3 mins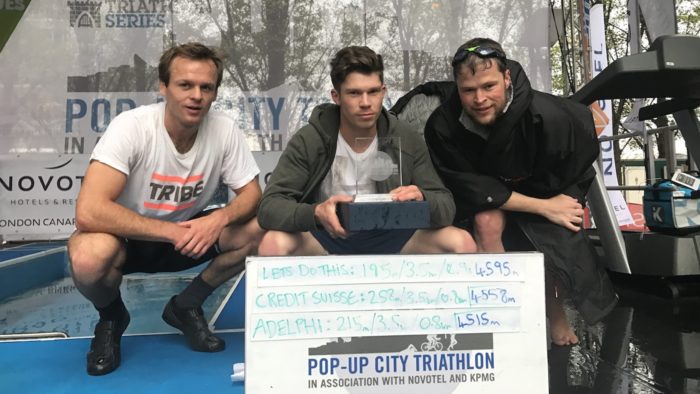 Race Director, Brian Adcock comments: "The event was hailed a huge success from all those taking part, spectators and partners. We successfully transported triathlon to the door-step of the corporates offices and celebrated the sport."
The Castle Triathlon Series offer the opportunity for companies to have their own bespoke wave at their six-triathlon festivals hosted at iconic castles and stunning grounds. They also offer a hospitality tent with delectable food and drink for company members for both pre- and post-race refreshment. This year will see BBC Worldwide and the Big Four Accountancy Firms embracing the Hever Castle Triathlon for a corporate triathlon event.