On a recent training camp at Sands Beach, Lanzarote with Total Tri Training (www.totaltritraining.com), Chris Hoveden took the opportunity to sit down poolside with Head Coach, Chris Standidge.
Winner of our ERDINGER Athlete of the Month award for November 2017, they chatted all things triathlon; from Spencer Smith's skimpy shorts, double run sessions and riding with a low cadence during an IRONMAN bike leg.
Recently the winner of the Harlech Triathlon, Chris will be racing this coming weekend in Italy at Challenge Roma (HERE). Having also raced and won in Lanzarote at the end of his training camp, Chris will be looking for another good performance at the Porto Touristico Di Roma.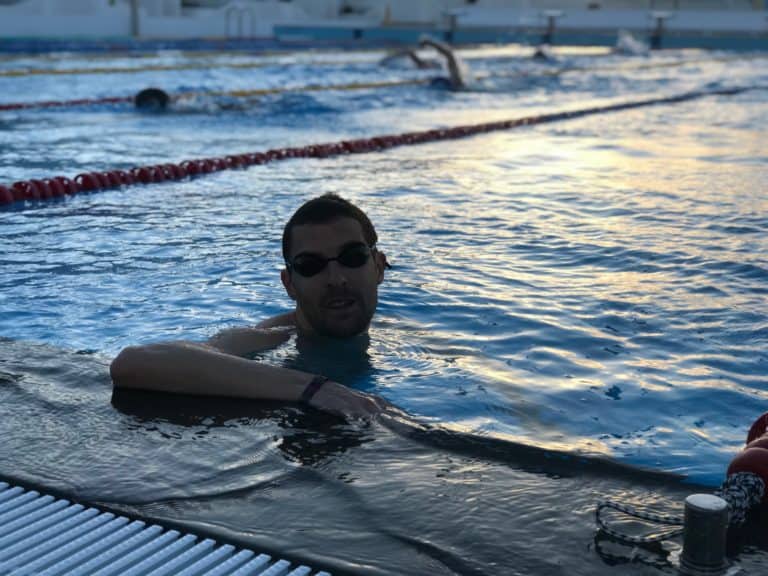 Having started in triathlon at a young age, Chris's recent successes have really been built the result of many years of consistent and dedicated training:
2015 ETU European Olympic Distance Champion AG 35-39
2015 IM 70.3 Staffs & IM 70.3 Dublin Overall Age Group Champion
2016 IM 70.3 Bahrain Overall Age Group Champion
2017 IM 70.3 Edinburgh 35-39 Age Group Champion
2017 Challenge Lisbon Overall Age Group Champion
2017 IM Florida 4th Overall, 2nd in Age Group
IRONMAN Personal Best time of 08:58 in 2017
Find out more about Chris Standidge in this video:
What did we learn?
His first memories of triathlon were watching Spencer Smith win the 1993 ITU World Championships in Manchester.
His own triathlon journey started in 1995.
Chris was a member of the GB Junior squad in his early triathlon years, before taking a break from triathlon when he started work.
Getting back into triathlon, he qualified for the Age-Group team in Madeira in 2004.
He credits his results of recent years to 15 years of consistency, education and maturity.
His first 70.3 was in Antwerp – "I tried to ride my bike like it was an Olympic distance…and had a very sorry day on the run! It was a valuable learning lesson…"
Chris on bike nutrition for a 70.3: two bottle on the bike, 1.5 litres. "I try to fuel on the bike for the run."
"Carry your own fuel and be self-sufficient – or make sure you have tried what will be supplied by the race."
90km on the bike is a substantial distance for a 70.3 – you need to dedicate time in training to get that ride time in.
Being able to run 12-15 miles over the course of day, perhaps split sessions, will significantly help run resilience for 70.3 racing.
Split sessions in a day – cycling too – allows you to maintain quality in training.
Chris is a believer in using a bigger gear / lower cadence for long distance racing – "It takes time to build the muscular conditioning required… but you can run harder off of it."
Chris has the IRONMAN 70.3 Championship (South Africa) and the Challenge Family Championship (Samorin) as his key targets for the year