Chris Standidge and Helen Marshall take victory in Harlech Triathlon
Welsh Duathlon Championship titles to Simon Cole and Rhian Roxburgh
A long-time staple of the Welsh triathlon season, Sunday's Harlech Triathlon was the first running of the event under the portfolio of organisers Always Aim High Events, widely regarded for their Sandman / Slateman / Snowman series of adventure triathlons in Wales. A good start too, as "glorious sunshine" welcomed athletes to North Wales.
While the British Duathlon Championships were taking place in Bedford, Welsh Triathlon were also hosting their own run-bike-run title alongside the Harlech Triathlon.
---
Stunning Weather and Competitive Racing for First Ever Always Aim High Harlech Race!
The first ever Harlech Triathlon & Duathlon organised by Always Aim High Events was greeted with stunning weather, an extremely high quality field of athletes and hundreds of enthusiastic supporters along the route.
Minus temperatures overnight made way for glorious sunshine as the event kicked off with the triathlon, which was made up of a 400 metre pool swim, 21 km road cycle and a 6 km run, which is topped off with the 'Storm the Castle' section – a race to Harlech Castle along it's mighty climb of 127 steps!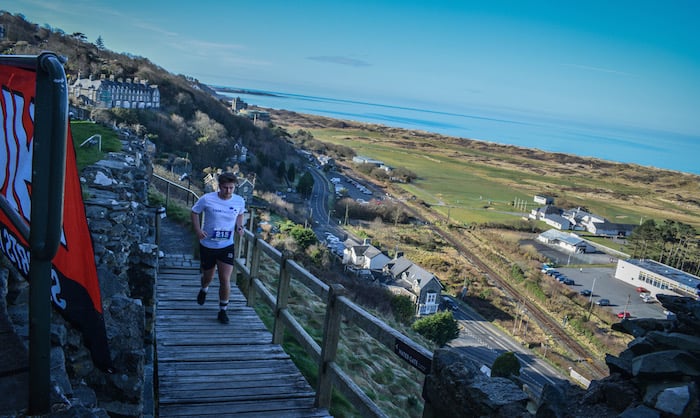 Now a Welsh sporting institution, and the perfect way to kick start the triathlon season, the Harlech Triathlon offers a thrilling course with close racing throughout the pack. 2018 was no different with the men's top three separated by just under four minutes. Total Tri Training's Chris Standidge took first place in the men's race – two minutes ahead of second, while Helen Marshall finished first, comfortably ahead of second place Catherine Connell in second and Helen Mason in third.
The Harlech Duathlon, which followed immediately after the triathlon, saw competitors tackle 5 km and 2.5 km runs, sandwiched between the same stunning 21 km road cycle as the tri. The duathlon competitors also had the 'pleasure' of the 127 steps to Harlech Castle before they could cross the finish line inside.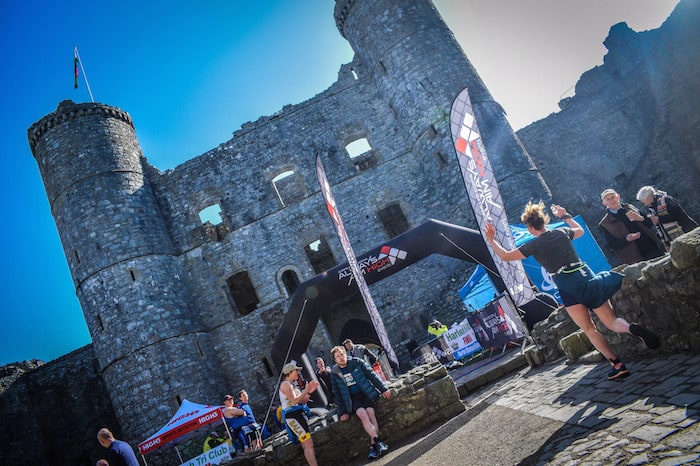 Running at the same time as the overall duathlon race, Welsh Triathlon's Duathlon National Championship decider saw home nation members race it out to be crowned champions.
In a hugely competitive and local field, the men's duathlon top three was also the Welsh National Championship, with Simon Cole of GOG Triathlon Club taking top spot ahead of Phillip Maddocks in second, and Pawl Hawkins in third.
Completing a clean sweep for GOG Triathlon Club, the women's duathlon (Welsh Duathlon Champion) winner was Rhian Roxburgh. Rhian completed the stunning course comfortable ahead of Sophie Horrocks in second and Rhian Thomas in third. In the Welsh Championship standings, Rhian was followed by Jasmine Bowyer in second and Emer Sandham (also from GOG Triathlon) in third.
Rounding off the day's action was a 3km 'fun' run, which culminated in the same 127 steps as the duathlon and triathlon.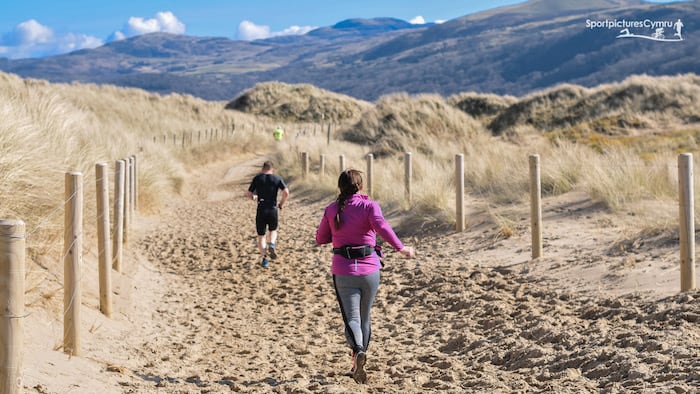 A spokesperson for Always Aim High said: "Great weather and a great field of competitors made for a incredible spectacle at the first ever Always Aim High Harlech Triathlon."
"We'd like to thank Harlech Triathlon Club and the Harlech community for helping and contributing to the running of the event, as well as our race sponsors and all of marshall's who were as incredible as ever."
Race photographs are available now via sportpictures.cymru
Full race timings for the Harlech Triathlon, Duathlon and Welsh Duathlon Championship race are now available at tdleventservices.co.uk
Selected 2018 Harlech Triathlon & Duathlon Results
2018 Harlech Triathlon
Men
Chris Standidge 01:02:43
Nathan Ford 01:05:11
Dan Elliot 01:06:28
Women
Helen Marshall 01:13:30
Catherine Connell 01:17:37
Helen Mason 01:18:04
2018 Harlech Duathlon
Men
Simon Cole 01:02:58
Phillip Maddocks 01:04:38
Paul Hawkins 01:05:37
Women
Rhian Roxburgh 01:12:38
Sophie Horrocks 01:17:09
Rhian Thomas 01:22:06
2018 Harlech Duathlon – Welsh Duathlon Championship
Men
Simon Cole 01:02:58
Phillip Maddocks 01:04:38
Paul Hawkins 01:05:37
Women
Rhian Roxburgh 01:12:38
Jasmine Bowyer 01:22.15
Emer Sandham 01:22:56
Full results are available at alwaysaimhighevents.com