A new chapter for Clare Cunningham: looking ahead to the Outlaw Half
World Champion in 2009, Clare Cunningham (www.clare-cunningham.co.uk) is one of the best known and familiar faces of the British Paratriathlon team for the best part of a decade. A Paralympic Games Gold medallist in swimming in 1992 (aged just 15), Clare returned to the Paralympic Games in Rio last summer, for the debut of the sport at the highest level. Simply making the incredibly strong British team was a very tough and emotional few months.
That race would mark the end of her Elite Paratriathlon career – but certainly not the end of her triathlon ambitions! This Sunday Clare will be racing in Nottingham at the Outlaw Half, and I asked her about the next phase of her triathlon life.
---
Looking back to Rio, you first had massive disappointment of thinking you'd missed out on selection and then the got the late and positive news of selection through the Bipartite selection panel. That must have been a massively difficult period of emotions all over the place? How did you manage during that time?
I knew it was always going to be challenging qualifying for Rio, given that there were country quotas of two athletes per country per category, the strength of my category in the UK and the fact that I had consistently been the third placed Brit in races in the previous two years. Lauren was pre-selected which just left Faye and I battling it out for the final country slot, which came down to the European Championships at the end of May 2016. I finished fourth in that race, behind Lauren and Faye and so I lost any chance of selection for the final slot.
At that point I knew I was relying on a Bipartite invitation but I still needed to be selected for the BTF/BPA to request an invitation for me. There were criteria that had to be met for that, including a World ranking in the top-10. I was unable to race the World Championships in 2015 because of the ITU country quotas and consequently my World ranking was relatively poor. After the European Championships I was convinced I was ranked 11th and so I thought I had lost any chance of even having an invitation requested for me. That was rock bottom and I took a planned week off training.
The Paralympic selection meeting was another three weeks later and that was definitely the most challenging time to stay motivated to keep training. I set myself some alternative challenges by entering some longer open water swim events and a local standard distance race. It gave me a different focus to keep training. It transpired that I was actually ranked 10th and after the selection meeting I was notified that the BPA would be requesting a Bipartite invitation for me. Whilst I hadn't actually been selected, that was an important turning point as I felt that the people I had been working with for the past 4-6 years still believed in me and my ability to race at the Paralympics, and were doing what they could to help make that happen. I was then able to focus again and started training on the assumption that I would be going to Rio. I still had another four weeks to wait until the invitations were announced and that time was far from easy, especially as it included a media day with a photoshoot in the Paralympic kit, but I was back training at my best and fully engaged in my programme again.
Given all of that, were you still able to 'enjoy' the Paralympic Games experience, despite the result not being what you'd probably hoped for with, I would assume, not ideal preparation?
From the moment I was told that I would be going to the Paralympic Games I promised myself that I would fully appreciate and make the most of the whole experience and I do feel I achieved that. I think as well, I knew a medal would be a tall order given I hadn't had the best season of racing but in an event like that anything can happen. I know I didn't have a great race that day and even now I haven't actually looked at the race results for my category – it's probably the only race I have ever done where I couldn't tell you my finish time. However, the race experience was incredible with crowds lining the whole bike and run course, which we haven't had in any other paratriathlon race. That's what I want to remember. I was competing in paratriathlon before it became a Paralympic sport and so to be able to compete in the inaugural Paralympic triathlon was a huge privilege – that's what I try to focus on when I look back on my career.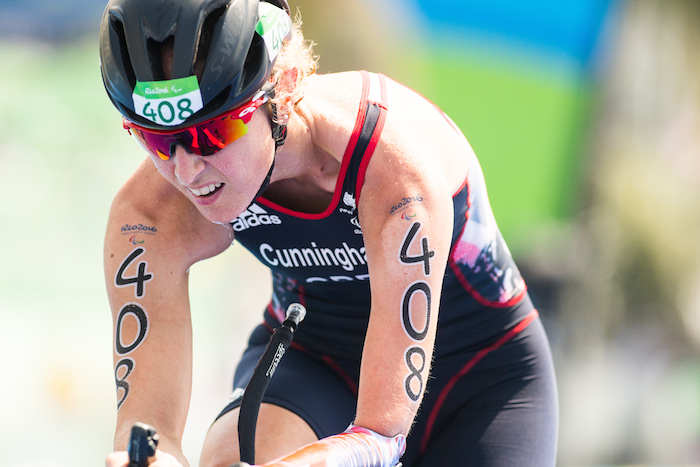 Having retired from 'Elite' Paratriathlon racing, was continuing with triathlon always something you wanted to do?
Yes, ultimately I started triathlon because I loved the sport and I don't think that fundamental passion for the sport ever went, I just forgot at times why I was doing it when trying to secure funding, qualify for races and perform at my best. After seven years I felt that I had done all I could over the sprint distance, which I don't think really suits me anyway – I really struggle operating on the red line of threshold. I'm naturally an all out sprinter (I won Paralympic gold in the 50m freestyle in 1992), but because of all the years of training, I have developed a good endurance base. I wanted to return to the days of doing triathlon for the sake of it and racing in events I wanted to do rather than events that I needed to do for rankings, selection etc.
It took a while post-Rio, but I now really enjoy training again and try to do it socially as much as possible. I joined a local triathlon club in the East Midlands, Race Hub, and I love the social side. I can have a pretty rubbish day, drag myself to an evening club session and leave in a really good mood because I've had a good, fun time. That is what sport should be for me now – it's a hobby again. I deliberately cap the volume of training I do in a week so it doesn't take over my life and right now I feel I have a very good balance. Plus I am still heavily involved in triathlon – I was re-elected onto the ITU Athletes' Committee at the end of 2016, I sit on the BTF Board and I'm doing some athlete mentoring with some of the paratriathletes. I want to continue to help paratriathlon develop and use the experience I have gained.
Your triathlon 'career' has been very focussed around Sprint Distance racing – so what made you decide to go for the Outlaw Half?!
When I was in limbo last summer, waiting to hear whether I would be going to Rio or not, I decided I needed a plan B. Mainly to keep me training but also something I could get excited about. At that point I decided I wanted to have a go at a middle distance race and so planned to do one late season if I didn't go to Rio. It may sound like a tall order as I was racing sprint distance at the time but I was doing two three hour rides a week anyway and so it would only have involved an increase in aerobic running. I got really quite excited at the prospect and so then decided that I would focus on the longer distance this season. I don't want to race sprint distance this year at all, mainly because I don't want to compare myself to the previous few years. As the Outlaw Half is early season, I thought it would be an ideal opportunity to give it a go, learn about racing that distance and then race another middle distance event later in the season.
What are you most looking forward to / most worried about, for the race?!
I'm excited to see what I can do. It's so different to anything I've done in the past few years that I really don't have any expectations. I did a decent half marathon a couple of months ago and so I know my running is where it needs to be but the thought of running a half marathon after 90km on the bike is quite daunting. I'm a little worried about racing for over five hours – it seems such a long time to retain race focus! However, everyone tells me that the Outlaw Half is a fantastic, friendly event with so much support, so I'm hoping to be able to enjoy the experience and soak up the atmosphere. It also helps that quite a few from my club are racing and so there's a lot of camaraderie there too.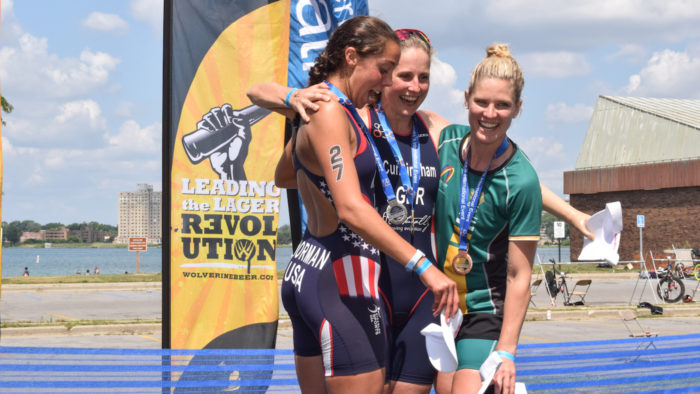 Having come from a very performance focussed environment, where medals / position / progress has a direct impact on funding, support and selection. How are you enjoying the relative 'freedom' now of being able to chose when/if you race?
I love it! This year I have deliberately chosen to only race in the UK and to race as local as possible. Travelling is great fun and I was fortunate to race in some incredible locations but it is also tiring and quite stressful. I don't plan on packing my race bike into a bike box this year!
There is no pressure or expectation to perform now. I raced a standard distance race in St Neots just over a week ago. I was waiting to get in the water and just thought – whatever happens today, nobody cares. No one is going to analyse any data, there won't be any post-race debrief, I'm simply doing this because I want to. I ended up racing only seven seconds slower than I did on the same course last June when I was training full-time in the build up to Rio!
How does your training compare now to your previous prep for a World Champs / Paralympic Games? Has anything surprised you about training for a different style of race?!
Ironically – given I'll be racing over double the distance – I've been doing half the volume of training this year compared to the previous two years! That was a deliberate decision as I've already mentioned, however, I now realise just how permanently fatigued I was from that volume of training. I didn't realise at the time because it became the norm and, because I looked after myself with good nutrition and sleep, I didn't suffer illness or injury in two years, which are usually signs of the body breaking down and needing rest. I feel so much more energised now, even compared to when I was supposedly tapered before. As a result of generally being fresher, I'm actually still able to hit the same training times and I haven't been any slower in the races I have done in the past few months. That has definitely surprised me! I still do a reasonable amount of quality, speed sessions in all the disciplines, which I didn't expect, but the main change has been the increase in aerobic run volume and much longer brick sessions.
Any predictions / targets for Sunday?!
I'm trying very hard not to have any targets or expectations but old habits die hard and to be honest I do want to 'race' rather than 'complete'. I have a time in the back of my mind that I would like to do and a time I think I am capable of if I have a great day but I'm trying not to focus on that. I know I've done the training for a solid performance but it's also a step into the unknown and a big learning curve so we'll just have to see how things pan out!