As I hope many of you will have seen (it was an excellent broadcast, as well as a fine athletic performance), professional triathlete Lionel Sanders set a new Canadian Hour Record on the track at the National Cycling Centre velodrome, Milton, Ontario on Friday.
His final distance of 51.304 km not only smashed the previous record of 48.587 km set by Ed Veal, but also surpassed the 51.115 km distance set by Jens Voigt, when he set the new Hour Record figures under the revised (current) unified Hour Record rules. You can watch the ride again on the embedded livestream below.
In 2017, Lionel achieved his best finish in Kona (2nd), under the guidance of British Coach, David Tilbury-Davis (www.tilburydavis.com). After a couple of year apart, they have been reunited for the past year, as he looks to guide him to the ultimate prize in the sport. All indications are that their coach-athlete relationship has all the ingredients to do just that.
Lionel's ride on Friday was certainly impressive, and the almost universal view was that he exceeded expectations both in terms of the result (distance), but also in the style of execution. An Hour Record attempt cannot happen without a team, and so I had the opportunity to ask David about how they went about including this project into what has been an unusual year, preparations and more… all while keeping his triathlon ambitions as the primary target.
---
When did the initial idea for the challenge come up?
Lionel started to discuss it with me around the end of June / early July this year.
We've seen lots of athletes be creative this year (including some that you coach), creating different targets, such as TT racing (Joe Skipper, Kim Morrison), aiming for 5k/10k PB's (Lionel, Richard Murray, The Norwegians etc). A (formal) hour record is far more complex (and expensive) in terms on track time, logistics, equipment, UCI officials etc). Was there ever a concern that such potential obstacles, could outweigh the benefits of actually taking this on as a viable project goal?
There was certainly some apprehension around could Lionel and those of us around him get all the "ducks in a row" with regards to Cycling Canada, UCI and equipment in a timely manner given we quickly found out the logistics involved.
We know you primarily as a triathlon coach, and clearly this type of event is very new to Lionel – did you have prior experience yourself in track riding/coaching?
I have worked with pro cyclists in the past and whilst I haven´t specifically coached a track racing athlete, I am personally familiar with racing on the track from my student days and have an intimate understanding of the physiology involved and technical aspects purely from following science and technology related to track racing closely.
Lionel and I are fortunate to have a lot of very smart industry connections that we were able to lean on for insights for this, so that also made some of the prep easier to wrap our heads around.
How did you approach this as coach / mentor to Lionel?
We started out agreeing on the demands of the event and then worked backwards to evaluate the most effective training techniques and session goals to achieve that outcome.
You said in the VT on the broadcast that throughout, triathlon training was the primary objective (Daytona, primarily, in the short term), but that you felt that this was complimentary to that. Can you give us an insight into that,
Knowing the distances in Daytona and Lionel´s speed (biking and running) and what the likely style of racing would be (some tactics and brinkmanship much like his run with Pablo Dapena last year) we had a good sense of the physiological needs for that type of racing and performing. For me I just felt the hour record didn't detract from those needs, it even complimented it.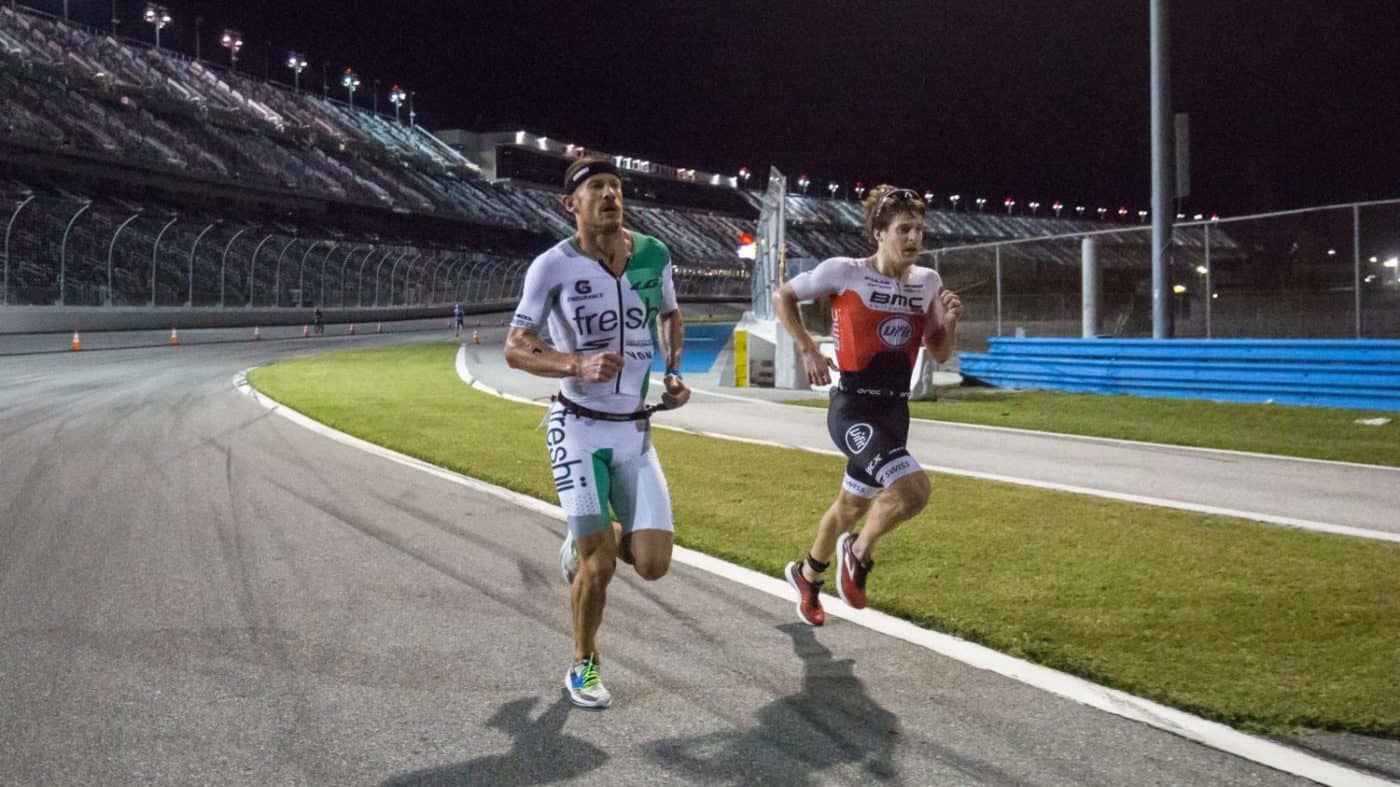 Did that mean that you (as a team), had to make some concessions in terms of preparations, that you would have liked to follow up, if The Hour was the primary target?
Not particularly, no. Although like many athletes Lionel´s summer of swimming was impacted by COVID restrictions.
Knowing Lionel a little, when I heard that his top tier goal was "to go further than Jens Voigt when he set the first unified hour record under the revised rules", I immediately ruled out the other two as I figured he would always set the bar high. Given the limited (specific track) preparation time, what were your thoughts on his potential?
By the time Lionel had tested out a few different gearing choices, tested the UCI legal position, measured the environmental conditions and we had debated cadence preference, I truly felt that over 51km/h was a possibility. So, to see him break Jens Voigt´s distance (51.115km/h) and go 51.3km/h was incredibly joyful to see.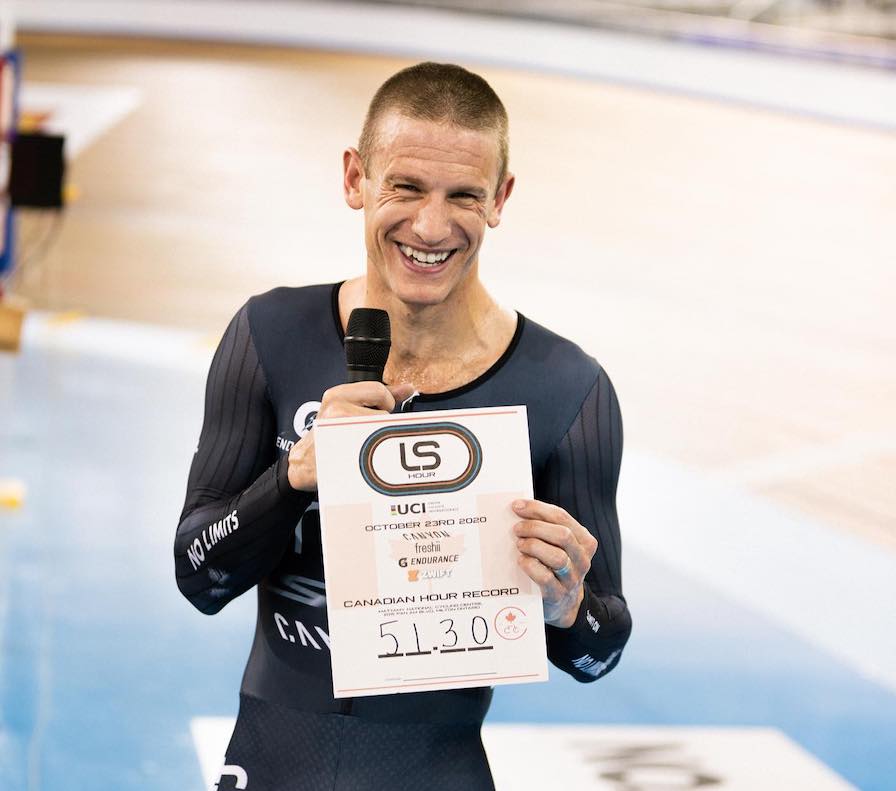 The general perception is that Lionel is very detail and data focussed, riding to power targets on Zwift etc, and none of that can be visible on the track, and thus might be a weakness. You've mentioned to me separately that, perhaps surprisingly to many, that wasn't a particular area of concern for you. Can you explain a but further?
Absolutely. Lionel knows his body well, his "internal clock" is very well calibrated from the style of indoor training he does. I would almost go as far as to stay that within sessions, power is an adjunct to perceived effort for Lionel. He is the kind of athlete that if I asked how a swim went that was 20 x 100 with 20secs rest he could recite it off the bat from memory. So, I knew that he would be metronomic in his execution, perhaps to the surprise of many people.
The ride itself. While not my area of expertise, visually and based on the lap times I was seeing throughout, it appeared to have been a very well paced ride with lap times of 17.4 +/- 0.1 seeming to be almost metronomic. There were a couple of 17.1 / 17.2 right near the end, but Lionel's immediate post-ride comments indicated that he had nothing more to give. On the surface at least, that all points to an incredibly well executed ride, particularly from someone with such limited experience. Is that in line with your assessment?
Yes, afterwards we talked and Lionel said that even one more rpm felt like an exponential increase in effort. I think he really dialled in perfectly his preferences in the limited practise sessions he had and the time we had to train leading into this.
While on-bike data can't be viewed, was the bike set up to capture it – and will any of the the top line data, Average Power, NP, Variability Index, average cadence etc be made public?
The bike wasn´t set up to capture it, the effort was all heart and feel.
Lionel set a new 5km run PB not long before the Hour ride and has been consistently swimming / cycling / running – what sort of taper / recovery into Friday's effort did you include? It seemed to work whatever is was, as Lionel said he had good legs on the day.
We talked some weeks before and agreed the approach would be pretty similar to a taper into a 70.3 race, so Monday he did a relatively short swim, Tuesday was about 3hrs training, Wednesday included the last sharpening up ride and Thursday some activation sessions.
We could see Erin providing some information during the ride (was that just cumulative time?), but that aside, it seemed like it was just let Lionel do his thing, and not over-complicate things?
Lionel had said pre effort that the best thing for him to get was 1km splits and so Erin was giving him the km splits cumulatively.
As a coach, I know you will be looking at things not just in terms of this 'event' but also what you can learn and take from it to apply for the future – what type of potentially new data does this provide, that perhaps wouldn't be available / couldn't be inferred from triathlon racing?
I think the biggest thing we are taking away from this is how the UCI legal position felt to him and enabled him to put power down.
Finally – moving away from the hour – we've all got our fingers crossed for the PTO 2020 Championship and Challenge Daytona going ahead. A longer distance than in prior years and with what should be an exceptional field with lots of new athletes and strengths heading to Florida. What do you see as the keys to success there?
I think for any athlete to succeed there they are going to need some incredibly well developed top end speed and the capacity to a touch "stochastic" with their pacing and effort, without hindering themselves later in the race.