Kimberley Morrison's 'dream come true' Pro start at the IRONMAN World Champs
The British new kid on the (Pro) Kona block…
Continuing our countdown to the 2019 IRONMAN World Championship on Saturday 12th October, we speak to Great Britain's Kimberley Morrison (www.kimberleymorrison.co.uk) who will be setting off from Dig Me Beach for the first time this year.

---
We've got six British Female Pro athletes racing in Kona this year, and you are the only debutant in Hawaii. Just over a week away from the big day, how are you feeling about what lies ahead?
I feel so delighted to be joining the five other British girls out in Hawaii, I have had some lovely words of excitement and support from the British girls and they are a true inspiration to me. I am proud to be lining up alongside them next Saturday in Kona, Hawaii… Wow, did I actually just say "next Saturday"?!
You were just 28 seconds away from qualifying at IRONMAN Texas in April, and then at your second-chance event in Frankfurt you ended up, in your words, "heartbroken" after a puncture and subsequent DNF ended your race in Germany. Immediately after that, did you think Hawaii was going to be off your schedule for 2019?
It was that moment in Texas where my love of Kona really took hold. Getting so, so close showed me that this could be a year for my 'dream come true' trip to race the IRONMAN World Championship in Hawaii… instead of sitting on a beach (end of season), making up "cocktail rules" with my husband, whilst following the race with admiration.
That was the beginning of July – was the decision to try again after that (IRONMAN Estonia), an easy one to make, or did that require lots of soul-searching… because let's be honest, an IRONMAN is hard and not to be taken lightly, whether you are a Pro or not?
IRONMAN Tallinn was of course an opportunity to Q for Kona, but ultimately it was to overcome my mistake in Frankfurt… I simply failed to prepare perfectly. I wanted to put my "perfect" IRONMAN together so this was my sole focus going into Tallinn… the prize was most welcome, of course!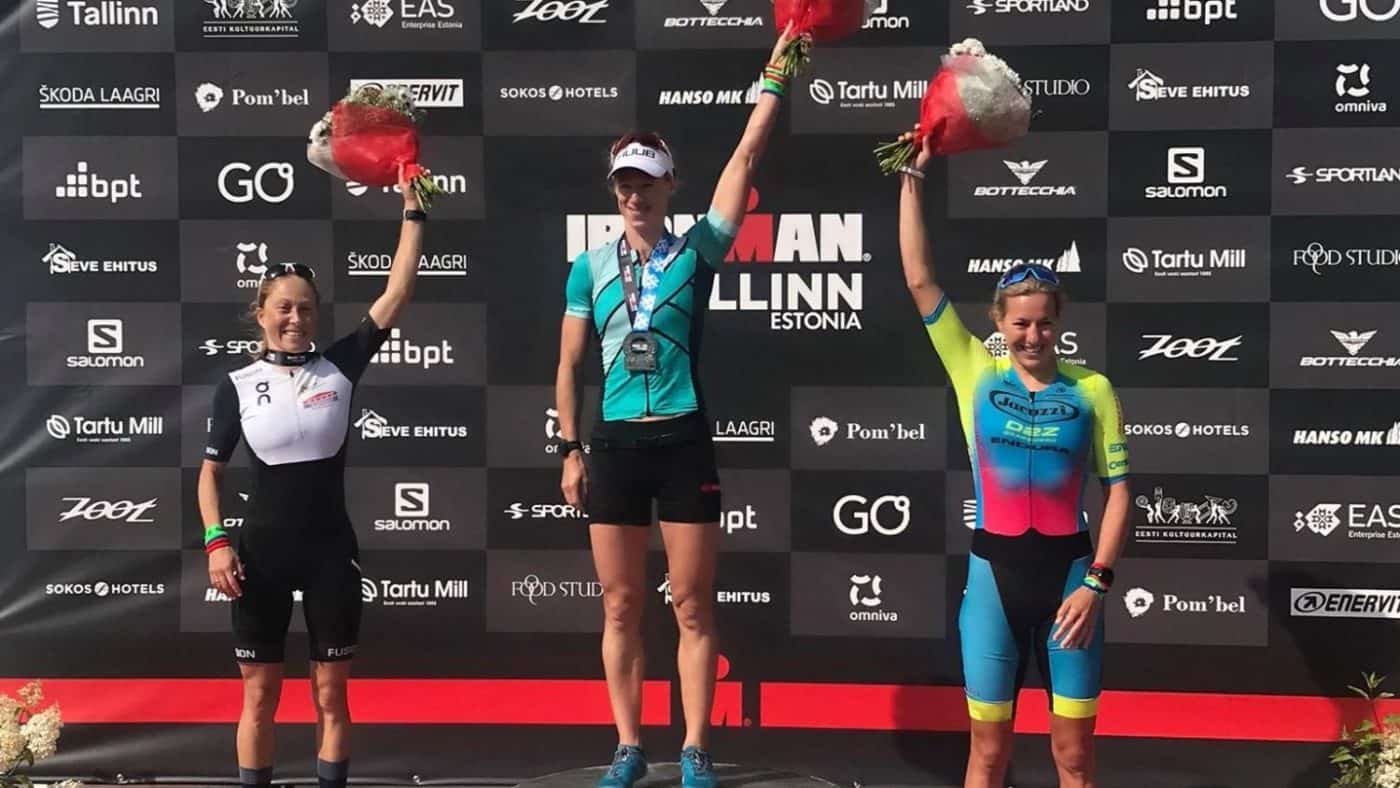 Looking back on your Instagram post now after Frankfurt, you said "I had my heart set on getting my finishers medal but my support team are there for a very good reason and I listened…". With hindsight – and the extreme conditions in Frankfurt that day – would it be fair to say that was perhaps an even smarter decision than you may even have thought at the time?
I race every race to finish, absolutely my goal, that is why I stand on the start line… so to be "advised" to not run hurt, it hurt a lot..
The correct decision…? Yes. My focus then switched to my training partner, Sam (Proctor), who was having an inspiring race coming home just outside the Top 10.
https://www.instagram.com/p/BzXNJ9tBwze/
A week after Frankfurt, you had a virtually on your doorstep race at Outlaw Half Holkham. I know that definitely wasn't on the plan (!), but as a way to try and banish that hurt from a week earlier, on roads you know and with family and friends around, was that really the perfect way to quickly turnaround that hurt?
Outlaw Holkham Half was a race of pure happiness… I absolutely loved it and would not have changed anything… even though I was just eight seconds shy of the course record (there is always next year!)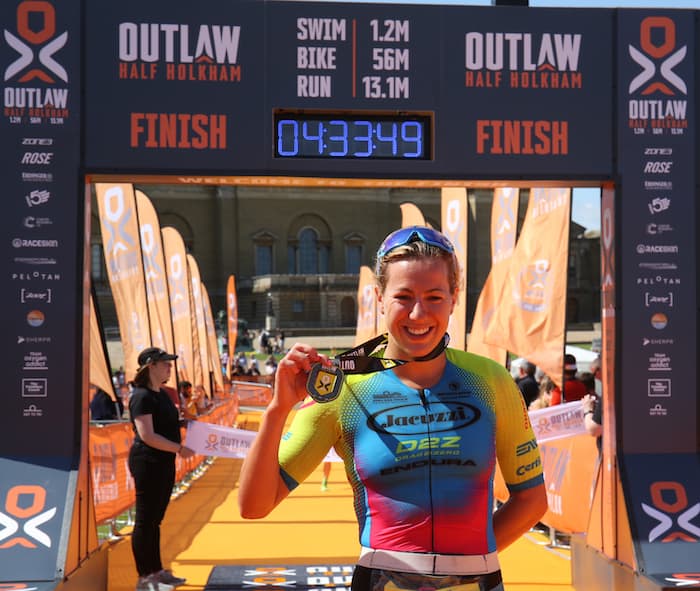 Tallinn was almost certainly going to be your last chance of qualifying, there were two slots and you spent almost all of the run in second place, only to be overtaken in the final kilometre by Kristin Liepold who would finish in front by just 15 seconds. Aside from the racing aspect of wanting to finish as high as possible, prize money etc… did you know at the time that for Kona at least, Kristin was already qualified? What was the feeling like of having secured that place?
Third place at the final turnaround (with circa 5km to go), was just over a minute back (Kristin Liepold two minutes back), so it really was a race for second and a race for a Kona slot. But as much as my husband Ben was giving me this information… I just kept flippin' running… and kept the cadence up, just giving absolutely everything without falling flat on the floor. It is truly amazing how long you can keep pushing if you really believe…. And have others surrounding you that truly believe.
https://www.instagram.com/p/B0tCK6ABn_J/
You are still relatively new to triathlon at all, and have only raced full-distance IRONMAN races over the past couple of years. When did Hawaii and IRONMAN World Championship even register on your radar and was it something that attracted you from the start?
Yes, from the start. The very beginning. It has always been the IRONMAN World Championships. I took Mum's reading book off her sun bed on a family holiday in Phuket in 2011 and Mum said to me… "Do not read that Kimberley, you will want to do an Ironman…" Chrissie was a girl from Norfolk which is where my Mum's interest in the book started. Oops, sorry Mum!
I am so so grateful for my Mum and Dad's support and excitement. Having undergone complex heart surgery at a young age they have been a little nervous about the Ironman-distance. However, they were out in Texas earlier this year and at IRONMAN Tallinn. Their excitement when I got that Kona slot was just my most magical moment, thank you x
Being your debut in Hawaii, have you sought out advice from other athletes that have raced there before to try and fast-track your knowledge?
I shared IRONMAN Tallinn with Claire and Duncan Shea-Simonds who have such a love for Kona, Hawaii and so much experience so I have been fortunate to absorb all of their help and advice. I have also had some lovely messages of support from my competitors and I thank them so much. Our sport is a magical place and the people make it what it is. From the bottom of my heart, thank you.
You've been in fine form on the TT circuit this year, including a 3:44:50 for 100-miles. Do you feel that ability to hold position, with good aerodynamics – Hawaii not being a technical course – will stand you in good stead next week?
I do believe this bike course will be my absolute favourite. I simply love riding my bike fast.
Our very own @TriathlonKim is competing at this year's @IRONMANtri World Champs in Kona.
The hard work's been done, it's about trusting those banked training hours & preparing to arrive in the form of her life 🏊‍♀️🚴‍♀️🏃‍♀️
We're excited for you Kim, best of luck in these final weeks! pic.twitter.com/o4GYPp3R9j

— drag2zero.co.uk (@drag2zero) September 30, 2019
Finally, any thoughts on what would constitute 'success' for you on your first time at the IRONMAN World Champs?
Success for me is a trip full of enjoyment, fun and so much laughter. If I am still smiling at the finish line I have remembered to do just that for my debut at the IRONMAN World Championships in Kona, Hawaii…
Time to jump into the Heat tent. Mahalo!