Sarah True collapses inside the final kilometre at IRONMAN European Champs
Thrilling, incredible, emotional, painful, awful. Honestly, they are just five of the many words that when combined, would still fail to capture the final stages of Sunday's Women's Pro race at the IRONMAN European Championship, Frankfurt.
When the men's race includes three German athletes that between them have won every IRONMAN World and European Championship race for the past five years, it is understandable that – in this instance – that race garnered a significant share of the pre-race headlines. They delivered too, Jan Frodeno and Sebastian Kienle producing a memorable race for many reasons under the sweltering conditions, which you can read about here.
Despite that, if you watched the race live, the final 3km of the women's run will likely be something that you will never forget, a reminder that IRONMAN is an exceptionally tough and sometimes cruel sport. It was very uncomfortable… but utterly compelling viewing.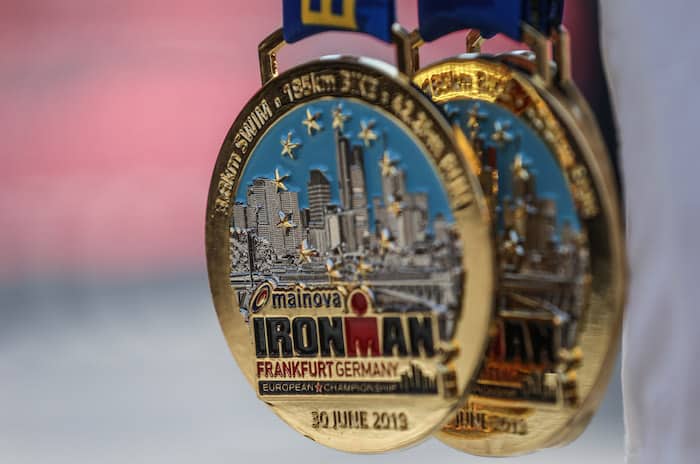 Fourth last year in her debut at the IRONMAN World Championship in Kona, former ITU star Sarah True was in Frankfurt to try and secure her slot for 2019. That had previously been the objective last month in Cairns, where she passed out on the run course…
WIth less than one kilometre to go, True was leading the race by more than five minutes. She could have walked home and still won. Except… walking was becoming increasingly difficult. For the previous 3km we'd been watching Sarah gradually unravel, switch from runner to walker and back, desperately fighting off the effects of the previous nine hours, two Championship races in close proximity and temperatures which would make a gentle stroll in the park uncomfortable. She was almost broken… but she was not giving in. This is one seriously tough woman.
Each time she stopped, she gathered herself and got back moving again, but each time was a little more difficult than the last and she was starting the wobble. It appeared that she desperately needed calories – but her mind was in a different place, and despite running through feed stations, that essential sugar intake was not being consumed.
With around 1km to go, she came to a slight downhill section; a small ramp down to the waters edge. By now, her running (lack of) balance was such that I was worried that she might not be able to control that gravity-induced extra 'speed'… but she made it. "Come on Sarah, hang in, you can do this…".
She tried, oh my, she tried. Ironically, where she finally could continue no more – 800 metres, if that, from the finish line – she was right next to a feed station. I honestly don't think she was aware that it was even there. She could go no more and the medical team were on hand to take care of her. Thankfully, she has since recovered well:
https://www.instagram.com/p/BzV6z9wFX9-/
One moment you are a few minutes from your first IRONMAN victory, a Kona slot and a $30,000 winners cheque (and sponsor bonuses, and…). The next you are an American athlete who has travelled to Australia and Europe and collected nothing, after pushing your body to its very limit.
The day had started with True, along with Amelia Watkinson (NZL) and Imogen Simmonds (SUI) leading the way through the opening (non-wetsuit) 3.8km swim.
#IMEuChamps – @sgroffy leads the way after the swim. 52:40 swim, @AmeliaWatkinson +0:01, @IMOsimmonds +0:02, @skyemoench +4:52, @TriathlonKim +4:57 pic.twitter.com/qs6MPbrgZU

— IRONMANLive (@IRONMANLive) June 30, 2019
Great Britain's Kimberley Morrison had worked her way up through the field to second behind the pace-setting Simmonds through the first half of the bike, when she punctured, effectively ending her race competitively, leading to a somewhat heartbroken – but probably wise – DNF in T2.
https://www.instagram.com/p/BzXNJ9tBwze/
The Simmonds lead was cut back through the second half of the ride and at T2, four athletes arrived together within a few seconds of each other – True, Skye Moench (USA), Imogen Simmonds (SUI) and Daniela Bleymehl (GER).
Moench (seventh last year) would gradually pull away from Simmonds over the first 30km, but with 7km to go she was still seven minutes behind True. With 3km remaining that was still six minutes despite the signs of True's eventual demise beginning to show, but ultimately she was able to manage her effort to the finish line and take the biggest win of her career in front of the huge crowds in the centre of Frankfurt.
#IMEUChamps – @skyemoench celebrates the biggest win of her career in 9:15:31! She takes the 2019 Mainova IRONMAN European Championship women's title – @sgroffy led the race until km 41.5 when she got in trouble and had to stop the race pic.twitter.com/3X0mm9uhUF

— IRONMANLive (@IRONMANLive) June 30, 2019
Second on her full distance debut was a fine effort for Simonds, the former IRONMAN 70.3 Age-Group World Champion, with Jen Annett completing the podium.
https://www.facebook.com/IRONMANnow/videos/461029504468017/
IRONMAN European Championship, Frankfurt – Sunday 30th June 2019
3.8km / 185km / 42.2km
PRO WOMEN
1st – Skye Moench (USA) – 9:15:31
2nd – Imogen Simmonds (SUI) – 9:26:01
3rd – Jen Annett (CAN) – 9:36:25
4th – Amelia Watkinson (NZL) – 9:49:32
5th – Saleta Castro (ESP) – 10:10:01
6th – Petra Eggenschwiler (SUI) -10:14:11
7th – Anne Basso (FRA) – 10:28:31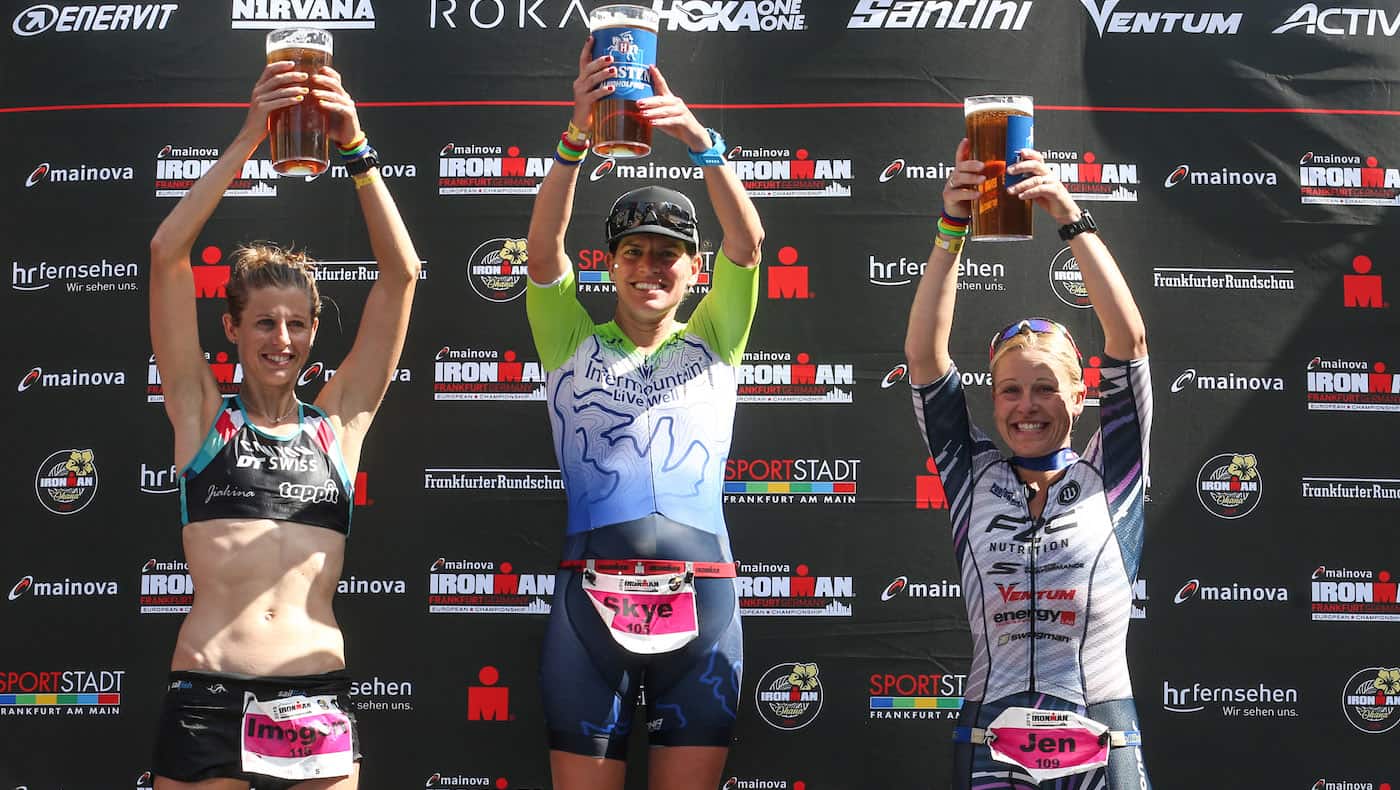 DNF – Kimberley Morrison (GBR)
DNF – Sarah Lewis (GBR)