Frodeno battles Kienle in a battle of the legends in Frankfurt
The vast majority of pre-race chat ahead of the IRONMAN European Championship, Frankfurt today featured two things. 1) It was going to be hot, very hot, and 2) Frodeno vs. Lange vs. Kienle was set to be the showdown of the winners of the last five IRONMAN World Championship titles.
We didn't (quite) get the latter – in part courtesy of a puncture suffered by Patrick Lange – but that won't take away from a brilliant head-to-head between the other two superstars, third place finishing more than 17 minutes back.
From early in the swim, Jan Frodeno was making his intentions clear and along with Kiwi speedster Dylan McNiece, they exited the 3.8km in the Langener Waldsee almost two minutes clear of a large chasing group, headed by Lange and including Franz Loeschke (GER), Sam Proctor (GBR) and – impressively – Sebastian Kienle among a close group of around 12 athletes. Non-wetsuit, that is certainly one of the best swim performances of Kienle's full-distance racing career, putting the uber-biker in great position starting the (long) 185km bike section.
#IMEuChamps – Top 5 swim: @janfrodeno 47:12, @dylanmcneice 47:12, Hanko 49:03, @PatrickLange1 49:06, Loeschke 49:06 pic.twitter.com/MrGDREgZdp

— IRONMANLive (@IRONMANLive) June 30, 2019
What we didn't realise at this point, was that Kienle had managed to stand on some glass / similar and would ride the text four plus hours with it wedged in his foot. More on that shortly!
By 35km into the bike Frodeno was clear in front, with Kienle having broken clear from the large chase back to sit 2:30 back on the 2008 Olympic Champion. That gap held pretty consistent for the next 70km, despite Frodeno taken something of a detour when misjudging a corner at high speed:
https://www.facebook.com/IRONMANnow/videos/2122925761150614/
It took almost until the end of the ride to make the catch, but the two athletes that had between them won the last five editions of this race arrived at T2 together, Sebastian having recorded a 4:17:36 bike split, with Frodeno (4:20:14).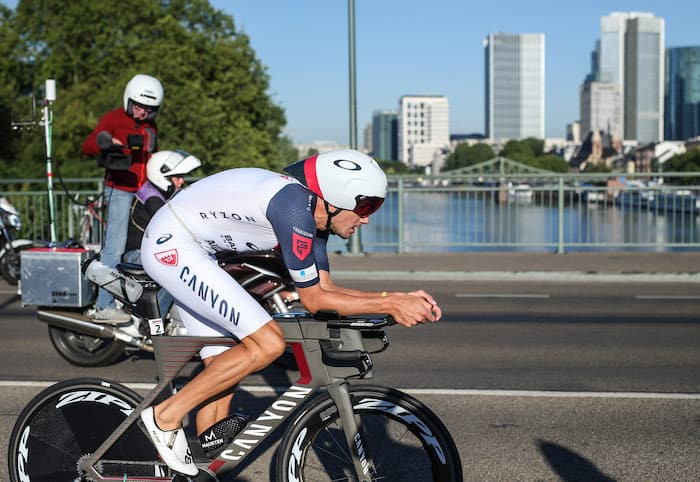 Philipp Koutny (4:28:20) was next, 10 minutes back with Joe Skipper fourth, 12 minutes down on the German pairing (4:24:28). Joe didn't start the run (or at least, withdrew very early), perhaps still suffering from the issues he had recently at Challenge Geraardsbergen. He certainly put in a good training effort however, and if he can get clear of those niggles, plenty more racing opportunities for him before Hawaii in October.
[UPDATE] – Here are the details from Joe on his race:
https://www.instagram.com/p/BzWKyJIBiGk/
In T2 Kienle had a bit of surgery! Remember that glass incident? Well, he's managed to let an official know out on the bike course and a medic was ready in transition – and what a steady hand and great job she did. Oh, and check out Jan Frodeno in this video – before starting his own run, he went over to check on Sebastian. Impressive by everyone concerned.
https://www.facebook.com/ironmangermany/videos/469719573583666/
Having lost 'surgery' (!) time in T2, Kienle started the run 28 seconds back and 12km later the gap was still exactly the same. Over the next 5km however, Kienle started to do something few ever do to Jan in long course racing, and he closed the gap and then (briefly) passed him.
https://www.facebook.com/IRONMANnow/videos/2300270790226970/
Frodeno is made of tough stuff however, and just like at the IRONMAN 70.3 World Championship last year, when he was overtaken by Alistair Brownlee, he soon returned the favour and went through the halfway mark inside 2:40 marathon pace and with a 20 second lead. And remember, the temperatures were now in the 36/37ºc range.
The defending champion would continue to pull away, finishing with a 2:43:57 marathon and taking the title with a finishing time of 7:56:02. It's fair to say that a few minutes later, he looked like a broken man however, such had been the effort of the day. Sebastian finished with a 2:47:27 marathon, stopping the clock at one second over the eight hour mark on what had been a brutal day of racing. Loeschke completed an all German podium, and while it wasn't his day, an 11th place finish for Patrick Lange (8:47:49) ensured his Kona validation race was complete. They will all meet again in October.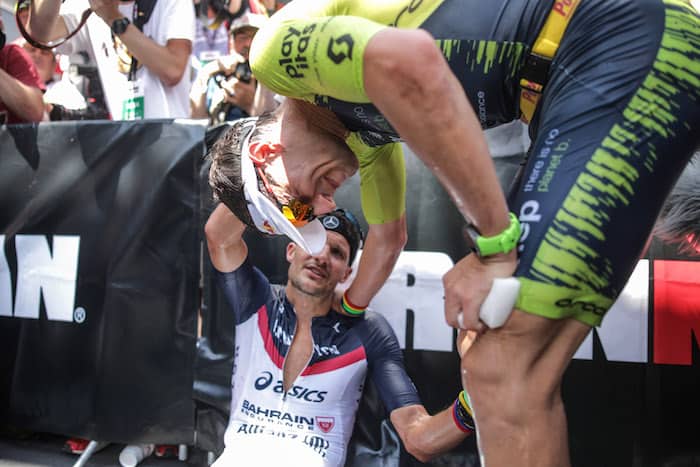 Having finished eighth earlier this year at the IRONMAN North American Championships in Texas, in only his second IRONMAN start Sam Proctor finished 12th.
https://www.instagram.com/p/BzXnB_tFBJe/
IRONMAN European Championship, Frankfurt – Sunday 30th June 2019
3.8km / 185km / 42.2km
PRO MEN
1st – Jan Frodeno (GER) – 7:56:02
2nd – Sebastian Kienle (GER) – 8:00:01
3rd – Franz Loeschke (GER) – 8:17:24
4th – Tobias Drachler (GER) – 8:23:57
5th – Philipp Koutny (SUI) – 8:24:56
6th – Matt Russell (USA) – 8:26:32
7th – Patrick Dirksmeier (GER) – 8:29:21
8th – Bas Diederen (NED) – 8:34:59
9th – Roman Deisenhofer (GER) – 8:43:22
10th – MarC Duelsen (GER) – 8:44:43
12th – Sam Proctor (GBR) – 8:54:10
DNF – Joe Skipper (GBR)
https://www.facebook.com/ironmangermany/videos/474149363371522/