IRONMAN Lanzarote champion, Nikki Bartlett, looks aheads to her second Kona
"Without a doubt in better shape than I have been all year…"
With the 2019 IRONMAN World Championship fast approaching, I spoke to Great Britain's Nikki Bartlett (www.nikkibartlett.com), one of the six British Professional women who will be part of the 43-strong female Pro field that will be racing next Saturday.
Her first Kona appearance two years ago resulted in a DNF, but "a completely different athlete" now, she's excited and motivated for the challenge ahead.

---
Let's start back in May this year – 14 times on a Pro podium without the top step… and then you go and win IRONMAN Lanzarote. Anyone who knows you will no your post-race, "It's not often I'm speechless" is true (you like a chat!), four months on, is that memory just as special?
Oh certainly. Completing an IRONMAN is tough, getting to a start line fit and heathy can be the hardest part. I went into the race fully fit, healthy and full of energy and motivation. I wanted to pick a European race which was tough, and reflected as close as possible to Kona conditions. Financially, going further just wasn't on the cards for us. Plus with all the travelling we had coming up and planned as a Guide, that travel commitment needed to come first. Although Lanzarote isn't as humid as Kona, it's hot and my goodness it was windy… apparently the windiest they've had for the race.
IRONMAN Lanzarote is one of the most iconic races out there, so to have my first win there was truly special. I'm always looking back at photos which brings back goosebumps. You never know if a day like that will happen again.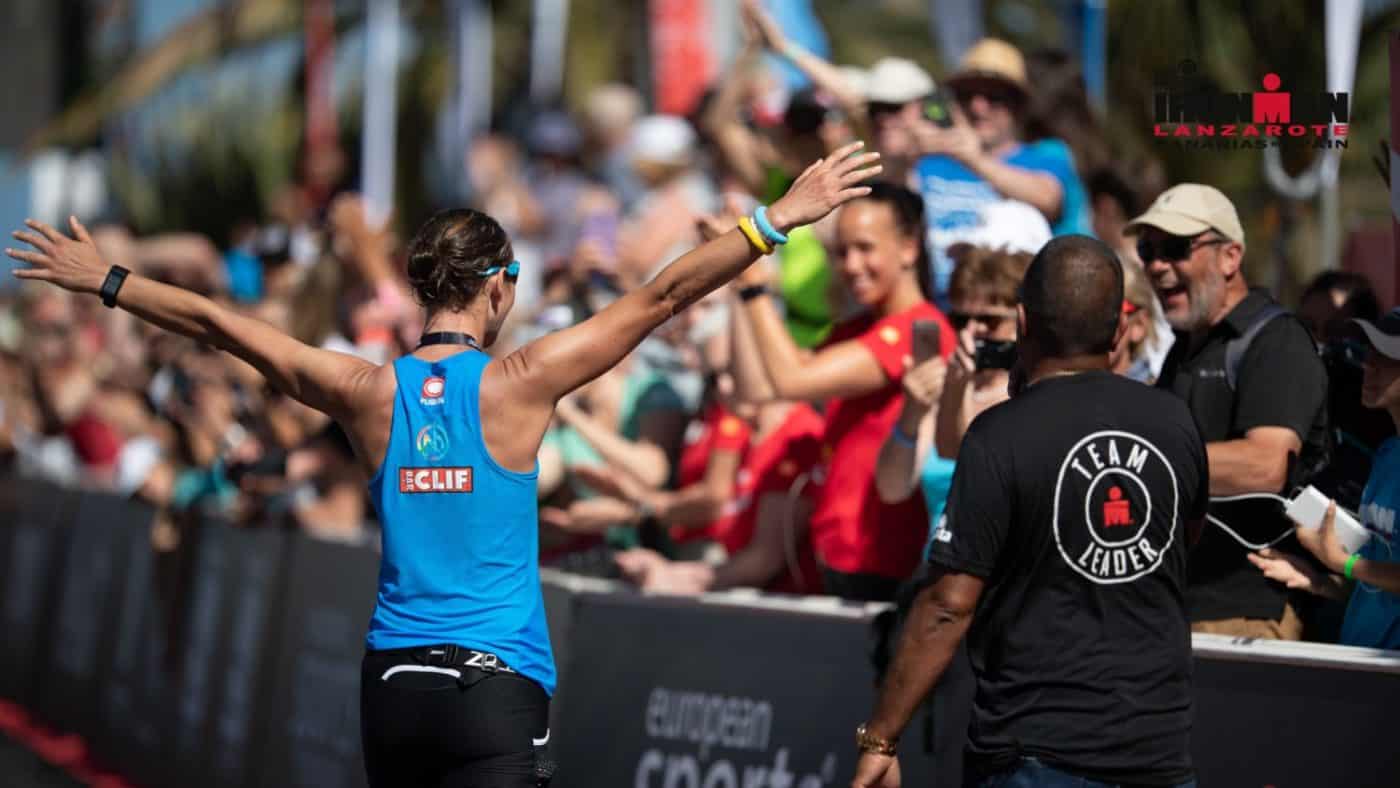 Looking back now, having been so consistent do you think 'winning' was a big psychological step, as you then topped the podium again at IRONMAN 70.3 Dun Laoghaire?
Winning does help confidence massively, it's something I've definitely lacked as a Pro athlete over the last three years. Actually, the more time and podium performances went on, without that 'elusive win' (as many called it!), my confidence was actually dropping! I would actually say, one of the main elements to stepping up was happiness. I'm in an environment and location now where I'm motivated and happy, which as simple as it sounds, has led me to enjoy life, training and racing way way more. It actually took the pressure off the outcome a little.
But, if you want me to be brutally honest, these things take time. A lot of consistent training, chipping away. Sport requires a ridiculous amount of time and patience, and it's been a steady progression, but I've enjoyed the moment/s even more so because of how hard it was to get a win!
Turning to Kona now, you raced two years ago for the first time and ended up in the medical tent on the run course. What did you learn from that experience that you'll take back this time?
Oh, a hell of a lot. You learn the most from those disappointments and failures, more than any win! But I do believe if you fail it's an opportunity to understand why and do your best and anything possible going forwards with your goals. If you don't acknowledge them how do you ever improve?
https://www.instagram.com/p/B2gKlRwhwyC/
I bought a garden tent, heater and a friend lent me a humidifier. So I set this up in our turbo / training room. Luckily I had advice on how to manage this from the British Para Physiologist and advice from the nutritionist. So it's not something I would advise people do without understanding why and how! We've had a lot of heat chamber work at Loughborough University with the EIS as part of my Guiding role. In fact, the day I got back from IRONMAN Lanzarote I was in daily in prep for our Brit Tri Para camp in Florida. I can't say that was the most pleasant experience!!!
How would you compare yourself as an athlete now, to the one that headed out to Kona two years ago?
I'm a completely different athlete, or should I say progressed athlete from more experience in the sport, and guidance from the team behind the scenes. Rob, my coach, and Susie (Cheetham) have been crucial in my progression, from everything to training, kit advice and generally understanding the importance of training and life balance which is important.
With another two years of full-time training under my belt, and two more years of knowledge from competing in the sport, I know my body now more than ever, and actually how to tackle and race an IRONMAN based on the location and how my body is feeling that day. For instance, in Lanzarote, the female time-of-the-month was TERRIBLE, so I decided to chill and take the swim real easy, cruise on feet and not stress the body out too early on in the day. I won't go into too much detail, but it was a painful stomach day! But, the plan worked, I could then front-load the bike and get to the front of the field in the first two hours.
https://www.instagram.com/p/BaQmjgUBgjn/
Athletes typically are driven by goals – are you able to measure your targets for Hawaii, be that position / times / power?
Good Question! I do have ambitious goals in the sport, I'm here to compete and not make up numbers. But on the flip side like I mentioned above, sport can be tough, cruel and unpredictable. I'm coming into Kona without a doubt in better shape than I have been all year, I'm relaxed… I wouldn't say I've got a 'top' goal. And, as boring as it may sound to hear, if I deliver everything I can with the demands of the wind, heat and humidity, the placing will take care of itself.
There's certain athletes I would like to come out of the water with, I will be doing my own thing really on race day, and like I said with Lanzarote – it's a day of patience. A bloody long day at that! One big main goal is to have fun and enjoy being at a World Champs with so many awesome athletes. You never know what life will throw at you, so you have to appreciate being fit, happy and healthy. So Bex and I will be soaking it all up and smiling come race day. I know that's how I will be able to perform to the best of my ability too.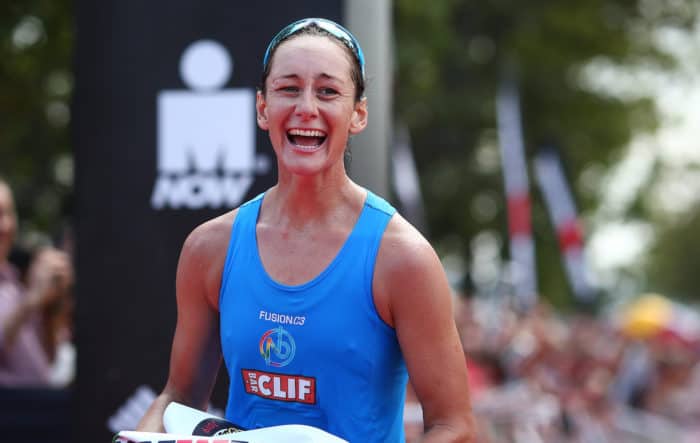 Despite the actual race result two years ago, is Kona a place and race that excites you to go back to?
Kona as a World Championships is the pinnacle of the long distance side of the sport. It's the only opportunity where the best women stand on the start line and are challenged to deliver their best performance on that day. The prospect of that excites me massively and that's what motivates me through all the tough times in training.
Since my DNF in 2017 I've been determined to come back and prove to myself as much as anything that I can be competitive and race alongside the best female athletes in our sport. Just because you fail once, doesn't mean you shouldn't look at why, and try your best to put the things which went wrong right, or better. To be on the start line with no one saying 'this is my B race', is exciting. To know you're one of the 45 qualified athletes is special. If i can inspire anyone with my story of starting the sport as a complete chopper (perhaps still am!), I couldn't swim, bought a £150 eBay bike and hadn't run long distances ever really, to now be at the World Champs as a Pro… that makes me smile.
You really don't need fancy kit, and years in the sport to start. I hope someone reading this might give the sport a go and join a local club to train with people of all abilities.
https://www.instagram.com/p/B2812pshmfN/
You've also this year been raining as a Guide for Alison Peasgood and Melissa Reid in Paratriathlon. A very different type of racing to your core 70.3 / IM schedule, how have you enjoyed that role?
I literally couldn't love my role more as a British Para Guide. Unfortunately this year has been difficult for Alison. 4-5 months out with pretty serious back-to-back illnesses. She's now fully healthy but under strict EIS Doctors-orders on HR caps, until at least the end of October. But, I know when she's fully healthy and fit you'll see us on the start line again very soon.
It allowed me to experience racing with Melissa at the World Champs, a last min change. I've learnt a lot this year, right from the basics of riding a tandem, cornering, dismounting, mounting etc. Swimming in sync, general Guiding skills around a course. The list of what I have learnt so far is endless, and much more to come! But probably more so developing a partnership with Alison and the team, and through time allow Alison to gain trust in me. It's exciting to see how fast we can go next season. She's even bought a nice new shiny tandem. Pictures coming soon!
Next year is a big one, one which motivates me to be a better athlete and each day to be the best guide possible.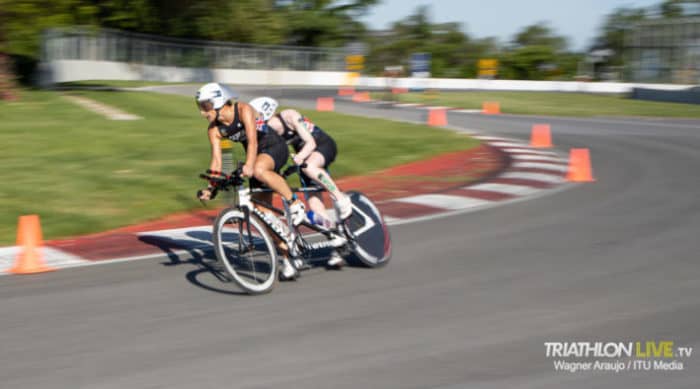 Are you able to make the two goals complimentary to each other in terms of training?
My training has a lot of intensity in, I need that to move my biking on. My top end is extremely high on the bike, I haven't been able to reach that same % for 70.3/IM yet, so actually my Para racing speed is a lot better than my long distance. That will come in time.
For the swim – I do the Para Centre plans. In the winter that's 1x speed which develops to speed endurance, 1xt ech/endurance/strength, 1x CSS (2-2.4k), but long course 50m. Trust me, it makes the world of difference. 1x Race Hub one hour smashing, Friday is a mixed pace bonkfest. Towards an IRONMAN I would look to make the easy endurance session a tad longer, but I don't actually tailor specific swims for IM. But, our sessions are 90mins long, and I believe the top end is key for IM swims.
Running won't change for Para Racing, I'm aiming to be a Guide who can max out on the bike and do the required run-off speed and talk fluently at the same time to get the best out of Alison come race day (motivation / making sure she doesn't trip!). My run is at that place now which is ace.
I feel like a Guide has more to the role, bar going hard! It's about learning what the athlete needs, and how to get the best from them. I also know Alison loves my sweat showers. She's even got special arm pads so she doesn't slip off 😂😂😂.
Lots more to learn in 2020 which is exciting!