First Pro win for Great Britain's Nikki Bartlett in Lanzarote
I asked in the Weekend Preview whether British athletes could keep the run of success at IRONMAN Lanzarote going, following wins for Lucy Charles in 2017 and Lucy Gossage in 2018. And the answer? Yes. (And yes, there were plenty of British victories before that too!)
In her fourth year as a Pro athlete, Nikki Bartlett achieved the biggest result of her career after taking the lead on the notoriously tough bike course before closing with a controlled 3:14:52 marathon to hold off Maja Stage Nielsen (DEN) and enjoy the finish straight with a winning margin of four and a half minutes.
It's not often I'm speechless. My first ever win and to do it on this brutal iconic course is a dream come true. 4 years as a Pro, 14 podiums since 2016 and today I take my first win. Thank you everyone who's apart of this. Those crowds and volunteers ❤️ thank you https://t.co/T4hD1mhaFN

— Nikki Bartlett (@NikkiBartlett1) May 25, 2019
It wasn't the best day for Emma Pallant – despite starting very well – and, based on her Instagram post below, looks likely to represent the end of her (full distance) IRONMAN ambitions. With an IRONMAN 70.3 World Championship Silver medal already, she still has plenty of racing and options ahead of her however.
https://www.instagram.com/p/Bx5Kh4ZhbcT/
While the women's race saw a first time champion, Belgium's Frederik Van Lierde is no stranger to the top step of a podium – including becoming IRONMAN World Champion in 2013.
The swim and bike would see several lead changes with the Belgian reaching T2 in the close company of Christian Kramer (GER), with Jarolsav Kovacic (SLO) and Emilio Aguayo (ESP) arriving just a few minutes later. Kramer lead through the early stages of the run by his lead over Van Lierde was never significant, and as they approach the halfway point the lead changed. Van Lierde continued with his consistent pace, clocking a 2:53:23 marathon and take victory by five minutes over the German.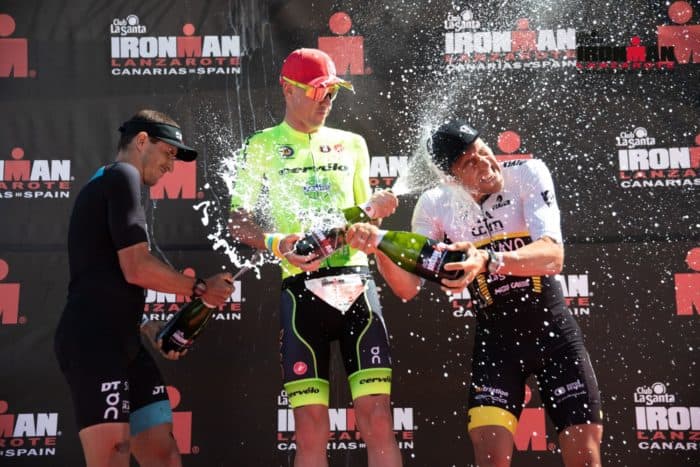 Club La Santa IRONMAN Lanzarote – Saturday 25th May 2019
3.8km / 180km / 42.2km
PRO WOMEN
1st – Nikki Bartlett (GBR) – 9:59:10
2nd – Maja Stage-Nielsen (DEN) – 10:03:41
3rd – Lenny Ramsey (NED) – 10:10:48
4th – Jenny Schulz (GER) – 10:12:40
5th – Åsa Lundström (SWE) – 10:19:13
DNF – Emma Pallant (GBR)
PRO MEN
1st – Frederik Van Lierde (BEL) – 8:51:16
2nd – Christian Kramer (GER) – 8:56:08
3rd – Emilio Aguayo Munoz (ESP) – 9:00:55
4th – Morton Brammer Oleson (DEN) – 9:05:12
5th – Diego Van Looy (BEL) – 9:07:23
Philip Graves (GBR) – 11:26:05