The 2015 World Champion (F18-24) at both Kona (Ironman) and Zell am-See (Ironman 70.3) is inspired by the challenge "that's almost out of reach".
In 2014 Lucy Charles (www.lucycharleswimbikerun.wordpress.com) took up triathlon after ten years of competitive swimming, a career which included an Olympic Trials final. She ended 2015 as a double World Age-Group champion, and plans to continue that meteoric rise through the swim/bike/run ranks by racing professionally in 2016. Not one to fear a challenge, she'll start at the tough Ironman Lanzarote in May.
I called Lucy this week to talk about her incredible progression last year and plans for 2016, and wasn't expecting the 'turn pro' news…
The BIG challenge…
"Well, for 2016 I'm going to race as a professional. I've just been given my Pro licence by British Triathlon and have decided to go in at the deep end. I'm going to start off racing Ironman Lanzarote which is a really tough course, but having previously raced in Bolton twice, I think they suit me. I like climbing on the bike.
"It wasn't an easy decision to make. I spoke to lots of people and took lots of advice, both for and against, before making the decision. I think I work quite well in having a big challenge, perhaps something that is almost out of reach and so this pretty much ticks that box!"
Starting from scratch in terms of Kona Pro Ranking (KPR) points, is an immediate return to the big island a goal for this year then? "Realistically, I don't think that is likely for 2016 – but certainly, I do want to go back in the future and hope to do that as a professional. The focus will probably be on more local events this year as I develop."
2015 – a great year for Lucy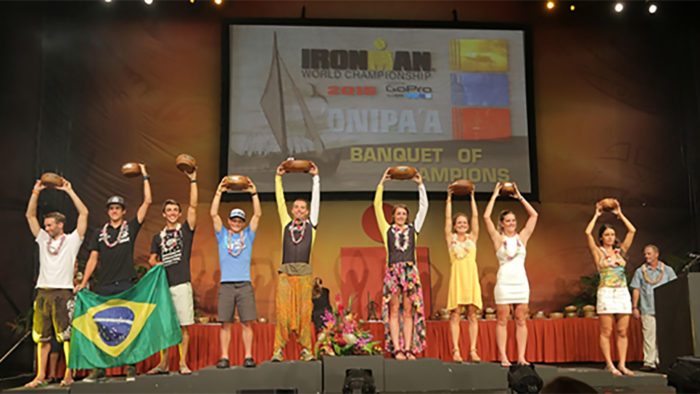 While we look back now on a year which also included an Age-Group win at 70.3 Staffordshire plus an overall win at the English Middle Distance Champs, in addition to those headline grabbing championship wins, what were the hopes and goals for 2015 at the beginning of the year?
"For 2015 my main goal was to qualify for Kona and I thought I'd be chuffed with achieving that. I raced Ironman UK in 2014 and came second in my category, and at the presentation they showed a Kona video which was really inspiring. There was only one slot in the category and so of course I didn't get one, so I wanted to come back and try and qualify the next time and I managed to do that.
"Having qualified I thought that I really want to go and take it all in and enjoy the experience… but then that changed a bit, and I thought that actually, I'd really like to try and be competitive there too…"
Related Article – Ironman UK 2015 by numbers
Ironman 70.3 World Championships – Zell am-See, Austria
Before Kona (courtesy of that performance in Staffordshire), Lucy had qualified for and went to race the 70.3 World Championships in Austria.
We'd already noticed Lucy's progression and highlighted her potential in our pre-event preview of potential GB medal winners, commenting "The former international swimmer will likely be the fastest through the water all day. She's no one trick pony however…".
Those words proved true, Lucy winning the F18-24 category by six and half minutes – but what were Lucy's own hopes before the event?
"Before the 70.3 World Champs I really had no expectations or idea. My coach had set me a target of making the podium, but I just went in with the attitude of giving it my best shot. I got out of the swim first (my strength), which I wanted to do and then just did what I could and would see what happens."
When you highlight that Lucy swam just 45 seconds slower than Javier Gomez, you get an idea of just how swift this is in the water.
"The location was absolutely amazing. Apparently they had some bad weather in a couple of the previous years but it was quite hot, which I actually like, and the setting was beautiful. It really suited me well."
Related Article – 70.3 World's: The GB Age-Group review
From long distance swimmer to Ironman…
While you would rightly expect a former international swimmer to perform well within the swim leg of a triathlon, the realities of having to take on two new disciplines means that you would expect some of that performance to be sacrificed for (greater) gains cycling and running.
So far at least, to my eyes, Lucy appears to have maintained an exceptionally high performance in the water while developing her skills on the bike and run – does she still maintain a significant swim volume?
"Initially I really dropped back my swimming volume because I needed to train for the bike and run too, but what I've found works for me now is that I keep a core level of swimming week-to-week and then before a major race I'll ramp it up a bit more to bring me back to my optimal swim level."
The other thing I wanted to find out was why Ironman at such a young age? More typically, we'd see an elite swimmer making the transition to triathlon be routed through the draft-legal / Super Series / ITU pathway, but that was never Lucy's motivation.
"I'd always wanted to do an Ironman (when competitive swimming), as I knew a few people that had done them. As a swimmer I was always an endurance athlete, doing 5k/10k open water races. I wanted a big challenge to take on after stepping away from swimming and the Ironman was a big focus and motivation for me."
Ironman World Championships – Kona
Having been motivated by that inspirational video at the 2014 Ironman UK, did Kona live up to the hype and expectation one there?
"Kona was crazy! Obviously, I had some experience of a world championship from having been to the 70.3 champs – but Kona was on a scale about ten times that. We went out 10 days before the race and had about five days there afterwards, which gaves us some time to relax and see a bit more of the island."
One thing that the triathlon world certainly noted on a global level was Lucy's swim performance in Hawaii. The fastest female by a considerable margin on the day, her time compared well with the top male Pro athletes.
"Well, I like to go from the front in the water and I did have an aim of possibly trying to break the swim record, which is a really fast time. I didn't do that, but my time (52:20) was just over two and half minutes quicker than the fastest female Pro (Jodie Swallow, 55:04) and was equal to the fourth fastest Pro man. I'd like to have a chance at the record one day in the future."
Related Article – Kona 2015: GB Age-Groupers Excel
From swimmer to triathlete…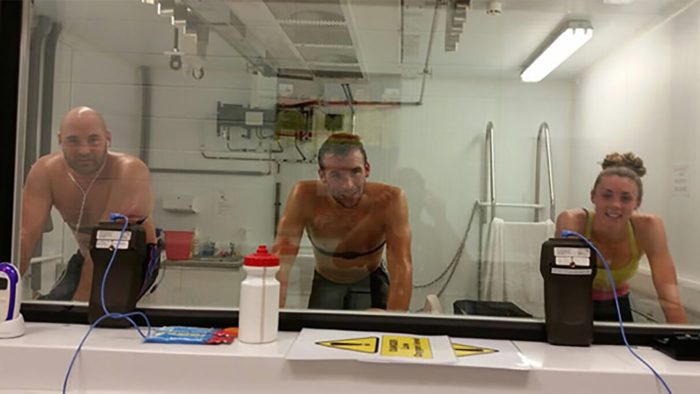 Lucy admits that the move away from (just) a black line on the bottom of a swimming pool has been a hugely positive one.
"I really love the triathlon training because you get to train three sports and not just one. I was already doing a lot of hours as a swimmer, often over 20 hours in the pool/week with maybe a total of 25 if you include the land/gym work. I find it much more interesting and stimulating now than only having that black line…"
"As a swimmer I went to two World Cup events (Argentina and Brazil) and I did the finals of the Olympic Trials 800m for London 2012. That was at the London Aquatics Centre, where I train now, alongside Rebecca Adlington [Ed. who went on to add Bronze to the Gold she won in Beijing]. I also finished second in the Great North Swim, ahead of Kerri-Anne Payne who won Silver at the Beijing Olympics."
"Up until Ironman UK I was self coached and then I linked up with Mark Racher (www.m1cendurance.com). Mark was an elite swimmer too and actually swam for the same club as I did. I also work with the University of Bedfordshire, which meant that before Kona we got to use their climate chamber in order to acclimatise. We were in there every day for two weeks and it seemed to work – it was never as hard in Kona as it was in that chamber!"
Related Article – ERDINGER Athlete of the Month October 2015: Lucy Charles
"I love to race…"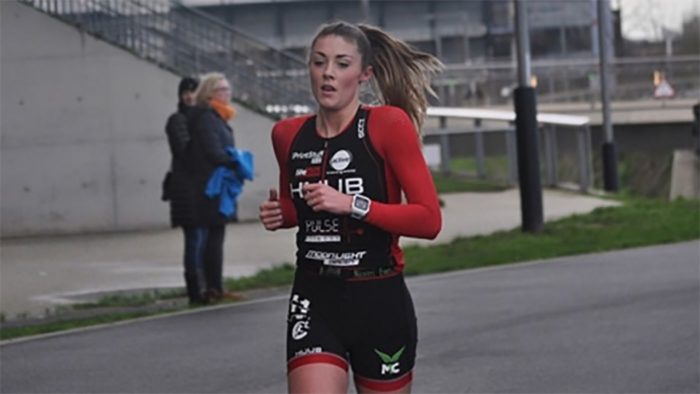 I commented to Lucy that from following her updates through social media, she appears to enjoy racing frequently and across various sports too – cross country, road-running, duathlon, time trials…
"Yes, I love to race. I like to do a mix of events, particularly cross country. I find that I don't necessarily 'believe' the training alone so I like to test it out in race situations."
A 'numbers' person on the bike?
"I have had a power meter since before my first Ironman, plus I do use the Wattbike a lot. I didn't know too much about them at the start but I have educated myself quite a bit since then. They are very useful – but also I don't become obsessed with the numbers. I know that some days you aren't necessarily going to hit exactly what you want because of fatigue or whatever.
Anything planned beyond Ironman Lanzarote?
"Having done it for the last two years I would really like to do Ironman UK again. That seems to suit me. I might even do Ironman Wales too – another tough race, but also means it is much easier in terms of travel / costs etc."