Lucy Hall has enjoyed a stellar 2021 to date, and it is not over yet – the British star will race at CLASH Daytona on December 4.
Lucy, now 29, has produced podium after podium at middle-distance 12 months after she considered quitting the sport during the height of the COVID-19 pandemic.
Her progression in 2021 has been striking and the popular Leeds-based athlete is looking to continue that upward curve in Florida, and then again in 2022 when the 70.3 World Championship will be her main target.
One more race – heading to Daytona?
28th last year at the PTO 2020 Championship / Challenge Daytona, Lucy will have plenty of knowledge to draw on when she rocks up to take on another star-studded field in Florida this year.
"Yes, I'm going to give it a go and go to Daytona in December," she revealed.
"I think hills really play to my advantage… but in Daytona you constantly have to be pushing the same amount of watts for 80k, and everyone was coming off the bike with cramp and bad backs (in 2020).
"There were loads of athletes really struggling with being able to consistently push those watts out – the ones that did well, from what I can gather, do a lot of work on the turbo.
"For me, I like to be out chatting to people, on the roads and not be in a 'pain cave'! I'm having to learn to try and be a bit more adaptable and try different environments for the next four weeks. I'm going to be doing a lot on the turbo I think!"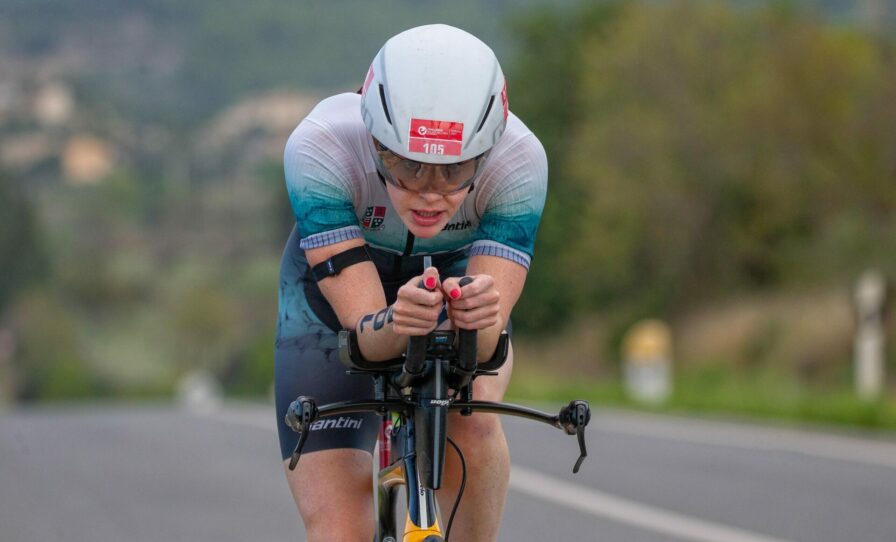 Going long(er) in 2022? Maybe…
Lucy wasn't able to race at the 70.3 World Championship in Utah this year due to illness, but that is very much on her plan to put right in 2022. Along with something new.
"We are going to target World 70.3s, as I didn't have a chance to race this year after getting run down after racing in Samorin. Hopefully the season overall will be a lot more solid in terms of event dates, so we can actually race in different countries and there not be a problem.
"I'm potentially looking, maybe, at going a bit longer as well. I really need to explore all the science bits first and get stuff right with that, but i've kind of got the bug for it a bit. It would be cool to see if I can do an IRONMAN or a long-distance race.
"We haven't really planned the year and worked out how it would all look yet, but in the back of my mind I'd really like to give it a go."