The athletes make the race, but the photographs certainly help tell the story and that is where Tommy Zaferes comes in.
As part of TRI247's new 'Behind The Lens' series, we shall step back from the race images to discover the person behind the camera, and the realities of the life of a triathlon photographer.
If you have read any articles about elite triathlon, it is very likely you have seen some of Tommy's stellar work (www.tommyzphotos.com). What follows is a lot you won't already know…
Who is Tommy Zaferes?
His surname will be familiar to many/most of you. Tommy is married to Olympic bronze medallist and former World Champion Katie Zaferes.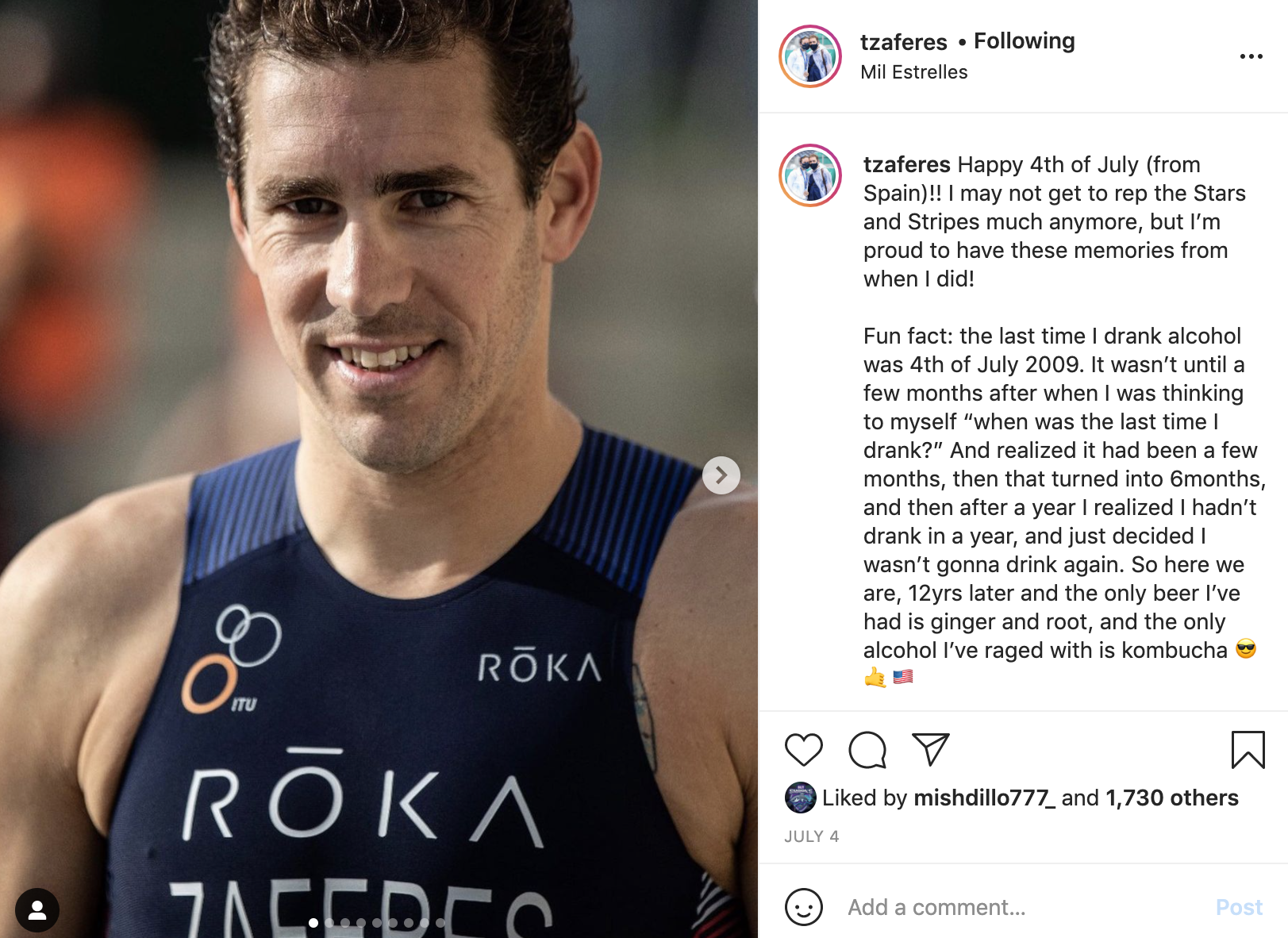 What may not be so well known is that Tommy is a very accomplished athlete in his own right – a former Olympic trials swimmer, he has raced as an elite triathlete, and taken part in Super League Triathlon.
Tommy now spends his time capturing triathlon images rather than racing. It sounds like he may be living a dream, combining his sporting and creative passions. He kindly provided an insight to what it really means to be professional triathlon photographer.
Family traits (portraits)
Where did it all start? How did Tommy get into photography? Well, it seems that it may have been inevitable/unavoidable.
"My parents were wedding and portrait photographers, so I grew up around photography, but it wasn't until December 2015 when Katie got me a camera for Christmas that I started taking photography a bit more seriously."
Why triathlon photography?
From a layman's perspective, the role of a triathlon photographer looks appealing. Tommy confirmed there are certainly positives and detailed what he likes most about his job.
"The flexibility of it being a creative art, but also having structure. There are things I have to fulfil as part of my shot lists, but then everything else around that I get to use my imagination and try to capture moments and memories that no-one else in the world has access to."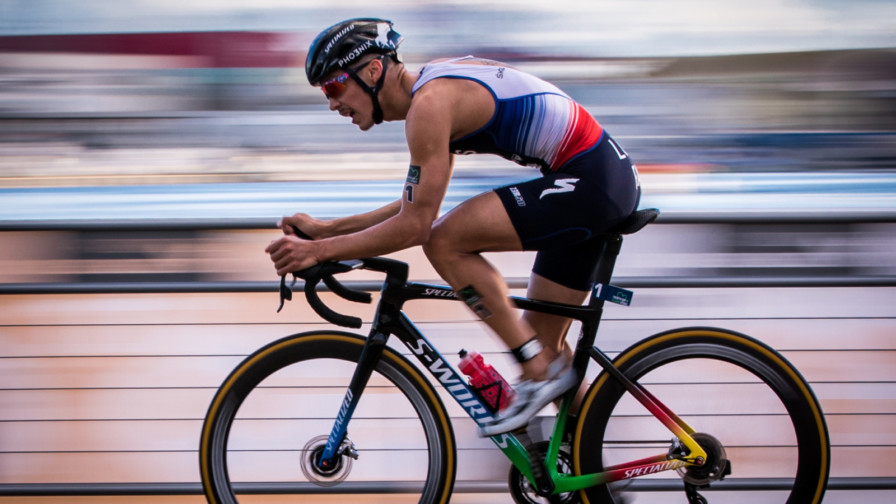 How to take a photo
Talking of creativity, it leads to the question of what should any budding photographers be considering when looking to capture such a moment? Tommy shared his expertise.
"The first thing is light. Where is the sun, what time of day is it, are there clouds, shadows, reflections? What is the environment like, and what colour is the pavement and the buildings, etc.? When you take into account all of these things, you can then make a decision on where you want to be for the shots.
"The next step is choosing spots that you anticipate to be "exciting" or where potentially game-changing things can happen."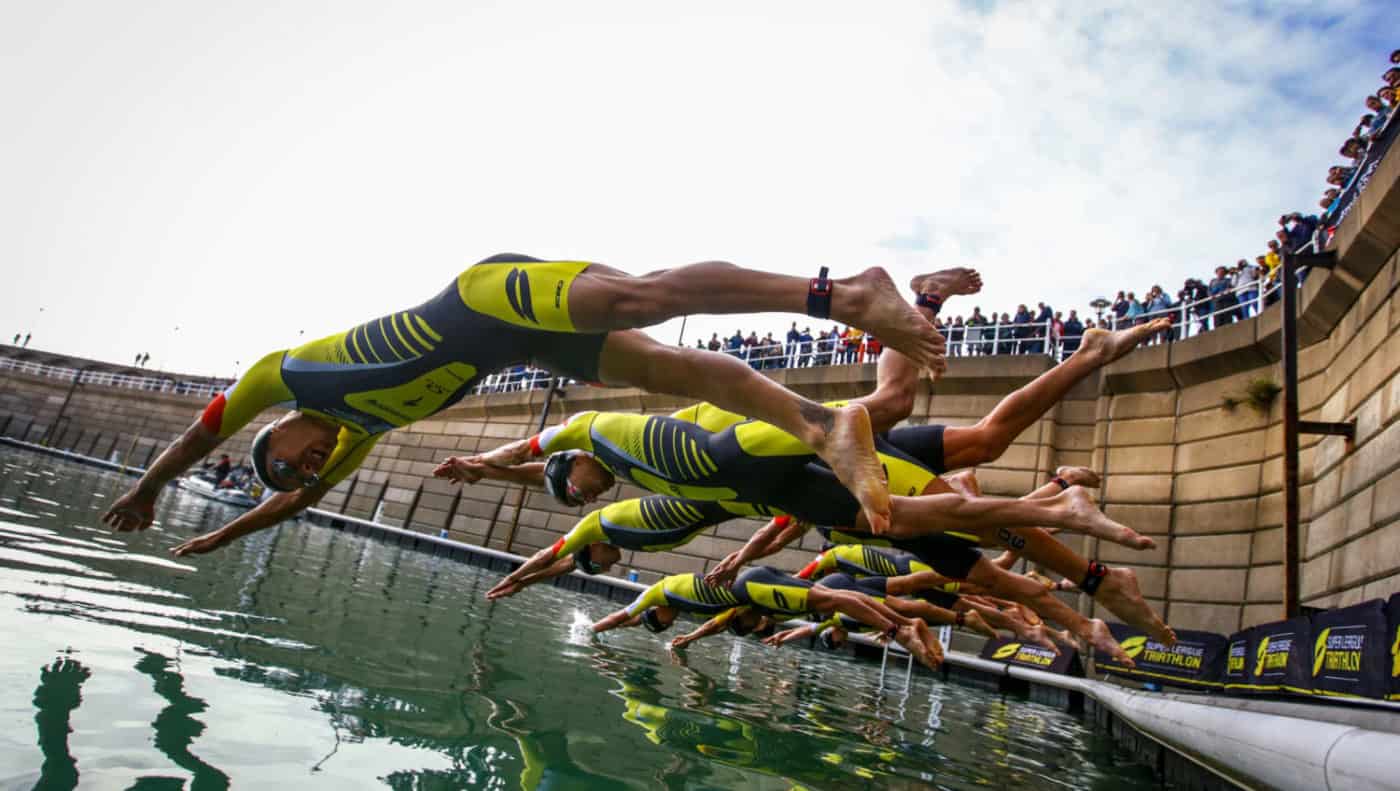 Globe trotter
Travelling around the world must be a positive when it comes to being a triathlon photographer – Tommy has been to 31 different locations all told – and established commitments mean his plans for the season are fixed early on:
"I always travel and train with Katie, so that means I also travel and train with the entire JFT Crew (Joel Filliol training group). I am contracted with World Triathlon for all the WTCS races plus a few World Cups, plus with the PTO and Super League Triathlon, so my schedule is set pretty far in advance."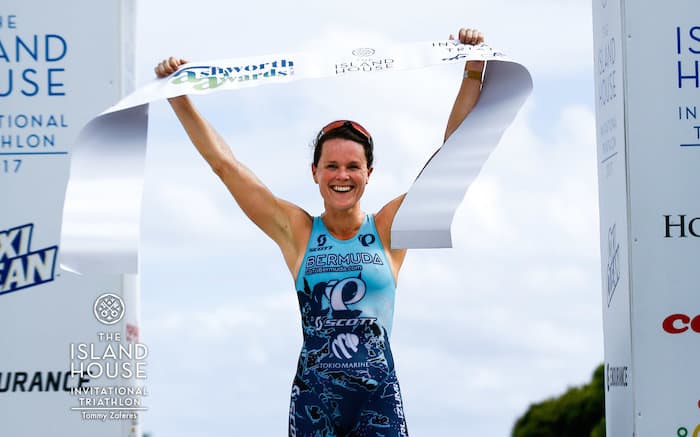 Tommy pointed out that there aren't too many exotic places on his schedule, but certainly a lot of locations! So, for such a well-travelled person, which are his favourites?
"I really like shooting in Bermuda and Lausanne. Both places allow for a multitude of opportunities when deciding what, where, and how to shoot. Both places have very clear water as well, so underwater shots are also an option."
Favourite photo
With all the photos and shots Tommy takes, does he have a favourite? If so, why? He confirmed he has, and there was an element of luck to the shot – but there is certainly some truth to the quote "the more I practice the luckier I get" (often attributed to golf great Arnold Palmer):
"In the middle of WTCS Montreal in 2019, Gustav Iden got his chain jammed and wasn't able to get it back on. Because he was off the back of the pack, I wasn't expecting him to be coming after the main group already went by, so I was actually in the middle of moving to a new shooting location and about to change camera settings, but I saw him coming at the last second and quickly snapped a couple frames as he went by.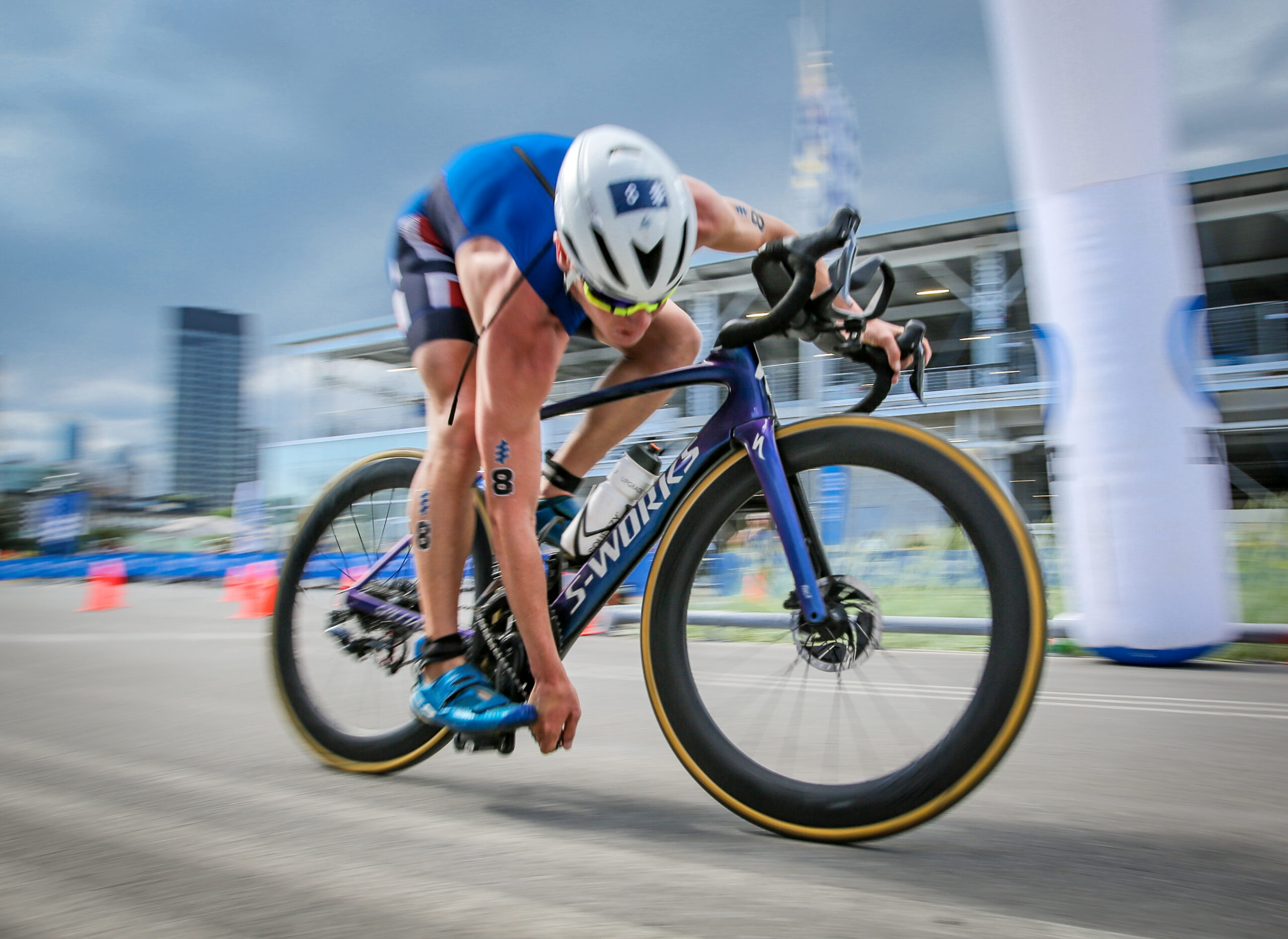 "When I looked at the pictures afterwards I was like "what in the world??" I couldn't believe I happened to be in the right spot, and randomly chosen the perfect angle, to be able to capture this moment."
9 to 5?
Getting the best images must require patience and persistence, along with the fact long days are a necessity. So what does a typical race day look like for Tommy?
"…most race days are quite long. But it can vary drastically from a single sprint distance race, to four back-to-back Olympic-distances races.
"As an extreme example, the WTCS Edmonton Final a few weeks ago, I had a 4:30am shuttle to the race site, and after shooting four back-to-back Olympic distance races, walking/running around the course a total of 20k (tracked on my watch), plus post-processing four galleries of ~100 images each gallery, and then packing all of my stuff (including my bike I always travel with), I was able to go to sleep at 2am the next morning. Only to then wake up at 3:30am for my shuttle to the airport. Heavy."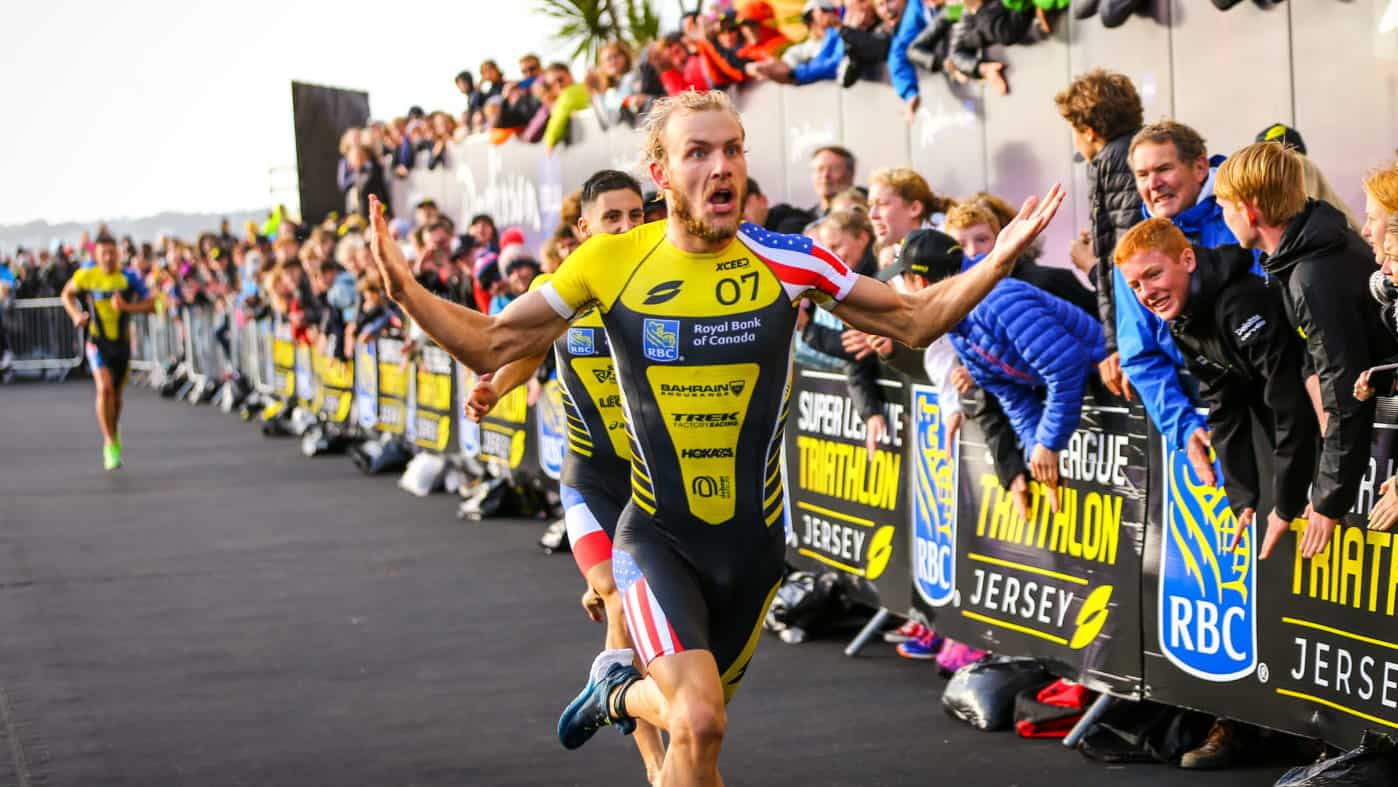 What it is really like to be a race photographer?
Unquestionably a tough day, but surely lots of the day is sat down waiting for the athletes to roll past? I jest. Tommy went on to share some aspects that we are unlikely to appreciate:
"I feel like a lot of people assume sports photographers just sit in one spot and press a button, and while that does happen at your local marathon or whatever, my job is the polar opposite of that. I am usually running/walking more than 10k (with all my heavy camera gear) on every race day.
"While I'm transiting from one location to the next, I have to be hyper-aware of what is happening on the race course so that I do not get in the way of the race, but also the race coverage (live cameras everywhere). I am also deleting all the images I know I will not use so that when I upload my photos later I don't have thousands to go through.
"Depending on which camera I am using, which lens, and what I want to get out of the shot, I am constantly changing settings in the camera to achieve different outcomes. Then (as an example) when the group of 30 athletes come by on the bike at 50 km/hour you have to find specific riders in that group, and capture them in focus."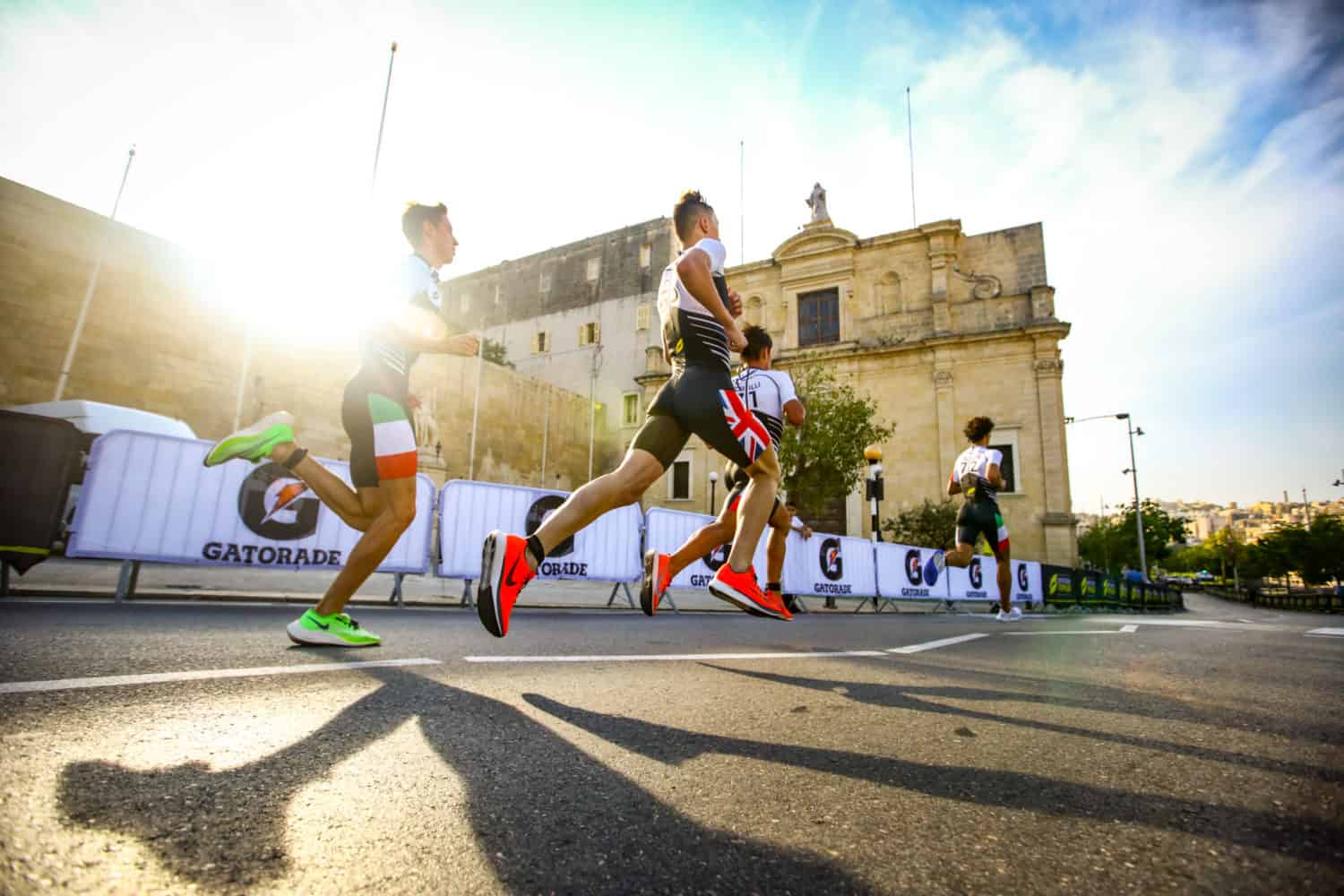 The final edit
With the advent of digital photography, we're all quick to underestimate what the editing of pictures involves. Tommy explained:
"The second part people don't realise is how much time it takes after the race to upload everything, then go through and select all the best images, crop them, edit them, export in high res and web res, back them up online and on external hard drives, and then upload them to distribute. It's an intensive process."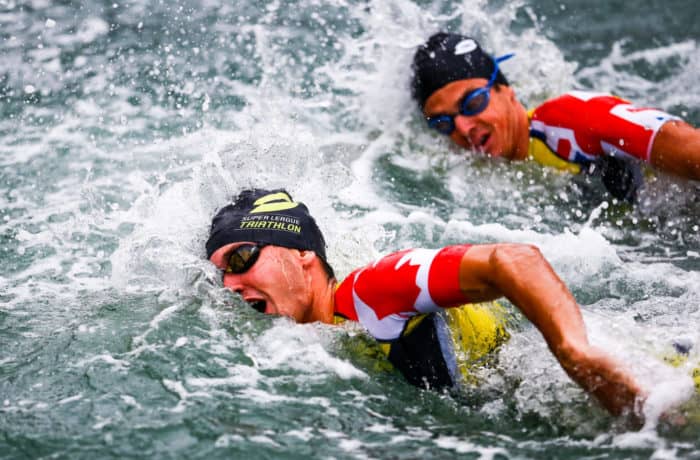 As mentioned, Tommy has been focusing on his photography since 2015, and in that six-year period he has seen a jump in the demands expected of a photographer:
"In my personal realm, quantity of images being published is the biggest change. Before it was like "choose your BEST of the best only, but now it's like you have to choose the best images of as many athletes as possible so the maximum number of athletes/federations have something to post. Plus with three sports, now you're trying to get a photo of each athlete during each discipline."
The advent of social media
Another huge change, not just in triathlon, is the burgeoning impact of social media. Social media is an unavoidable and crucial consideration and factor for any elite athlete – just winning races is not enough. In his role as a photographer, Tommy is a fundamental source of social media content for athletes and brands.
"Social media is a part of the business as a professional athlete. Marketing yourself and the gear you use has major value, so I for sure work with the athletes and brands as much as possible. The fact I am able to be around world-class athletes all the time, and provide them and their sponsors with high-quality imagery, has helped my career like crazy."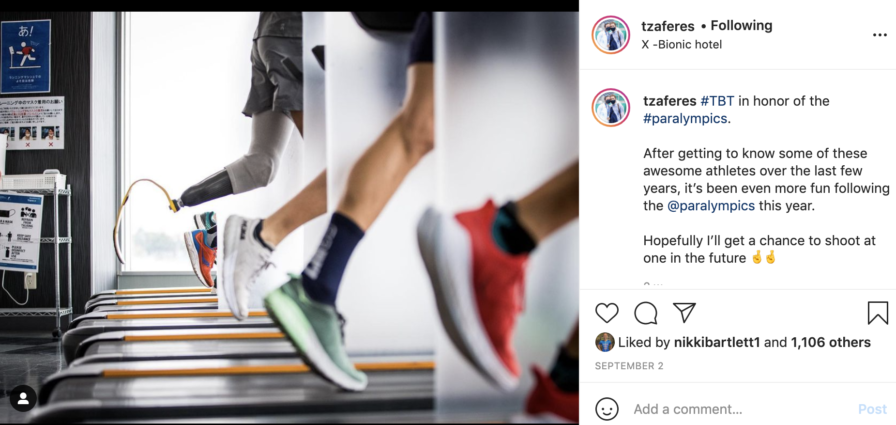 Social media and the internet are both a blessing and curse. We've all seen, following a mass participation event, people posting pictures with a watermark rather than paying the fee for the image. Although individual athletes aren't necessarily re-using Tommy's pictures, he experiences similar challenges. He detailed his primary irritation:
"Definitely the biggest frustration being a sports photographer are brands and companies assuming they can just use the images without paying. As explained above, it is a lot of hard work, time, travel, money, sacrifice, and skill, to get any shots that are published. Unfortunately, everyone thinks because it's on the internet it's free game.
"Photo credit doesn't mean anything; unless you have gotten the permission from the owner of the content, or purchased the rights, all images are off-limits."
How does a triathlon photographer make money?
Like many professions, there are various roles which will have different pay structures or methods. In this instance, Tommy takes images of triathletes at the most prestigious races, which means his pay structure is likely to be very different to photographers at local events, where individual athletes look to buy mementoes:
"I am lucky to be a contractor for World Triathlon, Super League Triathlon, and also the Professional Triathletes Organisation, so I have different contracts with each entity that pay me (plus flights, hotel, food), but each contract stipulates what the ownership of the images looks like after the event."
"Outside of events I have individual contracts, and companies that I just send individual invoices to, who want to buy individual images, a folder of images, or even companies that pay for a full photoshoot. Plus there are magazines who purchase photos, and also will hire for a cover shoot or story or whatever."
Photographer and elite athlete
If the above didn't keep Tommy occupied, he mentioned that he also works as a social media contractor circa 20 hours a week and, just to make us all question our time management skills, he fits in around 20 hours a week of training with Katie!
Advice for aspiring photographers
To wrap up, we asked Tommy what advice he would give to an aspiring triathlon photographer. His answer was as crystal-clear as his images:
"Strive to take pictures that you don't think anyone with a camera could take. Be relentless with your culling of images. Only publish the very BEST, perfectly sharp, images."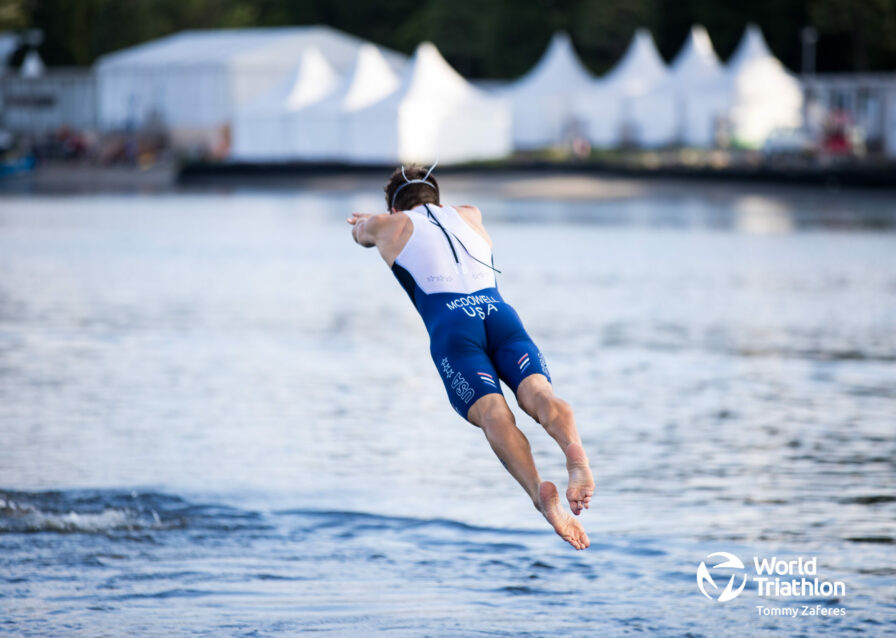 Thanks Tommy.