"I do triathlon because I love it… I race because it's fun"
Lucy Gossage sings the praises of the Long Course Weekend
While Great Britain's Lucy Gossage won the debut edition on the Long Course Weekend Mallorca (www.lcwmallorca.com), 'winning' was really only a very small part of the story.
A regular at the original Long Course Weekend in Tenby, I asked Lucy to put together her thoughts on what the Long Course Weekend format offers, and why she is such a fan of the event.
---
I do triathlon because I love it. Yes, I race professionally. And yes, I make money from it. But fundamentally, I race because it's fun.
Long Course Weekend captivates the spirit of triathlon that sucked me in all those years ago. It takes me back to the days when I was a participant rather than a contender and reminds me why I can't let triathlon go just yet. There's no money on the line. There's no pressure or expectation. It's all simply about fun. Perhaps best summed up by one of my uni friends who took part in the half-marathon at LCW Wales this year, "Lucy, I get why you love triathlon now". Long course weekend makes non-triathletes want to be triathletes.
LCW takes a long distance triathlon and slices and dices it over three days. You can choose to do the full LCW (an Ironman distance over three days), to get one of the coveted fourth medals. Or you can pick and choose. Four swim distances, two or three bike distances, four run distances ranging from 5km to a marathon and a kids race. There's something for everyone. I met a family who had come over so their kids could do the 1500m swim. I met couples that were doing the whole thing together. I met people using it as an 'Ironman-taster'. Some using it as an 'A-race' and others using it for training. I met groups of varying ages, abilities and aspirations dipping in and out of the different distances according to their own goals. But all, primarily, doing it for fun.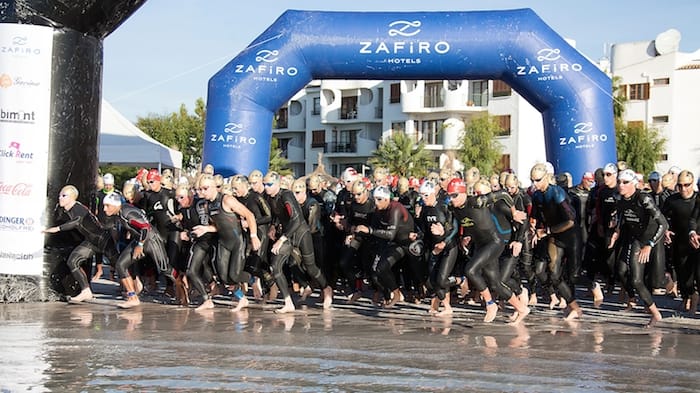 My Cambridge friends and I have long been fans of the Long Course Weekend in Tenby so when we heard they were doing one in Mallorca, we were the first to sign up. To steal the phrase from the men's winner, Tom Vickery, I was using it as a 'defibrillation' into winter training. I've had my end of season break and figured this would be the perfect shock to the system to prepare my body and mind for the winter slog and to remind myself why it's worth working hard in the dark and cold.
Racing over three days is completely different to racing an Ironman in one go. Some might say it's easier. Others would say it's harder. If you're taking it seriously, you have to be fired up three days in a row. And, if you want to, you can go much harder in each discipline. The bike leg is drafting (and we all know the old adage about triathletes and group riding). Add onto that the closed roads and mass start we had in Majorca and it turns it into the equivalent of a high quality bike race. Tactics become important. Are you the donkey or the cart? Most triathletes are the former. The more tactically astute are more than happy to let the likes of me destroy myself in the wind. Surging is critical to stay with the pack. Turn off your power meters; they're pointless. In general, I much prefer non-drafting races that play to my strengths. But this is different. And, it's surprisingly fun.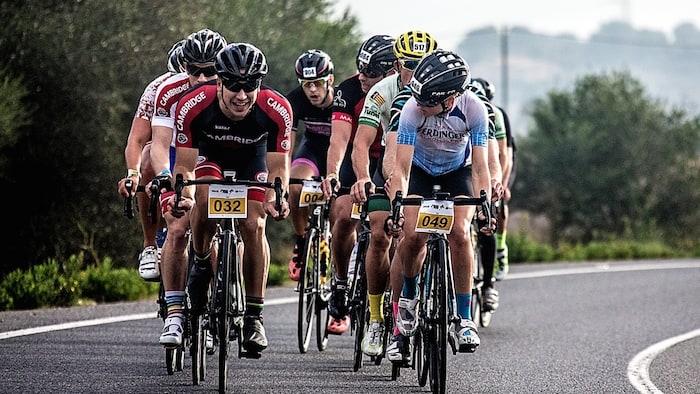 And the run – well you're running on tired legs that have had a chance to go stiff overnight. Not necessarily much easier, and arguably at times harder, than running straight off the bike.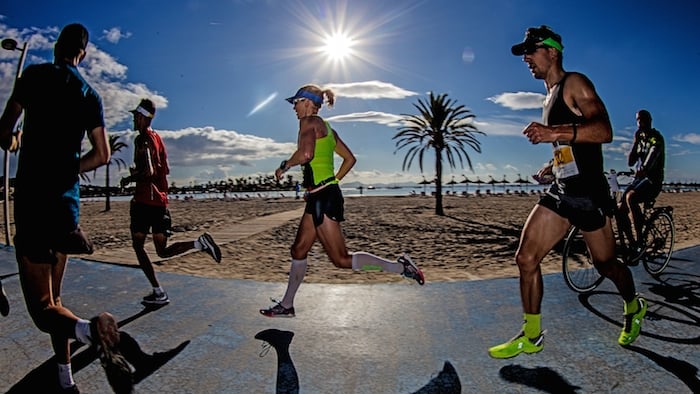 LCW is about community and challenge but primarily about fun and the awards ceremony at the end of the three days is something special. Each finisher is called up by name to collect their fourth medal. And they all then form a tunnel for the top three finishers to dance down to collect the top awards. This beats an Ironman awards ceremony any day, not least because every finisher is celebrated and cheered.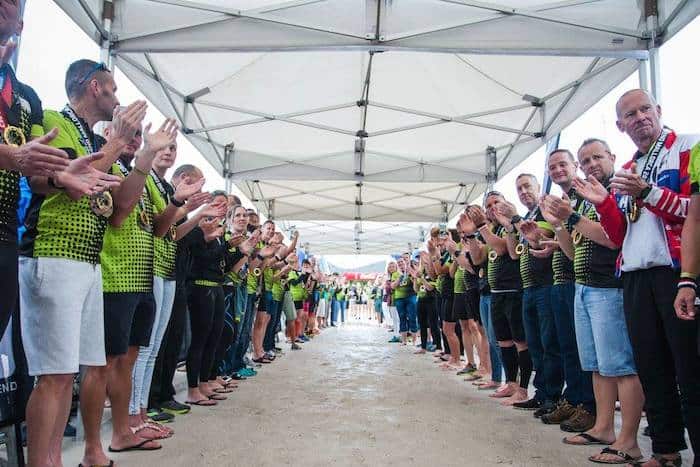 I'll let 'sparrow-legs' Tom tell the story of the pointy end at LCW Mallorca 2017 (just take it with a pinch of salt). So I'll simply end with this. Long Course Weekend takes the best bits of triathlon, adds some additional gems, twists things around a bit, spreads the fun out over a long weekend and makes every athlete feel special. It really is triathlon at its best.