Jet Set Super Vet reports back on the Tour of Flanders Sportive
Stuart Lumb is our resident Jet Set Super Vet. Not the fastest, he's been known to be lanterne rouge more than a few times, but that doesn't stop the proud Yorkshireman from travelling the globe on many a sporting adventure. Why let age get in the way?!
His latest trip was to one of the most iconic races in the cycling world, the Ronde Van Vlaanderen, an event he also enjoyed 12 months ago. One year older, one year better? Actually, yes!
---
Once more unto the breach – Ronde Van Vlaanderen 2017
After successfully completing the De Ronde in April 2016, JSSV got bitten by the Sportive bug and was planning on taking part in the 2017 Amstel Classic. Due to various issues, this was not to be. I was still keen to cycle abroad in the spring and having "enjoyed" the Flanders cobbles, signed up for this year's etap with Manchester-based tour company, Polocini Ltd.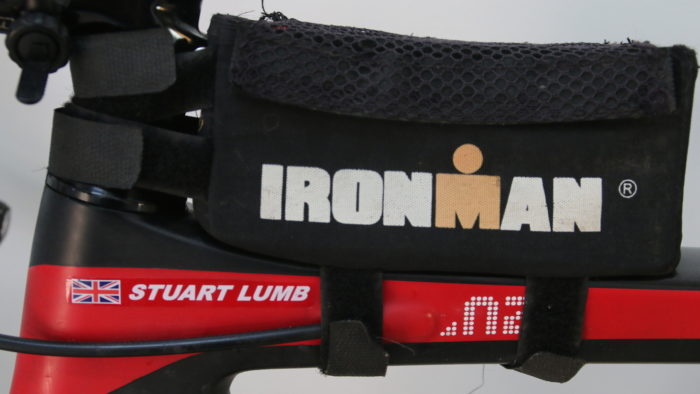 I didn't really do justice to myself in 2016, hence decided to have another go, this time riding my Planet X N2A. The company is run by cycling aficionado, Al Bridge, who specialises in organising tours all over Europe. Al is a very accommodating guy and he kindly arranged to pick me up, plus bike, from Stalybridge station. There were eight of us in the tour group. Al runs large minibuses which can also accommodate member's bikes (rear and roof mounted bike racks), without the need to disassemble them – a big bonus.
Leaving Manchester on the Friday morning, we picked up several guys that lived locally and headed off for the Eurotunnel, collecting the remaining three tour members en-route. We were staying at a training facility in Nokere, just outside Oudenaarde, arriving there on Friday evening. Saturday dawned, overcast but at least fine and around 12°c, and after a good breakfast we all cycled to the start, taking in a nice stretch of pavé – not!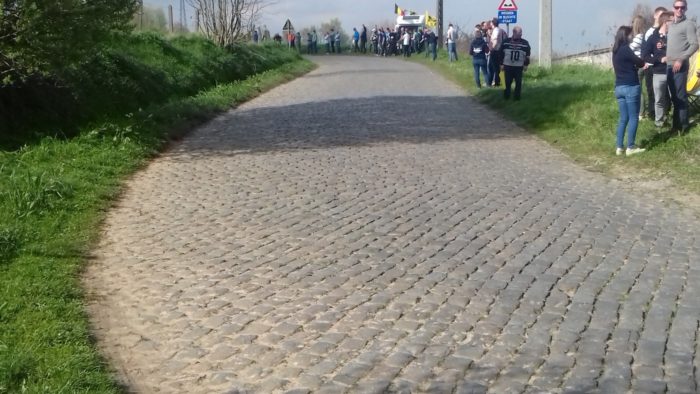 Al had collected our numbers on Friday evening so we all headed straight for the start. Three of us had opted for the 71km option, with the remainder going for the 141km route. We soon hit the first "berg" – Koppenburg – cobbles of course and the memories came flooding back. My Planet X N2A is 1.5kg lighter than my Motobecane training bike so I did at least get a few metres further up than last year, before bailing out. I was booted with my Vittoria Pave tyres that I had on last year, although most of our group were on regular road tyres. I "hike a bike" up the side of the pavé, on the grass to get more traction, although the purists reckon its "non de rigour". Incidentally, Peter Sagan came unstuck in the pro race doing precisely what I did (plus a close encounter with a spectator's jacket), and it possibly cost him the race or at least a podium finish. Poetic justice some might say…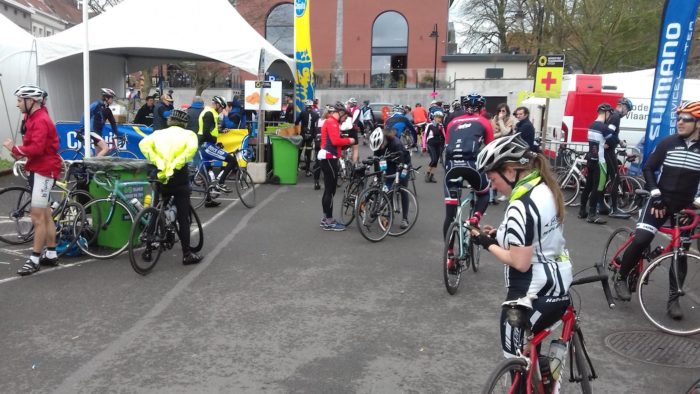 This year it was muddier and my cleats were soon clogging up, so I spent quite a bit of time clearing them out, which cost me time. OK, so it's not a race but most riders try to claim a PB. Some of the route I remembered, some I didn't. One thing I hadn't forgotten about was the major feed station with its legendary Belgian waffles, which was 41km in. The weather was pleasantly warm, even for me whose ambient temp is 22ºc and I was unzipping a couple of layers to be comfy.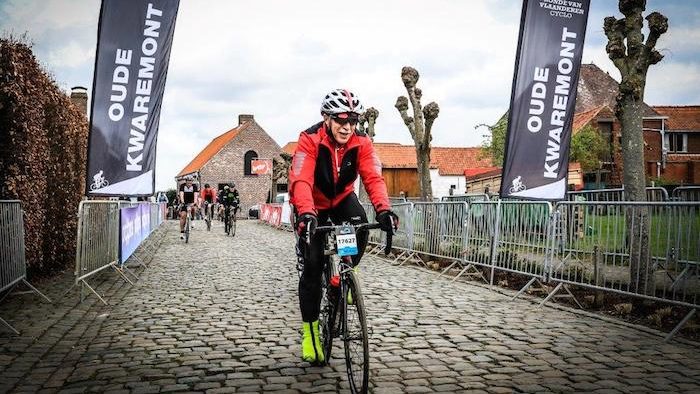 The last big climb is the infamous Paterberg. There's a sharp 90 degree turn off the tarmac at the bottom after which it's up the steep pavé. It caught me out last year but I did remember this time, but still had to bail out halfway up. It's then a steady run back to the finish. Some of the route is quite narrow and it got me very annoyed when the "boy racers " came tearing past, demanding right of way. Etaps are not races – if these guys want to be competitive then they need to get into time trialling! Ironically, I finished about the same time as Colin and Neil, my two other tour mates. Al was on hand to take the requisite photos, after which we headed off to get our cherished medals and t-shirts.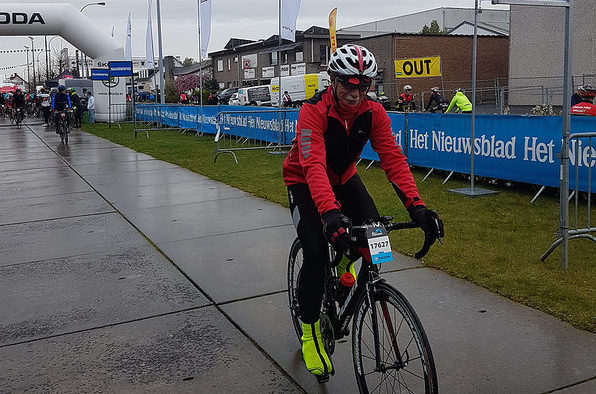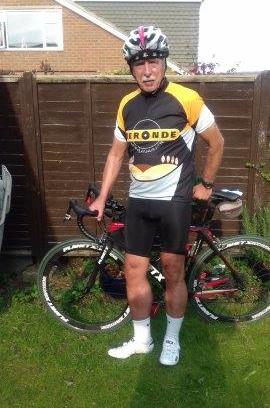 This year I also got a very nice bike top, after which we enjoyed some famous Belgian frites covered liberally with mayonnaise and washed down with a glass of the local brew. I checked my time and was delighted to see that I was five minutes faster – and one year older – than last year. Yippee… OK, so it is not a race in the sense that we get a numerical ranking, but they are in reality as we race against the clock. I was very pleased with my time as I hadn't trained as hard as last year, but being on a lighter bike helped, plus I have a Cosine saddle, which is very comfy and quite inexpensive as saddles go. The main thing with any saddle is to get the right width. When I started triathlons in 2002 correct saddle width was something I wasn't aware of but which of course is very important for a pain free ride.
After another beer, Colin, Neil and myself biked back to base to await the arrival of the group who had done the 141km ride. During my ride I noticed lots of riders fixing punctures but luckily all eight of us had no problems. The day concluded with a very pleasant dinner in a delightful restaurant literally round the corner from our base. Sunday started foggy but it soon cleared. At 9am Al led us out on a "gentle" ride – only a matter of 30miles – taking in some of the pro route. Later on we got to watch the race over lunch in a local pub, plus got to see the actual race twice, watching our heroes zoom past at some ridiculous rate of knots.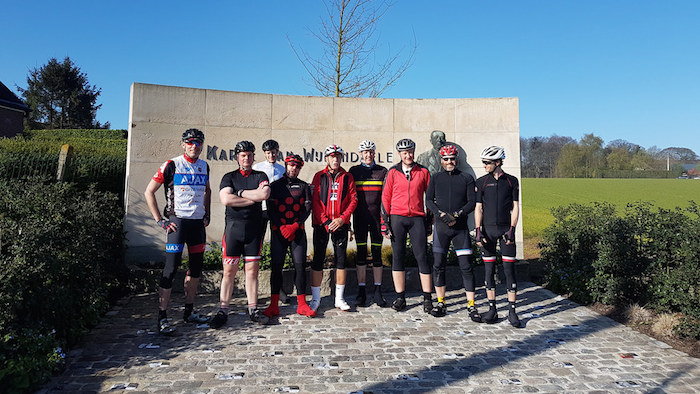 Dinner that evening was at a well-appointed restaurant just off the main square in Oudenaarde. By 9am Monday morning Al had the van loaded with luggage, bikes and us. After a short stop to buy some scrummy Belgian chocs it was back via Eurotunnel to Dear Old Blighty and a long drive back up to Manchester, after which Al went out of his way to deliver me back to East Yorkshire – a fantastic gesture by the man.
Al had a short rest and then had to get sorted for his next group which were going to ride Paris – Roubaix. He's a busy guy !
Once again my grateful thanks to Cranswick Country Foods and Du Pont / Danisco for their continued generous sponsorship.