Jet Set Super Vet heads to Mallorca for his next challenge…
…and Stuart Lumb is NOT Lanterne Rouge at the Mallorca 167!
Stuart Lumb is our resident Jet Set Super Vet (JSSV). Not the fastest, he's been known to be lanterne rouge more than a few times, but that doesn't stop the proud Yorkshireman from travelling the globe on many a sporting adventure. Why let age get in the way?!
In his last update he took on the cobbles at the Tour of Flanders Sportive – and he's been continuing his increasing passion for Sportives again, this time at the Mallorca 167, part of the Mallorca 312 cycling festival.
---
The bike split has always been my strongest discipline in triathlon and after a former club mate started dragging me out for three hours each Sunday morning two years ago, my enthusiasm for Etaps / Sportives has grown bit-by-bit. I'd read about the Mallorca 312 (www.mallorca312.com), a while back. The 312km is far too tough for me, but other distances have been added recently, namely 225km and 167km.
Originally the event circumnavigated the whole island, but recently the routes just take in the hilly north. I reckoned that I could manage the 167km distance and so duly signed up with SunVelo. I flew from Leeds–Bradford along with Mrs JSSV, flying into Palma. There we were met by a very courteous driver plus minibus and trailer, and an hour later arrived at our 4-star base, the Prinshotel La Dorada, in Playa De Muro. The hotel is first class and caters for sports people of all ages and nationalities and there was also a German cycling group in residence as well.
SunVelo rent out BMC bikes if you don't want the hassle of messing around with bike boxes (and paying shipping costs). I ride a compact with 34 front an 32 on the back (I don't think it's possible to have a lower/ higher gearing – older age is wonderful!!), and suspect hire bikes won't be geared that low. We had a nice spacious two roomed apartment, with a small kitchen if you wanted to cook your own meals, although our package included self service dinner and breakfast. There was a great choice of menus and I took the meaning "carbo loading" a bit too literally!
It was great to sit out in the Wednesday afternoon sunshine, as Thursday we had rain. On Friday I went out for a leisurely spin to check all was ok, heading south and then retracing my route (as I'm quite good at getting lost), plus am not quite up to speed yet with electronic maps.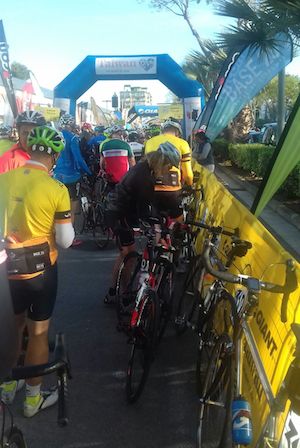 Our hotel was only 100m from the event start and I was in the pen by 0845, quite a civilised start time, whereas the 312 brigade shot off at 0700. There were around 6,500 starters (across all 3 events), so it took a while to get everyone on their way but it all went off fine.
I had arm and leg warmers on – being of a delicate nature – but shed them after about 90minutes as the temperature was around 16°c. I had never ridden in Mallorca before – incidentally it's a bikers heaven these days – and reading the profile info that there were mainly just "4-5% climbs " gave me a false sense of security. I train on a 15% climb which is about 3km in length so thought I'd be OK. Whilst not that steep, the Mallorcan climbs just go on – and on – and on! In fact overall I climbed 7774ft – and descended 7688ft. The scenery is fantastic but I didn't get much chance to enjoy it.
After 50km there was a water stop and loos. Water had been tankered in and the piping was being dismantled just as I left. Given there were around 120 riders behind me it seemed premature to literally turn the tap off as the stragglers (including me), were the ones in special need of hydration. The highest point of the etap is the Coll Puig Major – 890m, which was 56km into the event. What goes up must come down and after the summit it was a 15km descent in the town of Soller. The descent typically involved loads of tight hairpins needing lots of concentration, to avoid overshooting. Some riders put a light jacket on for the descent as it's quite cool (recall the pros get given a copy of the local rag to stuff down their tops as a windbreaker, but no such assistance for mere amateurs).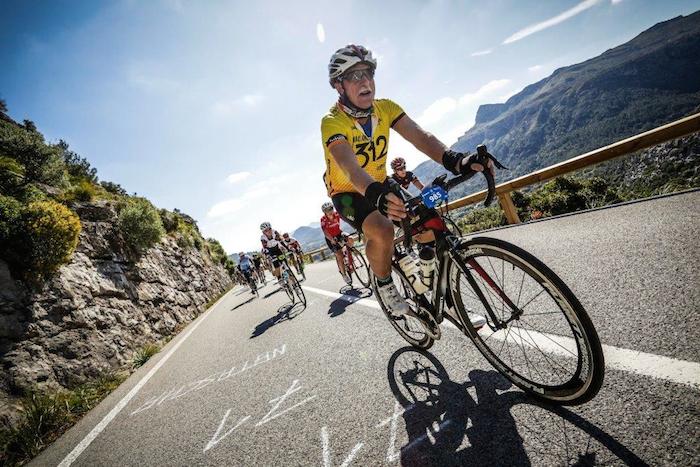 The event organisers boast closed roads but you daren't risk crossing the while line in case you met a local farmer in his 4×4 who couldn't wait until the official re-opening time. I'm pretty sure my ears popped as I descended and I was pleased my brakes were 100%. I always cadence brake which helps both brakes and fingers. At the bottom of the climb I passed a big ambulance with the crew very carefully carrying a stretcher and I just hope the rider was not too badly hurt. I was looking forward to the food station which was on top of the Coll den Claret (500m altitude), 95k into the ride. However, it seems that the guys manning the station had pressing dates as they had packed up by the time I got there. Chatting to some Brits who'd done the 167 before they told me that this was par for the course and they'd bought sandwiches in Deia. Decidedly not good as the tail enders are the riders that need food and drink. I had a load of energy chews with me so I was ok as food stations can be a bit hit-and-miss.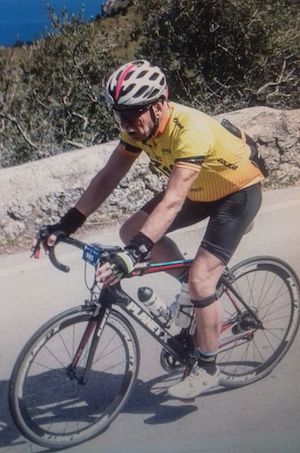 At this point the signage got less than adequate, which was very annoying, as my Spanish is practically zero – Hola, Buenos Dias – and the locals out in the sticks are understandably hardly likely to be familiar with the Greater Oxford Dictionary. In hindsight a road map or electronic equivalent is a good idea as you can at least get round lack of language by pointing fingers and nodding your head. The profile suggested the route was pretty well downhill to the finish but after seven hours in the saddle even small inclines seem like major ones, plus my old enemy "Mr Cramp" decided to give me another thing to worry about, despite having taken loads of water/ electrolytes on board starting 36 hours before the start. Fortunately reducing speed helped get rid of my unwelcome "friend".
At Llosetta (134km), another food station appeared (which was a pleasant surprise as I'd forgotten about it), so I had some flat coke and flap jacks. Now it was only 33k to the finish back at Playo De Muro and I duly crossed the finish line at 1910hrs, whereupon I was given another nice medal to add to my collection. As you can see from my pix I was wearing my 312 bike top… seems everyone gets a 312 top regardless – nice for us lesser mortals!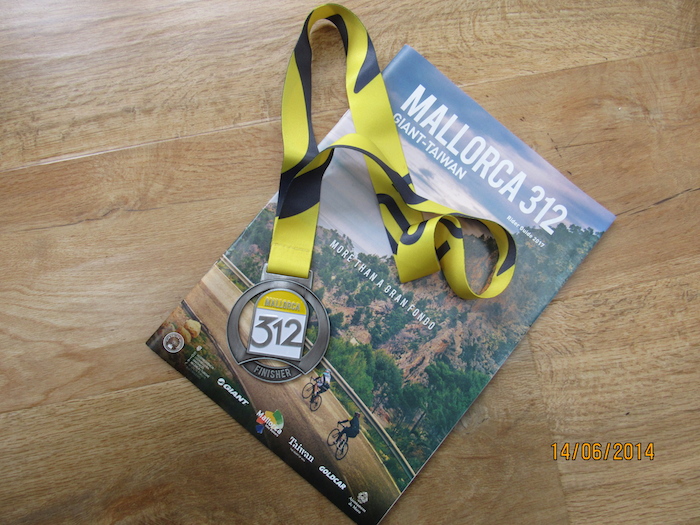 We flew back home the next day. Not good being stuck on a plane just after a big ride and I was stiff for a while although once home hot baths/ stretches helped. If I do the event again I will go out earlier to allow a few days to train on the Mallorcan terrain as doing it "cold" was not ideal – but I did get round in one piece, with no mechanicals and was not my usual Lanterne Rouge!!
My grateful thanks again to Du Pont / Danisco & Cranswick plc for their generous sponsorship.