After a seven year break from long distance racing, Tri247's Paul Shanley was feeling pretty buoyant after making it around the Marmotte (four classic Alpe climbs in the Alpes: http://marmottegranfondoseries.com), and decided to enter IRONMAN UK.
Here are 10 things he learned from the race…
---
My history with Bolton and this race goes back a long way; My dad is from Bolton so I spent a lot of my younger years here and it holds a special place in my heart. I came up for the launch of the race back in 2009 and have filmed and photographed the race every year since then.
I have been meaning to get back into racing IRONMAN for years but it was after the 2016 race I found out my dad has cancer and after the initial shock of that, I have been trying to keep fit as a positive use of my emotions. My dad is actually doing ok, so I thought now is a good a time as any for me to return to IRONMAN and have a go at Bolton. Without boring you with a detailed breakdown of my race, I have come up with 10 things I learned which hopefully you will find useful.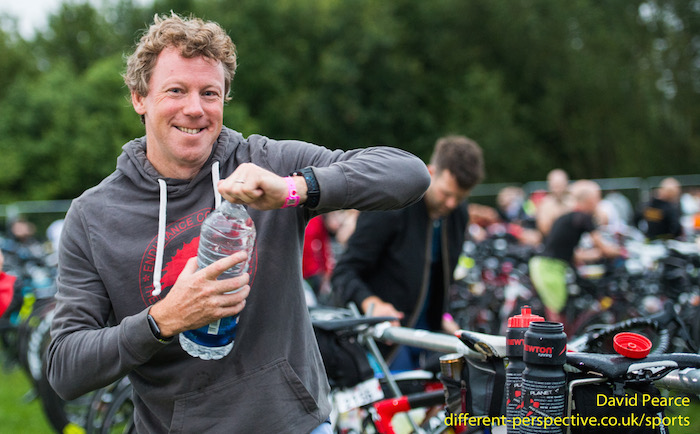 10 things I learned doing IRONMAN UK, Bolton
IRONMAN is a long way. A very long way. In fact it is just crazy. On the first lap of the swim we approached a buoy and I said to myself we are turning at this buoy and heading back. But we didn't. Everyone just kept swimming ahead. On one 'head out of the water' stroke, I spotted a tiny yellow rectangle in the distance and I knew we had to go on. I even started to think they had marked the course out wrong and didn't realise it was two laps. And that was just the swim. The distances of Ironman are madness.
Bolton is a tough course. My normal filming point on the bike course is Sheep House Lane and I don't even make it all the way to the top as it's too far and difficult to walk up with camera gear. On the bike I found Sheep House challenging but ok, but it was when I approached Hunters Hill that I was in trouble. I didn't even know that hill existed. It is long and steep and if it wasn't for all the crowds encouraging you, I wouldn't have made it. I nearly didn't on the second time around. The run is just as bad. It's not just me, all the Pro athletes say it's tough.
Bolton is a lovely place. I am biased as I have spent a lot of my childhood there, but there is some lovely countryside on the bike, great support out on course and all of the locals I met leading up to and on race day were really friendly. We stayed in Warrington and the hotel receptionist said she goes and watches the swim every year. She dosen't know anyone swimming, but because it's local she gets up early to cheer everyone on. Even the locals are lovely!
Split transition can be a bit of faff. It wasn't for me, as I have been to every race so knew my way around. A lot of people I spoke to did though did find it a bit of a faff, with all the different locations to navigate; even just to get your gear set up and attend the briefing before the race itself starts. The swim location is ideal, T2 provides plenty of parking for spectators and the finish in the town centre is well supported – so split transition is the price you pay.
We are lucky in the UK (and Ireland!). We have two great IRONMAN-branded long distance races. I did read some Facebook posts discussing "which Ironman should I do, Bolton or Wales?" My answer is both (not necessarily in the same year). Add the fact that we have four 70.3 distance races to choose from (Edinburgh, Staffordshire, Weymouth and Dublin) we really are lucky, really lucky. We should embrace this. We have choice.
The organisers and volunteers make the event special. Everyone gets up early and works all day to try to deliver the best race and experience for the athletes. I am lucky to be friends with the race director for Bolton, Sam Brawn. I believe he is the youngest IRONMAN race director in the world. The amount of work leading up to the race, race day and post-race is massive. Sam said a number of times over the weekend, both publicly and privately, that he couldn't do it without the hard work of his team and volunteers. A lot goes on behind the scenes that most of us have no idea about and the whole team works hard to keep it that way.
IRONMAN is achievable, but it's far from easy. With a rolling start everyone is working on an individual finish time, so when it gets late at the finish line you don't know if people have made the cut off or not until they cross the line. The last finisher came across the line and fell to the floor and it felt like an age before the time came up on the finish gantry: 17.02.23 – he hadn't made it. Damien McConaghy is not an IRONMAN. Its cruel I know and I have no idea how you get up of the floor after a day like that but Damien did. I don't know you Damien, but hopefully you will see this or someone will pass it on – but please come back Damien and have another go.
IRONMAN is a great way to make friends. I have met hundreds through the years, just from covering the event and race day is no exception. I was lucky to meet Bren Whelan on the run course who helped me get around at least of half of the marathon. We took turns in choosing objects to run to, which for a while took away a bit of the pain of the run. I did feel a bit of a leech as Bren was one lap down on me, so as I ran into the finish he went on to do another lap. Part of me felt I should return the favour and do another lap with him, but hopefully he will understand that I didn't have it in me. As a thank you, if you ever find yourself in Ireland looking for something to do, go and see him and have a go at climbing: http://donegalclimbing.ie/
IRONMAN UK is inspiring the next generation of triathletes. Young kids growing up in and around Bolton are not only being exposed to triathlon, but being inspired. The race attracts lots of local athletes and I am sure it has been a driving force in growing the triathlon scene in the North West. The youngest participant in this year's race was Boltonian Jordan Stanworth, who turned 18 on race day. What a way to spend your 18th Birthday!
IRONMAN racing is an individual sport, but we all need help and support. I want to thank my family, Mike Jubb and everyone at the Triathlon Trust, the staff and volunteers at IRONMAN, the various triathletes coaches/pros/age groupers/friends/colleagues etc… that have given me advice leading up to the race. We all need help to make it to that finish line, so thank you! When you are training for Ironman, embrace, build, nurture and look after your support network as they can make your day that much better. A special thanks to David Pearce, who drove me around all weekend and made the split transitions less of a faff!
I am raising money for the Triathlon Trust who as well as helping children get active are doing a great job of inspiring the younger generation into the sport of Triathlon. Any donations you can give to help them to do more of this will be greatly appreciated https://www.justgiving.com/fundraising/paul-shanley3
If you can't donate then please give them a follow and tweet and help spread the word of our amazing sport:
Twitter: https://twitter.com/tritrust
Facebook: https://www.facebook.com/BritishTriathlonFoundationTrust/
Website: http://triathlontrust.org/
A bit about the Triathlon Trust:
The Triathlon Trust's mission is to inspire children to lead a more active and healthy lifestyle using the sport of triathlon. We work in schools and communities across the UK to bring a fun, free and inclusive experience of sport to children, aged 7-13, of all abilities. We provide the equipment including bikes, scooters for those who can't ride a bike and swim aids.Since 2013 we have delivered 75,000 'Active Days', giving children the opportunity to give triathlon a 'tri'… Your support will help us encourage more children to get active!