Endura Pro SL Helmet – £149.99
After months of testing, and having been worn on many rides, Chris Hovenden provides his thoughts on the Endura Pro SL Helmet.
---
Endura is the Scottish brand which supports some of Britain's best-known long-distance triathletes, such as Lucy Charles-Barclay, Tim Don, and Kimberley Morrison. Although best known for its high-quality clothing, it also offers a range of eyewear, luggage, and helmets.
Endura's 'Pro SL' collection of products is said to be "driven by science, tested by the world's top riders and available to all". In short this means the Endura Pro SL Helmet is the company's flagship roadie lid (i.e. not an aero lid or a time trial helmet), and is equipped with the best tech Endura currently offers – all for the very competitive price of £150.
Out of the box the Pro SL lid is eye-catching – the 'Hi-Viz Blue' colour-way is likely to be divisive (it is also available in white, black, and what Endura calls rainbow), but I like it, and the honeycomb-like Koroyd protection is intriguing (see below). Additionally, the profile appears rather bulbous compared to other similar road lids on the market.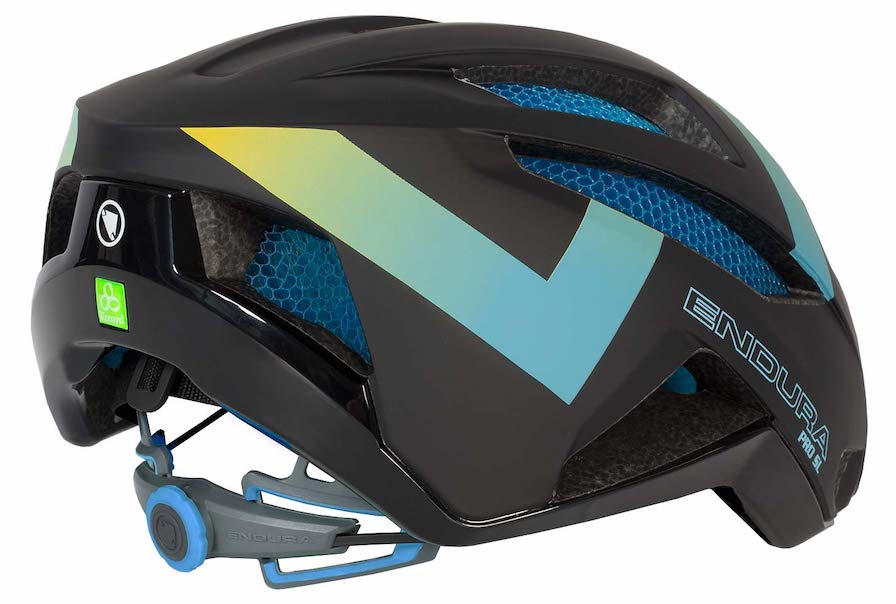 In your hand the Endura Pro SL helmet is noticeably light, the on-test size M/L (55-59cm) has a claimed weight of 238g and came in on the Tri247 scales at 240g.
I found the on-test helmet to be comfortable and a pretty good fit for the shape of my head – although, for context, I find medium-size Giro and Bell helmets (also 55-59cm) to be a particularly good fit for me, both shape and size-wise. Also, the Endura Pro SL's retention system is both robust and effective – as you'd expect with a premium road helmet, it utilises a rear dial (which is a little larger than some of the competition), that makes micro adjustment on the fly using one hand easy.
The helmet has 14 vents; the vents are large and 10 of them are filled with Koroyd tubes which Endura says are angled to increase airflow. In practice, on hotter days or when riding hard, I would have appreciated greater ventilation – the helmet sits close/low to your head and unlike many helmets there are no internal channels to facilitate airflow. Having said that, I have worn the helmet on very warm rides in Lanzarote (albeit with the customary winds) and coped fine, I just had a rather comical imprint on my forehead post-ride from the padding.
The primary function of a helmet is protection, and the tech in this area has seen substantial development in recent years, including MIPS (Multi-Directional Impact Protection System), Bontrager WaveCel, and Koroyd.
The Endura Pro SL Helmet is said to utilise an integrated Koroyd core to improve impact absorption without any weight penalty. In fact, it is asserted that the addition of the Koroyd protection system to the Endura Pro SL helmet means there is "8 times less risk of suffering a skull fracture than the European cycle standards". It is claimed that the Koroyd tubing is engineered to absorb energy in a more linear fashion than traditional crash hats; this is quite different to MIPS which is found in helmets like the 'Giro Synthe MIPS' and is designed in the event of an accident to allow the helmet's exterior to move independently to the head.
The helmet has ports for you to stow your sunnies and the position along with the size of the ports makes doing so straightforward. However, a word of warning – the ports are at the base, as opposed to slightly higher on the helmet, which as I found out means your sunglasses will sit a little lower requiring you (unwittingly) to tilt your head up slightly. For most people (i.e. those that have normal levels of flexibility) this won't be a problem at all, but for me after 2.5-hour ride it resulted in a sore neck.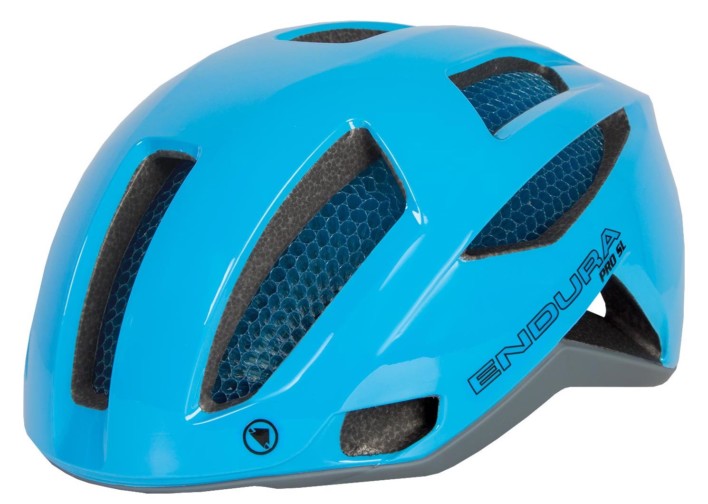 The Verdict
This review has been a long time coming. In fact, I think I have used this tech more than any other before writing a review. This reflects how much I have enjoyed using the Endura Pro SL, and I have worn this helmet on the vast majority of my training rides for the last 12 months. In short, for a very competitive price you get a premium quality helmet (classic/traditional style, rather than aero) with a good fit/adjustment.