Chris Hovenden has been using the FIZIK Transiro Infinito R1 Knit Shoes for training and racing for multiple months. Here's his review of the top of the range pair of kicks from Italian cycling shoes and saddle officiando, FIZIK (www.fizik.com).
With an eye-watering price tag of £349.99 RRP, this tech does not come cheap…
---
Summary
The FIZIK Transiro Infinito R1 Knit Shoes are unquestionably a genuinely high-quality pair of triathlon shoes, but have an equally undisputedly high price. Full of tech, the shoes look impressive, and get many admiring views, along with on the whole having the substance to match the aesthetics. Well suited to long distance racing, the closure system of two BOA IP1-B dials at times simply are not ideal for short-course racing where a clean and fast transition on to the bike can be the difference between podium success and failure.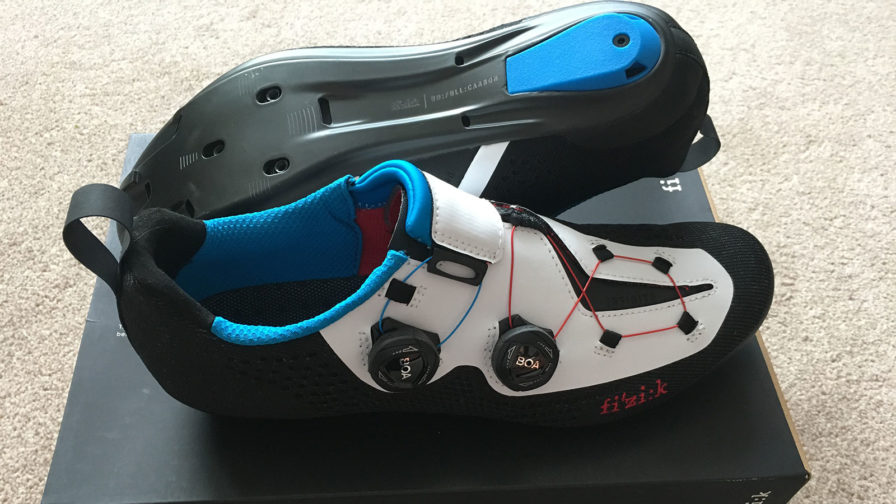 Full Review
First, the Transiro Infinito R1 Knit come with a substantial price-tag – it doesn't matter how you try to position it, £350 is a lot of money for a pair of triathlon/cycling shoes. However, even from a first look, it is clear FIZIK have taken both a high-end and innovative approach to creating a triathlon focused bike shoe.
Developed with input and testing from leading long-distance professional triathletes, including four-time Ironman Champion Michelle Vesterby and members of the BMC-Vifit Pro Triathlon Team, the FIZIK Transiro Infinito R1 Knit are packed full of tech:
The soft knitted upper looks particularly cool, but in addition to the aesthetics FIZIK says there are several performance benefits: the upper is designed to aid ventilation and water-repellent treatment is used with the intention to reduce moisture absorption, together creating a shoe that dries quickly after T1.

In practice the knitted upper performed well, but (although I'm not quite sure what I was expecting) it wasn't quite as ground-breaking as I had anticipated. At no point did I notice my feet felt sodden, and they appeared to dry relatively quickly, but they didn't feel exceptionally better at keeping my feet any drier than other high-end (or otherwise) shoes; ventilation-wise they were good – they have been worn on long bike rides in the UK summer as well as circa four hour rides in Lanzarote, during which I didn't feel like my feet were overheating.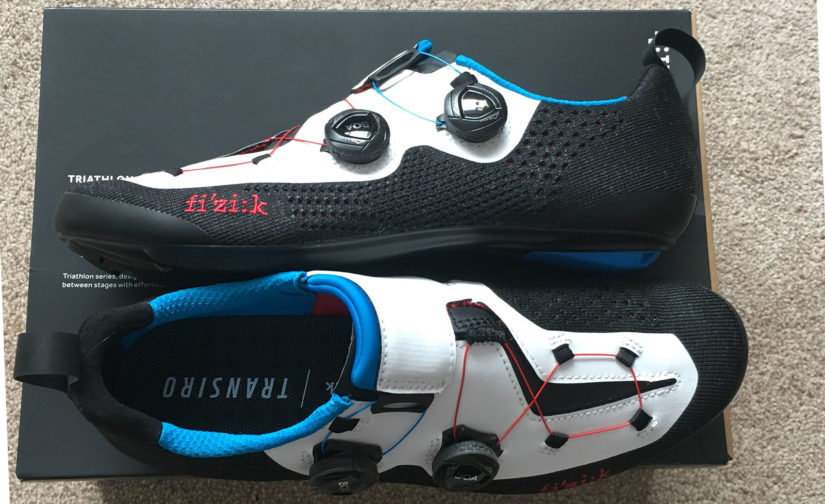 The 'Infinito' retention system comprises of wires and two BOA IP1-B dials – the combination of the position of the wires and the micro-adjustment offered by the BOAs should allow you to get a comfortable fit.

For longer rides the dual BOAs worked well, adjustment was easy, and I found it an asset being able to freely and effectively alter the fit. Also, coming into T2 pulling on the dials for a quick release was a real asset. However, despite plenty of practice, very seldom did I nail the mount coming out of T1, and often the delay in getting my feet into the shoe and then fiddling with the dials negated any advantage I had made breezing through transition – undoubtedly this could be improved with more practice, and some may be better at this than I am, but in my haste to make up time lost in the swim (or run, if a duathlon) on several occasions I encountered frustrating challenges, such as the BOA's quick release function kicking in when the opposite was desired.

Another issue for some might be the size of the opening (which played some part the challenges mentioned above) – this is often a problem for shoes that want to offer all day comfort and a snug fit, whilst also enabling seamless entry. Ideally you would try-before-you-buy, I found that due to the width of my feet I had to wear a pair of Infinitos that were slightly larger than I would have ideally liked, which in turn meant to get a truly snug fit around the top of my foot I had to tighten the top BOA close to its maximum.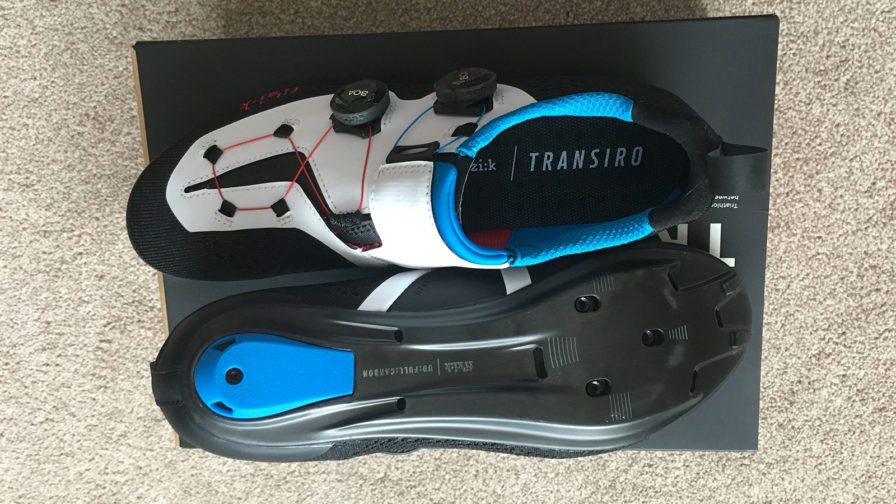 FIZIK states the kicks provide a customised fit of the plantar arch with the company's 'Dynamic Arch Support' – the theory is that a part of the shoe's upper wraps around the plantar arch and the fit is adjusted using one of the BOA dials.

Despite the issues mentioned above, the shoes are comfortable and, unlike many triathlon shoes, I was just as happy to wear the FIZIK Transiro Infinito R1 Knit on long rides as I was to opt for my normal cycling shoes – from both a comfort and performance perspective.
As you'd expect for high-performance shoes the FIZIK Transiro Infinito R1 Knit feel pretty light and they come with a UD carbon sole.

The shoes are certainly well made and robust – the carbon sole, as expected, has a few scuff marks whilst the reinforced toe box has really done its job.

Power transfer felt good, but not as responsive as some of the super stiff road shoes on the market, but that is not necessarily a bad thing as such shoes can be too rigid and result in a numb/painful foot on longer rides.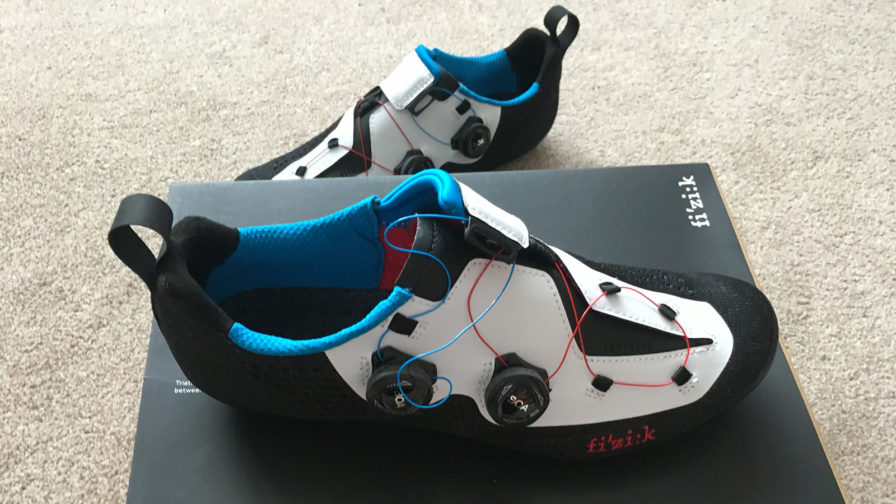 The size EUR 44 kicks came in on the Tri247 scales at 296g per shoe meaning they are comparable to other triathlon specific shoes (for example, the very popular Shimano TR9 weighed 309g), but are certainly heavier than some lightweight cycling focused shoes (for example, Specialized S-Works Sub6 weighed 222g).
To assist getting the shoes on quickly they have a large rubberised hoop on the heel – a staple of a tri-specific shoe. The real test of a hoop is the ease of grabbing it and its durability.

The hoop worked fine and is still in good shape, it hasn't sheared off like some other shoes I have used in the past. On the odd occasion I thought I might have liked the loop to be a little longer/larger, but that was more due to my own poor flexibility and the aggressive set-up on my TT.
Are the FIZIK Transiro Infinito R1 Knit Shoes worth circa £350? Are any cycling or triathlon shoes £350? The shoes in question look the part, have a high-quality build, and perform really well – the main question is fit and sizing.