Enjoy the benefits of an ISM saddles for 30 days with their demo programme
Following on from part one on what are ISM saddles, some advice now on how to go about making the switch to one of the ISM range.
Getting an ISM saddle on your bike
The easiest way to get an ISM saddle on your bike is by getting involved in the ISM saddle demo programme. Just choose the saddle you want to demo from HERE, pay a refundable £90 deposit and you will be sent a saddle to try on your bike for 30 days. If you want to then purchase an ISM saddle you can use the refund amount against the cost of your saddle. If you find that it doesn't work for you – or you want to try another saddle from the range – simply send it back for a full refund.
Being so different from a traditional saddle, an ISM is not typically something you jump on and feel comfortable with straight away; you will usually need to condition your body to riding while supported in a different manner. The 30 day demo programme is a perfect period of time to do this and gives you a chance to invest some time into finding out whether an ISM saddle can improve your cycling comfort.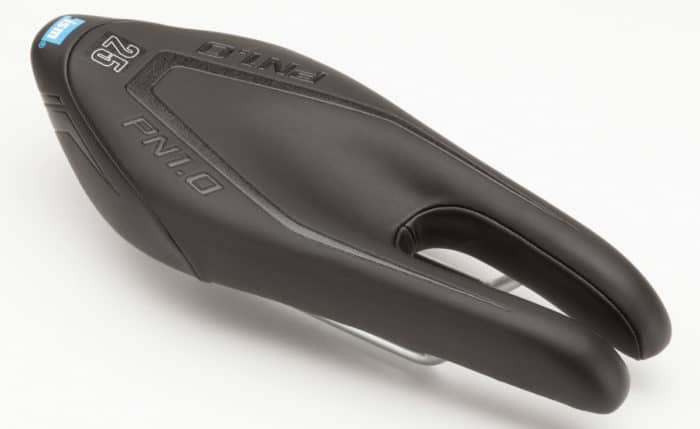 Fitting an ISM Saddle
With its very different shape and design, it is important that you follow the ISM instructions to fit the saddle to your bike. The set up is actually relatively simple and there is plenty of information on the ISM website to guide you through the process.
Setting up an ISM saddle on a Triathlon or TT bike:
Setting up an ISM saddle on a Road bike:
Conditioning yourself to an ISM Saddle
With the winter coming up we would recommend trialling your new saddle and undertaking the conditioning period on a static bike or a turbo, so that come next year you are all ready to go when the season starts.
Riding indoors is different to being out on the road, but it generally results in more time seated in the saddle so you get adapted to the new position quickly. The other bonus of conditioning indoors is that you can ease yourself in steadily by riding for a short amount every/most day(s), and then build up your time on the bike gradually.
Good luck – just like you, we are cyclists / triathletes and more than familiar with the ongoing search for improved cycling comfort and trialling different saddle models. The ISM Demo programme is a great way to give it a go yourself with a 'money back guarantee' and to find out whether the ISM approach will work for you.
You can look at the full range of ISM saddles on their website" www.ismseat.com
If you want to take advantage of the 30-day money back demo programme then CLICK HERE.
You can also test ride an ISM demo saddle via an ISM UK dealer who will also be able to assist with a demo programme and offer advice on saddle fitting and set-up – you can find your nearest dealer HERE.