Can Kú Cycle "reshape the bike industry"?
Innovative triathlon bike and business model from new Dutch cycling brand
We've seen several new triathlon bike offerings in recent weeks, just as you would expect around 'Kona time'. First the new Orbea Ordu, closely followed by the SCOTT Plasma 6.
Brand new from Dutch start up, Kú Cycle (www.ku-cycle.com), is their Kú TF1 triathlon bike. If you feel that much of the industry and many of the designs are almost merging into one and aspire for something different, this article – and the TF1 – could well be for you.
Who are Kú Cycle?
"What happens when a talented Formula 1 engineer with a revolutionary bicycle design in his back pocket meets an entrepreneur who is out to reshape the bike industry?"
That's Kú Cycle. If you have been around the triathlon scene for the last decade or more, you may well be familiar with the name Alex Bok. Alex was the founder and main man behind professional long distance triathlon squad TEAMTBB who, under the guidance of coach Brett Sutton, won almost 50 IRONMAN titles in TEAMTBB colours, and multiple World Championship titles including several by Great Britain's Chrissie Wellington.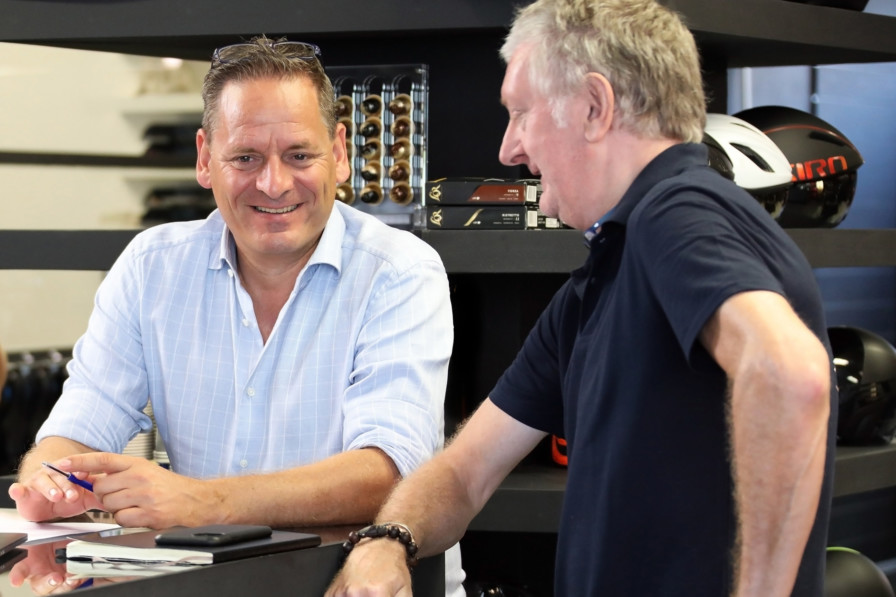 If Alex is the 'business' brain behind Kú, then the engineering and product design is provided by Richard McAinsh. Richard spent many years working in Formula 1 engineering, with world championship wins at Ferrari and Benetton, before working at and consulting for the likes of 3T and Verve Cycling. With 3T having been a partner of TEAMTBB back in the day, Richard had worked with Alex many years previously.
Combining his F1 and cycling experience, Richard had always had an idea for a brand new type of bike design, but as he told me, "I'm an engineer, I'm not a business guy!". When he called Alex for some suggestions and advice on potential avenues for funding and how to take his ideas forward, Alex soon decided he wanted to be involved. Kú Cycle – with private equity funding – was the result, and a new Dutch cycling brand was born.
Innovation
As a new startup, Alex spent a lot of time thinking about what a sustainable business model could be in what is a competitive industry, providing high quality products to a demanding set of customers, all of whom have plenty of options available.
The result was a three-pronged approach to innovation – product, process and sales channel:
Product innovation: disruptive and patented new design of triathlon bike
Of course, every brand want to distinguish itself from their competition and Kú Cycle are no different in that regard. It's fair to say that, immediately, their design looks very different from the rest of the market.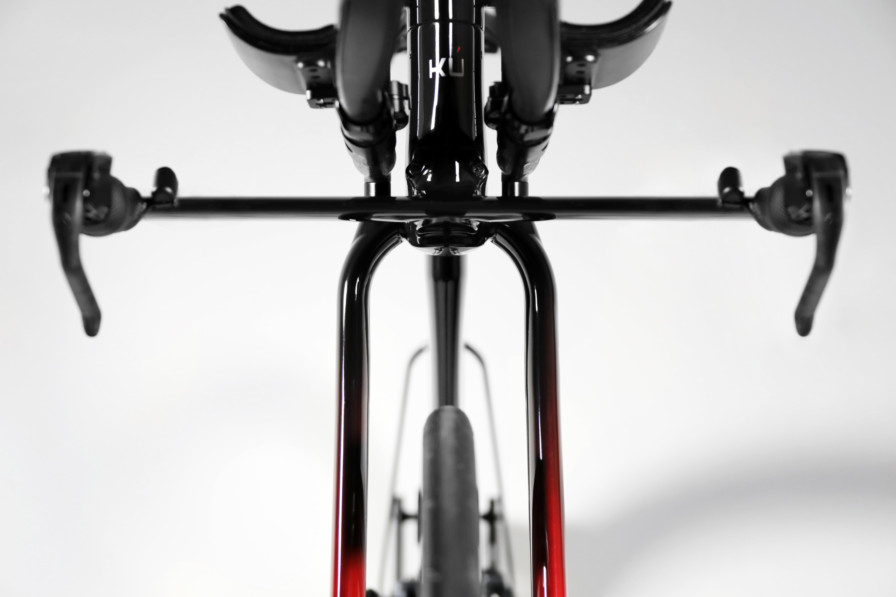 Their Fork Air Stream Technology (FAST) is the most obvious 'wow, that's different' feature. "This fork reduces airflow blockage on the front of the bike, lowering overall bike + rider drag by manipulating and improving downstream airflow control."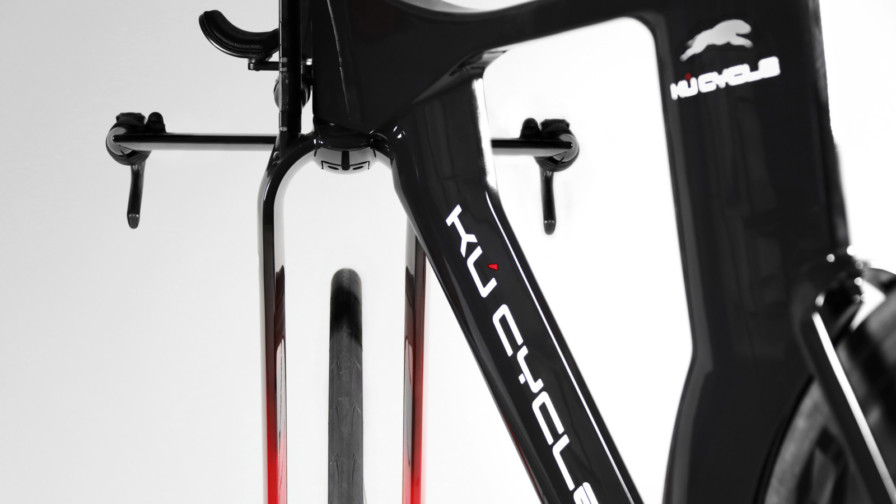 Continuing with the acronyms, the Steerer Pivot Box (SPB), represent "a complete rethinking of the head tube frame section, eliminating the traditional fork and steerer tube." Significantly improved front-of-bike stiffness and more direct steering response is the claimed benefit of these changes.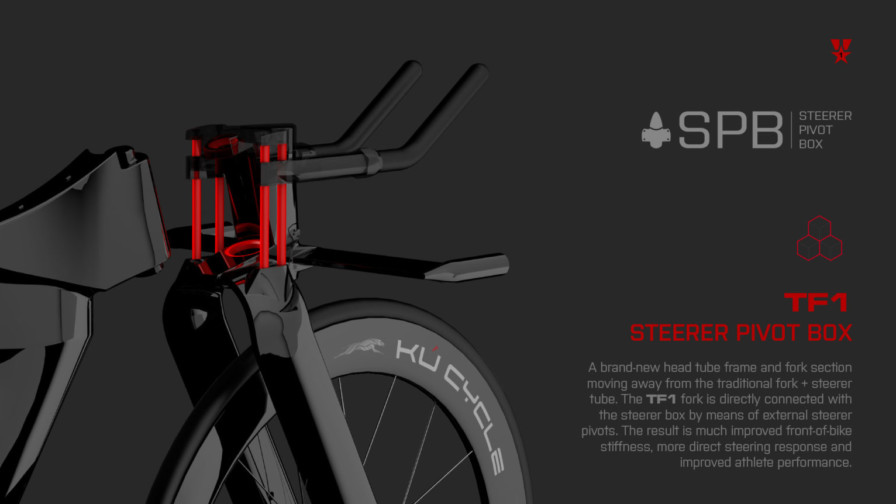 As with much of the industry, the Kú TF1 comes in disc brake only (indeed, it's what allows for the fork innovation), but as technologies become more advanced, the complexity for users also increases. The Hydraulic Advanced System (HAS) allows smart uncoupling and recoupling of the brake lines, which significantly improves the ease of travel.

Process innovation: built-to-order
Every single bike is delivered with rider-specific geometry, and a personalised paint scheme built around a kit based modular construction.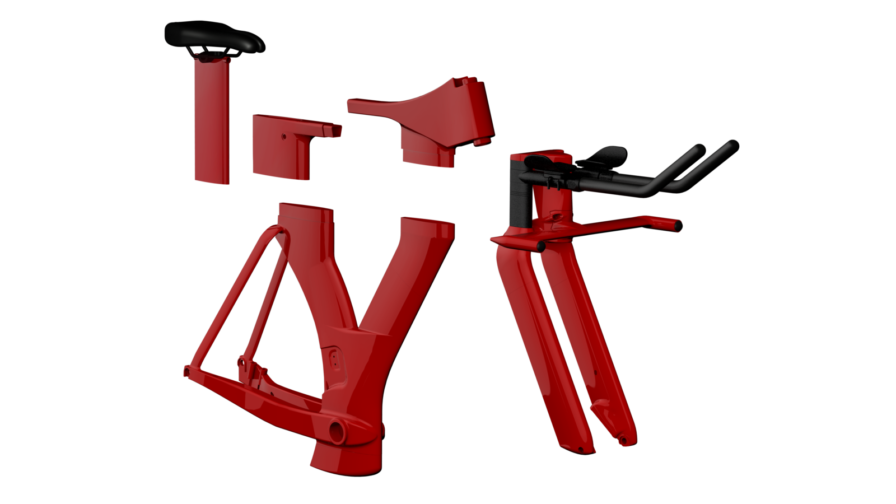 Given the nature of the build process, the importance of how the product is sold is key. Remember the saying, "measure twice, cut once". Well, that leads nicely into the final point on their sales channel process.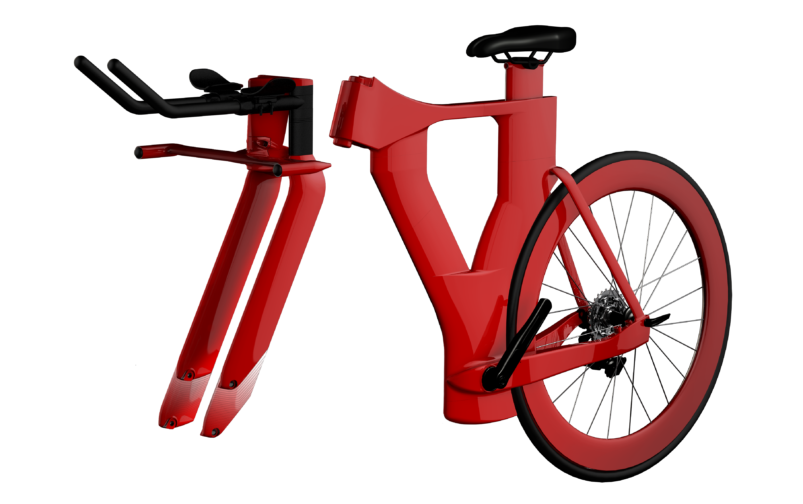 Sales process innovation: Kú authorised fitter
Customers will be professionally measured through a network of authorised fitters qualified to establish a rider specific geometry. Based on the fitter's prescription, the athlete's position is optimised to their Kú TF1 for aerodynamics, performance stability and bike handling skills.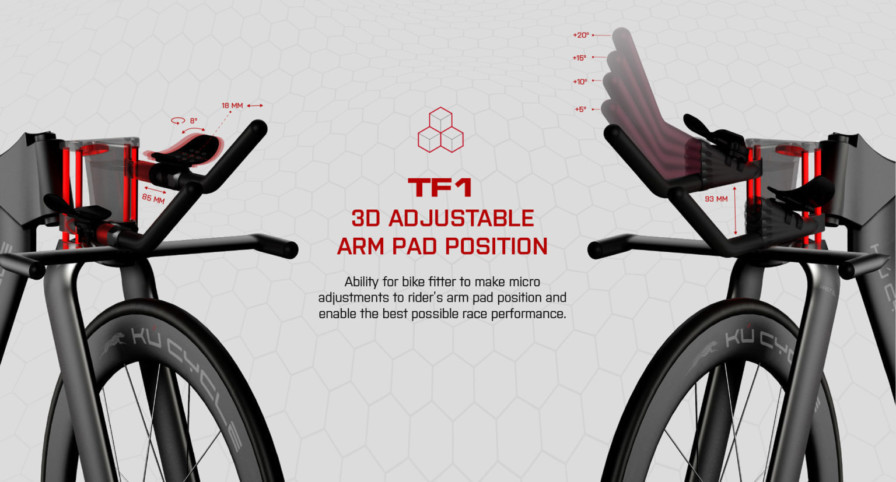 Alex told me that initially the products would be available in Europe only (Germany, France, UK, Belgium, Luxembourg and, of course, the Netherlands to begin with).
Where will you be able to be fitted for and buy a Kú Cycle in the UK? That will be at Speedhub (www.speedhub.co.uk), based in Leicestershire.
Specifications and Pricing
The complete bike will cost €10.999 (GBP figures to be updated), with the frameset (including handlebar, extensions, headset and seat post) at €5,990.
Some of the key elements of the specification are below – you can find out the full details HERE.
Zipp Vuka Shift AXS 90 shifters
SRAM eTap blip base bar shifters
SRAM Force cransket (with powermeter options)
SRAM Force eTap AXS rear derailleur (wireless)
SRAM Force eTap AXS front derailleur (wireless)
SRAM Force chain and cassette
SRAM hydraulic disc braking
Kú Cycle Aero 63mm (front) and 83mm (rear) wheels
Continental GP 5000 Tubeless tyres (25mm)
Storage and Hydration – Aero Nutrition Station, Tubeless Storage Box and Aero Toolbox
In-depth with the Kú TF1 triathlon bike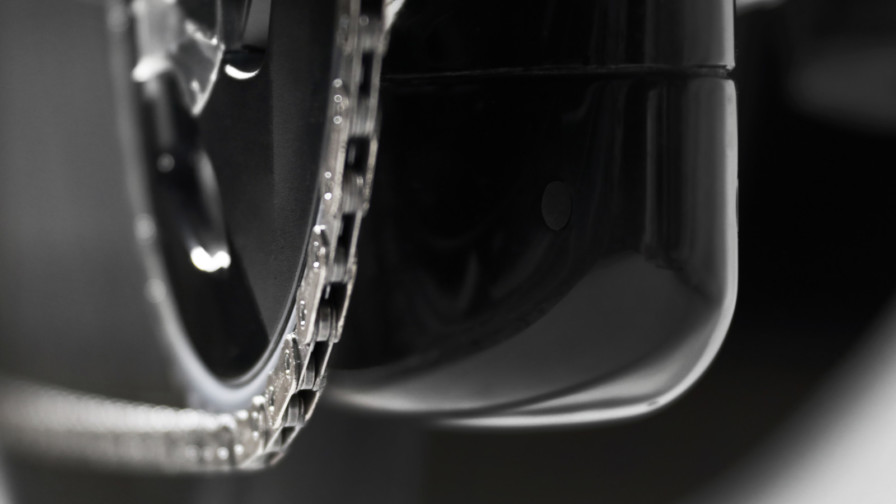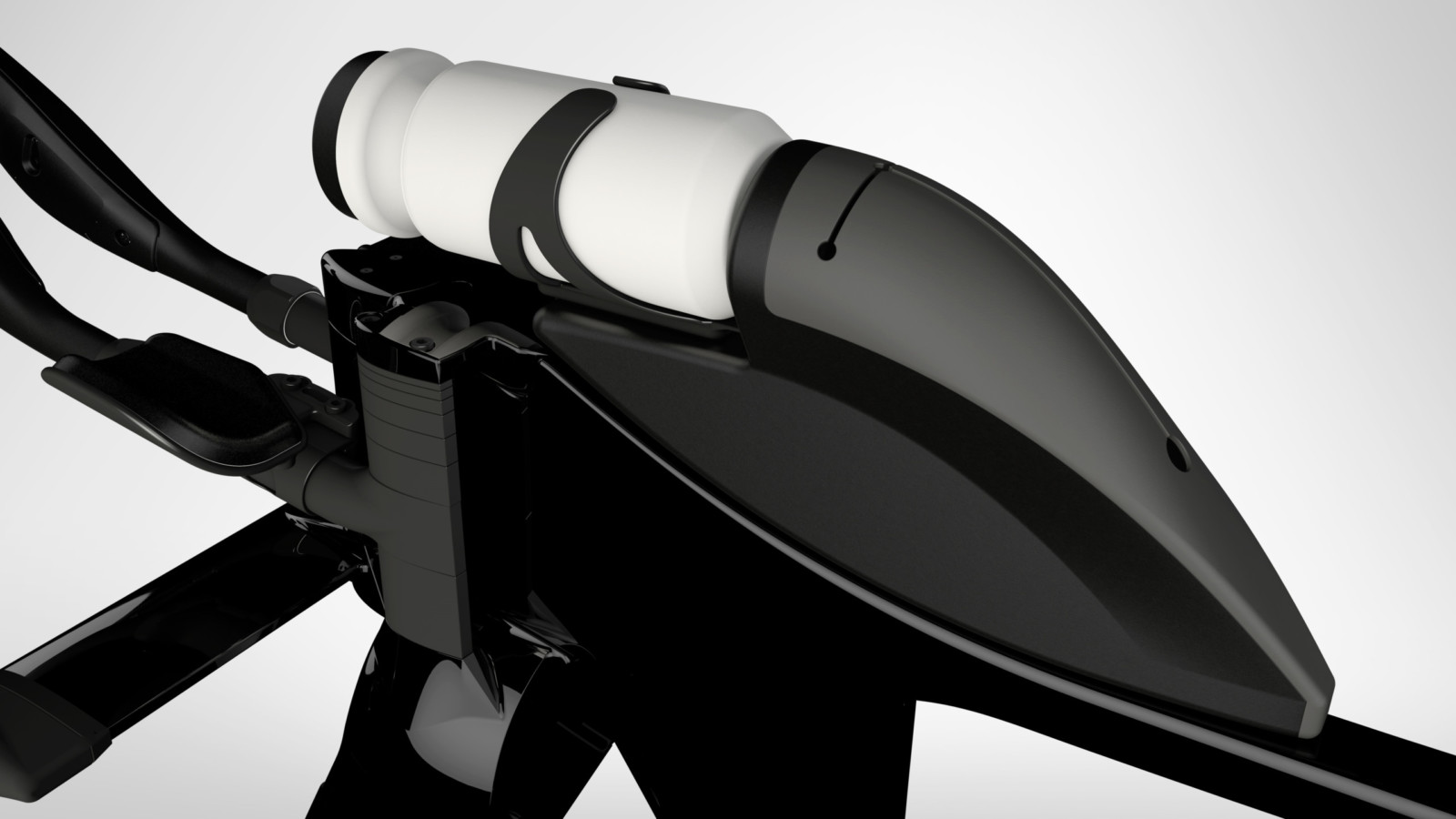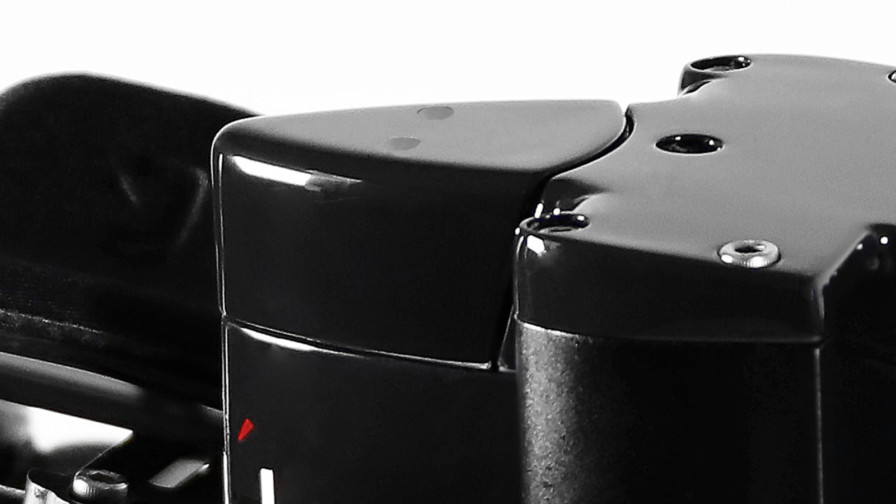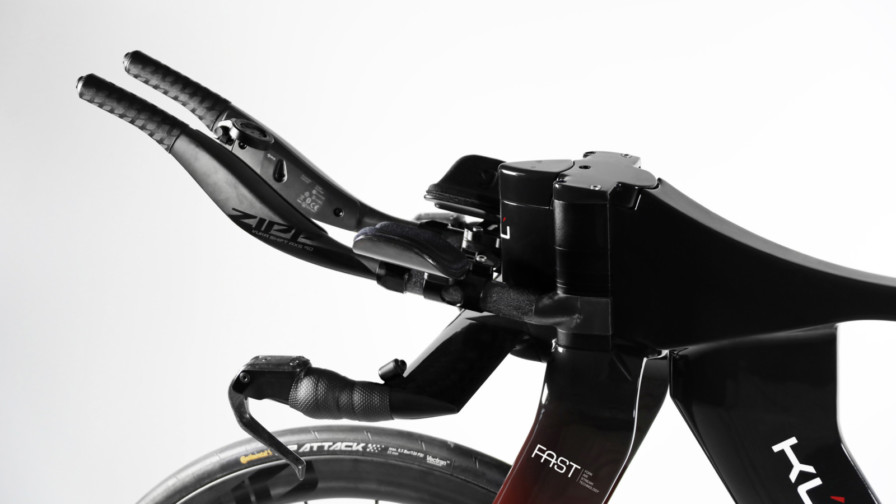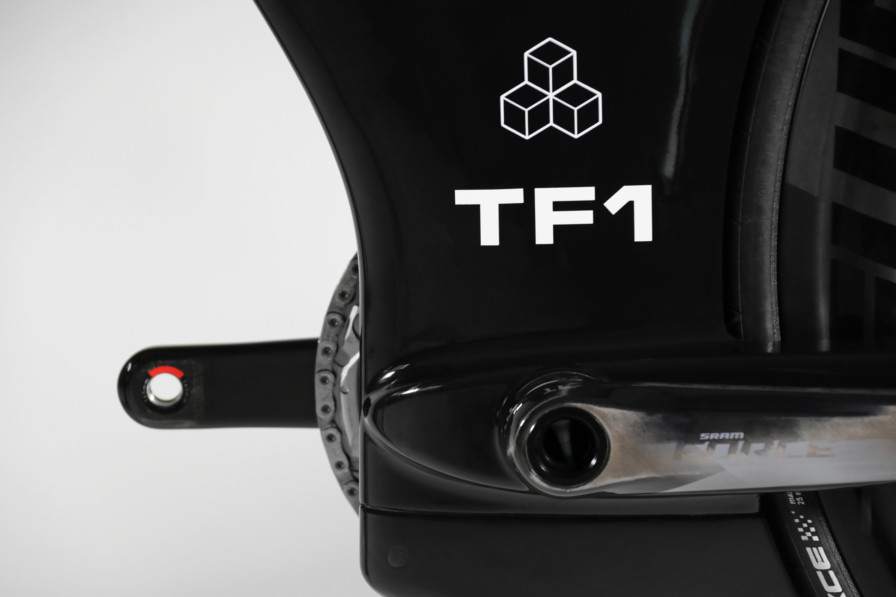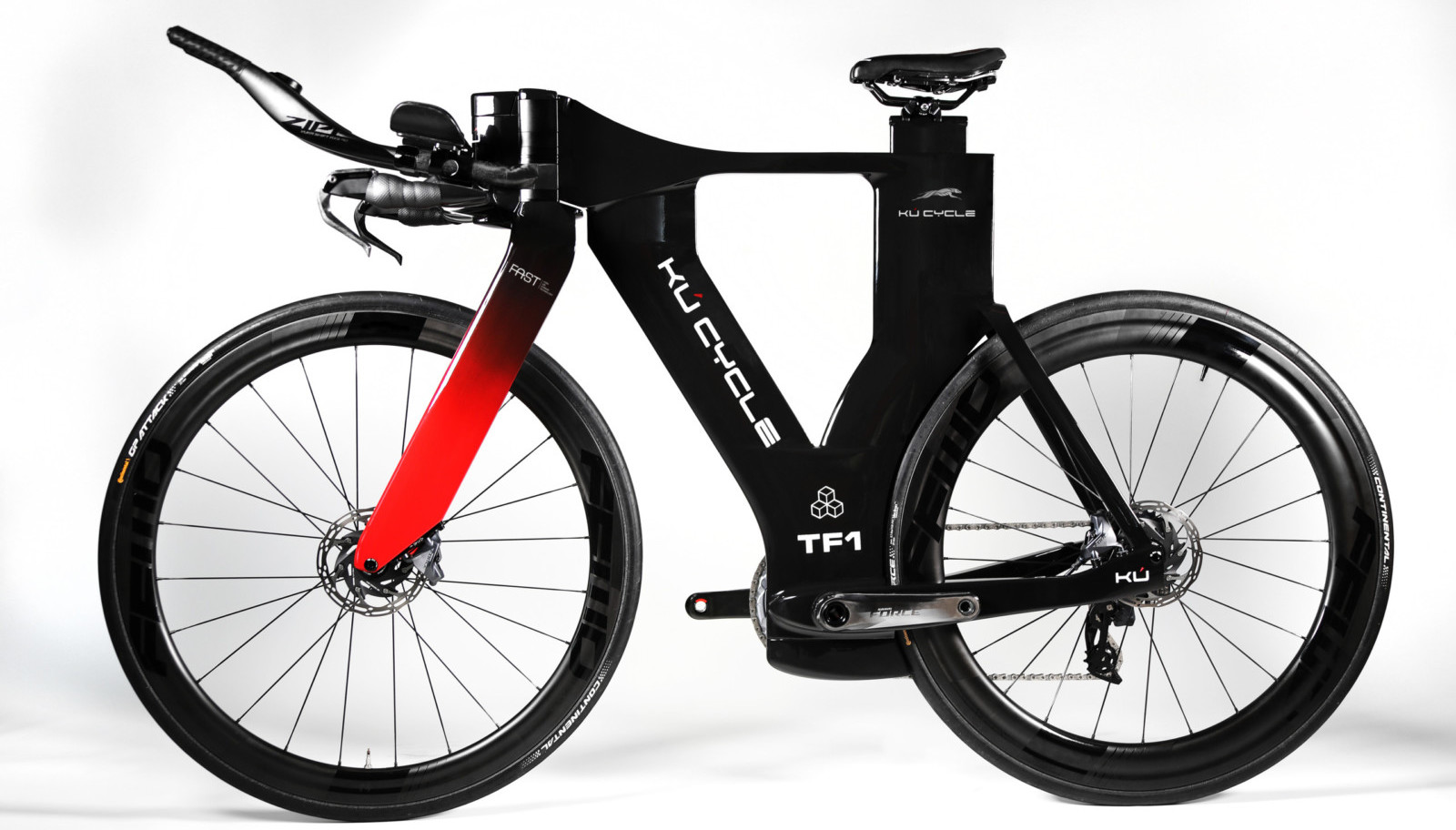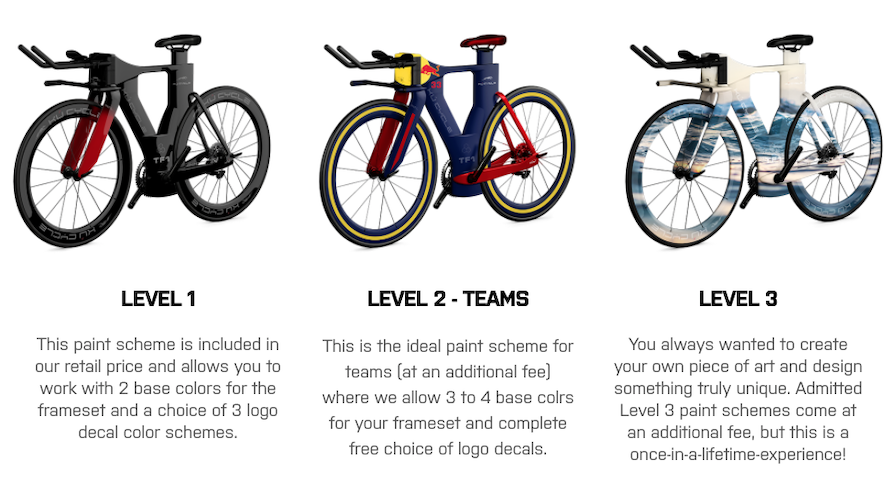 The tagline of the Kú Cycle (below) is 'Athlete Performance', and clearly their approach is focussed on that. The TF1 is specifically a triathlon bike, and it is interesting that Alex Bok told me that one of their baselines is, "A triathlete is not a cyclist." With specific needs to hydration, nutrition and self-sufficiency, their objective is not to make compromises towards other disciplines.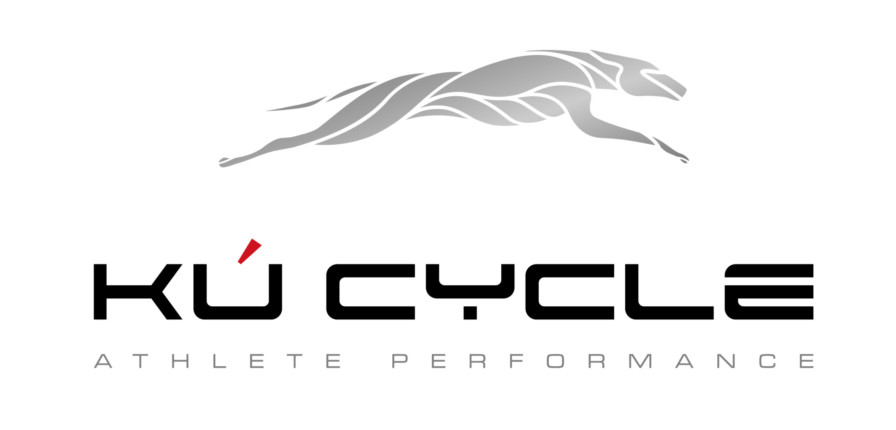 In many ways their approach is flowing against the wider market of online sales and mass production, but for the market they are targeting, it could well make a lot of sense for a start-up operation, particularly for a client that wants full end-to-end service and personalisation, in a process which adds value to the fitter process. We all know plenty of people who have spent thousands of pounds on a bike that clearly doesn't fit!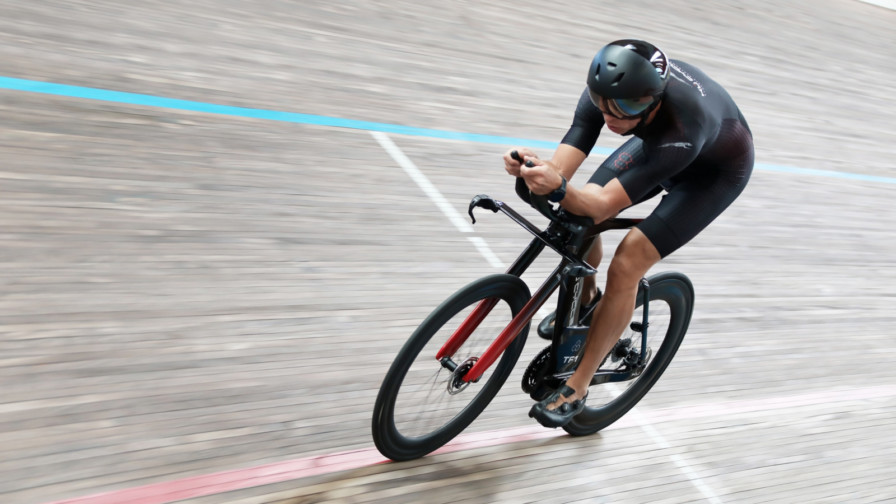 It's pretty difficult to stand out from the crowd, and doing so provides no guarantee of success if the wider market wants to follow the trend. The TF1 is immediately different – "what the fork is that!" – and, I suspect, will prove to have a 'marmite' response from the market, on nothing but visuals alone. That said the Kú Cycle mission is to be data driven, provide measurable performance improvements and "let the numbers do the talking". You can see some of those HERE.
If you want to stand out from the crowd, appreciate an individual service and are seeking a truly personalised machine for your next high performance purchase, perhaps the Kú Cycle TF1 is worthy of your attention?
You can find out more about Kú Cycle and the TF1 here: www.ku-cycle.com