She's been dropping not-so-subtle, 'simple' (!) hints for a while on social media… but we can now reveal that 'Duracell Bunny' Lucy Gossage will be riding Simplon bikes in 2017. And what a stunner it is…
Watch @tri247 for news of my bike sponsor later today or tomorrow. Simple announcement. Simply the best!

— lucy gossage (@lucygoss) March 16, 2017
---
Britain's very own multiple Ironman winner and two time European Duathlon Champion, Lucy Gossage signs with Simplon for 2017
Austrian premium bike brand Simplon has today announced that it is to be the official bike sponsor for Lucy Gossage this coming season.
Having recently launched in the UK, Simplon has been building performance bikes in its Austrian homeland since 1961. With numerous race wins to its name across road, mountain bike and triathlon, the Austrian brand is now bringing this long, race-winning heritage to the UK.
Having already announced their sponsorship of National Mountain Bike Marathon Champion, Ben Thomas, Lucy's signing to ride for Simplon further underlines how serious they are about the UK market with both the stunning MrT2 and the Nexio Aero road bike at Lucy's disposal for the season.
"I am so excited to be riding the Simplon MrT2" she says,
"I have been aware of Simplon for some time having competed against some of their supported riders in Europe over the years and I've always been an admirer of their bikes. They are stunning to look at as well as to ride. As soon as I heard they were coming to the UK, I just had to approach them"
"Having now met the team behind the bikes, I can safely say I'm in good hands and I look forward to working with them. They are such a nice, friendly and really knowledgeable bunch of people who are just as driven to win as I am. Their attention to absolute detail shows in both the immense quality of their bikes as well as in their approach to working with riders and supporting their customers " she concludes.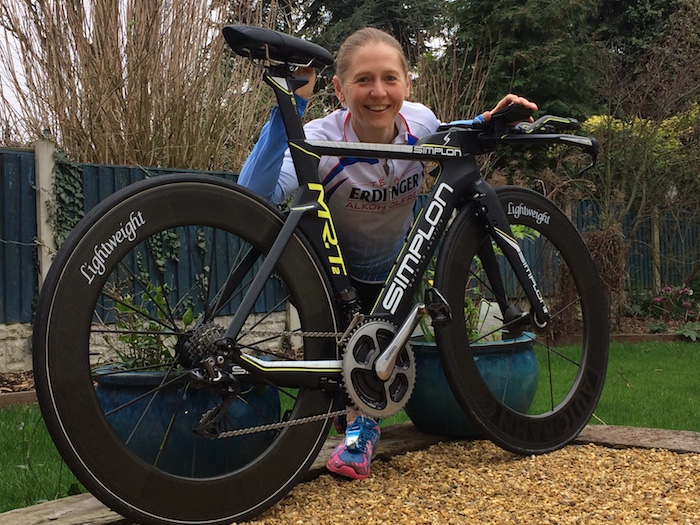 Simplon's UK Sales Manager, Kevin Burton, says that Lucy's results were only part of the reason they decided to support her in 2017.
"As soon as we met Lucy we realised that her strong results were backed up by a deep desire to work with her sponsors and, above all else, her friendly and approachable manner that both we and triathlon fans across the world can relate to"
"We can't wait to get the season started"
Of course despite what a certain famous rider once said it is, partially at least, about the bike. For 2017, Lucy will be riding the Simplon MrT2 as well as the Simplon Nexio aero road bike.
The Simplon MrT2 is an out and out speed machine designed by Simplon for the tri market. The specially developed carbon frame features fully integrated cables in a lightweight package that offers complete versatility in cockpit set up. In short it is not just a triathlete's ideal race bike, it is also a bike fitter's dream!
https://youtu.be/emwTK2ap51w
The bikes are now available in the UK via an expanding network of Simplon retailers and can be personally specced to your exact needs using the online configurator at www.simplon.com. Currently in German, this configurator will be available in English imminently but in the mean time it is still very easy to understand and configure your dream build.
For Lucy though, the season preparation is well underway and her new Simplons will see her undoubtedly setting a fast bike pace all year long. Catch her if you can!