ALDHU and VEGAST are Rotor's new generation crankset systems. They feature interchangeable arms and new 12% Ovalized Chain Rings.
*** Competition now closed ***
---
ALDHU and VEGAST from Rotor offers a crankset that allows you to fine tune your drive system by selecting axle, crank arms and rings. ROTOR are offering their cranksets with Q-Ring ovalized and of course round versions to suit your pedalling style. If you not a fan of Oval then all combos are available in round.
The Direct Mount (DM) spline fitting needs no specialist tools except allen Keys (8mm and 2mm) and you can adjust the Oval OCP (optimum chainring precision) position with ease. Machined crank arms using aeronautic-grade 7055 aluminium, the integrated configuration of the one-piece oval direct mount chainrings results in their lightest crankset ever at 590g with drilled out crank arms allowing weight reductions but keeping strength in the arm.
If you are choosing oval rings the system allows very fine tuning of your chain rings. This, we are assured, is a simple procedure to set up and adjust.

Why the names?
A little bit of history gives the model names:
ALDHU® is an abbreviation of the mythical Alpe d'Huez stage on the Tour de France to commemorate ROTOR's first iconic victory with Carlos Sastre in 2008.
VEGAST®, inspired by ROTOR's racing heritage to commemorate their victories in the Grand Tours – Tour de France (2008), Vuelta España (2011) & Giro Italia (2012). Their new crankset is named in honour of three of the highest climbs of these iconic races: VEleta – GAlibier – STelvio.
You can find out more HERE.
WIN a set for yourself **Now Closed**
The team at Velotech Services are offering one TRI247 reader the chance to win a set with the chain rings of their choice. To enter the draw simply enter your name and email address.
The Closing date is 31st July 2018 at 23:59.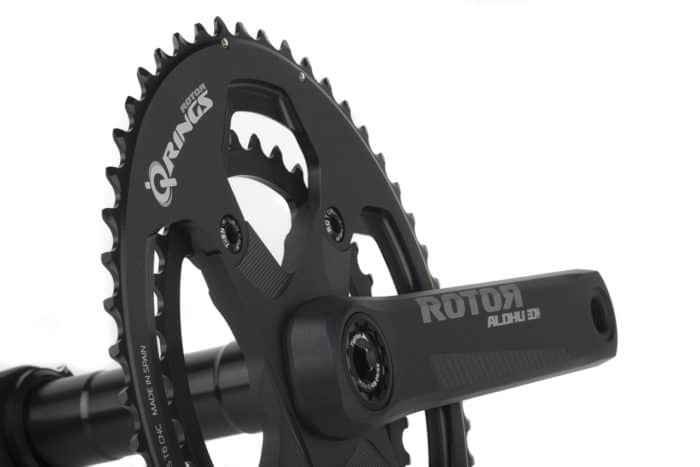 Terms and Conditions:
The judges decision is final. The prize winner will be picked at random and will be contacted be email. No cash or alternative prizes are available.
By entering this competition you agree to receive a marketing email from Velotech Services and/or TRI247. Your data will not be passed to any third parties. You can stop these communications at anytime. Your competition details will be deleted and no data will be held with regards to your entry. Prizes are subject to availability and a suitable alternative prize offered in the event of non availability of the stated prize.