In recent years, tri suits have become more technical than ever. Fabrics have been engineered to optimise hydrodynamics, aerodynamics and cooling. Manufacturers rigorously test tri suits in wind tunnels and velodromes to maximise performance. From the humble beginnings of tank tops and swim suits in the early years. Nowadays tri suits are almost as high tech as the bikes we ride or the running shoes we wear. And all of this innovation has led to some pretty bold claims about just how much time your tri suit might be able to save you out on a triathlon race course.
We dive into the latest trends and innovations in tri suit product technology. Take a look at the watt-saving claims product designers are making, and what that means for the everyday triathlete. And we try to answer the question: can your tri suit actually help to make you faster?
The latest trends in tri suit technology
Across the board, most tri suits are now coming equipped with features such as hydrodynamic fabrics to help you glide through the water on non-wetsuit swims. A second-skin fit to reduce drag. And features such as UV protection and fast-drying chamois pads to ensure maximum comfort and protection over the longer distance races.
But as triathletes look to grasp every marginal gain possible, some of the industry-leading brands are now taking their development of fabrics and materials to go beyond the pure fit and function element. Tri suits are becoming a key kit consideration in the pursuit of better performance.
Innovations in tri suit fabric textures
Many tri suit brands have been experimenting with different textures and fabric profiles in recent years. And now some of the leaders are moving away from the go-faster striped fabrics we've become accustomed to seeing on the sleeves of many tri suits. In favour of dimpled materials or raised dots.
'Bumpy' fabric might sound counterproductive. When we think streamlined, we tend to think smooth. But these micro-elevations in tri suit fabrics are actually said to reduce the overall air turbulence a rider creates, by creating a grippy surface that forms a small layer of air on the tri suit which in turn reduces air resistance. In simple terms, that means you'll cut through the air faster and with less effort.
The texture of tri suit materials is continuously being optimised for the maximum aerodynamic savings. Some products on the market even make use of a variety of different textures within one suit, depending on how air tends to flow past a particular area.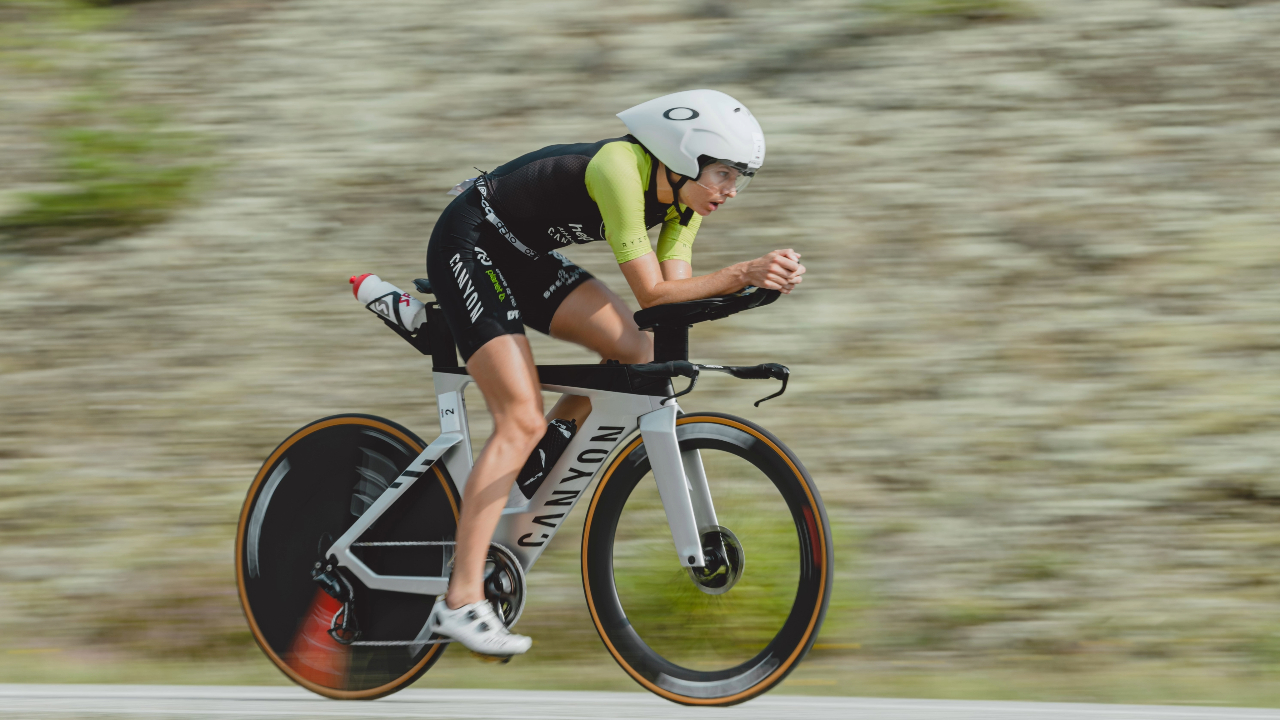 In triathlon, it's becoming more widely accepted that – when it comes to aerodynamics – fabric is faster than skin. That's shown by the number of elite triathletes now choosing to wear aero calf sleeves or even taking the time in T1 to put aero socks on. Sam Laidlow's decision to wear aero socks at the IRONMAN World Championships in Nice is a prime example of this.
The bike split in a triathlon is starting to look more like a cycling time trial race, with a focus on finding aero gains wherever possible. This means that the specific type of fabric used and its placement are increasingly becoming points of innovation for tri suits
Cooling materials and built-in heat management
If transition is the 4th triathlon discipline, then managing the heat may well just be the 5th. With conditions at many of the headline triathlon events in the race calendar seemingly getting hotter and hotter, being able to perform in hot climates is becoming a bigger factor. Alongside performing specific heat training protocols, triathletes are also placing emphasis on cooling when it comes to their race day kit choices.
Coldblack® technology is something we've started to see being implemented across various tri suit brands. It's a textile finishing technology which reduces the amount of heat absorbed by fabrics, even in darker shades. Ideal, if you don't fancy replicating Kristian Blummenfelt's all white ensemble from the Tokyo Olympics.
But some tri suit designers are now taking cooling a step further with innovative materials and design features. These include targeted mesh-panelling; ultra-lightweight fabrics (though sometimes at the cost of durability); the use of specific materials such as Graphene to distribute body heat more effectively; and the integration of additional ice pockets to make better use of ice at aid stations during races.
"At Ryzon, Graphene Gridflow Technology (GGT) is an innovative approach used to optimise thermoregulation in our latest tri suit. Graphene Plus is a versatile material known for its high electrical conductivity, remarkable strength and flexibility and it plays a central role in this ground-breaking technology.
We've leveraged Graphene Plus by integrating it into the tri suit's lining. The material's conductivity becomes a superpower for triathletes, efficiently conducting cold to specific areas of the body during competition. The specialised inner material, spanning from thighs to collar on the front and back, swiftly regulates body temperature, particularly crucial in extreme conditions such as those encountered in Hawaii."
What impact does this tri suit tech have on performance?
While all of this innovative, highly engineered tri suit technology sounds kind of exciting and futuristic. What triathletes are really going to want to know is just how much performance can be gained by investing in the latest, greatest tri suits.
We all know that overheating can have a huge impact on performance. The harder your body has to work to keep you cool, the more blood will be diverted away from the muscles to the skin surface for cooling. That places additional strain on your cardiovascular system and reduces your capacity to perform. A research study led by exercise physiologist Matthew Ely measured the impact of heat on marathon runners. It found that even at temperatures between 20-26 degrees Celsius, elite marathoners slowed down on average by three minutes. Sub-elites were losing up to 20 minutes.

Given that many races will deliver far hotter conditions than that 20-26 degrees Celsius range, it's clear that any benefit your tri suit can give you on the cooling front is going to contribute to a better race day performance. However, the aerodynamic claims will be of most interest to triathletes when choosing a tri suit.
What aero tri suit claims mean for an average age-group triathlete
Take a look at many of the premium tri suits on the market and you'll find claims about how many watts they'll save you out on the bike course. The precise number of watts, or the percentage of improvement, varies. But let's take an 8 watt saving as an average across the board.
Watt savings
Most tri suit development testing will be conducted using elite-level bike speeds – typically around 40-45 kilometres an hour. We've gone down a bit of a Best Bike Split rabbit hole to crunch the numbers so we can get an indication of what an 8 watt saving would mean for a top professional triathlete. Taking Lucy Charles-Barclay's Kona bike split (4 hours 32 minutes) and "adding" the 8 watts that an aero suit claims you could save takes around 5 minutes off the total time. Obviously that's a very rough estimation, but it's still a significant saving.
Now let's look at what an 8 watt saving equates to for your average age-grouper racing in Kona. At the 2023 IRONMAN World Championship on the Big Island, the average age group finish time sat around the 12 hours 30 minutes mark, with a bike split of between 6 to 6.5 hours. At this pace an 8 watt "saving" (hypothetically if you were to ride 8 watts harder) roughly equates to almost 9 minutes on the bike.
Reducing drag
Those watt-based time savings sound pretty huge. But sadly, a tri suit isn't a magic tool that will instantly give your legs the ability to physically push additional power through the pedals. So when we're talking about 'saving watts', we really mean reducing drag. So that you gain speed equivalent to pushing higher power – without actually having to up your numbers.
With that in mind, looking at drag might give us a more realistic indication of how much of a difference your choice of tri suit can make to your bike time over the full 140.6 triathlon distance. We measure drag using CdA – coefficient of aerodynamic drag. Essentially, CdA is a numeric measurement of the amount of resistance the wind creates for a rider, based on the shape and size created by the rider and their equipment (bike, helmet, clothing).
According to renowned cycling/triathlon coach and performance bike fitter, Matt Bottrill, a typical age-group triathlete has a CdA of around 0.24. Going back to our Best Bike Split rabbit hole and taking average rider stats and speeds for age-groupers competing in Kona this year – with the CdA set to 0.24 that bike split time comes out at 06:21:18. Reduce that drag just a hair, down to 0.235 and you've theoretically shaved 2 minutes off your bike time.
Can your tri suit actually help to make you faster?
It's important to remember that all of those numbers we've crunched are hypothetical.
The precise amount of drag you can reduce and time saved will depend on a whole load of other factors, of course, such as your bike fit and your ability to hold the aero position. And if you've already been racing in fairly aero kit, changing your tri suit will only offer a limited reduction in your CdA. But, if you're chasing the podium or you've ever had the agony of missing out on your target time by a matter of seconds – then any speed gains are always going to be welcome.
"Having the best tri suit helps age groupers to improve their race performance. It offers advanced technical features that optimise aerodynamics, comfort, and moisture management, allowing them to complete the race more efficiently. Knowing they are wearing the best tri suit also provides age groupers with a boost in confidence on race day.
This translates into improved focus, motivation, and the ability to tackle the race with a positive mindset. When it comes to achieving a personal best, wearing the best tri suit can be the difference-maker. It allows you to perform at your highest level – hopefully reaching your race objectives."
The bottom line
Upgrading to a high tech tri suit could help to facilitate your next personal best. By helping you to stay cool, stay comfortable and ride faster for less effort – upgrading to a tri suit with the latest aero and cooling features over a more basic model opens up the possibility for quicker race times.
But a tri suit can't do the work for you. As much as it might feel like a super hero suit, a tri suit alone can't equip with you magic racing powers. So it's down to you to do the training, to work on your bike position and to fine tune your mental focus. Get all of those nailed, and upgrading your tri suit could be the extra 1% that gives you the edge come race day.