Top quality, race-specific wheels can be one of the most desired (but expensive) items on a triathletes wish list. For many, that up-front cost can be a bridge too far, but there is another way to get your hands on the fastest kit for that special race day… rental.
Chantal Cummings is a very speedy British Pro triathlete, winner this year of the Ayia Napa Middle Distance Triathlon (HERE), and currently leading the points standings in the Spirit Triathlon Series… with Alpe d'Huez Long Course coming up later this week.
We got her to trial first-hand the wheel hire experience through Kudos Wheels (www.kudos-wheels.co.uk) and report back on the process for us. With a Zipp Super-9 disc and Zipp 808 NSW front wheel to add to her speedy Orbea Ordu bike (pictured above), she certainly had a machine that would match her own athletic talents.
---
Training for your first big event and want a faster wheel setup, but don't want to go all in and buy a set of racing wheels? Or maybe you live in a reasonable (tiny) flat and can't afford to give up what space you do have to an extra set of wheels (or have to come up with a sales pitch to your other half as to why you are stealing a little more of their cupboard space…). Well fear no more as Kudos Wheels (www.kudos-wheels.co.uk) have got you covered.
Kudos Wheels is a really neat outfit who's primary focus is on providing top notch wheel rental to all of you keen triathletes and cyclists, alongside their turbo rental and Zwift membership subscriptions. Their service gives you the opportunity to chase PB's and give yourself the best setup possible for those important races without having to invest £££'s on race wheels. I was given the chance to try out the service for myself over the weekend so here is exactly how it works;
Visit the Kudos Wheels website and select the wheel/wheelset from the range of top end Zipp wheels you want to rent
Select the duration that you would like the wheels for – the options currently range from a weekend (Friday to Monday) to 4 weeks
Pay for your rental
Place your security deposit one week before your rental is due to start
The wheels are then delivered on the first day of your rental to the address of your choice
Set the wheels up on your bike and away you go
At the end of your rental, place the wheels and component parts back in the supplied (Zipp) wheel bags and then into the box the wheels were shipped in. Print off the returns label and the wheels will be picked up on the last day of your rental from the address of your choice
Simple as that!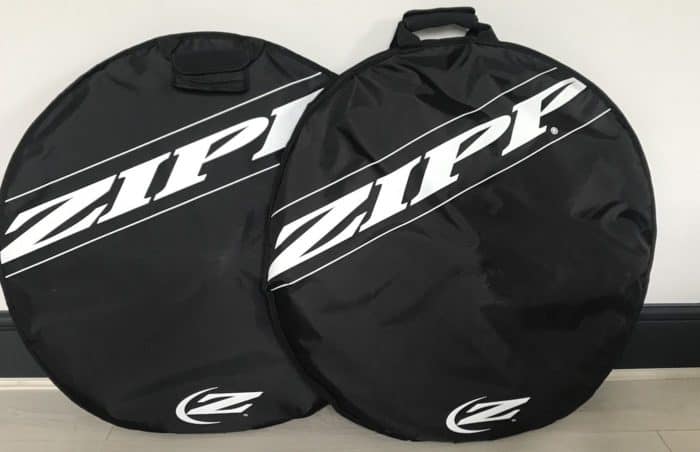 My experience
My rental started on Friday and the wheels arrived in the late morning (bear this in mind if you are planning to travel to your race on the first day of your rental), with a handy instruction sheet on how to get your wheels out on the road. There is also a wheel check inspection sheet so, much like car hire, make sure that what is marked on the sheet matches your own review of the wheels. One thing to note is that the wheels do not come with tyres or inner tubes so you need to ensure that you have these yourself to get the wheels setup and ready to go. The 808 and disc combo that I hired were in fantastic condition, almost out of the box new, and looked absolutely great on the bike!
(Note – The Zipp disc is quite a wide wheel and may require you to adjust your rear brakes (or get a bike shop to adjust them for you), to allow the wheel to move smoothly once fitted to your bike. It is important to factor this element in if you are new to using different wheels and don't have the greasy hands of a mechanic in your toolkit. Nothing worse than hiring a piece of kit and then not being able to use it!).
Unfortunately I didn't have a race to test the wheels out on but in comparison to my older Zipp wheels and after some seriously fast laps around Richmond Park, I can vouch that these wheels will help you towards your PB and they sound awesome as well!
So I hear you ask, can you take the wheels abroad with you if you are a sun-seeking racer? The answer is yes, you absolutely can but be warned that the safe transportation of them is your responsibility. This is not just the case for travel abroad but should anything happen to the wheels whilst they are in your possession then you are liable for them. With this in mind it is recommended that you look into some bike insurance to cover yourself in the event of something unfortunate happening.
Overall the service is incredibly smooth and the quality of the wheels is up right up there so for anyone looking to shave those extra margins off their bike split or take on their next race like a pro, Kudos Wheels is definitely worth a visit.