The Lazer Wasp Air Tri helmet is said to be designed to meet the specific needs of triathletes. With race season upon us, could this be the ideal helmet for your needs? Chris Hovenden has been putting it to the test.
| | |
| --- | --- |
| Product: | Lazer Wasp Air Tri |
| Price: | £259.99 |
| Size: | Tested in a Medium/Large (55-61cm), also available in size Small (52-56cm) |
| Weight: | 424g |
| Colours: | Matt black/camo – flash green/orange; white; and, black |
| Website: | www.madison.co.uk |
| Grade | A |
The Lazer Wasp Air Tri in action
When it comes to aero helmets the 'general' rule of thumb is long tail for shorter events (where you can maintain an aero position) and shorter tailed helmets for longer races (where you might struggle to hold your aero tuck and need to move around more on the bike). Of course, in an ideal world you'd have a perfect aero tuck for five/six hours… but for most, that is not reality!.
The Wasp Air Tri is the stubby tailed version of the Wasp helmet – Lazer says the helmet is shaped around a rider's position to provide aero gains whilst also offering ventilation.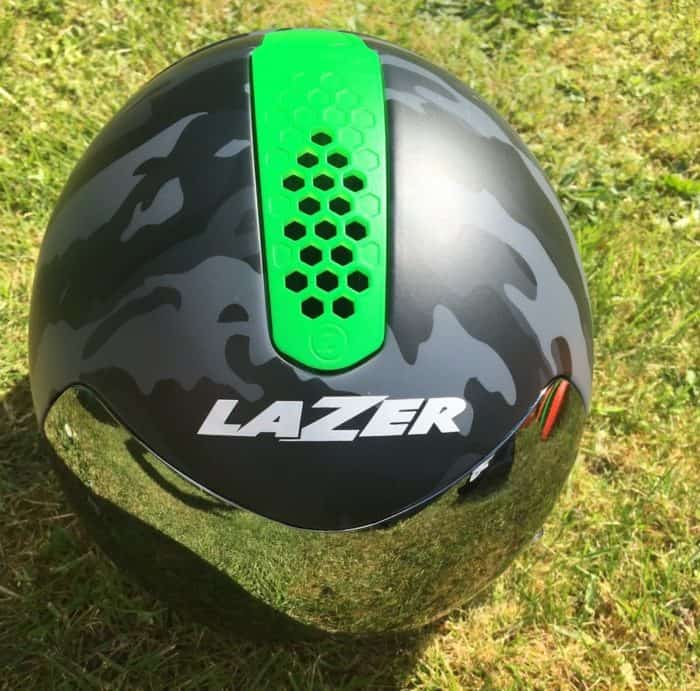 With its large integrated visor, and the test 'camo' colour scheme, the Wasp Air Tri has a distinctive look. However, helmets with visors can cause a few problems in triathlon – primarily, the difficulty of getting the helmet on in a rush and the risk of the visor fogging up after an early morning swim leg. Fortunately, the Lazer Wasp Air Tri performs very well.
The wide lens coverage provides good/clear uninhibited vision and the visor also provides aero gains over a pair of sunnies. I had no problems with the visor misting up, but even if you did the visor can be pushed forward to allow air to flow into the helmet if needed (although moving it forward can be a bit stiff).
Lazer's Turnfit retention system means you can get the lid on quickly in transition – without crushing your ears- and can adjust the fit on the fly – which contributed to some sharp transitions.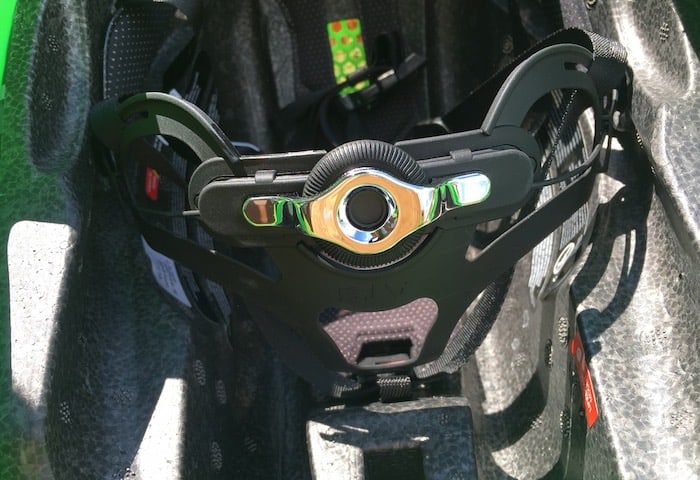 Like many other helmet retention systems you adjust the fit by turning the dial at the rear of the helmet. This combined with the padding and cradle helped provide a comfortable fit.
When designing the Wasp Air Tri, Lazer clearly thought about a lot of the challenges faced by triathletes.
An interesting innovation is the interchangeable plastic insert – there is a solid piece which is more aerodynamic but offers no additional ventilation; or the option which has a honeycomb grate that improves airflow and reduces the chance of the visor fogging up, and has what Lazer calls an Aquaport which allows you to pour water directly onto your head to help you cool down.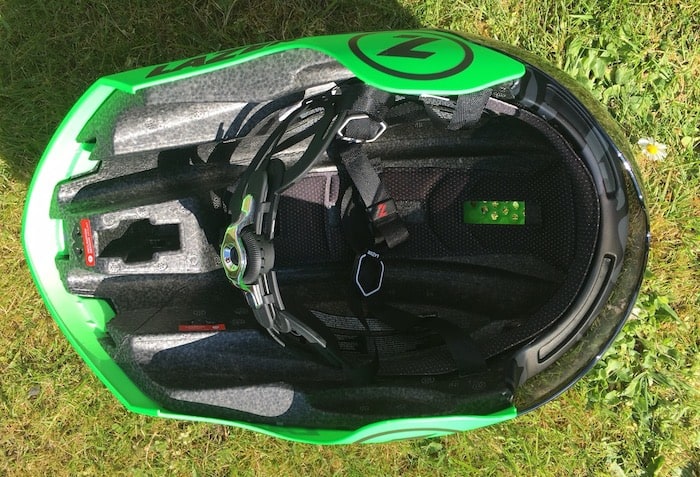 Although not tested, Lazer sells its proprietary Inclination sensor (which fits into the rear of the helmet) which is designed to signal when your head has moved out of the optimum aerodynamic position.
Aesthetics are secondary to performance, but the test helmet's 'camo' paint job scores well on the looks front as well. Also, you can swap the green plastic insert and trim for orange if you prefer.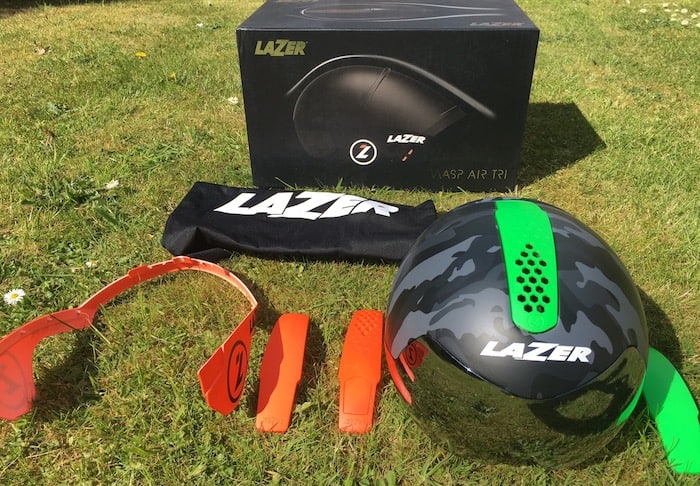 The Lazer Wasp Air Tri is a time trial helmet that will appeal to many. The stubby profile will suit riders that struggle to hold an extreme aero position – which in triathlon will be a fair number since we often compromise aero for comfort as we need to run off the bike – or tend to look down at their computer (which would leave a long tailed helmet acting like a sail).
However, if you can hold an aggressive aero position there are faster options out there– a longer tailed lid could be quicker.
Verdict
A comfortable, versatile and aero option for many, however quality comes at a price.