Some unboxings are a little bit special and fill you with a tinge of excitement not felt since you were (in my case…) much, much younger. The arrival of a package from Ryzon (www.ryzon.net) had me a little bit eager to open it up.
---
This neatly presented Generator Series Thermal Jacket in velvet red was here for a test. I'll agree that a cycling garment should not really garner such giddiness, but it did. Perhaps I'd had too much coffee?!
The jacket is suitably understated in typical Ryzon style, well tailored, with a decent fit across the shoulders. The materials are top notch as you'd expect at this price point and those little details matter. The jacket has a little give for comfort, but ensures a snug fit.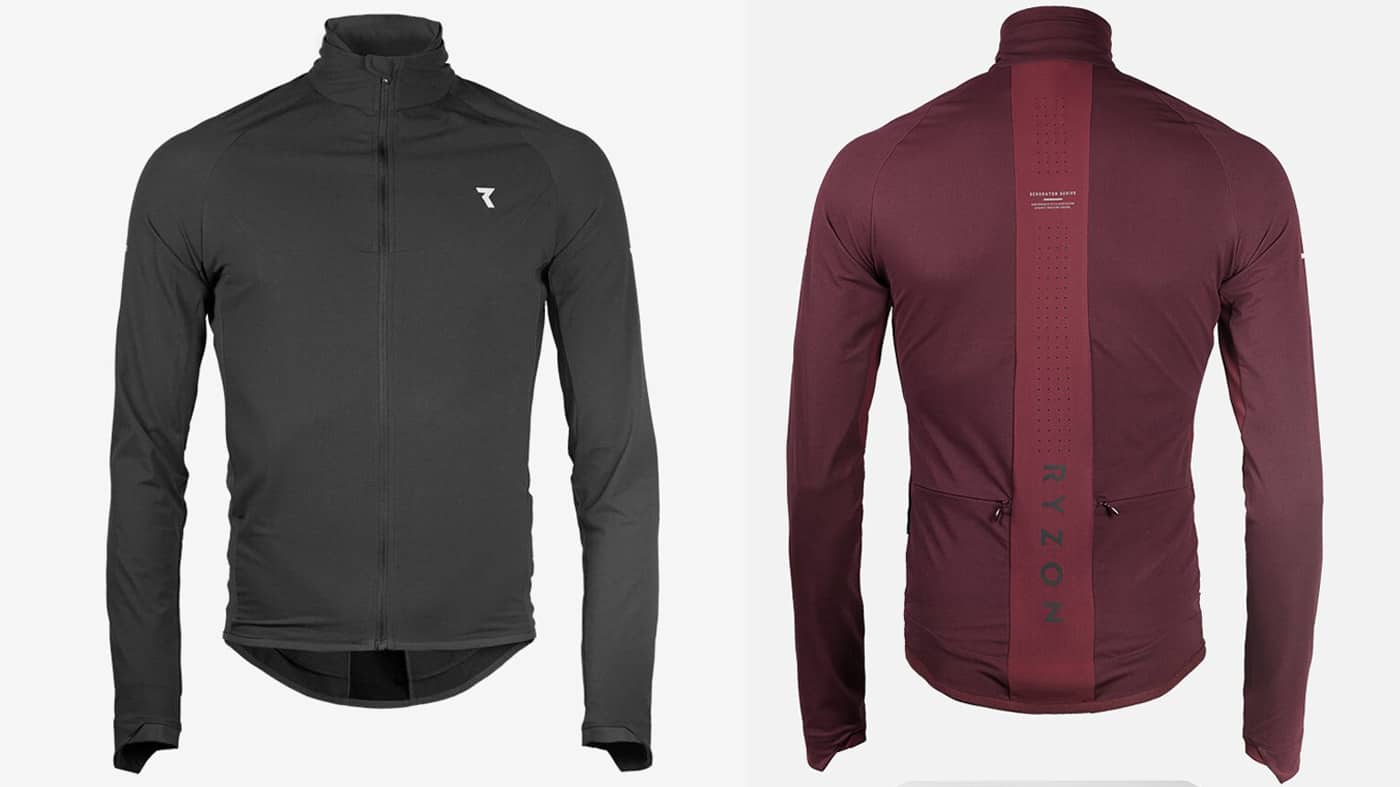 One thing to note here is to ensure that you check the size chart as the tailored fit around the waist might mean you need to go up a size if you are a little wider than you think.
The slim fit and soft fabric material mean there is no annoying rustling whilst riding to distract you – it's smooth, streamlined simplicity.
The neck area is well protected from the elements too and feels soft, comfortable and non-restrictive.
The two pockets at the rear both feature a nice smooth-action zipper to keep contents safe. That is if you dare ruin the slick lines of your jacket… although the pockets hold items in place without issue. Another nice touch is the cuffs on the sleeves; they have a little extra material that sits over the back of the wrist to keep draughts out, but it does not interfere with your grip on the bars in the palm area either.
The jacket performs well out in the rain and cold. The inner lining felt warm without being bulky or restrictive and for the outer layer, water beaded-off nicely. There are three breathable panels, at the sides and one down the spine to moderate temperature, the back one being laser cut with plenty of tiny breathe holes.
All-in-all the jacket performed exceptionally in the cold and wet of the early British winter. The fitted design does not allow many layers underneath, but in our test rides it was plenty warm enough. Style wise it fits the bill, a very classy jacket with neat attention to detail makes it a great choice for your Sunday best.
The Verdict?
As ever with premium brand clothing, the price will be a sticking point for many. But, if you are willing to part with the not insignificant price tag, you'll be rewarded with a top quality item which should provide many years of service and something that will stand out from the crowd (while doing so in an understated manner…).
While not cheap, it's broadly in line with similar products from other premium cycling brands such as Assos, Le Col, Castelli and MAAP. This is definitely sophisticated cycling.
The Details:
Made in Portugal
Unisex
Merino Shell
Tailored fit
Breathable
Wind and water repellent
Laser cut vent holes
Large back pockets
Made from mulesing-free merino wool
299 € incl. VAT – free shipping
You can find out more about Ryzon at their website HERE.