Karen Parnell is back with another product review for us.
Having recently tested out the FINIS Smart Goggle, this time around it is more swim technology, courtesy of the FORM Smart Goggles.
FORM Smart Goggles for Open Water, Spa Pools and Swimming Pools
The pandemic has meant we have had to re-think the way we train for swimming with many losing access to their local pool and open water venues closed. It's now common for me as a coach to write dryland, spa pool and tethered training sessions as well as the normal pool and open water sessions.
Pools still have restricted access in many areas so open water swimming is more popular than ever so when I heard that the FORM Smart goggles can be used to help develop your open water, tethered, spa pool and standard swimming pool swimming I couldn't wait to try them!
What's in the Box?
The goggles come in a robust outer box and inside is a large practical rubberised, ventilated case with zipper. There are six additional nose bridges to ensure a comfortable fit, the smart googles themselves, magnetic charging cable and mounting clip for a Polar OH1/OH1 + or Polar Verity Sense for Heart Rate whilst you swim.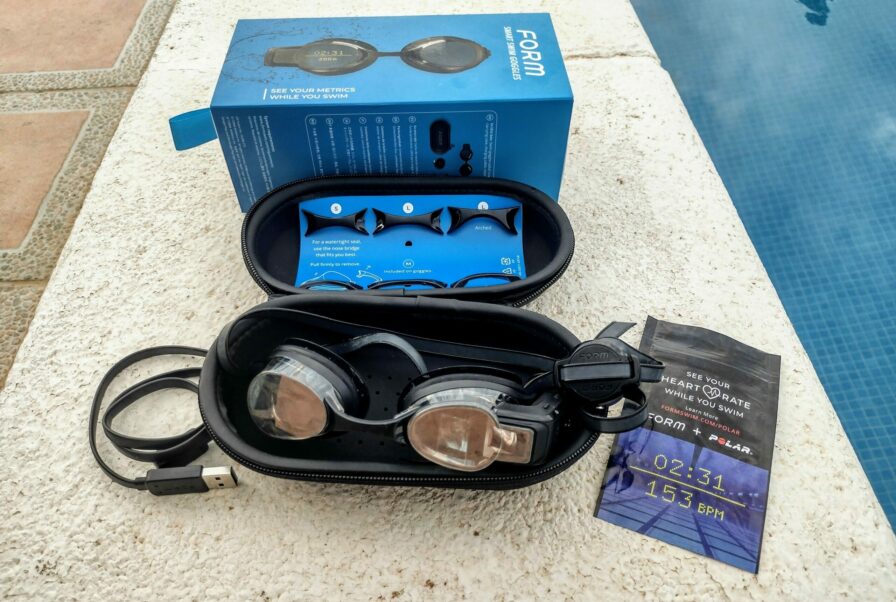 I was struck by the quality and thought put into all of the contents from the premium case large enough to hold goggles, nose bridges, cable, Polar HR monitor and your swimming hat to the goggles themselves. I really like that they have forged a partnership with Polar and produced their own mounting clip ideal for the FORM straps.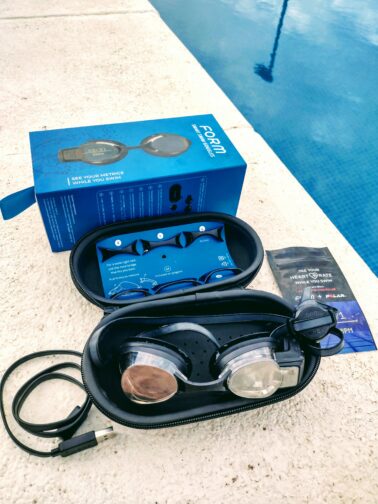 Getting Started
Everything starts from the App (Apple or Goggle) so install this first and pair with the goggles and run through tutorial. As with all technology products it's always best to plug it in and full charge but you run through the set up whilst it charges. Create your profile and sync the goggles and then you can watch the tutorial on the screen in the goggles and on the phone. It was fun to set up the App with the goggles on seeing a combination of the phone screen and goggle screen!
The goggles have two buttons for navigating through the menu selections of the goggles and within a minute or so you get used to what each button does. You can see the screen even if you wear prescription glasses and it's worth setting the brightness at this stage to your preference.
Now I had the App and goggles set up I moved on to paring with my Polar device. Luckily, I tested the Polar Verity Sense recently so could pair with this. It's really well integrated and on the goggle display it shows the Polar device battery level as well as testing the heart rate once paired.
It also works with Apple and certain Garmin watches that support data fields. Unfortunately, my trusty Fenix 3 is not supported so I could not set this up.
The menu system on the goggles is intuitive and you can scroll through pool swim, open water swim and spa pool. In spa pool you can select the pool manufacturer and set up to work with them.
They have also integrated with the following Spa swim pools: Jacuzzi, Hydropools, Thermospas and Swim Life swim spas.
After you have set up, they trickle feed you great emails over a few days to help you set up correctly and use the device in the best way. For example, when I paired my Polar Verity Sense for heart rate it prompted me to set up my heart rate zones in the App. It also helped me understand the best place to wear the Verity to get the best HR data.
Compatible Watches
The FORM goggles are compatible with Apple and Garmin watches that support data fields.
Sea Swimming
One of the great things about the FORM goggles is that they guide through set up at every step of the way via the goggle screen. Connecting and using the Polar Verity Sense for heart rate was a breeze but making sure the device was in a good place to take the readings was a little bit trickier.
I have long hair so always use a swimming hat (plus I mostly swim in open water so like to use my ChiliTri bright green hat so I can be seen in the water), and like to wear my goggles over the hat for comfort. This meant I had to take a little time to position my polar device on my temple which may be worth practising at home and that goes for the nose bridge options and screen brightness. After my sea swim I will turn the brightness down on mine. The Polar device clip that came with the FORM goggles was much more secure than the standard Polar clip so I was confident I would not use it in the sea.
Using them in the sea was amazing and the screen was easy to see both in and out of the water and showed me strokes per minute (SPM), timer and heart rate. I managed to get SPM for front crawl, breaststroke and back stroke with no problems. I felt like the Terminator!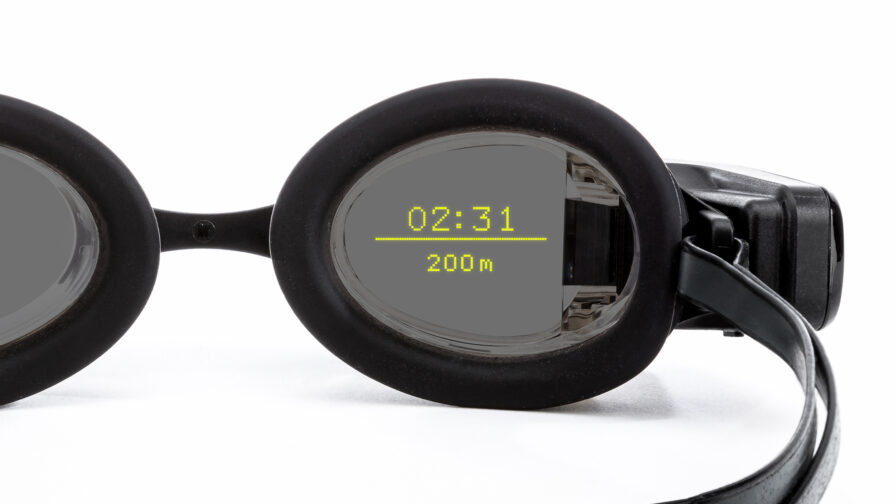 The Stroke Per Minute is extremely useful for open water swimming as you can use this to improve your arm cadence over a period of time. I'm used to using a Tempo Trainer to do this but with the SPM on screen in real time you can keep to your target SPM without the beeping sound.
It was good to try things out like more kicking and how it affected my heart rate and what my natural stroke rate is. I noticed my stroke rate was dropping off at the end of the swim so concentrated on keeping it higher. It will be interesting to use in a race as you will be able to keep your SPM up and see the distance you have swum if you have a compatible watch.
As a coach I could easily write open water sessions for my athletes with FORM goggles to give them targets based on the stats they can see when they swim. It would be amazing if the engineers at FORM could enable the goggles to download a session plan and show it on the screen.
The FORM Swim App is currently able to sync your data to the following platforms: Strava, TrainingPeaks, Apple Health, Today's Plan, and Final Surge. You can also sync your Garmin Connect swims to the FORM Swim App. This means you can track your progress and share with your coach.
Use in the Endless Pool & Tethered Swimming
FORM does support many Spa Pools, but Endless Pools is not currently supported so I had to select "other Spa pool" in the goggle menu. I tried it in my Endless Pool with the Polar verity sense for heart rate and the goggles showed time swimming, when I was swimming, resting and strokes per minute (SPM). I also tried out the "drills" mode from the menu and competed some drills. You can use this mode for tethered swims in your garden pool.
In the App I could see total time, rest time, kcal, heart rate plus time and SPM. This is also broken down for Freestyle and Breaststroke.
Community
FORM is building a community of swimmers and you can connect, view and share your swims. For example, when I opened up the App I was presented with a swim from Lionel Saunders!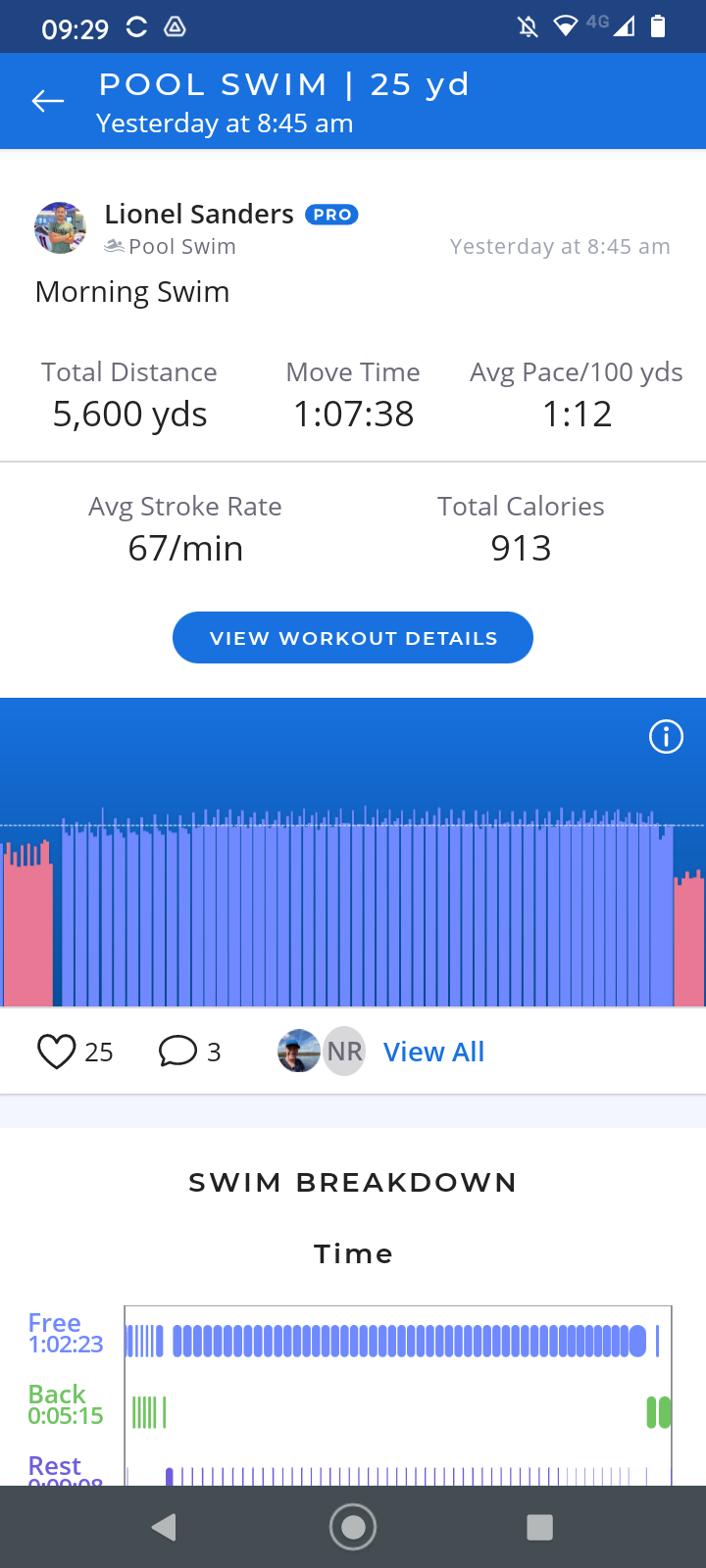 Conclusion
The FORM goggles are excellent in the pool, open water, tethered and spa pools. When you add in the Polar Verity Sense for heart rate and a supported Garmin or Apple watch then you have enough live stats and saved stats to really improve your pace and speed. They are also fun, which for me makes me swim for longer – especially in open water!
Using them during a race would be interesting especially if you have a target SPM and pace. FORM Smart Goggles are the benchmark for smart goggles for triathletes.
Price: £149 or €169.95
Website: www.formswim.com | #swimwithform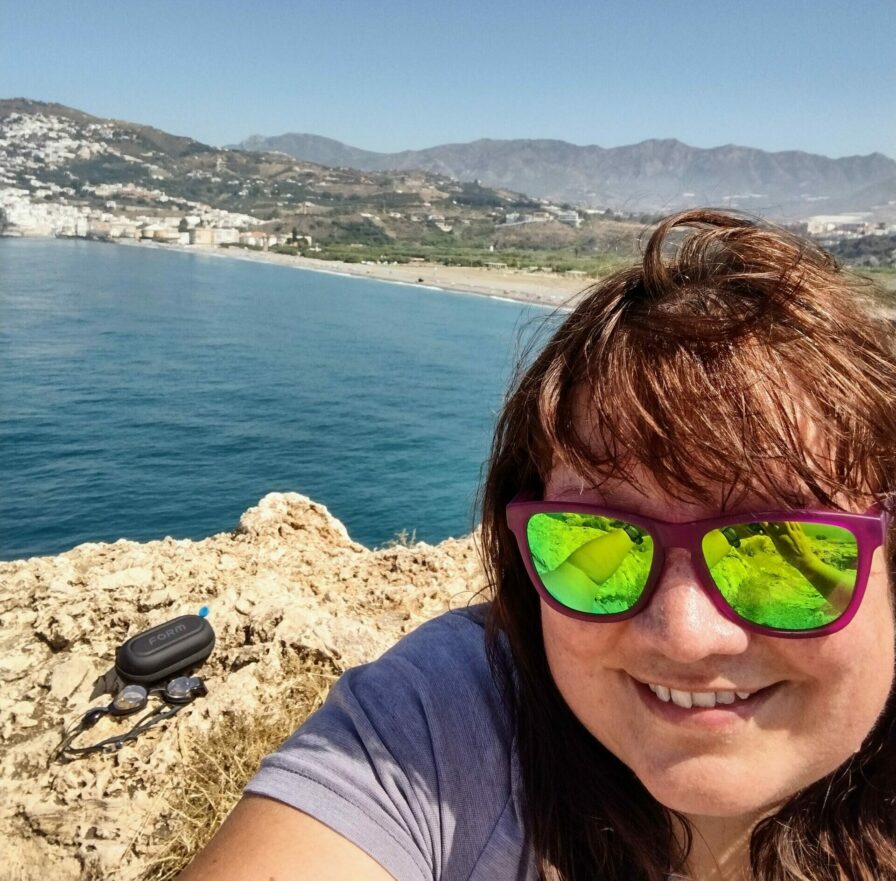 ---
Karen Parnell is British Triathlon Federation (BTF) Level 3 High Performing Coach and Tutor, Nivel 3 Técnicos Federados FATRI España and an ASA Open Water Swimming Coach. She is also a qualified NASM Personal Trainer and IRONMAN® Certified Coach as well as being a Stryd running with power coach.
Karen is based near Malaga in Southern Spain where she runs ChiliTri coaching and camps.