At some point in your triathlon career you will most likely venture from local pool-based events into the world of open water swimming. This pretty much guarantees (in the UK at least), that you will need a wetsuit, and you will need to look after it to ensure it pays you back with a long life as some suits are a significant investment.
---
Wetsuits and Trisuits
For the swim stage of your race you will ideally need a tri suit and a wetsuit. The tri suit you can wear throughout the whole race, including under your wetsuit in the swim stage. Your tri suit can be a one piece suit, ideal for shorter races, while a two piece suit may be better for longer distances where you may need the practicality for a comfort break! Either way, look for kit with a functional chamois protection in the shorts, enough to provide comfort on the bike but not too padded to hinder your run or become too water logged after your swim. Less is more for triathlon purposes!
Triathlon wetsuits are made of neoprene, a special rubber that is very flexible and buoyant. These suits differ from surfing or dive suits and are designed to make you as fast a possible in the water, not hinder your swim stroke due to their flexibility and provide the required insulation properties to keep you warm in cold water.
Wetsuit rules
The main reason you will use a wetsuit is temperature control. The wetsuit will help you keep warm in the colder water, hence on warmer swims the use of a wetsuit may be prohibited – in which case, you just swim in the tri suit.
The use of wetsuits is governed by the various triathlon ruling bodies around the world and this ensures clear guidance for event organisers and athletes to adhere to avoid any confusion. Water temperature is the main criteria (though air temperature does play a factor too), and this is what will be of interest to you as a swimmer and is designed to keep you safe in extremes of water temperature.
Under current British Triathlon Federation rules, the following temperatures are enforced for events to ensure the best safety of swimmers:

| | | |
| --- | --- | --- |
| Swim Length | Wetsuit Forbidden Above | Wetsuit Mandatory Below |
| Up to 1,500m | 22°C | 14°C |
| 1,501 - 3,000m | 23°C | 15°C |
| 3,001m - 4,000m | 24°C | 16°C |
The BTF suggest a wetsuit for all novice swimmers and Age-Groupers up to 22°C. So, in the UK the vast majority of open water swims and triathlon events will allow wetsuit use.
In America, USAT guidelines state that you may wear a wetsuit if the water temperature is 78 (25.5°C) degrees or below. You may wear a wetsuit if the temperature is 79 (26°C) degrees to 84 (28.9°C) degrees but you won't be eligible for awards. Anything 85 (29.5°C) degrees or over, no wetsuits are allowed. These rules are similar for Ironman-branded events.
In addition to water temperature for use of suits, some technical advice from the BTF but if you are buying a suit from one of the major triathlon brands they will have you covered from a technical aspect:
Wetsuits cannot exceed 5mm thickness anywhere. If the wetsuit is made in two pieces, the combined thickness in the overlapping areas may not exceed the 5mm thickness limit
Propulsion devices that create an advantage for the competitor, or a risk to others, are forbidden
The most external part of the wetsuits will fit to the competitor's body tightly while they are swimming
A wetsuit may cover any part of the body except the face, hands and feet
There is no limitation regarding the length of the zipper
Competitors may wear 'shorty' style wetsuits, but should be aware that they offer less protection against the cold
Please note that SwimRun suits are not covered by the above points, as they are currently not governed by the same BTF rules.
Buoyancy and Fit
The major brands produce a range of suits designed to fit the majority of body shapes and sizes. These offer the best general fit and most people will not need worry too much as the suits are designed to flex and it should be a pretty straight forward job finding your best fit. If you have measured yourself and still are unsure, then you would be advised to visit your local triathlon retailer or see if there are any wetsuit tester days at open water venues near you. These will usually be from March/April onwards as the weather (and the water!), warms up.
The next important reason to wear a wetsuit is buoyancy. This will be a major help to newer or weaker swimmers allowing you peace of mind so you will not sink and probably swim faster too! The neoprene material used to make the suits will really help support you in the water and beginner suits will often have thicker panels of more buoyant material, to compensate for lower body positions of less efficient swimmers.
The major brands will supply you with a race-legal wetsuit, so there is not much to concern yourself on that front. The main choice will be between sleeveless or full body cuts. In the UK the vast majority of swimmers will go for full body cut. This has several advantages, being warmer and offering additional buoyancy. If you are swimming in warmer climates, perhaps consider a sleeveless suit but check out the typical temperatures in case it is too warm and no suit is required! Go for full body cut for the UK and you will be safe in the majority of conditions.
Full body cut – Full arm and leg coverage for maximum buoyancy
Sleeveless – No arms for maximum range of movement and buoyant legs
Short cut – No arms for best movement, short cut off legs
SwimRun – Mix of long, short or removable arms, typically short legs. Often with inbuilt pockets for storage. Some are two piece for good flexibility whilst running. Some of these might not be legal for triathlon races however.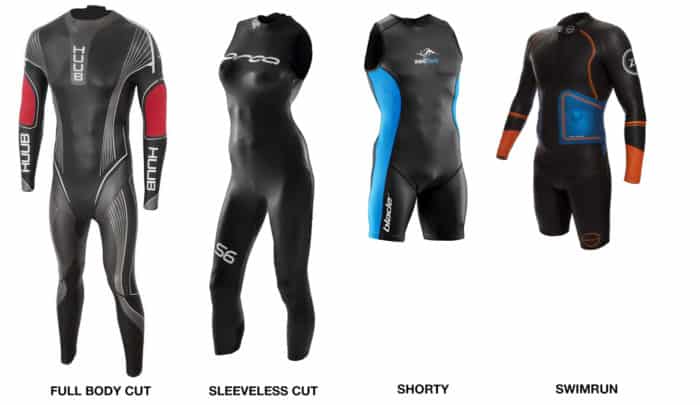 Type of swimmer
The type of swimmer you are will play a part in the suit you require. Consider this akin to a gait analysis to analyse your run style and therefore determine potential shoe selection. Wetsuits are made from many panels of differing thicknesses of neoprene to help in two ways. Thicker neoprene offers more buoyancy and keeps you afloat. Thinner neoprene allows better movement and flexibility. Depending on the type of swimmer you are will help you determine the type of suit designed for you. Simply assuming "more buoyancy" is good, will not suit all swimmers.
By having differing panels at specific areas of the suit you can alter the position of the swimmer in the water and provide differing degrees of flexibility. This is something that tester sessions to try out various suits will help you with, as well as guidance from an expert. The correct suit for you will pay dividends in the water. More experienced swimmers should benefit from more flexibility and will not need as much buoyancy. For example, thicker neoprene in the legs will help keep you more horizontal in the water and reduce drag. A wetsuit may well feel tight and restrictive on dry land, but work for you in the water.
Budget and Cost
The major brands; Orca, HUUB, Zone3, Blueseventy, 2XU, Speedo, ROKA, Yonda, Aqua Sphere, Sailfish etc. have a range of wetsuits designed for triathlon and will meet the BTF rules and regulations and they conveniently fall into three broad price bands.
| | |
| --- | --- |
| £1 - £200 | Beginners and youth, usually good all round features |
| £201 - £350 | Intermediate with good flexibility and buoyancy |
| £351 - £Above | Advanced swimmer or technical construction with different thickness of neoprene panels offering better flexibility and targeted buoyancy |
If you are new to the sport you may want to consider hiring a wetsuit. These are available from various outlets and will help you try out triathlon at a reduced cost. Also, check out if your suit is available as an ex-rental model, often these are much cheaper and with minimal wear. Obviously, second hand is an option but often without any sales backup if anything goes wrong. While wetsuits do cover a range of prices, remember that getting the right wetsuit (fit and function) for you is key – so the most expensive might not be the best suit for your needs
How to put on your wetsuit – tips
How to take off your wetsuit – tips
Cleaning and storing your wetsuit
Looking after your wetsuit can start before you hit the water in your triathlon. It is recommended that swimmers use lubrication to reduce any chaffing around the body especially the neck area. To reduce any damage to your suit you should look to avoid petroleum lubes and stick to water based or products specifically designed for neoprene suits. These are readily available and will probably be suggested when you buy your wetsuit.
Angus, owner at Yonda Wetsuits offered a few words of advice…
Do not use solvents or other chemicals to remove stains or marks from your wetsuit as they can cause damage
Avoid sharp finger nails whilst pulling up the wetsuit, neoprene is delicate!
Do not force the zips, if possible get someone to do up the zip for you
Pull the zip in the direction intended, not across. This will damage the zip
Ensuring the suit is the correct size will make it easier to put on and do not pull ends of sleeves or legs to remove
After every swim you should thoroughly clean your wetsuit, using clean, cold or luke warm water is best. Avoid hot water to ensure you do not damage the material. Rinsing off saltwater or fresh water from your suit will help prolong its life and keep it from developing an unpleasant odour!
Every once in a while it is advisable to treat your suit to a proper clean and there are plenty of wetsuit shampoos designed for neoprene available, these will remove salt, sweat, bacteria, pee, suit lube and other open water nasties! The better you look after your suit the longer it will last you. Treat it like your work suit or office clothes; do not put it in the washing machine or tumble dryer, don't iron, don't wash with detergent or bleach.
We recently reviewed an interesting product from Dry Bag. Using a Dry Bag will help you remember to look after your valuable wetsuit. Typically wetsuits suffer a terrible fate after a race or swim. You emerge from the water; wet, tired, dirty and once on land, you maybe a bit sweaty! You kick off your wetsuit and cast it aside for the bike stage if you are racing, or a coffee if you are training and this very likely will result in your wetsuit ending up rolled up in a plastic bag. Not ideal!
Investing in a kit bag like Dry Bag hopefully means that you will take a few moments after using your suit to look after it properly and enables you to dry out your suit, protect it and keep it safe in storage.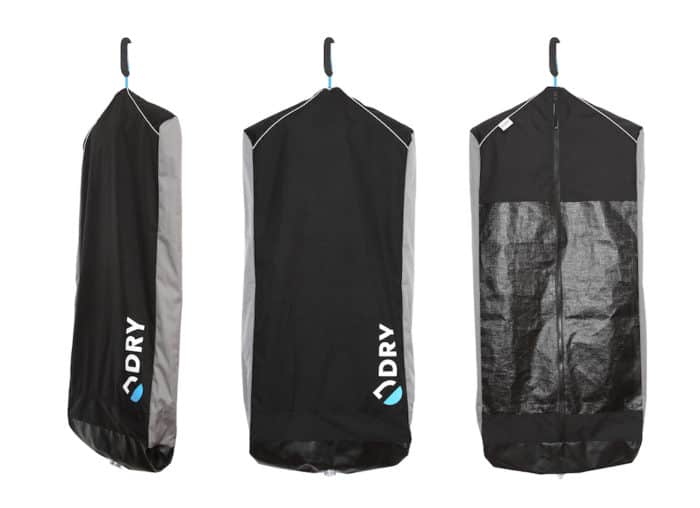 Hopefully this will give you a little more information about triathlon wetsuits and the best way to keep them in great condition. If you look after your wetsuit, it will look after you.