How long is 'long'? How about 62 HOURS on an Turbo Trainer?
Last week British Ultra Distance cyclist, Jasmijn Muller, was the talk of the online cycling forums as she set a new 'Zwift' record, covering over 1000 miles in one indoor ride, cycling continuously for 62 hours. HOW?!
Dr Josephine Perry, a sports psychology consultant who is part of Jasmijn's support crew sheds some light on Jasmijn's approach to her new Zwift distance record…
---
How do you approach 62 hours on a turbo trainer?
If you are into Zwift, the online turbo training tool (review HERE), then from Saturday 18th to Tuesday 21st February you may have thought there was a glitch in the system as one rider rode continuously for 62 hours covering 1135.9 miles and climbing 7551 metres.
In the process she set a distance record on Zwift smashing the previous record of 1010 miles which had taken the male rider 72 hours.
But this was no glitch. It was an incredibly well planned, and executed ride by the British Ultra Distance rider Jasmijn Muller (www.duracellbunnyonabike.com) attempting to set a new record and to get in some valuable training for her next big challenge; a Lands End to John O Groats (LEJOG) record in September.
Jasmijn Muller: Support Crew
Working on Jasmijn's support crew was a great way to get an insight as to how an athlete can prepare for a challenge like this. One thing which quickly became incredibly clear was how organised she is. Many challenges fail because of something small but unanticipated. In Sports Psychology we will often work with athlete's on 'What if' plans. This is a way of getting down on paper all the things you are rationally worried about or even irrationally fear and planning for how to prevent them happening.
The very tired support crew are worried that Jasmijn will never stop. #ZwiftDistanceRecord #duracellbunnyonabike #thisgirlcan pic.twitter.com/d1es8glWym

— Jasmijn Muller (@JasmijnMuller1) February 21, 2017
Planning
It was clear Jasmijn had been through this process. Every angle was thought through. As an example, the big fear when you are expecting to sit on a saddle for three days straight is that you will get saddle sores. Jasmijn had researched this, found out how best to hold them at bay and so was riding in two pairs of shorts, the second pair inside out to minimise friction. She was also changing them every six hours. She had thought about every type of food she may fancy during the ride, and had them there for support crew to hand over. She knew she may overheat so had borrowed fans, and was wearing frozen sweatbands. She had a bed laid out for power naps. Though in the first 1000 miles she only took two naps, a 10 minute and a 25 minute one. This level of planning was a key determinant in Jasmijn's success.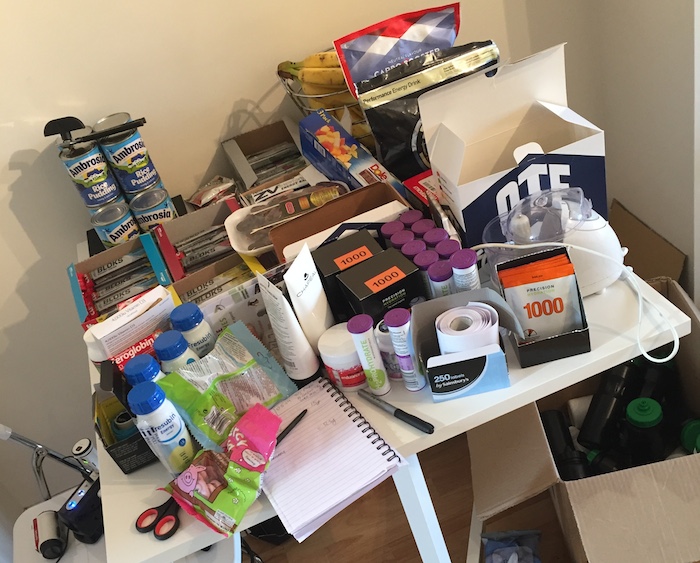 Positive, not pressure
Another determinant in her success may actually be slightly less pressure than would be expected because this challenge wasn't her big event of the year. She is actually aiming to complete LEJOG in a new record (the current record is just over 52 hours) in September. When you are riding out on the road there are so many uncontrollable elements. Getting the distance in on a turbo trainer provides you with a far more controllable environment. You can practice lots of elements but in a safer way such as how you can cope without sleep, how you want to interact with your support crew, if there is music that keeps you motivated, which shorts keep you comfiest and what nutrition works for your stomach. Approaching this challenge as a practice for September, knowing that there was so much to learn from it may have taken some of the pressure off; instead of focusing on how much parts of your body hurt or how tired you are you can focus on what you are learning and how you'll put those learnings to good use.
Suffering and confidence
An important element which distinguishes record-breaking athletes from the rest of us is their ability to suffer, something which can come from the level of mental toughness you have.
People with high mental toughness are confident, have high levels of control and are consistent and determined. One of the most robust sources of confidence comes from having evidence you have done something before. Having raced in 24 hour races and long audax's before will have helped Jasmijn through this challenge. And knowing she achieved this challenge will help her when she does LEJOG.
Having high levels of control mean you can stay calm when things go wrong, bounce back when you have a set back and accept the things that you cannot change. Jasmijn had a big setback last summer when she had DVT but her response was to accept the issue, learn about it what caused it and how to prevent it happening again and then setting an even more exciting goal to work towards. And being determined, goal driven and taking responsibility for achieving those goals also contributes to your mental toughness. Jasmijn, and everyone who knows her would say she is really goal driven and, like many other exceptional performers, she is always looking for the next goal. But she alone feels responsible for achieving those goals. She is clear: "if things go wrong, there is nobody to blame but yourself."
And she's done it. Ladies and gentlemen, a new #ZwiftDistanceRecord of 1,627km. Congratulations to record breaker Jasmijn Muller. 😀 pic.twitter.com/P0lxzojHuh

— Jasmijn Muller (@JasmijnMuller1) February 20, 2017
Passion
Finally, the best way to approach any challenge; whether big or small is to be motivated by something that you are really passionate about. Jasmijn is passionate about women's cycling and has loved following in the footsteps of some amazing female distance cyclists such as Eileen Sheridan, Billy Fleming, and the great Beryl Burton.
At the end of her record she was asked what she was most proud of. She said: "It was a proud moment to be able to prove that when it comes to endurance sports, women can be just as good as men, and sometimes beat them. It felt amazing. I hope I did women around the world proud and gave them confidence to go after their own goals." And with passion like that it is hard not to achieve your goals.
Charity
If you are impressed (and how could you not be?), Jasmijn was riding to raise funds for two great causes: 50% to Cancer Research UK and the other 50% to fund her LEJOG world record attempt.
She is still taking donations and you can do so through a paypal gift to Jasmijnmuller1@gmail.com
Here are the final stats: 1,828km (1,135.9 miles), in 62 hours, 4 minutes & 30 seconds. Wow. #ZwiftDistanceRecord #thisgirlcan 🏆😀🚴🏻‍♀️🙌🏼 pic.twitter.com/41qtlABZW8

— Jasmijn Muller (@JasmijnMuller1) February 21, 2017