"The whole point of CELTMAN! is about the experience…"
12 months I chatted to the men's winner of the CELTMAN! Extreme Scottish Triathlon (www.cxtri.com), Harry Wiltshire, about what had attracted the IRONMAN champion to one of the toughest challenges around – with just a blue t-shirt on offer. You can read that piece HERE.
The eighth edition of the event was held this past weekend, and this year the women's race was won by Becky Hoare, a member of the ERDINGER Alkoholfrei Age-Group team. Becky is no stranger to 'standard' long distance racing herself. A multiple Kona qualifier, she is a former winner of the Military Division at the IRONMAN World Championship.
Two years ago (read her report HERE), Becky was the fastest British women at the Norseman Xtreme Triathlon and the desire to want to continue with Xtri racing was set. I got in touch with Becky earlier this week to find out about her day in Scotland, and as you'll find out, this is an event that is about so much more than splits, finishing times and positions.
---
CELTMAN! Extreme Scottish Triathlon
After iron-distance race number 10, I've almost got used to people asking me 'why?'.
For your standard 'Ironman' race, the answer is almost easy. It's a challenge; I relish the opportunity to chase a time and to get everything 'just right' on race day. For Extreme Tri's, I'm not sure even I know the answer to that. Maybe it's the fact that the water is so cold, that even getting into the swim fills most athletes with dread, or a bike course that's so brutal that mental barriers are pushed beyond many athletes' limits before they even start the run. After that, a marathon to end all marathons. A run that even requires a support runner plus basic survival kit should something go really wrong out on the mountains. An Xtri adds another dimension to ironman racing.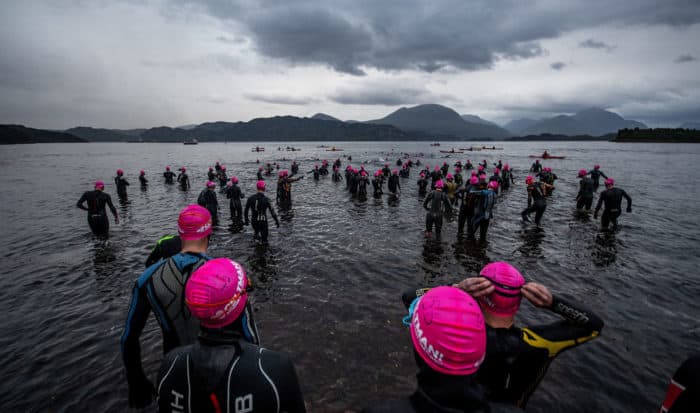 After having the race experience of my life at Norseman in 2017, I'd well and truly got the Xtri bug and couldn't wait to race another. Unfortunately, a string of injuries in 2018 (a stress fracture that required screws in June, only to be removed and replaced in December), meant that it was uneventful year, and I was pinning a lot of hope on recovery when entering the infamous ballot in November to win a one of the coveted 250 spots on the CELTMAN! start line on the shores of Loch Shieldaig.
The simplicity of the CELTMAN! setup is a refreshing breath of fresh air from the IRONMAN branded and more corporate events that are commonplace these days. There is no expo crawling with compression socks, no free bag that the zip inevitably breaks after two weeks, no professional panel. During the race itself there's no aid stations – each athlete is required to bring along with them their own support team including a vehicle, a runner capable of keeping up with their athlete for upwards of three hours in the hills (and cope with the inevitable angry, athlete snap when said athlete gets a bit tired!), and whatever snacks their athlete requires for anything up to 18 hours of racing.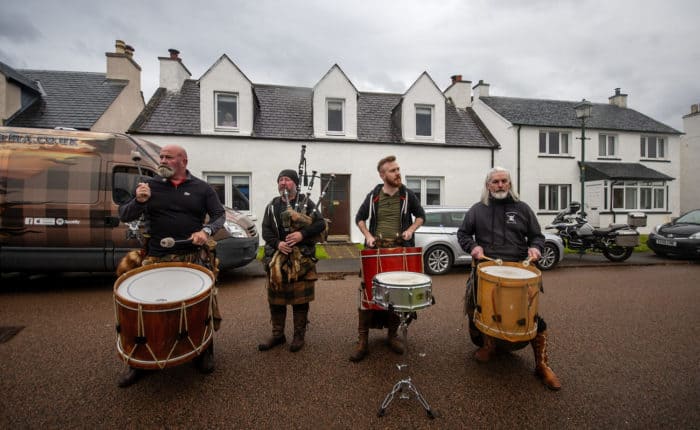 After a busy week in work, I'd managed to arrive in the stunning area of the Torridon Hills (cue literally zero phone signal for a 30 mile radius), on the Thursday night, and along with fellow CELTMAN! and housemate Jonathon Blackburn, we were off to test the water on the Friday to see what would await us the following day. I am a self-confessed 'fair weather' swimmer – you won't find me near a British lake pre June, so jumping into the jellyfish-invested water (literally hundreds!), was a massive shock to the system. Despite the thermal wetsuit, gloves, balaclava and boots, I lasted about 10 minutes before calling it a day.
Race day dawned unsurprisingly damp. Tracker collection was at the slightly unsociable hour of 0300, which allowed athletes to get on a coach for the nervous drive round the loch ready for jellyfish swim time. The athletes are greeted with rousing fire, drums and bagpipes before heading off into the water. Following the tragic passing of the inspirational Chris Stirling a few months earlier, who clearly had left a deep legacy among the CELTMAN! family and who's loss was clearly felt by all, a 30 seconds of applause was held before beginning the race. It was a sobering and exceptionally moving tribute to an incredible athlete and friend to many.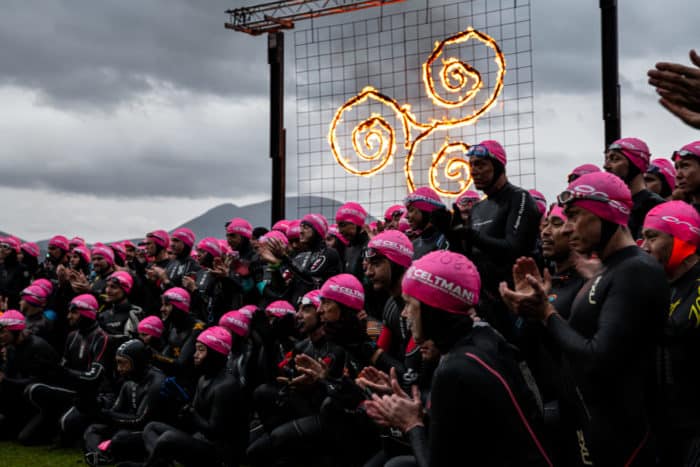 The ice cream head lasted for about 10 minutes before settling into a rhythm. With so few athletes on the start line, there's no inevitable 'washing machine', but also few feet to follow for a draft. After over an hour of solo swimming batting away the jellyfish, I was so cold that I must have looked quite drunk staggering up the jetty towards my wonderful one-man band support crew, Anwen, an accomplished fell runner, who had to pretty much dress me as my hands and feet were pretty much useless at this point. A full change into cycling kit, jacket, gloves, hat and overshoes, and it was off onto the bike.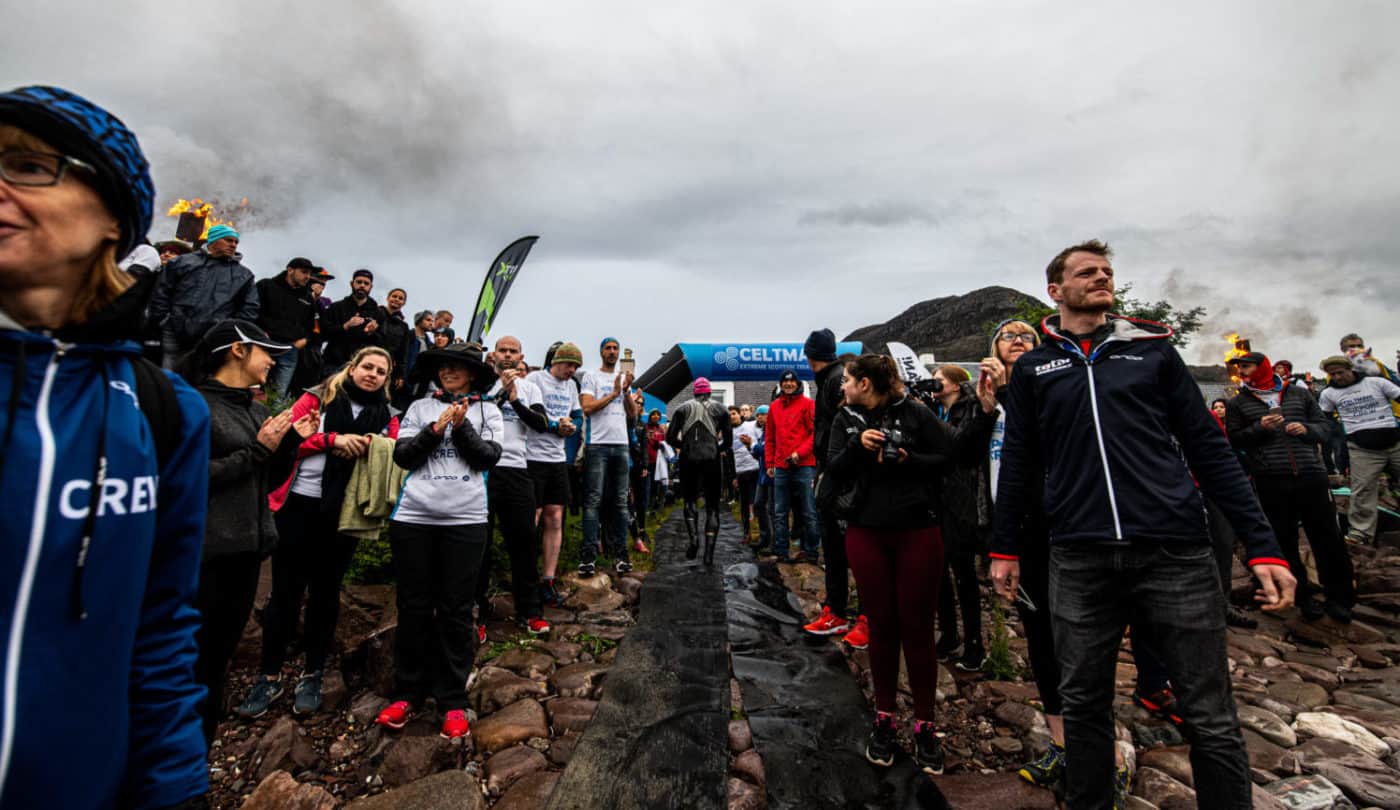 The 200km bike course is quite simply the most breathtaking bike course I have ever had the pleasure of riding. First heading back up past the mountains we would be riding up some hours later, allowing us a glimpse of things to come, it soon headed out towards the beautiful West Scottish coast. It was almost easy to forget the fact I was racing, and just take in the beautiful views. It didn't come without its low points however; there were certainly times when the brutal headwind that blew us out battered us head on with a vengeance. Coupled with nearly 2000m of climb, it was never going to be easy.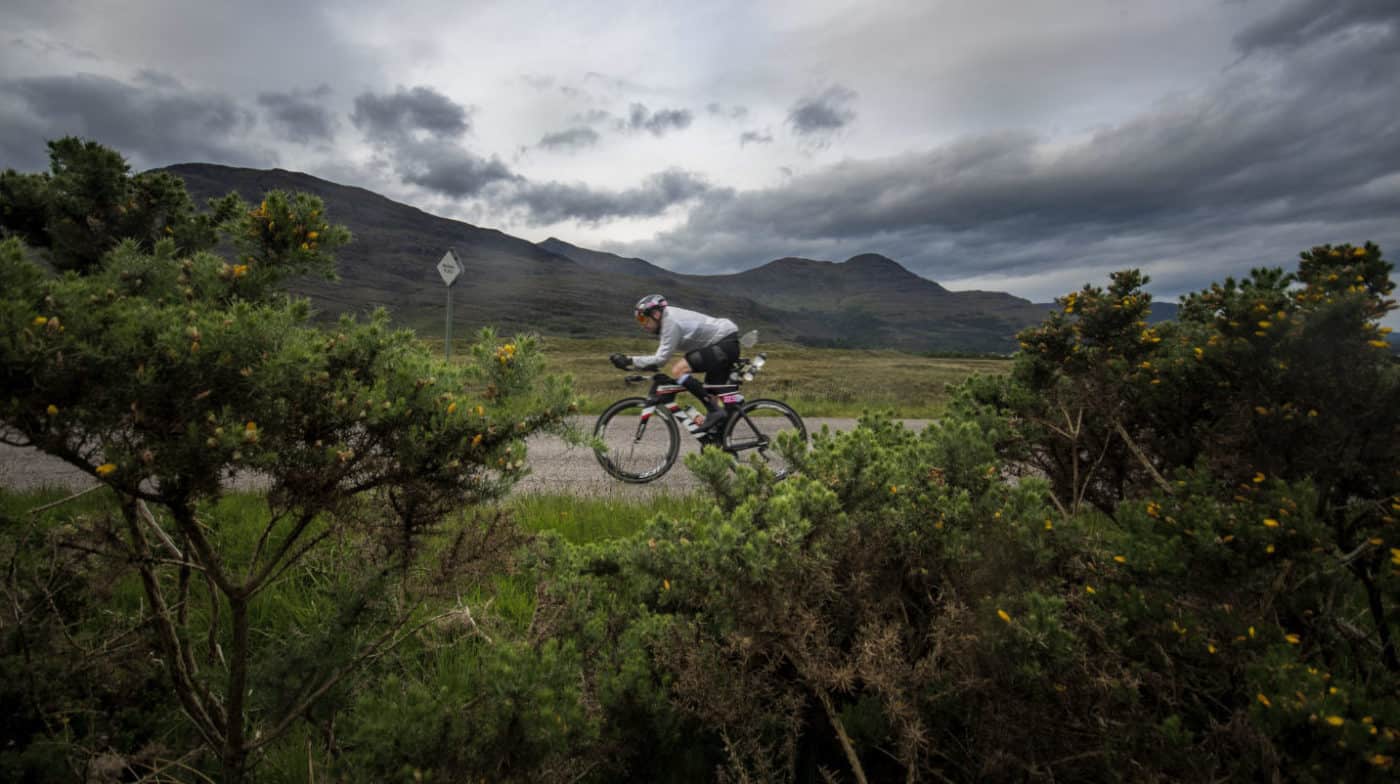 Being a race where you depend solely on your crew to get round, seeing my support team jumping up and down dressed in every layer she could possibly wear always gave me the lift I needed (that, and the copious amounts of flapjack, bananas and Snickers she inevitable filled me with). The roads are surprisingly good, and although on open roads, with 90% of the passing traffic being fellow Celt supporters, traffic issues were the very least of our problems. The wonderful thing about CELTMAN! is the camaraderie it brings. I'd had a few minor mechanicals on the bike, yet despite having their own athletes to support, every crew that passed me stopped to make sure I too, was okay. My Garmin that I also managed to lose after fixing said mechanical was also liberated from the side of the road and handed in by another support crew. I'm honestly not sure where else you would ever find that kind of pure sportsmanship in any race.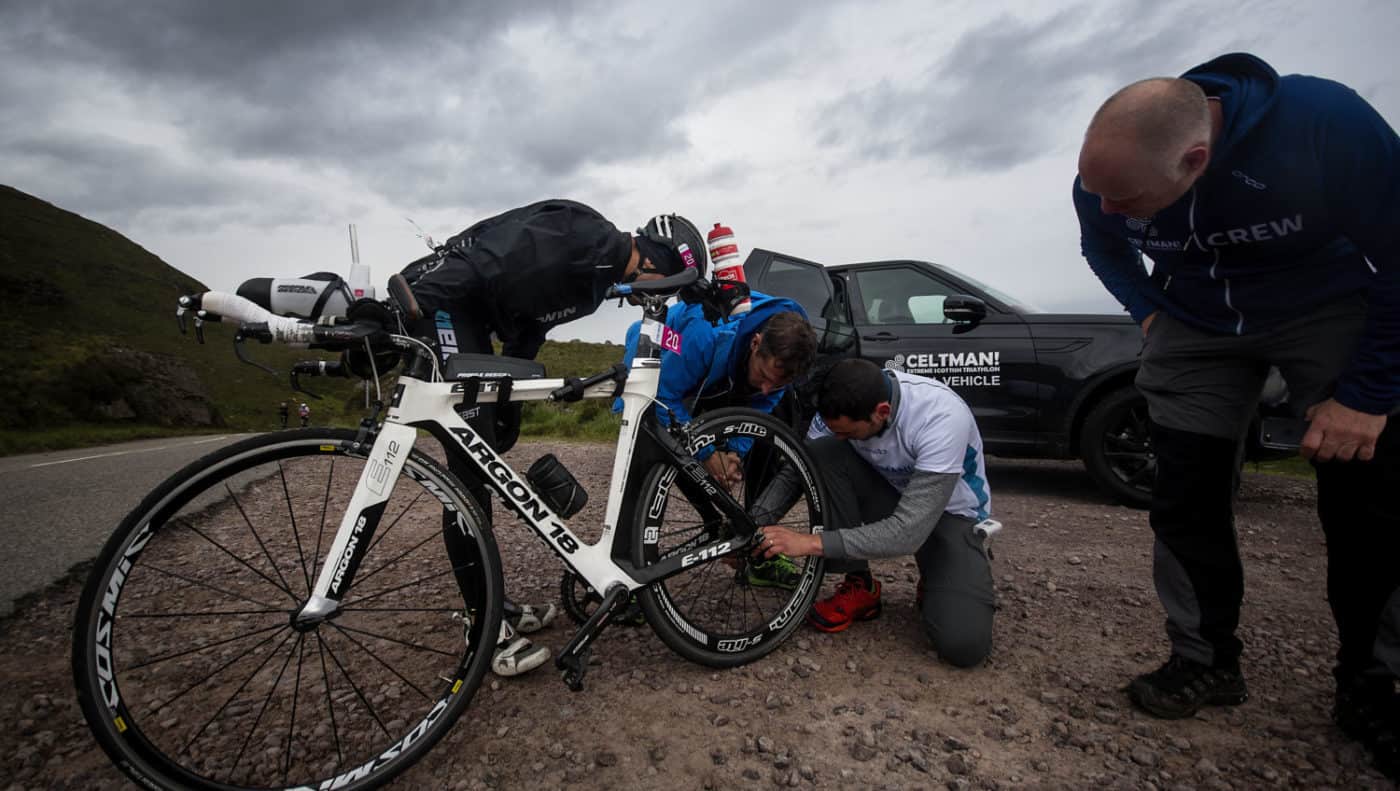 Over seven hours of riding later, it was onto the run. Unlike other extreme triathlons, CELTMAN! requires you to run with full survival kit from the first km, including full waterproofs, 2x thermals, jacket, hat and gloves plus sufficient food and water. A support runner is allowed to run with you the whole way, but is an absolute must for the mountain section of the race – 16km which still nearly took three and half hours incorporating two Munro's, a climb which reduces even the most seasoned professionals to hands and knees in places, brutal descents with no discernible paths, boulders to negotiate that were bigger than me (although at 5'2 its not particularly hard!), and knife edge ridges that would be treacherous should the weather come in.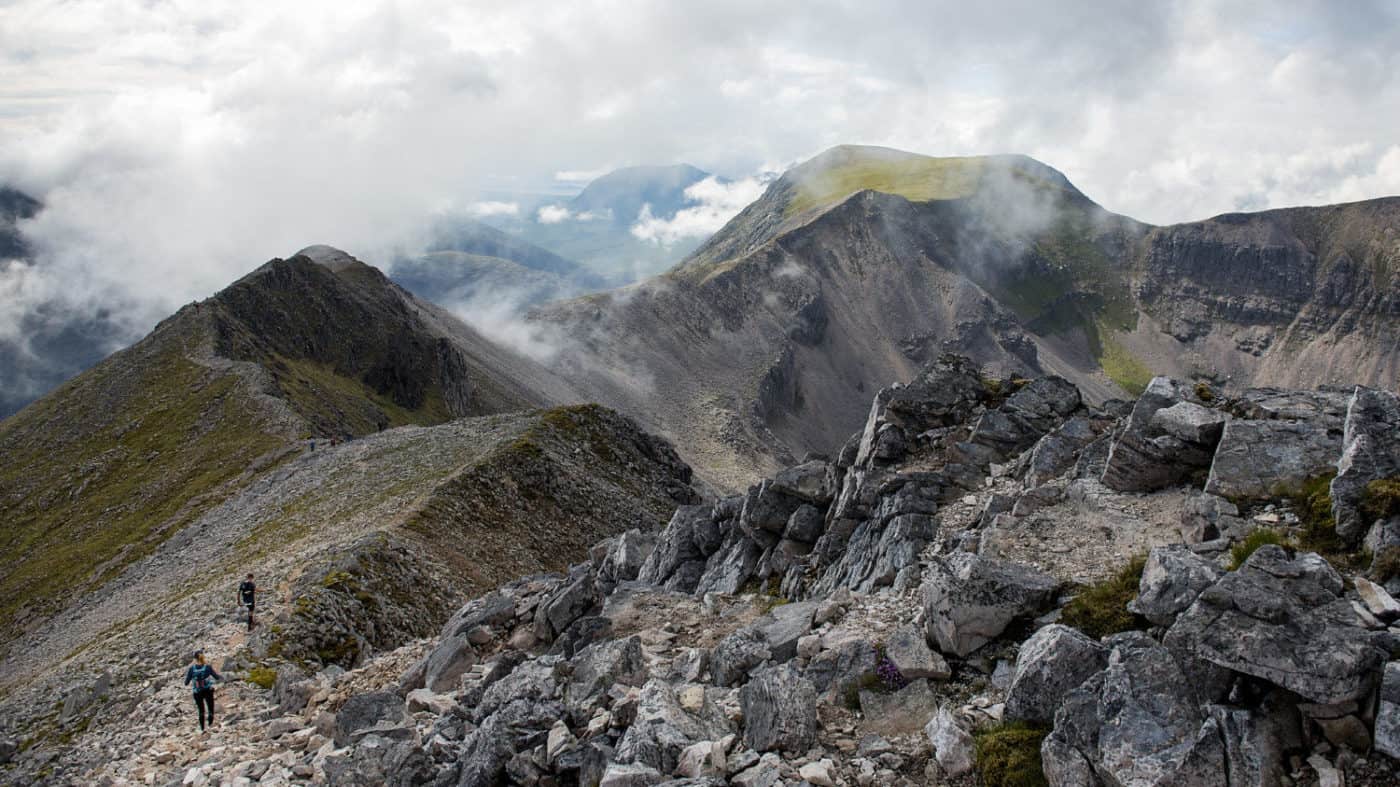 There are strict cut-offs in place. Those who manage to reach T2A by a certain time are allowed the privilege of tackling the notorious high route complete with Munro's, and thus achieving coveted blue t-shirt, whilst those who don't quite make it still have a technical low course finish to tackle. Thankfully on the day we were blessed with a clear summit and spectacular views, it was hard not to stop and just take the time to realise what a spectacular location for a race.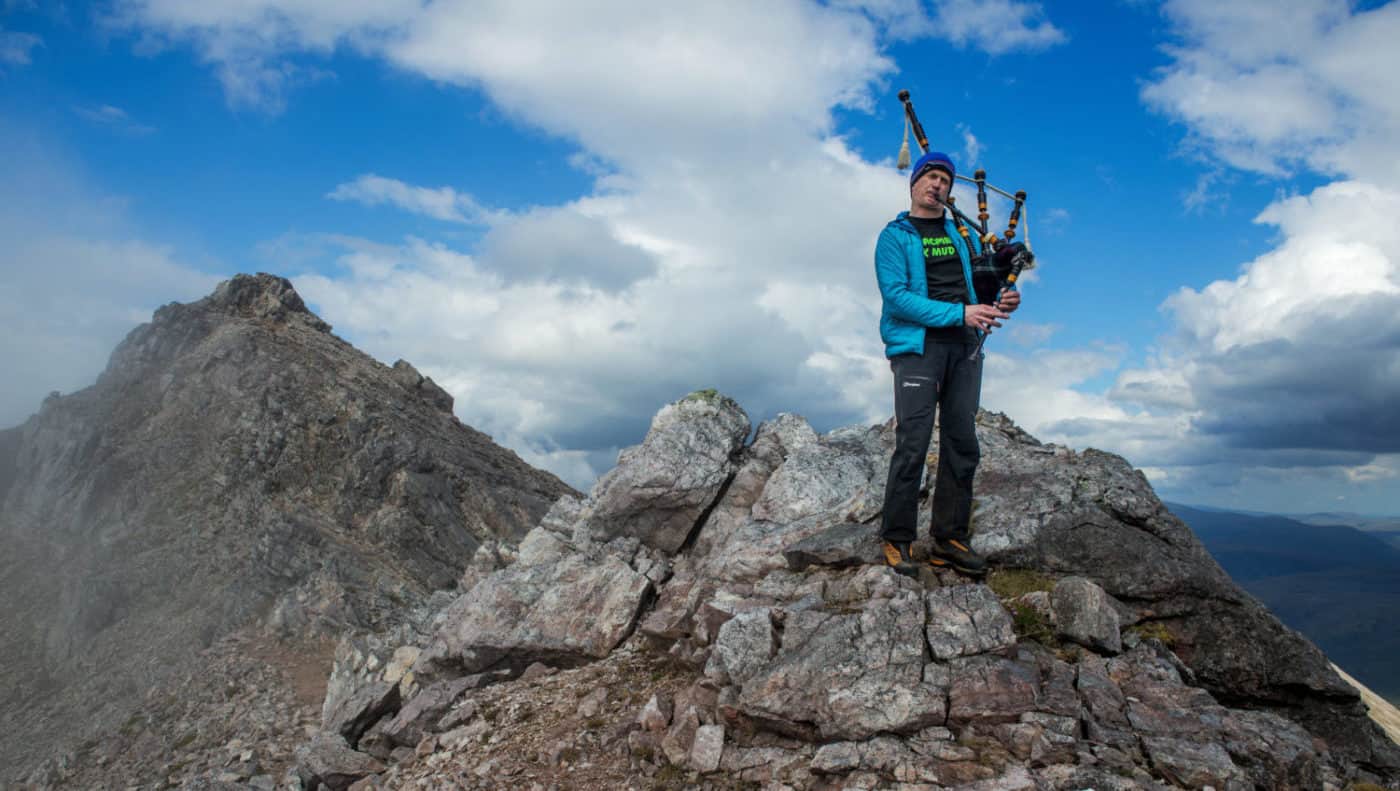 The run finishes with a 7km stretch on road, before the much-awaited finish line and most importantly CELTMAN! beer on the finish line. The reception is spectacular, and after over 14 and a half hours of racing, it's always a bit emotional. A race where position is almost irrelevant, as the whole point of CELTMAN! is more about the experience, the adventure, and sharing the memories with a support team, the volunteers, the CELTMAN! crew and fellow athletes that the race simply couldn't happen without.
The following day saw the perfect ceremony to top off a perfect weekend, where the athletes pick up their coveted finisher t-shirts, and have a final athletes picture in the shadows of Beinn Eighe, along with bacon sandwiches galore. To echo my previous sentiments – no medal or unwanted freebies, but this time a blue t-shirt and memories to last a lifetime.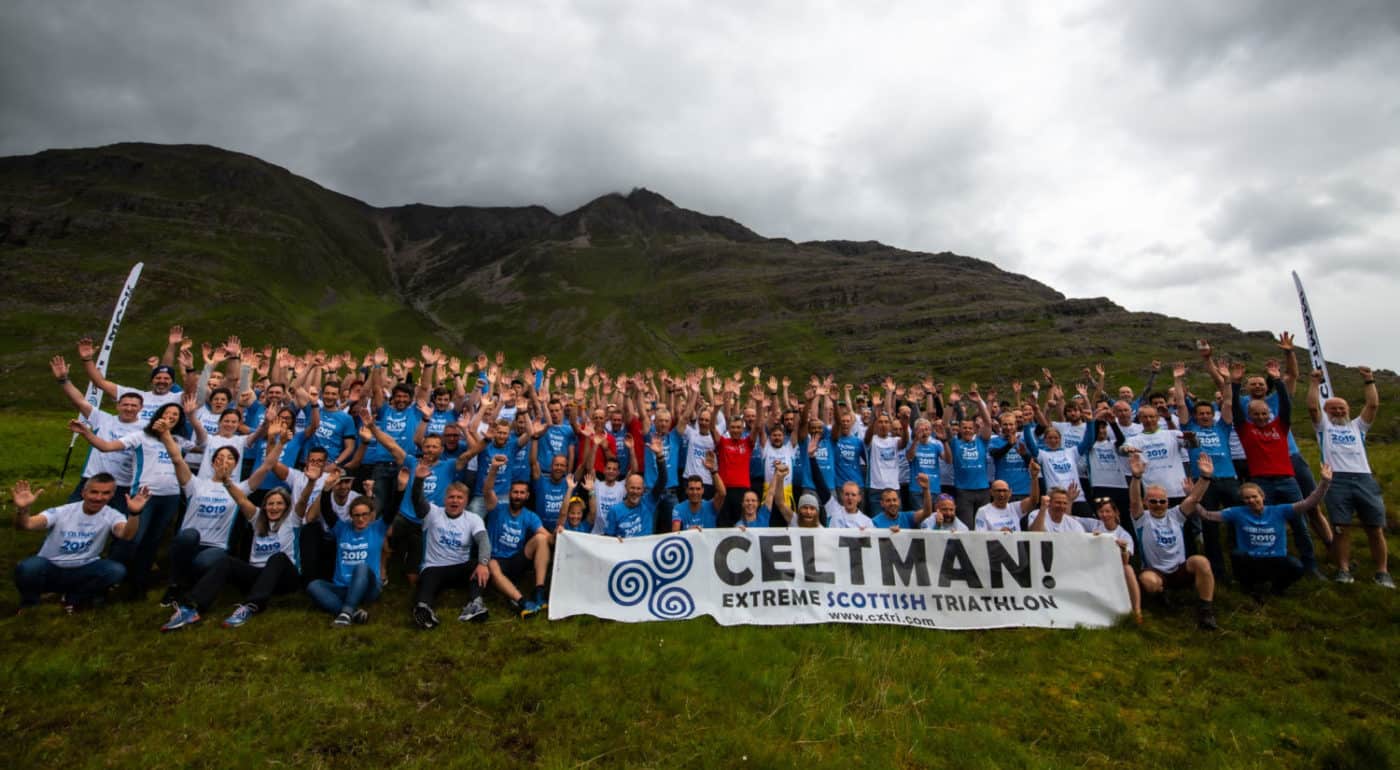 A huge thanks to the absolutely incredible organisers and volunteers, Torridon Mountain Rescue and all the supporters and crew who make such a fantastic race possible. I couldn't have done it without the ongoing support of the Army, 8 Training Battalion, the Royal Electrical and Mechanical Engineers, Team ERDINGER Alkoholfrei and of course, coach Glyn Painter who never fails to get things right when it matters.