Four-time IRONMAN World Champion Chrissie Wellington will help Sam Perkins, a triathlete living with Motor Neurone Disease, complete the TCS London Marathon in April.
46-year-old Wellington will lead a four-strong support team who will push Perkins across the 26.2 miles throughout London, the triathlete from East Leake in Leicestershire having lost all movement due to the degenerative disease.
Perkins is one of ten to have been provided with an assisted wheelchair place for those unable to complete the course under their own power, and the effort will raise funds and awareness for his charity Stand Against MND (SAM).
"An honour and a privilege"
Sam Perkins was a keen triathlete but was diagnosed with MND in 2019 after suffering shortness of breath and being admitted to hospital with pneumonia.
His condition quickly regressed and left him relying on a ventilator to breathe before he lost all movement in the months that followed.
To date, Perkins' charity SAM has raised more than £130,000 and Wellington, who was undefeated across her 13 career iron-distance races, has said she is honoured to be able to help Perkins get over the finish line in London.
"Sam's story struck a chord with me," she said, "and after getting to know him, I became even more determined to help support and raise awareness for his charity in any way I could.
"Sam is an amazing individual and his attitude to make the best of every situation despite being hit with the cruelest of diseases is an example to us all.
"It's fantastic to see the work the TCS London Marathon organisers are doing to make the event as inclusive as possible and I'm so grateful for the once-in-a-lifetime opportunity to help someone else realise a lifelong dream; someone who inspires me and who I am so proud to call a friend."
Perkins' support team for the 'One More Marathon: Pushing The Limits' challenge includes his live-in carer and former Scottish international runner Frank McGowan, his brother-in-law Tom Rawling and his former team-mate Steph Cobb.
Their task is more complicated than just pushing a wheelchair, however: Perkins needs an adapted chair that can support his neck and head in a comfortable position, while the team will also need to push a separate buggy transporting a spare battery for his ventilator.
"To be part of a team with Sam, Frank, Tom and Steph – and his wider support crew – is an honour and privilege, Wellington explained, "with the unrivalled atmosphere at the TCS London Marathon, I know this is going to be a phenomenal experience that we will never forget."
A lifelong dream fulfilled
For Sam Perkins, the opportunity to complete the London Marathon represents a chance to fulfil a lifelong dream.
Last year, Perkins was pushed around the half-marathon final leg of the Outlaw Triathlon in Nottingham, but completing the London Marathon is something Perkins knows will be a special event.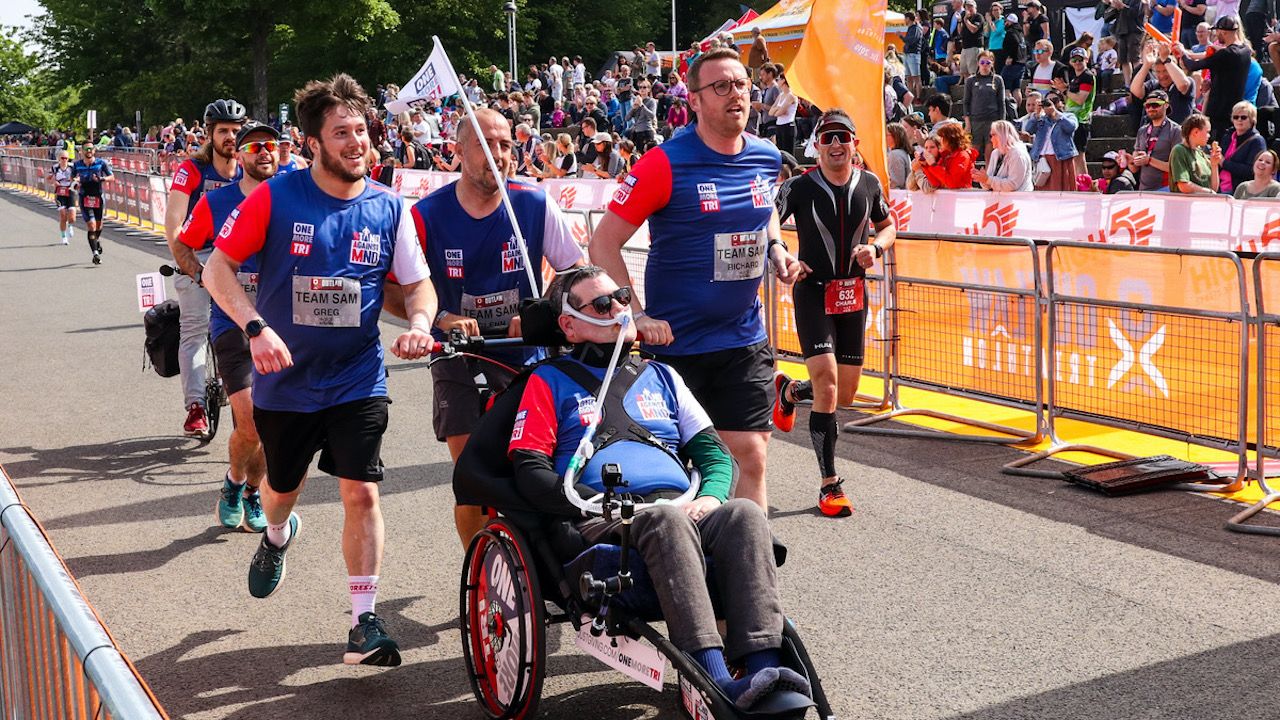 "I'll be honest, as a triathlete, I was never a fast runner," Perkins said, "after a strong swim and bike my memories of IRONMAN marathons are just being overtaken for 26.2 miles.
"The London Marathon has always been the one standalone marathon I said I'd train for if I ever got a place, but I was never successful in the ballot.
"After I was diagnosed, I thought the chance had been taken away from me, until the announcement last year about assisted runners.
"Despite not being able to do it in the conventional way, I feel honoured to have this opportunity. I'm so grateful to the organisers, and I'm looking forward to soaking up every last drop of the fabulous atmosphere this race provides.
"Plus, I'm confident however slowly we complete it, it'll still be my fastest marathon ever!"
If you would like to make a donation to Perkins' charity Stand Against MND (SAM) and their One More Marathon: Pushing The Limits challenge, you can do so here: www.justgiving.com/onemoremarathon
SAM's website is here: https://standagainstmnd.com/