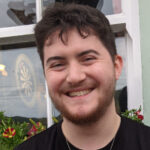 Patrick Ryan
Patrick is a major contributor to TRI247 and RUN247. A keen hiker and wide experience in sports journalism, he has covered Olympics, Commonwealth Games.
Patrick Ryan is a multi-skilled sports journalist who has become one of the main contributors for leading endurance sport websites RUN247 and TRI247 over the past year. 
Graduating from the University of Manchester (UoM) in 2020 with a First Class Honours degree in History and Politics, Patrick moved into Sports Journalism and graduated with a First Class Honours in Journalism from the University of Salford, a leading institution in the field, in 2021. 
During his studies he worked for a number of highly regarded publications across a range of sports, working with clubs such as Rugby League side Salford Red Devils and Basketball team Manchester Giants.  He gained further experience at respected outlet Manchester Evening News and other local north west papers, producing an authoritative series of articles on Irish football side Finn Harps. 
His professional experience is as diverse as it is substantial – he has covered both the winter and summer Olympics and the Commonwealth Games for the BBC. He produced football content for Manchester-based production company Studio 68, whilst his primary past role came as a leading contributor for Planet Sport outlet Planet Football for a year between 2021 and 2022. 
He moved to cutting-edge sports content agency Sport Acuity in 2022 and has since worked with significant stakeholders since across a plethora of sports. He has worked for governing bodies such as European Professional Club Rugby (EPCR), and. most significantly. UEFA and the European Club Association (ECA). He has also generated content for F1Play, 188BET and Racing and Sports, where he played a key role in content production for their UK expansion. 
A key aspect of his past year at Sport Acuity has been the development of his extensive endurance sports knowledge. He has fast become a significant contributor to both TRI247 and RUN247, with his knowledge of the ultra-running scene particularly noteworthy. On the cutting edge, he has conducted interviews with up-and-coming runners such as Gavin Dale and reported on key races, including the Ultra-Trail du Mont Blanc (UTMB) and a score of UTMB World Series races.