Triathlon GOAT Mark Allen has hailed Chelsea Sodaro's victory at the IRONMAN World Championships in Kona as his most memorable moment of the 2022 season.
Sodaro claimed victory in the sport's most revered event as it made it's return to Hawaii. It was just the second IRONMAN distance race of her career, winning with a time of 8:33:46.
Remarkably her triumph came just 18 months after giving birth, and for six-time Kona winner Allen her feat highlighted the sacrifice and hard work which goes into producing such historic sporting moments.
'We don't often see the sacrifice'
"Top of the list, I have to say, really was the women's race in Kona this year and Chelsea Sodaro winning," Allen explained, speaking on his 'Monday's with Mark Allen' YouTube series.
"A mother to a newborn only 18 months prior, she won it and she was strong: she was a rookie winning her first time out on the Big Island.
"In her interview she didn't sugar coat it. She said it was amazing and she said it was a huge sacrifice for her family and that it was not easy.
"And I think really that just sticks with me because it summed up a lot of what maybe we don't think about.
"We see the great moments that athletes produce like Chelsea winning in such dominant fashion there in Kona, but then we don't often see the sacrifice or support that needs to go into it so that that athlete can have that amazing race. It truly is a team effort.
"Very, very inspiring."
Don't forget Ryf, Phillip and Iden
But Sodaro's stunning win wasn't the only moment that will stick with Mark Allen, with Daniela Ryf's victory at the rescheduled 2021 IRONMAN World Championships in St George was one of several other highlights.
"She had struggled for a number of years, didn't really have the kind of race that we had become accustomed to seeing her have," Allen explained.
"Well, she had that again last May in St George, just completely dominating. It's great to see her back; a veteran of the sport. So many World Championships in her in her arsenal, and she added another one in May.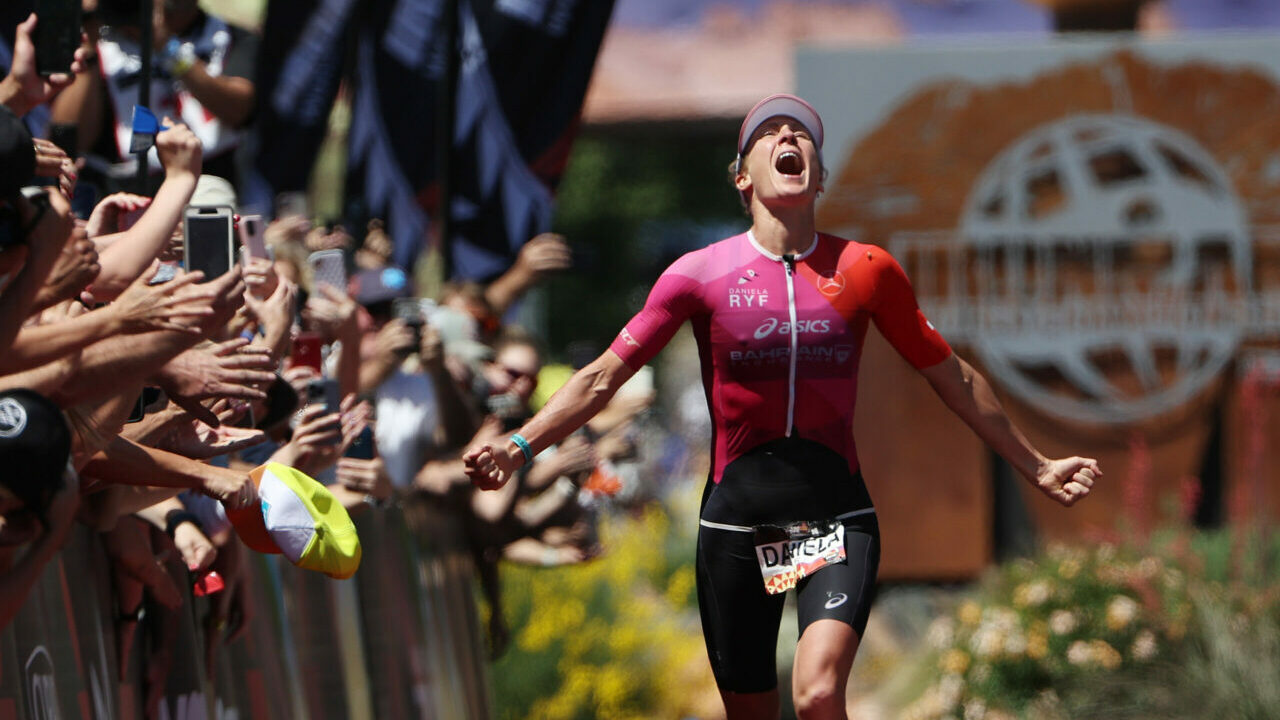 "Another memorable moment was when Laura Philipp raced in Hamburg, setting a world Best Ironman distance time of 8:18:20; seven seconds off Chrissie Wellington's long distance best time at Challenge Roth.
"How about Magnus Ditlev? He won Challenge Roth, 7:35:48, only nine seconds off of Jan Frodeno's best time there, the course record.
Allen also gave a special mention to Gustav Iden, who won the 2022 IRONMAN World Championships.
"We're seeing a lot of the young folks coming in, and what about Gustav Iden?" Allen said.
"That was another memorable moment in Kona this year, racing his first time there and winning, the first time a male rookie has won that race since 1996.
"He broke the course record, 7:40:20 and ran a 2:36 marathon, the first time anybody has averaged under six minutes per mile pace for the marathon in Kona."
Long's penalty notable
Allen also touched on some of the notable talking points triathlon has seen in 2022.
As well as discussing the decision of IRONMAN to have two separate race days for men and women at Kona 2022 and the recent announcement of two different host venues moving forward, Allen also shared his thoughts on Sam Long's controversial drafting penalty at the IRONMAN 70.3 World Championships.
"On the video it was sort of like 'why did he get that?'" Allen said.
"But then it was explained later that he was passing a group of athletes and he had slotted in and then pulled out again, but you can't slot in if everybody's just 12 metres apart.
"The thing that's memorable about that is two things; one, Sam's been trying to have a great race there for several years. He's come close, he was second to Iden the last time the 70.3 Worlds were contested there, and he looked like he was on track to possibly win it this year.
"But what it shows me is that IRONMAN is truly trying to control the drafting in the races, especially for the pros so that the races are fair."