Daniela Ryf is still good at triathlon – the Swiss superstar silenced any doubters with an emphatic victory to claim her fifth IRONMAN World Championship title in St George on Saturday.
The 'Angry Bird' had seen her aura of invincibility slip just a little after a disappointing second half of 2021, followed by a comprehensive defeat at IRONMAN 70.3 Oceanside just over a month ago.
She admitted that even her young godson recently introduced her to his friend by saying "she used to be good at triathlon" – brutal.
As a result of that slump in form, Ryf went into this race no longer the overhwelming favourite to win, but she belied the odds with a completely dominant display to rout the opposition.
It also means Daniela now has five IRONMAN World Championship titles to go with her five IRONMAN 70.3 World titles. Utterly peerless…
Swim – Chura blasts off
The most predictable event of the day was American Haley Chura blasting off in the swim to exit the water first in Utah on Saturday. She held an edge of just under two minutes from Britain's Fenella Langridge as they headed to T1.
Sweden's Lisa Norden finished the swim in third – just over two minutes back – which Ryf was 4:13 away in fourth. The Swiss was just ahead of Skye Moench, Jocelyn McCauley, defending champ Anne Haug and pre-race favourite Kat Matthews.
Bike – Ryf puts rivals to the sword
Matthews had rocketed to the tag of favourite for this race on the back of an awesome bike display as she romped home at IRONMAN 70.3 Lanzarote. But here it was soon clear she was up against the Ryf of old – not the one we had seen in the last few months.
Daniela, followed by Kat, moved quickly through the field to take over at the front. Then, for a long part of a gruelling 112-mile bike leg, the pair were locked together in combat.
They say that when the going gets tough, the tough get going, and Ryf set about breaking Matthews in the second half of the bike. If the race wasn't quite won here, it was absolutely set up for the win.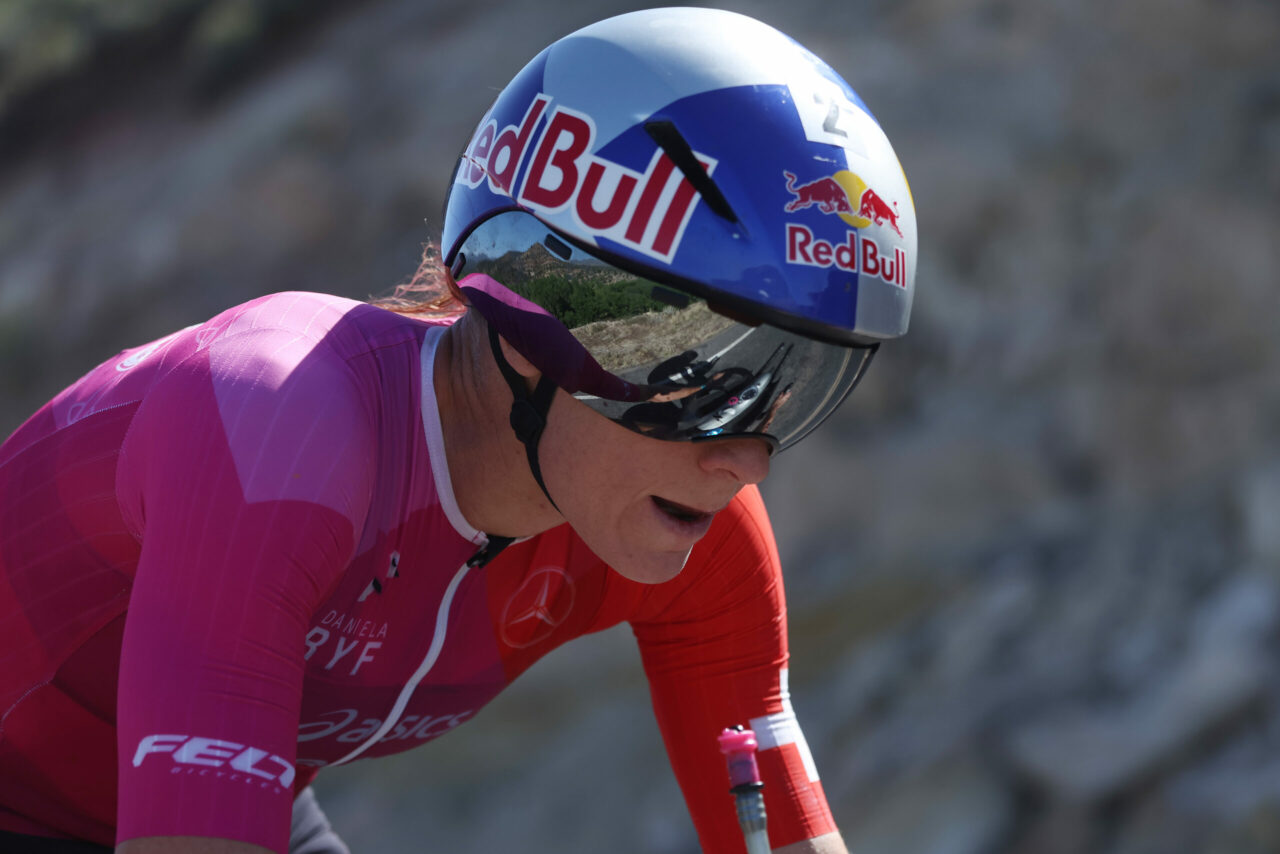 Ryf was utterly relentless, dropping the hammer to gradually pull clear of Kat, who dropped further behind and became redder in the race (she biked without a visor after it broke in transition).
By the time Daniela reached T2 she led Matthews by more than 7 minutes on the back of an epic 4:37:47 split. It was now very much her race to lose.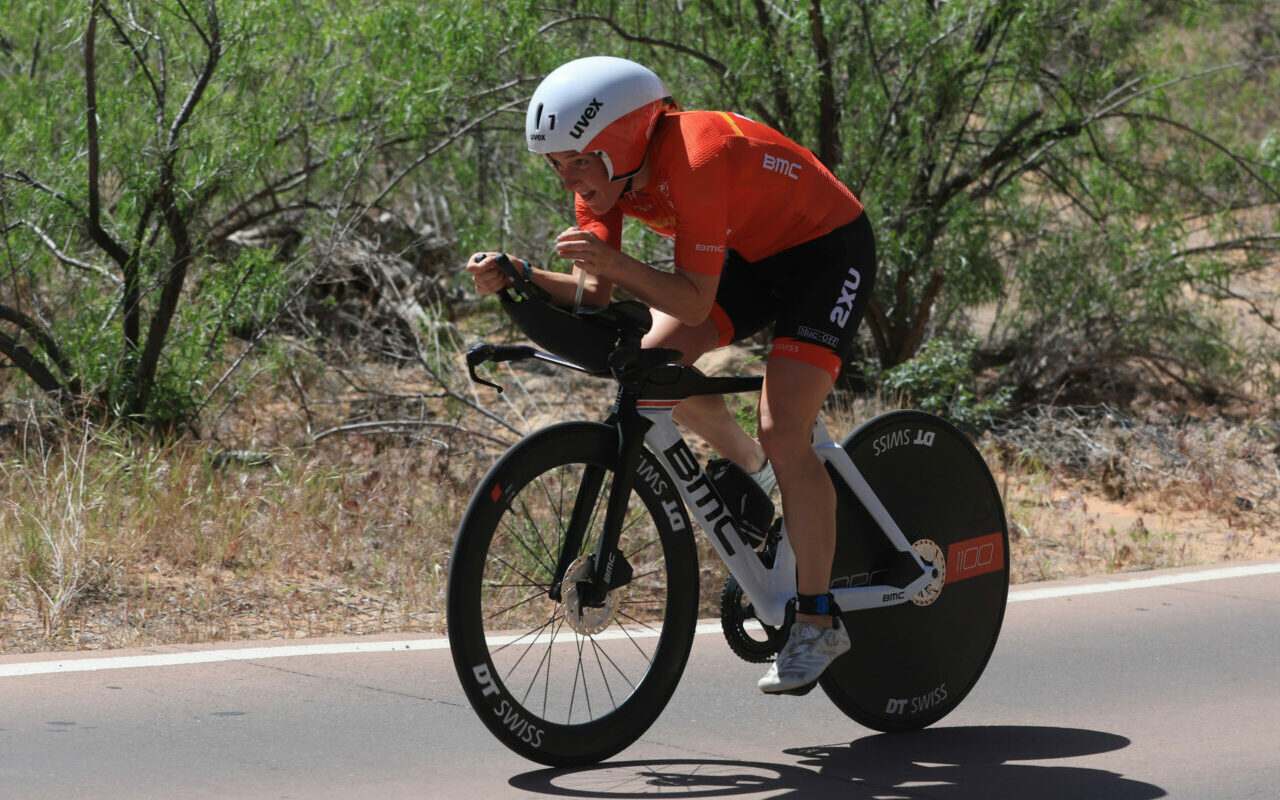 Further back in the field Norden was almost 10 minutes away in third while defending champion Haug had 15:17 to make up in fourth. Even with her remarkable run, surely that was too big a mountain to climb. The next near-three hours would give us the answer.
Run – Daniela brings it home
If there were any British dreams that Matthews might unleash her famed run power and Ryf might falter in the brutal Utah conditions, they were soon dispelled. Instead of the gap between the pair shrinking, all it did was grow gradually wider.
Daniela was at her powerful best as she simply wore her rivals into the ground to win by a wide margin in a time of 8:34:59. Her closing marathon stopped the clock at 2:59:36.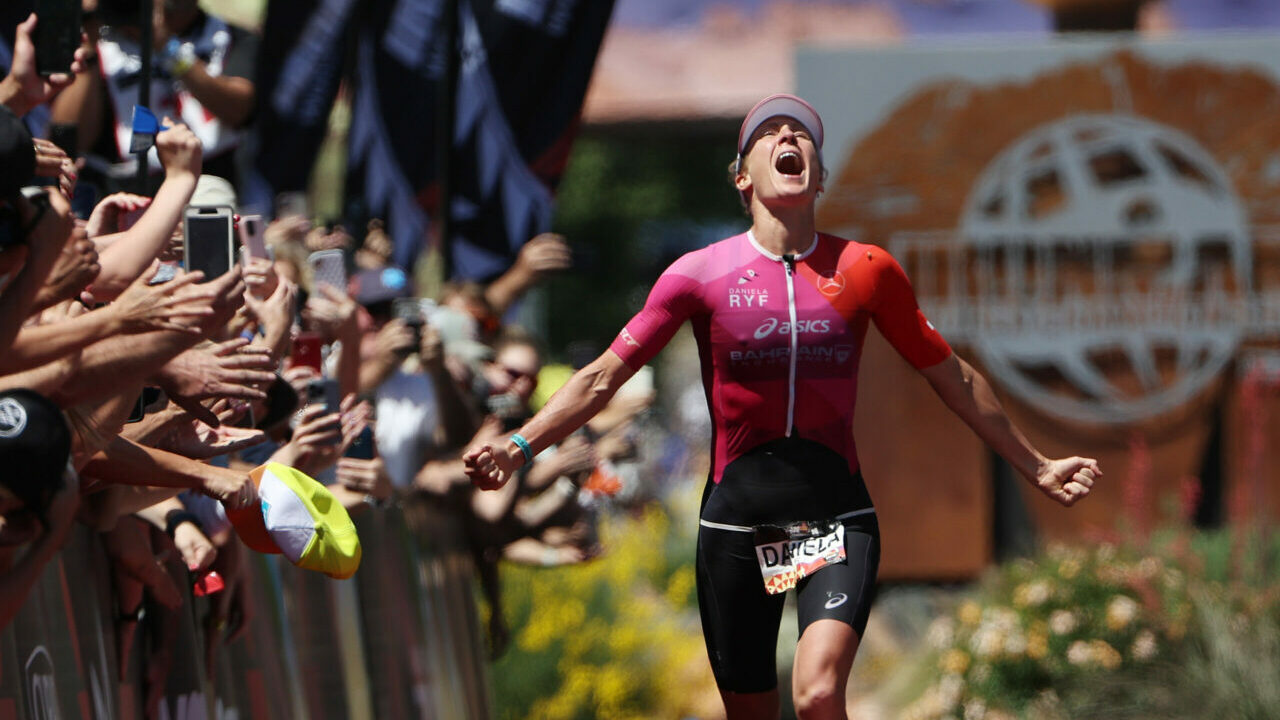 Behind her the only question now was whether the fleet-footed Haug's rapid marathon could carry her past Matthews for second spot on the podium. The British star though hung on for a terrific second-place finish with Haug third.
Skye Moench was the first American home in fourth, while Britain's Ruth Astle finished well for a terrific fifth on her IRONMAN World Championship debut.
IRONMAN World Championship 2021 Results
Saturday May 7, 2022 – St George, Utah
PRO Women
1. Daniela Ryf (SUI) – 8:34:59
2. Kat Matthews (GBR) – 8:43:49
3. Anne Haug (GER) – 8:47:03
4. Skye Moench (USA) – 8:55:21
5. Ruth Astle (GBR) – 9:00:09
6. Lisa Norden (SWE) – 9:03:31
7. Laura Siddall (GBR) – 9:08.34
8. Fenella Langridge (GBR) – 9:09:40
9. Gurutze Frades Larralde (ESP) – 9:13:35
10. Maja Stage-Nielsen (DEN) – 9:14:32
11. Heather Jackson (USA) – 9:16:53
12. Jocelyn McCauley (USA) – 9:23:56
13. Nikki Bartlett (GBR) – 9:30:33
14. Renee Kiley (GBR) – 9:35:10
15. Kelly Fillnow (USA) – 9:36:35