Kat Matthews advertised her claims to be a contender for glory at St George in May by claiming an impressive victory at IRONMAN 70.3 Lanzarote on Saturday.
I recently wrote an article picking the five athletes who I believed could potentially win the delayed 2021 IRONMAN World Championship. Kat was on that list – which might have been considered optimistic, given she has yet to race that event.
Saturday's performance from the BMC Pro Triathlon Team athlete is perhaps validation that addition wasn't driven by any bias. Matthews made light work of the challenging bike course and then proved she could back it up on the run too – with no less than (still) reigning IRONMAN World Champion Anne Haug in distant pursuit.
Magnificent Matthews. The Kat that got the cream. You pick the headline – but on a bike course which will surely have many similarities to the challenge ahead in Utah on May 7, that was a very impressive victory.
Fourth at the IRONMAN 70.3 World Championship last year, Kat Matthews is the real deal, and she's seemingly better than ever.
Swim follows the Jess and Lucy script
The opening 1.9km swim in the women's Pro race was not the most difficult to predict – and you can thank the presence of the British duo of Jess Learmonth and Lucy Buckingham for that.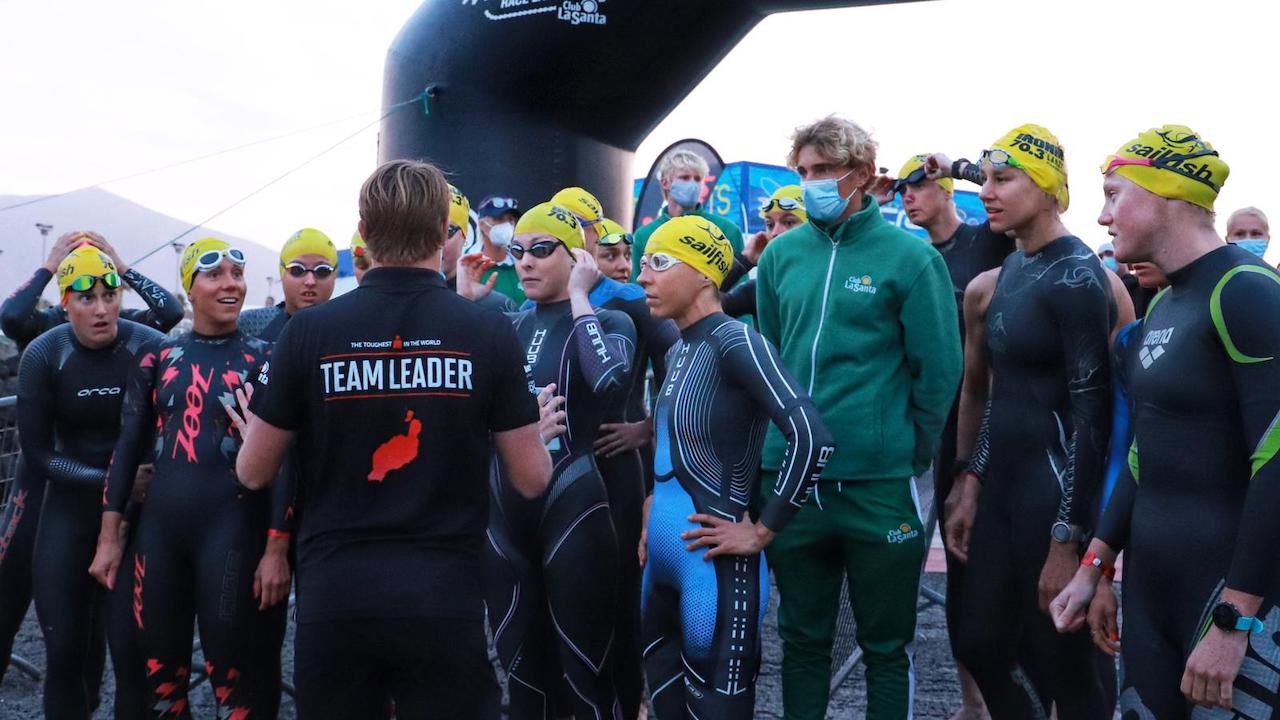 Two of the best triathlon swimmers we've ever seen, not for the first time in their careers they led the way together. One thing was new however, with this being the first 70.3 start for Olympic Mixed Relay gold medallist Learmonth.
They had built a full three-minute advantage over Matthews and Haug, with France's Marjolaine Pierré completing a chasing trio.
At that early stage the race was seemingly following the pre-race script we expected, with Matthews and Haug setting off in chase of the swim speedsters.
Bike: Matthews takes control
Learmonth (riding her road bike – the TT has not arrived yet…), pulled away from Buckingham in the early stages of the ride, while behind the chasing trio was soon the expected two, with Matthews and Haug trying to get back towards the front of the race, Pierré meanwhile was no match for their cycling power.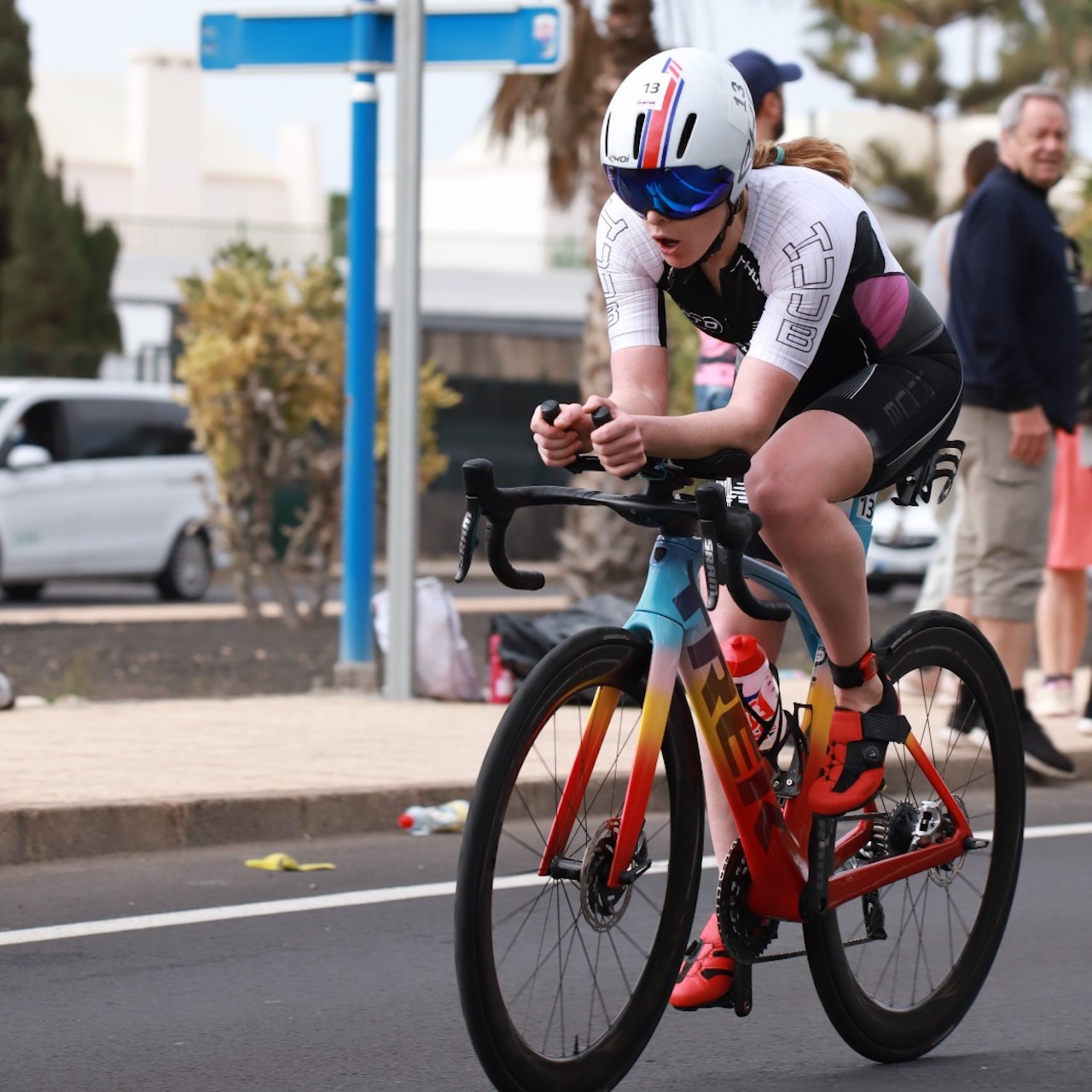 As the ride unfolded, it was clear that the bike legs were with Matthews, as she first pulled clear of Haug, leaving it a Brit 1/2/3 on the road. By around 30km she had moved into second place (passing Buckingham) and around the halfway mark the BMC Pro Triathlon Team athlete had made it to the front of the race, eradicating that three-minute swim deficit to Learmonth.
While Matthews is a fine runner – she clocked a 2:49 marathon at IRONMAN Tulsa last year – she would be well aware of the fleet feet that an on-form Haug can display at her best.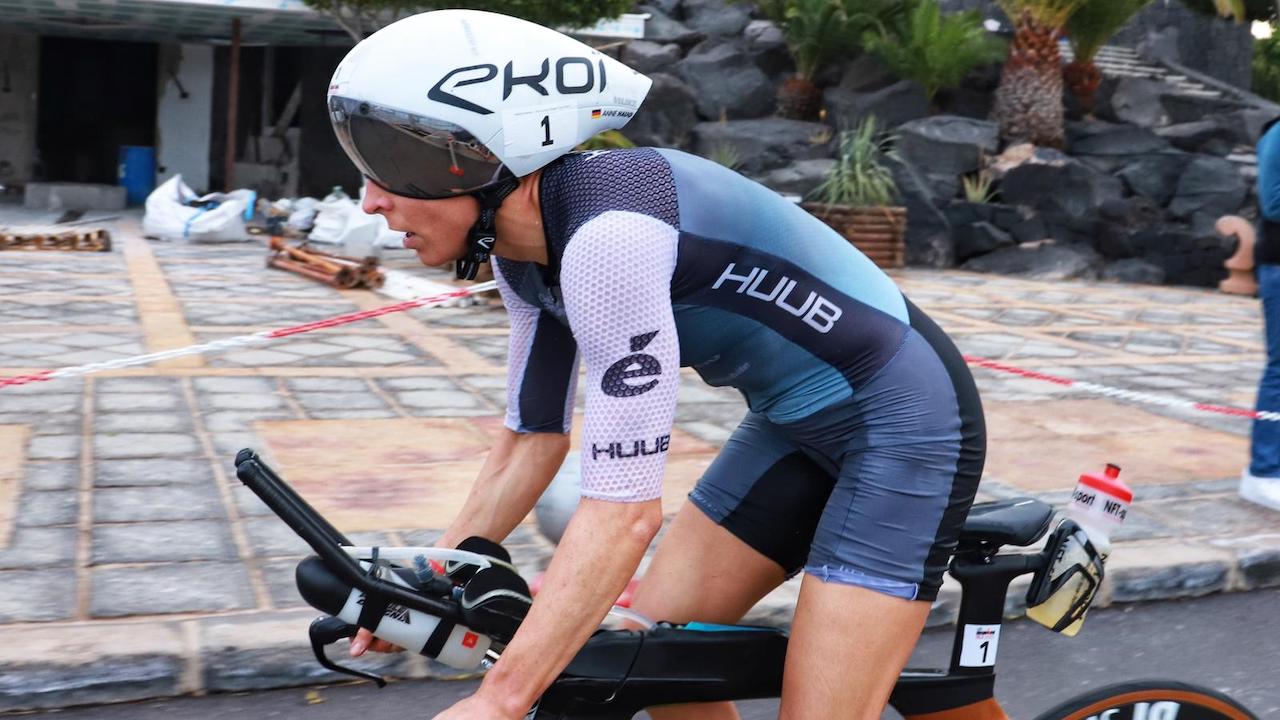 There were seemingly no signs of too much too soon – it was more of Matthews on a mission as she continued to put time into everyone in the second half of the bike. We said in the preview, "impressively consistent and seemingly improving every race, Matthews is a real contender this weekend", and that was spot on the money.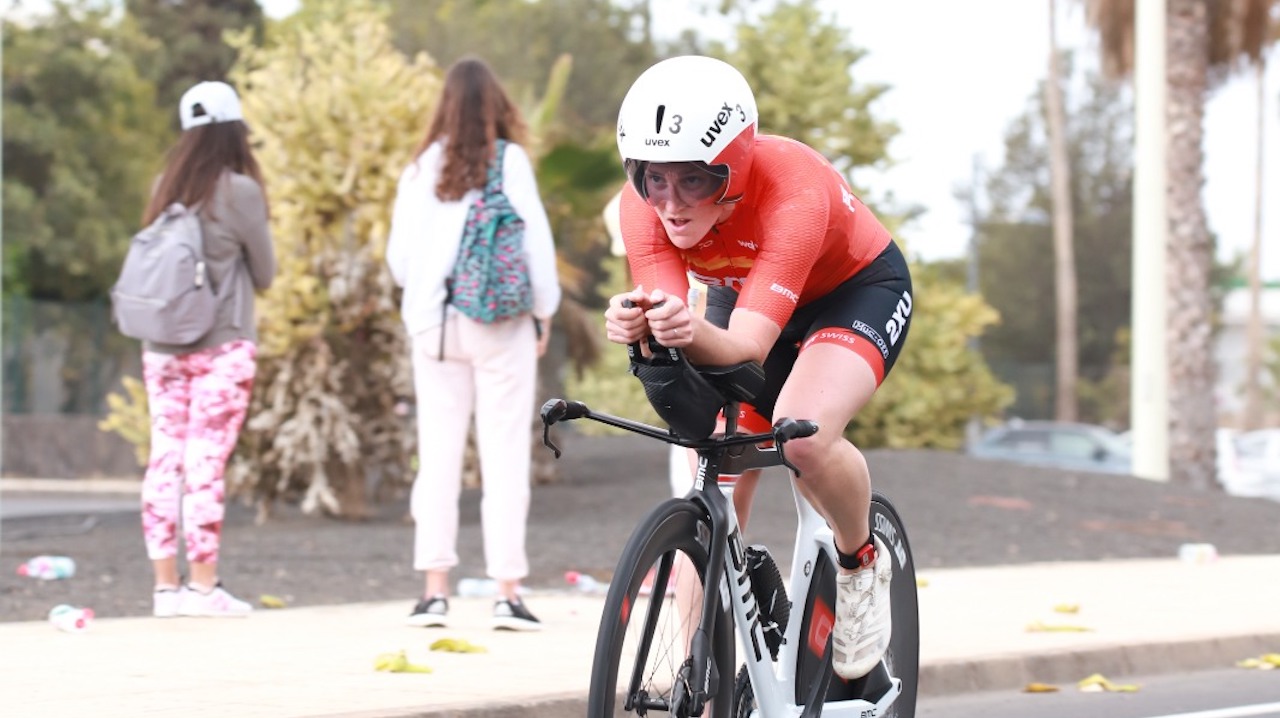 Matthews rolled into T2 with a bike split of 2:27:56 and more importantly, a lead of 3:43 over Learmonth (2:34:43) and a whopping 5:43 over Haug (2:33:50). In her first race of the season, Buckingham was fourth to make the bike-to-run transition, now close on eight minutes down on the flying Matthews.
There was a big gap behind Buckingham back to Els Visser (NED) and Lydia Dant (GBR) in fifth and sixth at T2. They dismounted the bikes 13:09 and 13:58 down, respectively.
Run: Kat closes the show in style
How would the Matthews running legs fare after such a bike effort? Well, the Haug run onslaught began, and after 8km she had made up….less than 20 seconds. Should we have expected anything else?
Matthews has that military eye for detail, and while she will certainly have wanted to start the run with a buffer on Haug, she's not the kind of athlete to blow it all on the bike to achieve one goal, and simply melt down in the opening kilometres. It's bike for show, run for dough after all…
As the run progressed, Haug did manage to chip away at the Matthews lead – and move past Learmonth into second – but she was never remotely near challenging the British Army Physiotherapist. While challenging the very best in the sport in the swim will likely always prove a challenge, this was a complete performance.
Adding a very strong run (1:17:55) to a blockbuster bike effort should put a huge smile on her face – and in case anyone was in doubt, further cement Matthews a true contender for St George.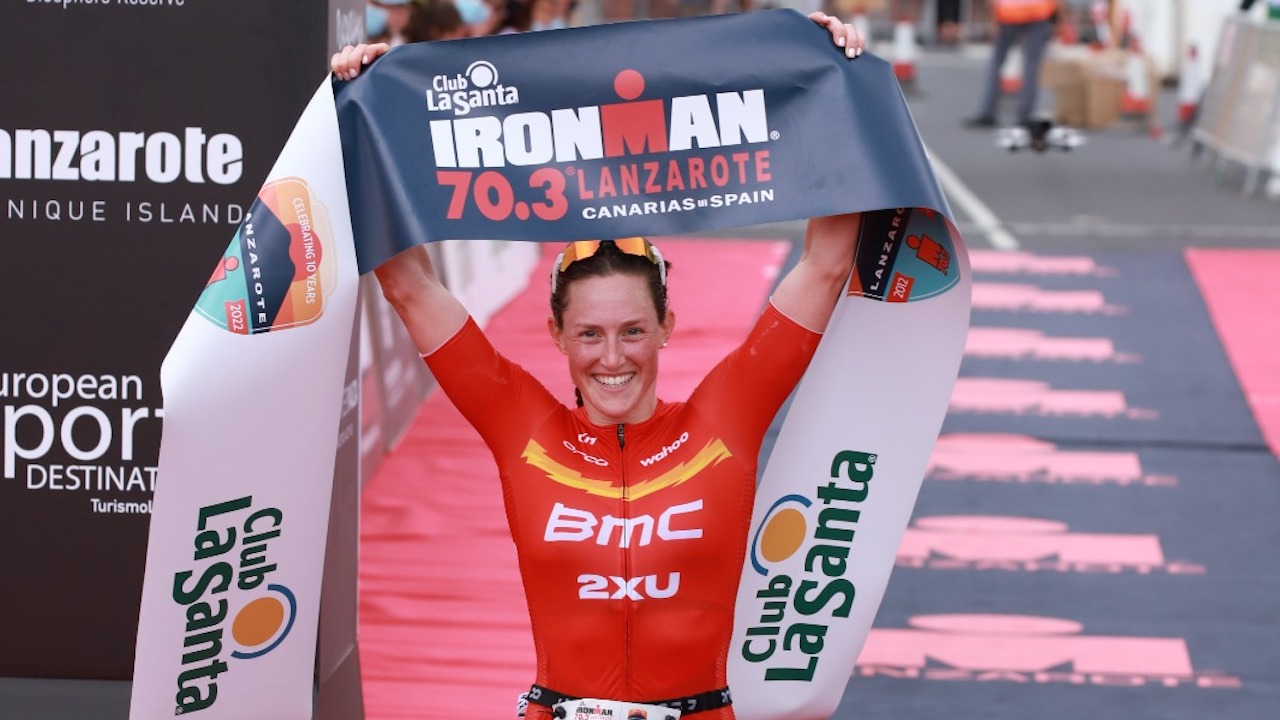 Haug showed her typical run speed with the fastest split of the race (1:16:04) but it was only good enough for second place and more than three-and-a-half minutes back and this day belonged to Matthews. We'll see Haug race again soon at Challenge Salou in Spain.
In her first attempt at this format, Learmonth completed the podium, closing out her day with a 1:20:18 run. Interestingly, that will also give her qualification for the IRONMAN 70.3 World Championship later in the season, should she choose to accept it.
IRONMAN 70.3 Lanzarote Results – PRO WOMEN
Saturday March 19, 2022 – 1.9km / 90km / 21.1km
1. Katrina Matthews (GBR) – 4:17:46
2. Anne Haug (GER) – 4:21:23
3. Jessica Learmonth (GBR) – 4:23:44
4. Lucy Buckingham (GBR) – 4:33:20
5. Els Visser (NED) – 4:35:17
6. Marjolaine Pierré (FRA) – 4:36:19
7. Lydia Dant (GBR) – 4:39:53
8. Giorgia Priarone (ITA) – 4:41:59
9. Diede Diederiks (NED) – 4:42:28
10. Elisabetta Curridori (ITA) – 4:46:03