This is a preview feature for IRONMAN 70.3 Lanzarote. You can find out how the races played out with out in-depth reports on the Kat Matthews domination for the Pro women, and the hard-earned debut victory for Léo Bergère for the Men
There are approaching 80 names on the Pro start list for Saturday's IRONMAN 70.3 Lanzarote, including a reigning IRONMAN World Champion and a Tokyo 2020 Olympic gold medallist.
Throw in short-course speedsters, some middle distance specialists and a brand new (hilly) course and we should have an interesting event on our hands.
Start time and how to follow live
The race starts at 0700 local time on Saturday 19 March 2022. That's also 0700 UK time, 0800 CET and 0300 Eastern Standard Time.
There is no live broadcast / streaming this weekend, which means that the ever reliable IRONMAN Tracker app is going to be your primary source of live information.
Event History
While the full distance event dates back all the way to 1992, the half distance race first took place in 2012.
While the event is title-sponsored by Club La Santa, the event takes place at Playa Dorada Beach in Playa Blanca on the south side of the island. The defending champion is Anne Haug (also sponsored by Club La Santa), and having also won in 2017, she will start as bib #1 in search of a third title.
Previous winners:
2021 – Daniel Bækkegård (DEN) / Anne Haug (GER)
2019 – Frederic Funk (GER) / Emma Pallant-Browne (GBR)
2018 – Tom Lecomte (FRA) / Lucy Gossage (GBR)
2017 – James Cunnama (RSA) / Anne Haug (GER)
2016 – Pieter Heemeryck (BEL) / Lisa Huetthaler (AUT)
2015 – Eneko Llanos (ESP) / Jodie Cunnama (GBR)
2014 – Will Clarke (GBR) / Helle Freriksen (DEN)
2013 – Victor Del Corral (ESP) / Agnieszka Jerzyk (POL)
2012 – Ivan Rana (ESP) / Danne Boterenbrood (NED)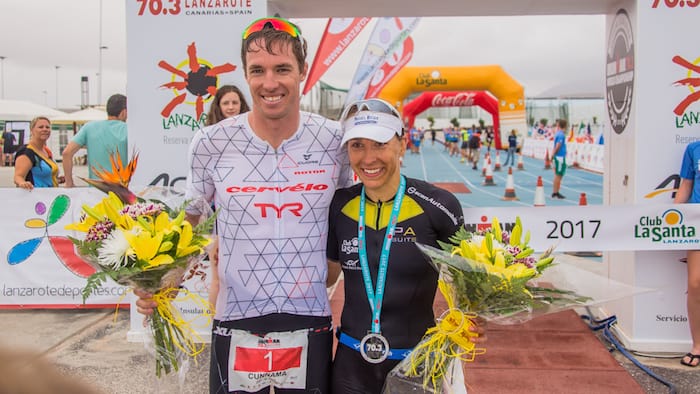 Pro Women
We've talked – as many have – in recent weeks about the Road to St George, and that narrative will be on show this Saturday in Lanzarote. However, it's only part of the story…
That's certainly the case for Anne Haug however, the reigning IRONMAN World Champion from 2019, who will drop in from her altitude training camp for the first of two test races ahead of the IRONMAN World Championship. She will certainly start as the race favourite – but may well need to use all of her renowned run pedigree, given the competition she will be up against.
Fourth at the IRONMAN 70.3 World Championship last year, Kat Matthews is really mixing it with the very best in the sport. So much so, she's on my shortlist of the five athletes who I believe could win the IRONMAN World Championship this year. Matthews will be more than familiar with the course too, having been out and training on the Canary Island with her BMC Pro Triathlon Team. Impressively consistent and seemingly improving every race, Matthews is a real contender this weekend.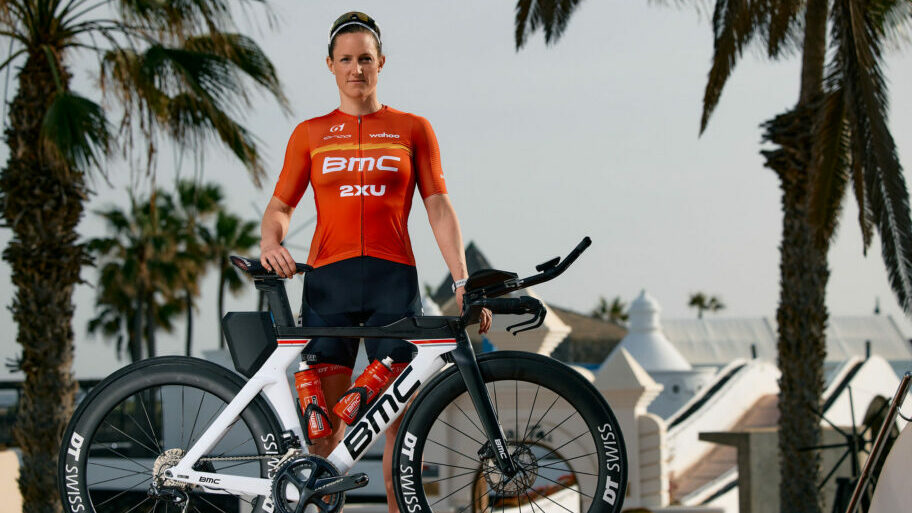 I think we can confidently predict that if they are to win, neither Matthews or Haug will be doing it in gun-to-tape fashion. That's not intended as a slight on their swimming… just a realistic assessment, when the start list also includes both Lucy Buckingham (née Hall) and Olympic Mixed Relay gold medallist, Jess Learmonth. When they were both racing in draft-legal format, they regularly dropped the field in the water and were never seen again – both also excelling on two wheels.
While Lucy had a terrific 2021 season – ending with second place at CLASH Daytona – this will be all new for Learmonth in her first start over the distance and format. She'll be in 'Taylor Knibb 2021' mode – road bike with clip-ons – but the American athlete seemed to cope pretty well with that last year. Learmonth's name adds an interesting dimension to the event. How will she go? Even she doesn't really know!
"I'm really looking forward to trying something new, it's a different world to what I'm used to. Lanzarote has a great start list and I'm excited to get stuck in and see if I like it", Jess told us this week.
The final name I'll highlight to watch is France's Marjolaine Pierré. The winner of IRONMAN 70.3 Cascais in October, a fast-finishing third place behind Lucy at CLASH Daytona 2021 has helped her jump into the PTO's Rankings. Still just 22 years of age, she is progressing quickly.
All-in-all, it should be an interesting race. The new course is not an easy one – and is straight up hill for around 8km out of transition – and you are pretty much either ascending or descending for most of the ride, with total ascent listed at 1,262m over the 90km.
With just over 20 Pro female athletes registered, I think we are likely to see the race split significantly, with perhaps Haug and Matthews trying to chase down Buckingham and Learmonth on two wheels. Who has what left starting the run is likely to decide the winner.
Pro Men
There's more than 50 Pro men on the start list – so how do we narrow that down?!
If we apply the current PTO Rankings, then Florian Angert (GER) at #9 is the top ranked athlete. He won The Championship in Samorin – though that course is nothing like he will face in Lanzarote.
Angert can cope with hills though as he showed when finishing second at IRONMAN Mallorca – beaten that day by the Bath-based Frenchman, Leon Chevalier, who we spoke to at length earlier this year. Leon actively seeks out hilly courses like this, and thus like Angert the race should fit really well with his preparations for St George.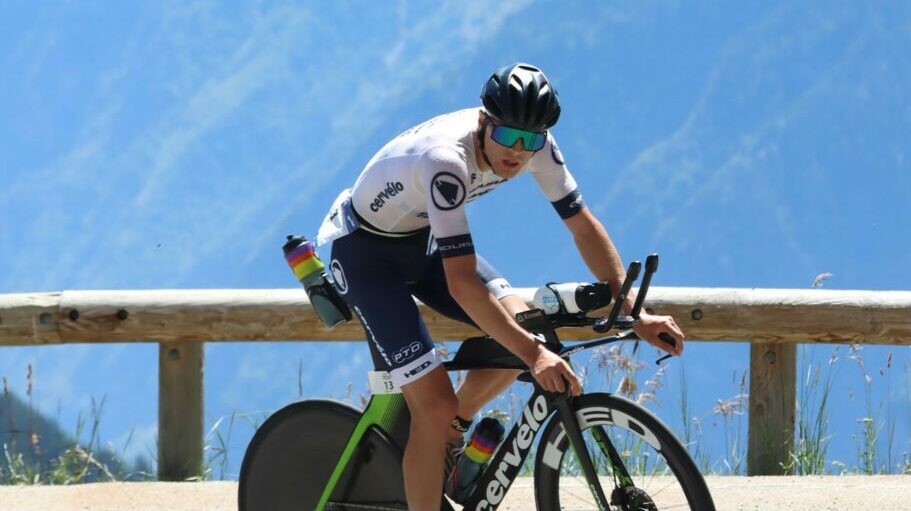 Great Britain's David McNamee has had plenty of podium success at Spanish events in recent years (Mallorca, Salou, Marbella, Barcelona), and the Girona-based athlete also finished third over the full distance in Lanzarote in 2016. Third place at the IRONMAN European Championship, Frankfurt saved his 2021 season (and career), so hopefully he will be able to produce a similar top tier performance this weekend ahead of what should be a big year.
We saw Marten Van Riel dominate recently at IRONMAN 70.3 Dubai, and in Pierre Le Corre and Leo Bergere there are two interesting French names (primarily) from the draft-legal scene. That said Le Corre (third) showed he could produce on the flat and fast circuit in Dubai – though this will be a very different challenge.
One man to watch who will surely be in the mix right from the start with his swim skills, is Kyle Smith (NZL). The Kiwi was very impressive in 2021, selected for the Collins Cup and performing well through the season. Another athlete based in Girona, his primary training partner is a man called 'Frodeno' – that's unlikely to have slowed him down.
Ahead of the Canary Island event, Smith said: "The first race of the season is always as exciting as it is daunting. I've worked tremendously hard over the winter and the race course is the only place that your work is displayed. Lanzarote is a beautiful course and with around 50 pros on the start list, it should make for great racing. It's also a course that resembles St George as well, so it will be great to get some markers on where things are at to take into the final push towards IRONMAN World Champs!"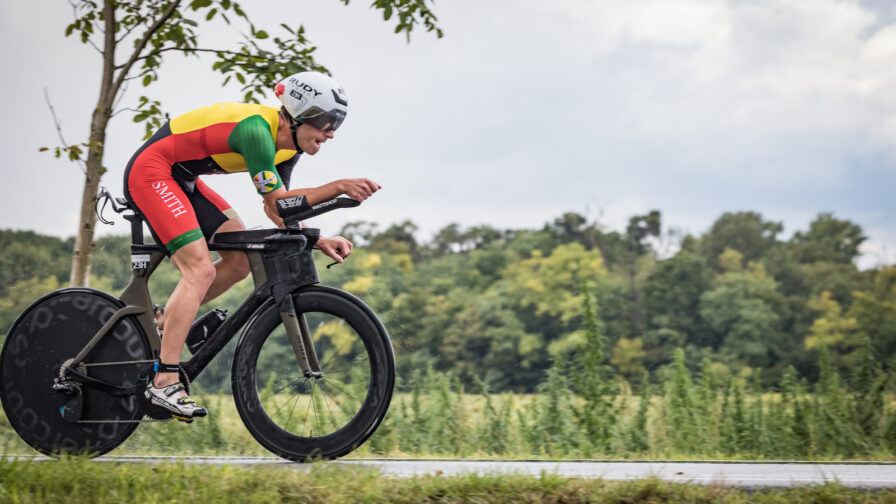 Great Britain's Elliot Smales also told us, "Excited to refocus on 70.3 racing after a year of predominantly Ironman. The sport of 70.3 racing is moving quickly, there's only one way to keep up, and that is to race."
You can find the full Pro start list here.
Prize Money: What's on the line?
The total Pro prize purse for IRONMAN 70.3 Lanzarote is $25,000, with the winners collecting $4,000 each.
In addition to money, there will be a total of six qualifying slots (three MPRO / three FPRO) for the IRONMAN 70.3 World Championship in St George in late October 2022.
The total funds will be paid six-deep, as follows:
$4,000
$2,750
$2,000
$1,500
$1,250
$1,000
Of course, in addition to the on-the-day prizes, the results of this event will contribute to the athletes' PTO Rankings, which has a significant prize fund on offer. Where you fit onto that measure at the end of 2022, particularly if you make the top-20, could be significantly more valuable that prizes earned solely for performance at Playa Banca.