When Kyle Smith competed for Team Internationals at the inaugural Collins Cup in August, it was a world away from where he'd been a little over a year earlier.
The New Zealand athlete who took on Gustav Iden and Collin Chartier in Samorin feared his professional triathlon dream was over when the COVID-19 pandemic hit in March 2020. Racing effectively shut down for a long period of time and travel was virtually impossible.
Kyle, now 24, feared that his dream of life on the pro circuit would be over just as quickly as it had appeared on the horizon.
"I have always worked a job and juggled uni as well, whilst doing triathlon through my ITU junior days," he explained.
"And then I forayed into long distance and I won Taupo 70.3 [December 2019], and then another prestigious half in New Zealand. I was kind of thinking right, now I'm set, this is great – the professional ranks are looming."
Almost over…before it started
COVID though had the potential to wreck everything, and desperate times called for desperate measures. In Kyle's case Plan B stood for bricklaying.
He explained: "It got to the point, after COVID, where I was kind of sitting at home saying I can't pay rent next week. So I got on the phone – my dad's a builder, a bricklayer – and said 'hey dad, you got any work and can I come work with you'."
"Honestly I thought that was the end of my career, I thought there's no light at the end of the tunnel here, it's pretty dire straits. The thing is, I love triathlon and working is pretty bloody hard, and triathlon's pretty fun."
If bricklaying now appeared likely to be Kyle's future endeavour as well as present, a turning point arrived in the shape of the newly-formed PTO. It added prize money to many events in 2020, and Kyle's appearance in Samorin is living proof of what that extra funding did for the sport. It was quite literally a lifeline, and in Kyle's case a beacon of hope.
Laying bricks, and foundations
Kyle said: "So I brick-laid for most of 2020, and then the PTO was kind of that light at the end of the tunnel. They put up money for one of the local halfs, like they've done for so many – I think it was 2000 New Zealand Dollars.
"And I thought, do you know what, I've got enough money to see me through to next year saved up, so I'm going to quit work now and I'm going to do a season of long-distance. And then a bike popped up on Facebook Marketplace, and I was borrowing a time trial bike at the time.
"So I was sitting there with my girlfriend and I was saying do I invest in this really nice bike, because if I win these halfs then it's going to pay for itself. So I bought the bike off Facebook Marketplace (the bike he rode at The Collins Cup) and then that obviously paid dividends."
Kyle put together a string of terrific results on the back of that purchase, including:
1st – Challenge Wanaka 2021 – Course Record (3:50:15)
1st – Tauranga Half 2021 – Course Record (3:39)
1st – Tauranga Half 2020 – Course Record (3:42:07)
1st – PTO Rotorua Suffer 2020 – Course Record (3:45:42)
1st – IRONMAN 70.3 Taupo 2019 – Course Record (3:49:24)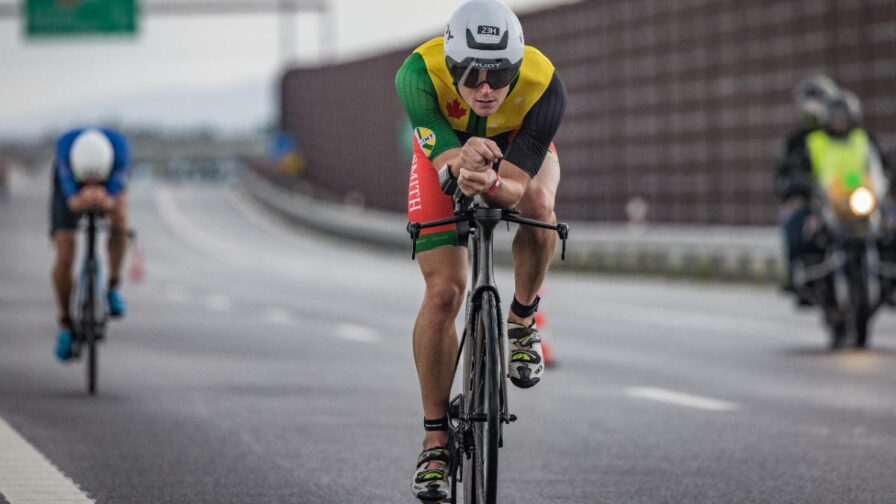 Despite that stellar run, Smith was still working on the building site just 48 hours before lining up for IRONMAN New Zealand in March 2021. He would eventually finish third to claim a spot at the 2021 IRONMAN World Championship, now to be run in St George in May 2022.
"Because obviously you get paid after the races, so I was still working whilst racing. I was shovelling concrete two days before IRONMAN New Zealand. I maybe did 30 barrow-loads of concrete and I thought 'this isn't going to be too good on the swim'. And then I was like 'I've got to clock off now I've got to go to briefing'."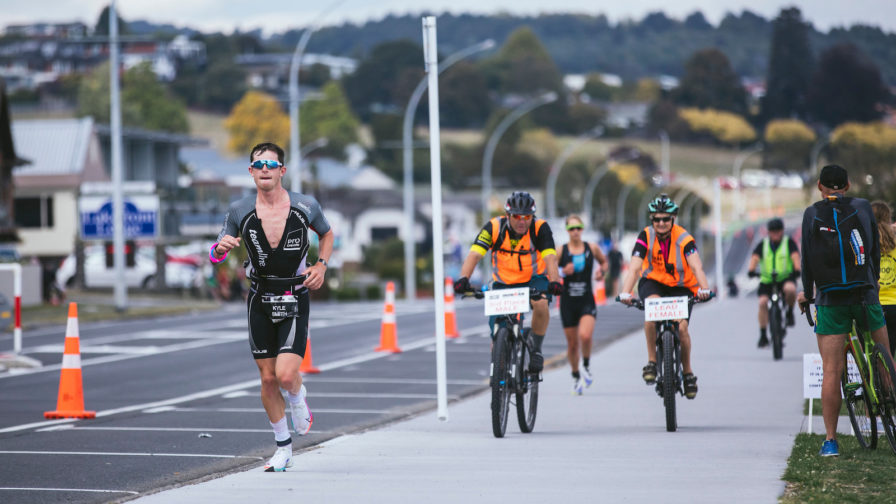 Short-course dreams
Kyle's introduction into the sport of triathlon came like so many from a desire to represent his country.
"My dream was to go to the Olympics and go to the Commonwealth Games," he explained.
"One of my first memories of triathlon was sitting in a bar in Taupo with Bevan Docherty's mum and dad, and we were watching the Olympics on the TV, watching Bevan race in London."
While it was short-course racing which first lured Smith into the sport, he soon realised it couldn't be the only thing for him.
"So I went through the junior ranks – I had a couple of world titles as a junior and various things. But the thing is about ITU, you have one bad year, you have a few bad months, and you don't get selected for 'x, y, z' race. And then they just don't want to know you – you're just another number.
"That's what I felt like. I put all of my pathway into the ITU system, and then I took a step back, and I thought I've got to diverge my own pathway, which includes ITU but isn't all ITU.
Kyle on going pro
"It was the end of 2019, I had a pretty rough few months in ITU and then I got dropped by Tri NZ. I was in a pretty dark place and then I called up my coach – it was, I think, four weeks and two days before IRONMAN New Zealand – I said I need to get an entry for IRONMAN Taupo 70.3 New Zealand, how do I get a pro licence?"
"So I called up Tri NZ and they said 'no you haven't qualified for a pro licence'. I said 'why not', and they said 'you haven't met xyz criteria'. They sent me through the criteria, so I read through it with a fine tooth comb and found there was a clause in there about being a cross-triathlon world champion – and I was. So I managed to get my pro licence.
"But it was actually looking like I'd race the age-group race at Taupo 70.3 but then I managed to get my pro licence, then on the eve of the cut-off for IRONMAN I got my entry in and then the rest is history as they say.
"I raced Taupo 70.3, won that, course record. I got five course records in a row and then came to Europe and was kind of hoping to go again. I guess I broke the previous course record of whoever it was but I was fifth over the line [Ed. at the IRONMAN 70.3 European Championship, Elsinore]. I'm just riding the wave now and enjoying the long-course journey."
That full-distance debut on home soil back in March was a great experience for Kyle, and the result meant he would have to do more of it – like it or not!
"I had such a fun day but didn't really have the race that I wanted to have, but I enjoyed the race and I was loving it, the crowd.
"I crossed the finish line and I thought I really like that, but I need a few more years to really sculpt this craft of what IRONMAN is. And then I got the email saying I'd qualified for Kona, and I was like 'oh s***', I've got to do another one."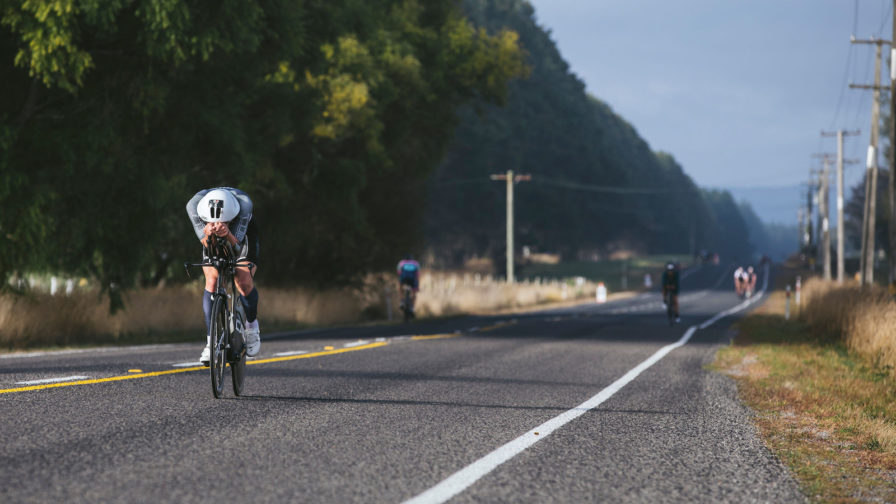 Commonwealth craving
As well as his long-course ambitions, Kyle also has an unfulfilled goal in short-course racing – he is hoping to represent New Zealand at the Commonwealth Games in 2022.
"It was an itch that wasn't scratched when I left ITU. I didn't intend to come to long-course, I did a long-course race to give it a try and then I kind of stumbled upon it. I've been racing the French Grands Prix this year, they've been going really well.
"I ran sub-15 off the bike on a pretty tough course, so I'm confident in my abilities. My bike strength's obviously there and I can swim well.
"I'm going to try and qualify for the Commonwealth Games on my own back, but also I'm happy to be a domestique as well. We see Hayden Wilde, phenomenal athlete, phenomenal runner and it just begs the question that if he didn't have to do all that work and all the races that he's done on the bike, how would that've changed, would he have got a gold, would he have got a silver?
"If he's got someone there like me, a big, stocky guy he can sit behind, maybe that could make a difference. But, you know, this is a message to Triathlon New Zealand!"