To those in the know, Kyle Smith's apparent explosion onto the world of middle-distance triathlon was a question of when, not if. However, if you weren't aware of the New Zealander's athletic prowess, seeing Smith smashing bike courses using a SCOTT Plasma 5 that he bought on Facebook Marketplace, paired with components borrowed from his girlfriend, was quite the surprise.
Smith has had a stellar start to his pro-career, which makes the back story to his bike setup even more interesting. Surely, surely, an athlete that has been a two-time World Champion (Junior Aquathlon, and Under 23 Cross Triathlon), that won his first five middle-distances races all with course records, and is a Captain's pick for the inaugural Collins Cup, must have a bike sponsor and a ride that is all singing and dancing?!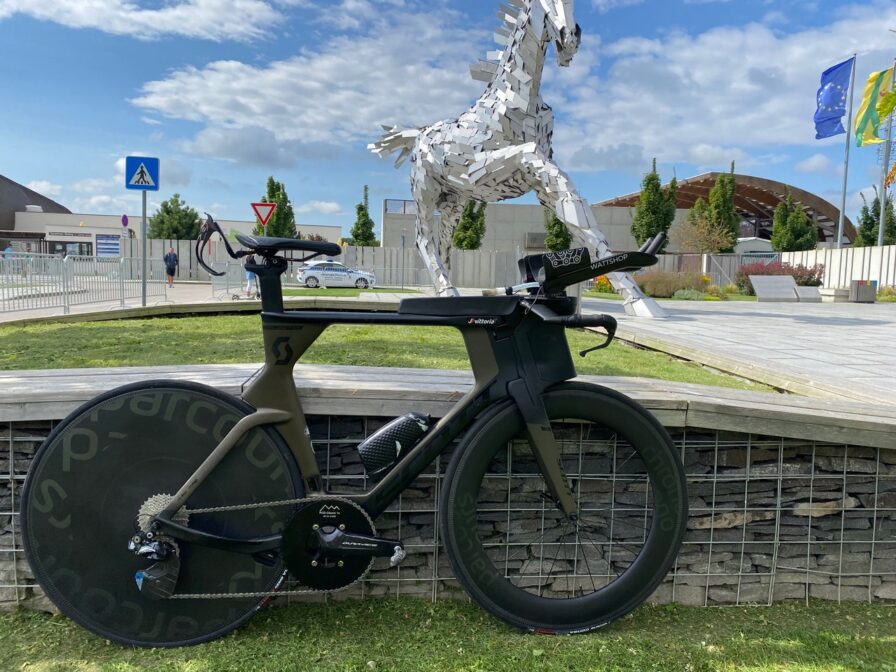 As Smith explains, the answer is 'no', but it turns out that having a partner that is a professional cyclist certainly helps when it comes to optimising your bike setup.
Good foundations
Kyle gave some background on his unique situation. In November 2020 after having worked as bricklayer for the majority of the year he had managed to save up enough money to race the summer season in New Zealand.
Up to this stage he'd been racing on a second-hand bike that had been gifted to him – it seemed to do okay, he won both the 2019 IRONMAN 70.3 Taupo and the 2020 Tauranga Half using that bike. However, Kyle said he knew he needed to step up his bike options:
"…I knew I needed to get a better bike if I was going to shake up the season in 2021. I bit the bullet and spent a massive chunk of my savings on this bike [a SCOTT Plasma 5] which would only see rent and food being paid until after the 1st race of the season. But I won, so money well invested I'd say!"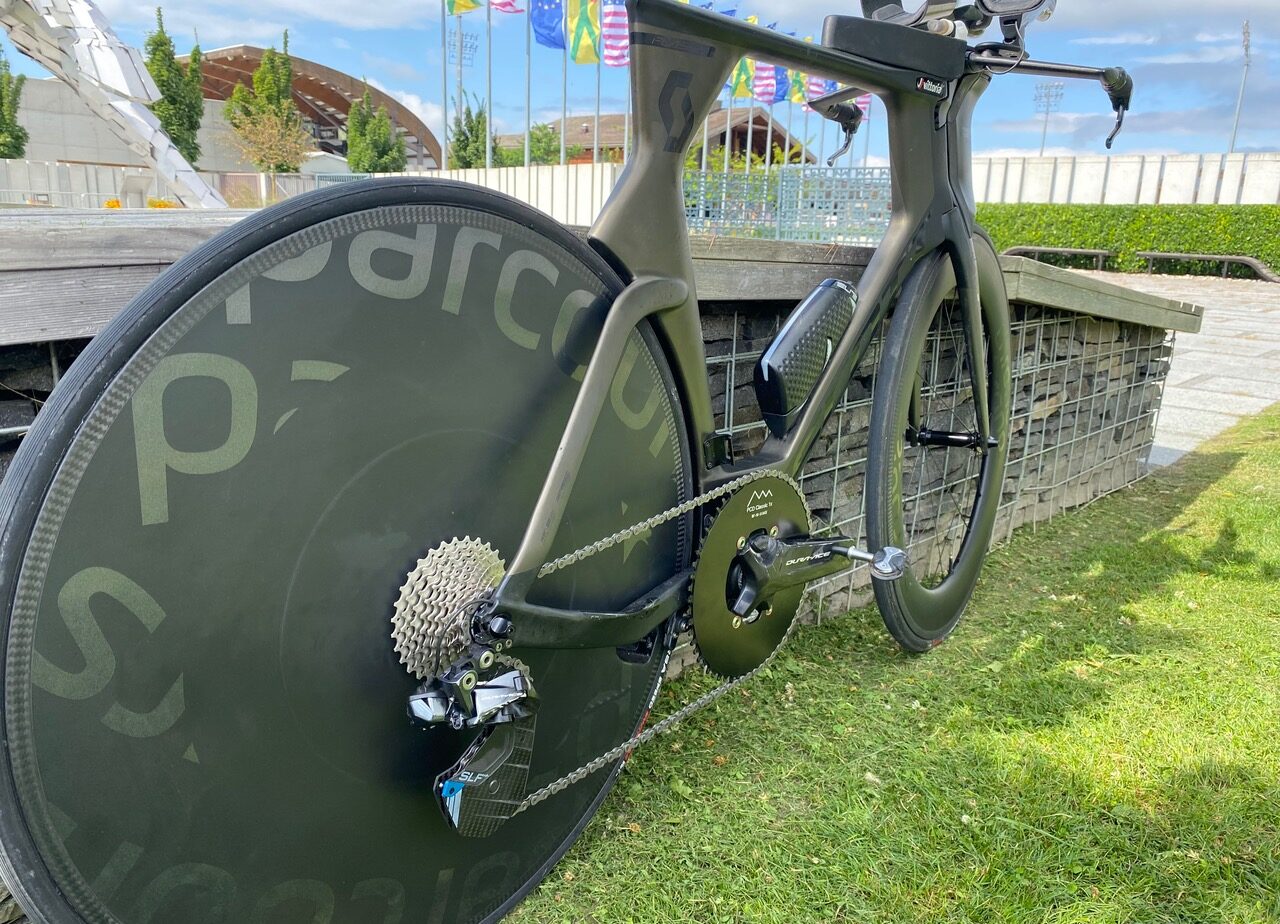 SCOTT Plasma 5
As mentioned by Kyle, it seems it was money well spent, but how did he know what bike to gamble on?
"I bought this bike as my girlfriend rides the same model and said it was a great bike. When this popped up on Facebook I decided to bite the bullet and invest in a fast TT bike, and I have slowly upgraded it as I've raced more. The frame is a great aero package. With a bolt on aero hydration system and bento box it's the perfect starting point."
To optimise your position on the bike and make the most aero gains, the size of the bike is crucial. Based on Kyle's explanation, it seems there could still be some substantial gains to be made:
"I currently ride a size L which is too big for me but was better than the TT bike I was riding before, and was an irresistible price and was the only one available. If I win Kona I'll buy one in my size!"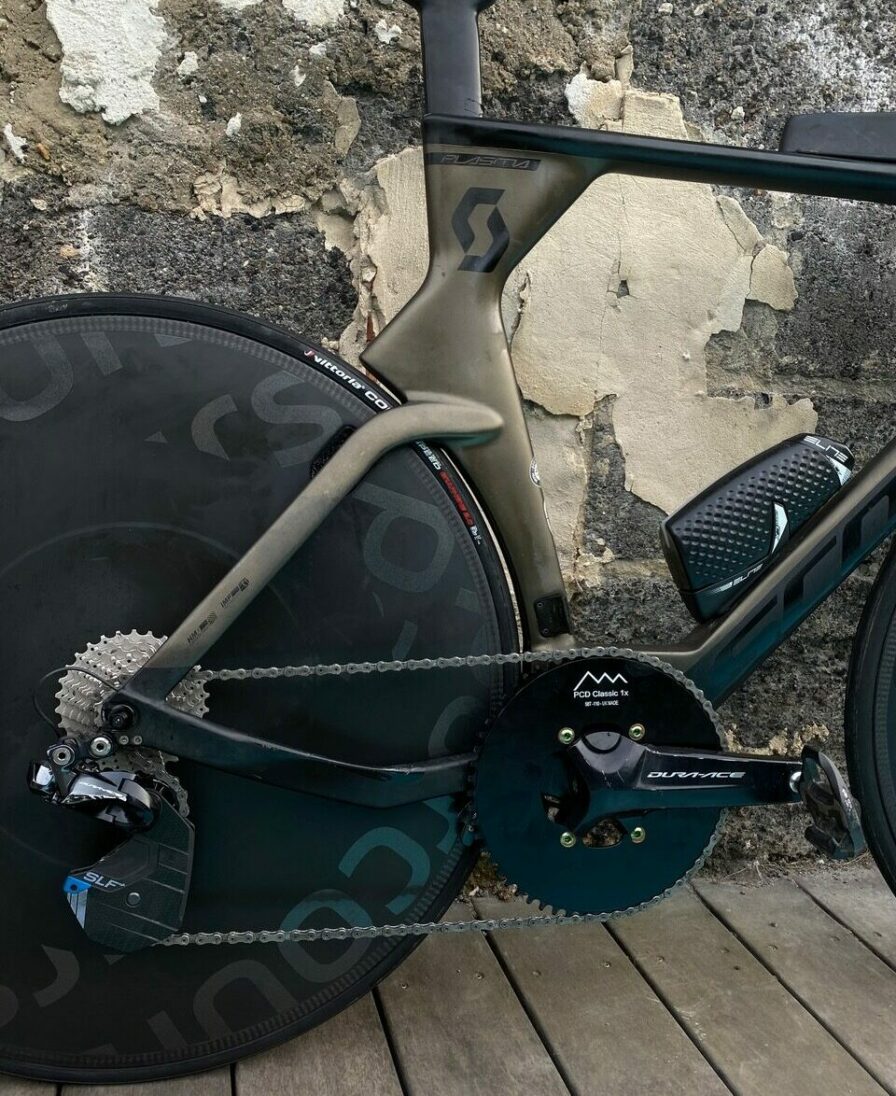 DIY approach
Continuing the DIY theme, Smith has to date used his own intuition when it comes to finding his optimal position on the bike, but that may be about to change:
"Much like the theme of the rest of this, my bike fit has been done by myself; I play around a lot with it and try to get the interject between aero and comfort perfectly. That said I would have saved a lot of effort, time and frustration by getting a bike fit. That's also my next upgrade."
The above suggests an approach that is relatable for many – cost limitations having a large impact on what bike you have and your position on the bike. However, Kyle is fortunate to have some impressive backers (such as Dean Jackson of HUUB) that have helped him customise his ride:
"The aero bars are Wattshop Anemoi aero extensions. Dean, the CEO of HUUB was kind enough to purchase these for me to help in my endeavours of riding faster and faster. They have been a great addition to my bike as they are super adjustable to find the perfect fit."
Components
Kyle's SCOTT Plasma 5 is equipped with a Shimano Dura Ace Di2 groupset, an SLF Motion aero jockey wheel system (interestingly, Kyle confirmed this selection is for aero gains and that it allows him to fit a bigger cassette – see below), and a dinner plate-sized 58t Pyramid Cycle Design front chainring.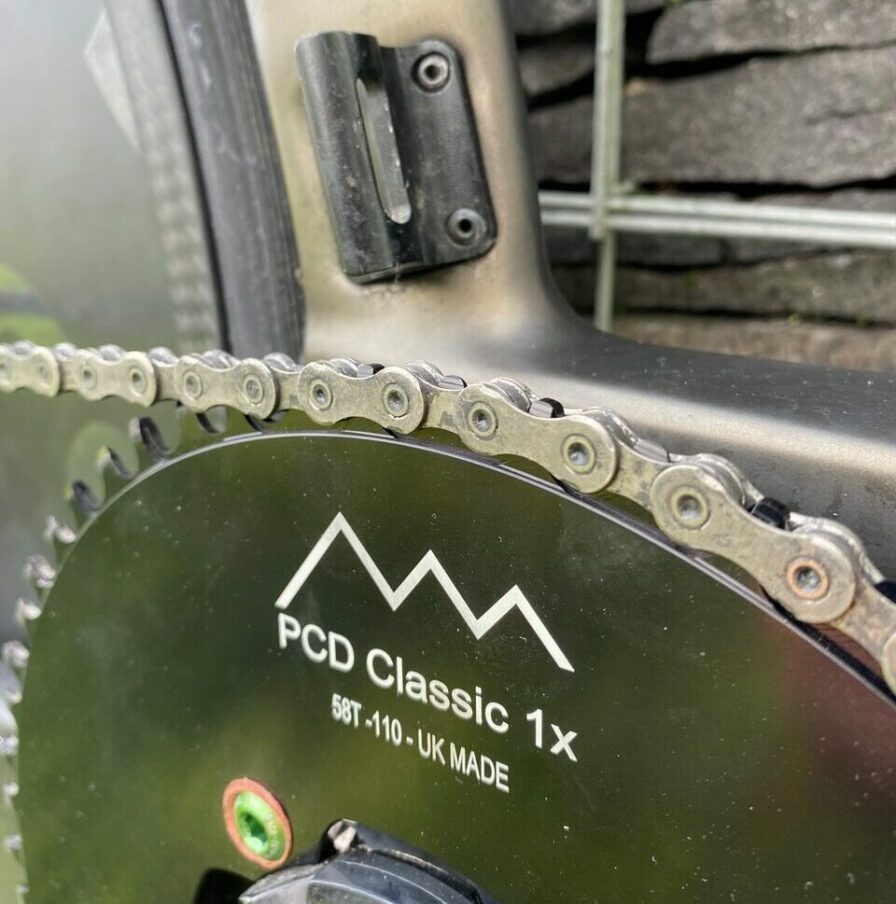 Providing more context to his gearing choices, Kyle elaborated:
"I'm running a 58t Pyramid Cycle Design front chainring, which can be run 1x, clean and tidy, also 'big gear no fear'. On the rear I have a 11-28t, I will put on a 11-30t for a hillier course. Hence the oversized jockey wheels."
His cranks are 170mm and he uses an SRM power meter. Why? It sounds like it's best to ask his pro-cyclist girlfriend:
"I run 170mm cranks… My girlfriend runs 170mm and … she gave me her SRM power meter after changing her own system and [I] have been running that…for racing I'll use a Shimano Dura-Ace crankset so I can run it 1x and my chainring is for Shimano, also my girlfriend's."
When describing his brake setup, it seems that Kyle acknowledges both the pros and cons of rim-brakes:
"This model SCOTT Plasma runs a rim brake system, which is super clean and aero. But a few squeaky bum moments for sure with the lesser braking power."
New wheels!
As he recently announced, Kyle is now supported by Parcours (similar to a few of the other riders we have covered in our Pro Bike Feature), meaning his girlfriend can have her wheels back. It is a relatively new partnership, but it is clear Smith is impressed with his new hoops:
"I have been borrowing wheels to race on since day one. I sent out messages and annoyed all my friends at the start, then I borrowed, surprise, surprise my girlfriend's wheels for the whole of last season."
"But now, now I have my own. Parcours have been kind enough to supply me with wheels for the rest of the season and my first impressions: I've been blown away. They feel and look amazing. The Chrono wheelset with 77mm front wheel coupled with the disc is a super wide and tubeless setup that feels amazing, clean and fast. Proven."
Tubeless ready
Whereas some people are not convinced that the move to tubeless tyres is right for them, Kyle is a clearly a big fan. His tyres of choice are Victoria Corsa Speed Tubeless. He went into detail as to why:
"I've raced them in all conditions, from ITU to Ironman and they are fast across the board. I prefer tubeless over anything else because they are easy to use. If you flat there is a high percentage it will seal itself. I use Vittoria Sealant which can seal a bigger than nail size hole to make it home safe, which is a massive peace of mind and one less thing I have to worry about pre race. [Even] if you do flat it doesn't take three days to glue a new tyre onto the rim. Win Win Win."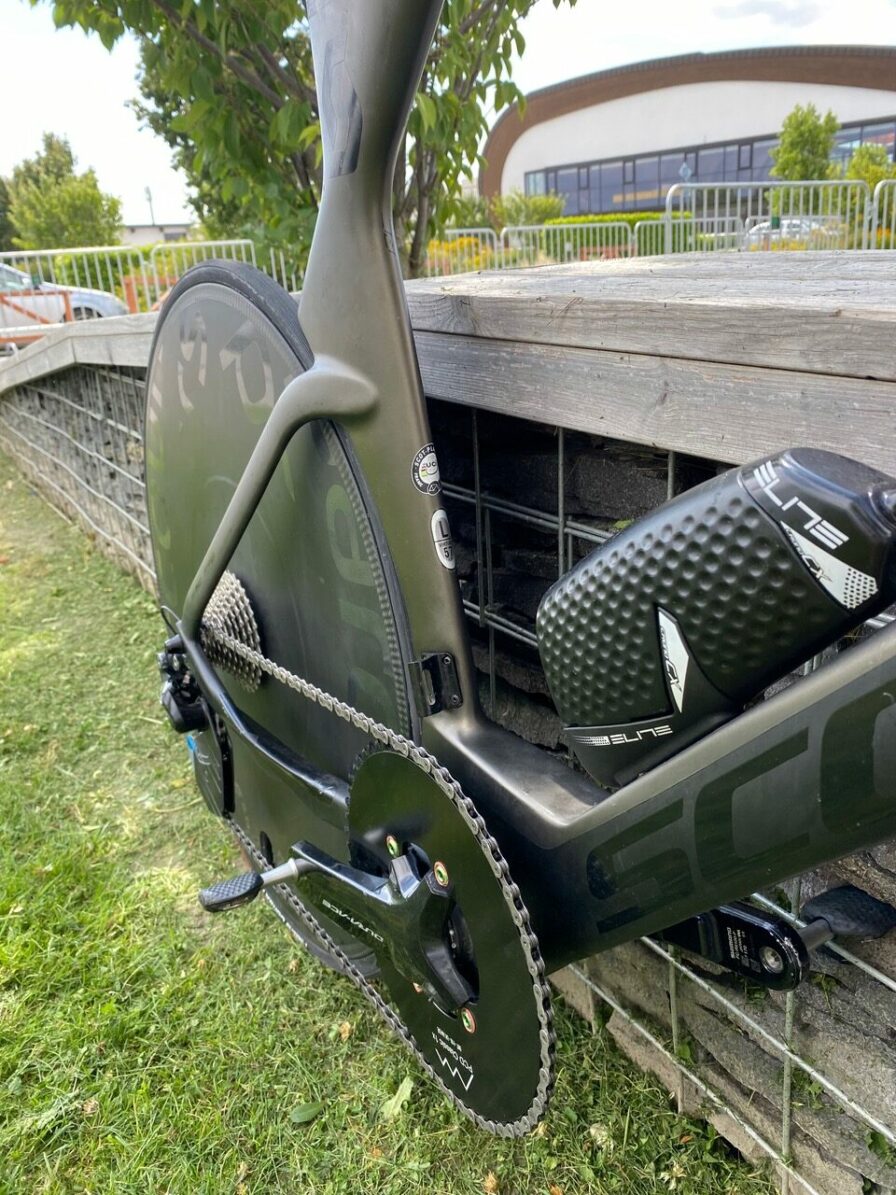 Indoor training
Based on what Kyle has said to date, namely his limited bike options, you might not be surprised that when training indoors he uses his race bike. However, he confirmed that is not the only reason for doing so:
"I use my race bike when training indoors. A. because I don't have another; but also B. because I think it's important to be used to riding in the position you'll race in. It's as important as training hard, I feel."
He also mentioned that he likes to save his fastest kit for race day, so for training rides he swaps out his carbon Parcours wheels for some alloy rims. He explained:
"I use alloy rims with training tyres because of robustness and it's also slow. So when I come to race I feel so much better and faster. I like that step up in speed. I also run 2x chainrings to enjoy life when training."
Nutrition and hydration on the bike is crucial over longer distances, along with the additional consideration of aerodynamic impact of stowing your nutrition. Kyle confirmed his Scott Plasma 5 is well equipped to aid his fuelling
"The Scott Plasma 5 has a bottle on the front which carries around 800ml of fluid. Plus I run a bottle on the frame and behind the saddle. Then gels in the bento box on the top tube. All nice and hidden away."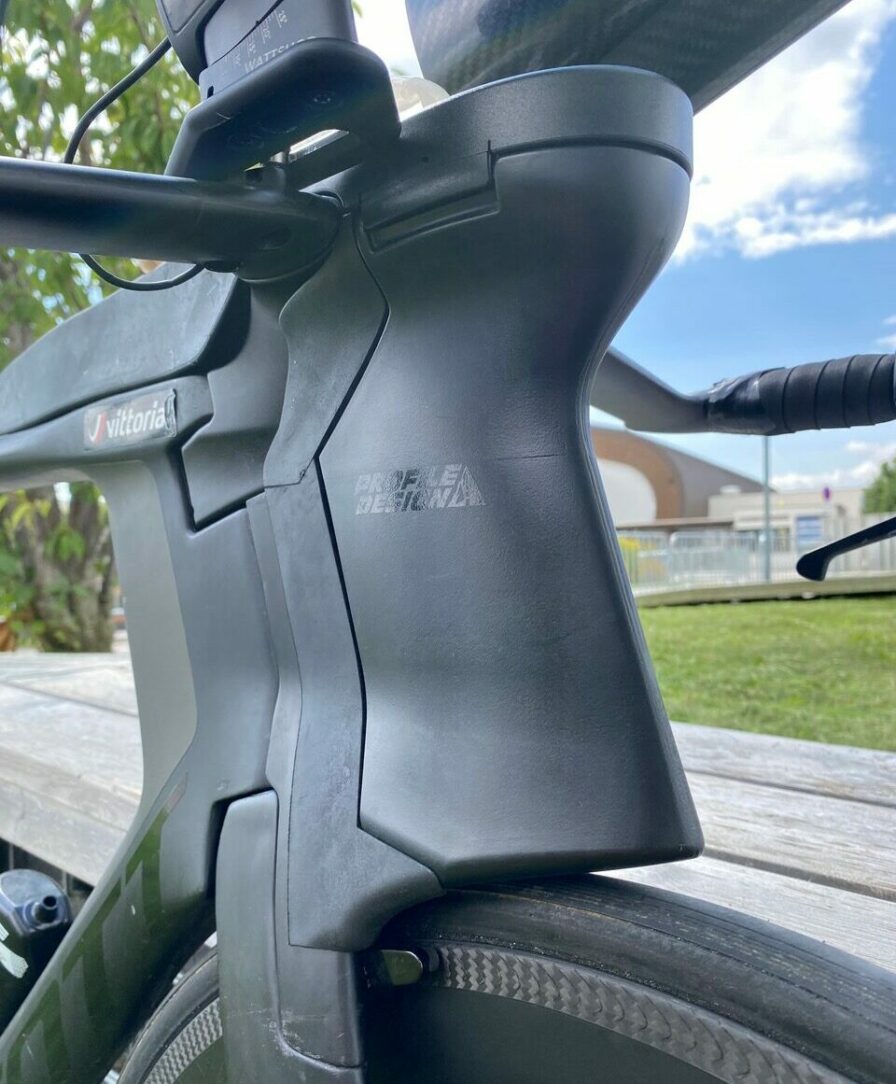 Keep your eye out for Kyle and his customised SCOTT Plasma 5 with Parcours wheels when he goes head-to-head with Gustav Iden and Rudy Von Berg in Match 8 at The Collins Cup.
Good luck Kyle!