Elsinore in Denmark once again hosted the IRONMAN 70.3 European Championship, which saw some great racing and the strength in depth of British middle and long-distance triathlon on display.
While Lucy Charles-Barclay produced a masterclass across all three disciplines for a big win over Holly Lawrence, George Goodwin battled back from almost three minutes down at T2 to take an impressive win in an exceptionally close men's race.
Gun-to-tape for Lucy Charles-Barclay
All indications pre-race, as reflected in my event preview, were that the Pro women's race was set to be a head-to-head between two British stars – Lucy Charles-Barclay and Holly Lawrence. There was little doubt how that was going to start either, with both being fine swimmers… but Lucy being, almost certainly, the very best in women's triathlon.
The clock struck 22:43 when Charles-Barclay completed her opening 1.9km in Elsinore harbour, providing a 55-second margin over Lawrence as they headed into T1. Holly immediately gained 13 seconds back in T1, but they were both well clear of home favourite Camilla Pedersen (DEN), as the single loop bike ride through the Danish countryside got under way.
Charles-Barclay and Lawrence were matched almost second-for second over the opening third of the bike ride, but as they moved into the second hour on the bike, it was Lucy who was gradually increasing her lead. She added a race-best bike split of 2:14:12 to her best swim time, with Holly clocking 2:16:26 to start the run three minutes in arrears.
Once again both were significantly quicker than the rest of the field, with Carolin Leihrieder (GER) and Pedersen starting the half marathon together, more than nine-and-a-half minutes behind the pace-setting Charles-Barclay. Making her return to racing after the birth of her first child, Great Britain's Susie Cheetham was 13 minutes down in seventh.
The run followed a similar story to the bike. Charles-Barclay and Lawrence were matched almost second-for-second over the first half of the course (and also quicker than everyone else), but over the second half Lucy gradually started to further extend her lead, and with just a couple of miles remaining, she was well clear – more than four minutes – and on course for a perfect race with the fastest splits in all three disciplines.
There would be no last-minute drama, with Lucy rounding out a brilliant performance with a 1:18:05 run to stop the clock just three seconds short of four hours. Lawrence ran strongly too (1:20:20) but the day belonged to the three-time Kona silver medallist who continues to impress whatever the format or distance.
The aforementioned Pedersen edged out fellow Dane Maja Stage-Nielsen to complete the podium, with Susie Cheetham's racing return finishing with a solid 1:22:29 run and fifth place, as she turns her attention towards IRONMAN Finland.
Lucy said post-race: "It feels nice to win something and not be second. I just went hard from the start. Obviously, the swim is my strength, so I knew I had to get as much of a gap there as possible. On the bike I was just riding hard and just trying to push hard the whole way and chase the men in front of me, and bike as if there was not even a run going to happen. On the run I was trying to build up each lap and I was feeling pretty strong in the end."
George Goodwin bikes and runs to success
New Zealand's Kyle Smith – third this year on his IRONMAN debut in New Zealand – was first out of the swim for the men, but unlike the women's race, there was no sole leader with a group of 11 athletes within 12 seconds. This pack included pre-race favourites Rodolphe Von Berg and Florian Angert, with Denmark's Magnus Ditlev (recently profiled in our Pro Bike series), just 10 seconds further back from that group and surely close enough to quickly join then.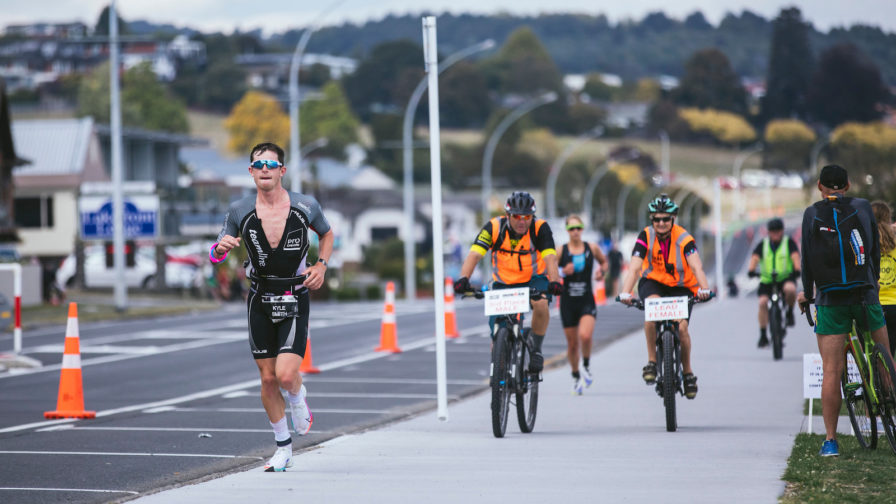 One man who would have a lot of work to do was Great Britain's George Goodwin, who was so impressive last year at the PTO 2020 Championship Challenge Daytona. He would have 2:15 to make up if he was to get back into contention alongside the serious talent ahead of him.
Smith is young and fearless – with plenty of wins already on his C.V. too – and despite the high-profile names around him, was riding as positively as he did in the swim. The result was a solo ride of 2:01:14, which allowed him to return to T2 with a lead of almost two minutes over a group of nine, which featured Von Berg, Michael Raelert (GER), Jan Stratmann (GER), Jesper Svensson (SWE) Angert, Ditlev, Mattia Ceccarelli (ITA), Filipe Azevedo (POR) and Miki Taagholt (DEN).
While he was still out of the top 10, the race position was looking good for Goodwin. A 2:01:35 bike split meant he was still almost three minutes behind the leader, but importantly, had made significant ground upon everyone else in front of him. With the run leg to come, he was very much in contention.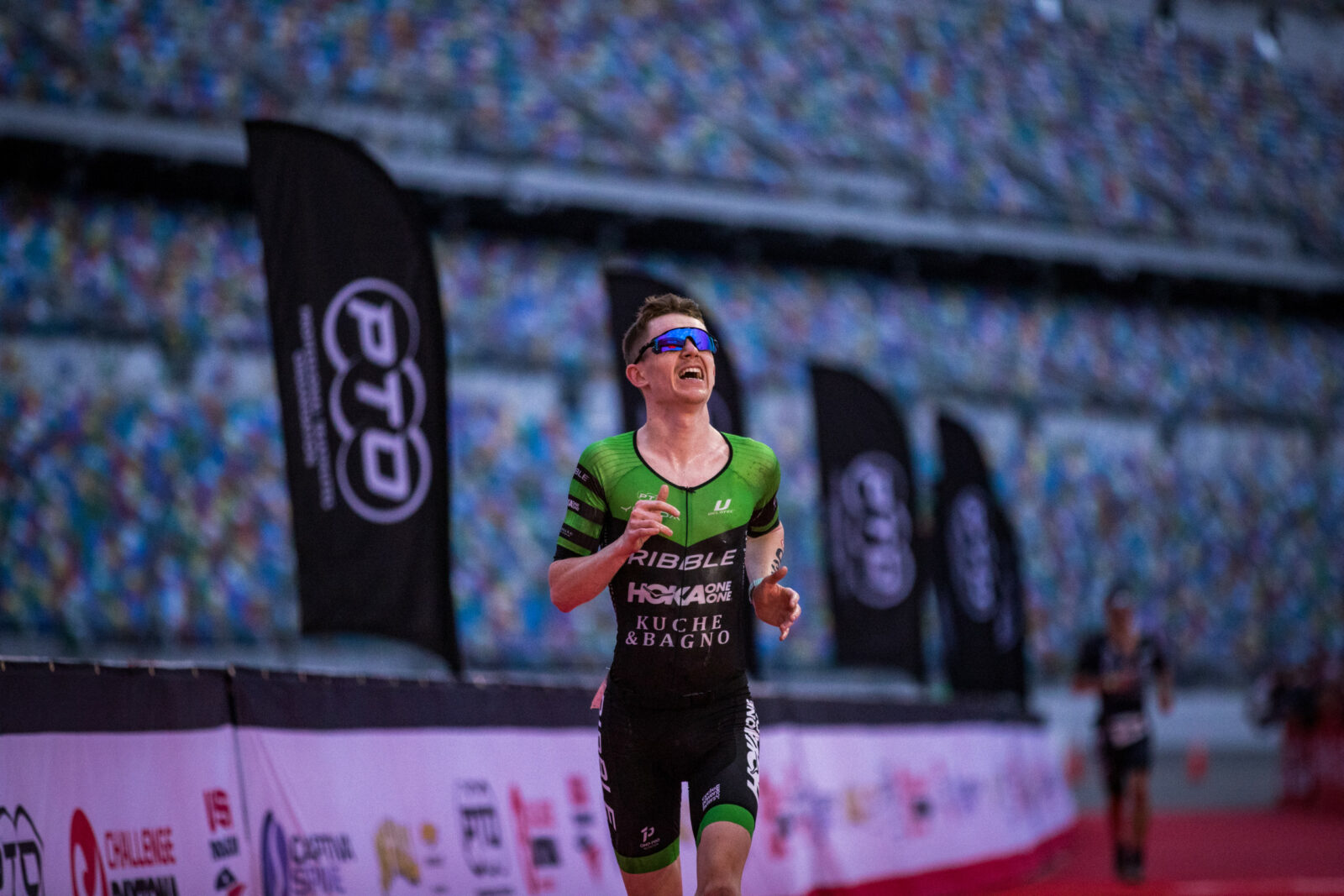 The opening half of the run saw the charge of Kiwi Smith continue at the front, but the fastest man in the course was Goodwin. He made short work of the group in front of him, and heading into the final 10km he had moved through to second place, with just a minute's deficit to Smith. The race was on.
Goodwin's progress continued, and he made the pass to take the lead at around the 17km mark, but the race was not done yet, as two-time defending champion Von Berg was still within 30 seconds and is well renowned for his abilities to fight back in the final stages of the run. Class athletes, close racing, which way would this go?
The battle continued to the finish line, but it was Goodwin who maintained his composure to take a stunning victory by just 23 seconds over Von Berg (USA), with Stratmann completing the podium just 12 seconds further back. In the process, Goodwin will have boosted his prospects of qualification for the incredibly strong Team Europe at The Collins Cup.
This win will rank up there with his third place at the PTO Championship. He may be quiet off course, but George Goodwin is producing the goods when the racing is on and you have to think that his best is yet to come.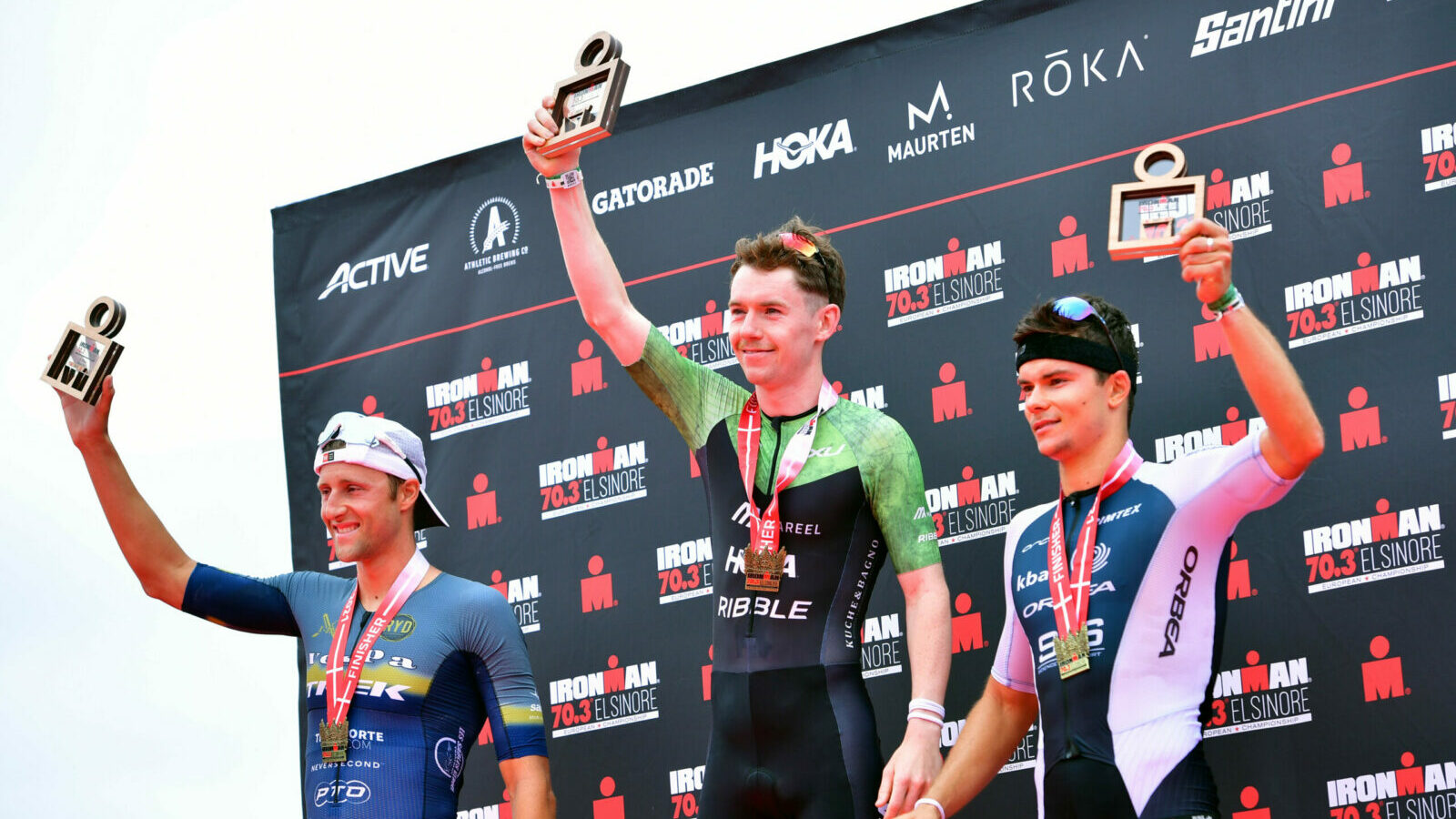 "It sounds good! [being called a champion] My swim was slow, the bike and run were definitely better. My goal was to pick everyone up on the run. I didn't know if I was going to run that fast but I knew if I ran as well as I could I would move up."
IRONMAN 70.3 European Championship 2021 Results
Sunday 27th June 2021, Elsinore, Denmark – 1.9km / 90km / 21.1km
PRO MEN
George Goodwin (GBR) – 3:38:58
Rodolphe Van Berg (USA) – 3:39:21
Jan Stratmann (GER) – 3:39:33
Filipe Azevedo (POR) – 3:39:46
Kyle Smith (NZL) – 3:40:02
Miki Taagholt (DEN) – 3:41:06
Magnus Ditlev (DEN) – 3:41:45
Jesper Svensson (SWE) – 3:42:26
Florian Angert (GER) – 3:43:48
Mattia Ceccarelli (ITA) – 3:45:53
PRO WOMEN
Lucy Charles-Barclay (GBR) – 3:59:57
Holly Lawrence (GBR) – 4:05:18
Camilla Pedersen (DEN) – 4:15:51
Maja Stage-Nielsen (DEN) – 4:16:18
Susie Cheetham (GBR) – 4:17:24
Carolin Lehrieder (GER) – 4:17:48
Anna-Lena Best-Pohl (GER) – 4:18:08
Heini Hartikainen (FIN) – 4:20:40
Frederikke Idon-Andersen (DEN) – 4:33:07
Dina Monsted (DEN) – 4:34:24