Lucy Hall has been one of those seemingly ever-present figures on the British triathlon scene for the past 15 years.
A European Champion, Mixed Relay World Champion, World Cup winner and London 2012 Olympian during a stellar career in short-course racing, perhaps the biggest surprise is that Lucy is still only 29 years old.
Three years since her last international draft-legal race, Lucy has made the transition in recent years to middle-distance racing, having made her debut at IRONMAN 70.3 Finland in 2019. She has made huge strides in this new format since then, which have all come together in a great 2021 season which has seen her on the podium all but one of her races, including wins in Gdynia, Samorin and Budva.
'Success is not straight line' as the saying goes however, and in an extended interview with TRI247, Lucy talks not only about her on-course progress, but doubting whether she could even continue in the sport.
2021: Enjoying the process
There's a lot that goes on behind the scenes that we never see from the outside, but we started by talking about the big picture of her 2021 racing year.
"It's been one of my most consistent seasons in terms of my results, but also reflecting where I am at with my training. I'm progressing well in training, happy with the way sessions have gone and that has been reflected in races, which is really cool.
"The last 18 months has been weird for everyone – and not having a direction either, with pools shutting in the UK, your routine is totally disrupted and I went through a stage where I was questioning if i wanted to continue with triathlon, if I wanted to go into 70.3 racing and long-distance racing.
"It all kind of came to a head and then over that lockdown period I was able to just knuckle down and enjoy training and enjoying the process. That really helped, and I'm just glad that it is being reflected in races."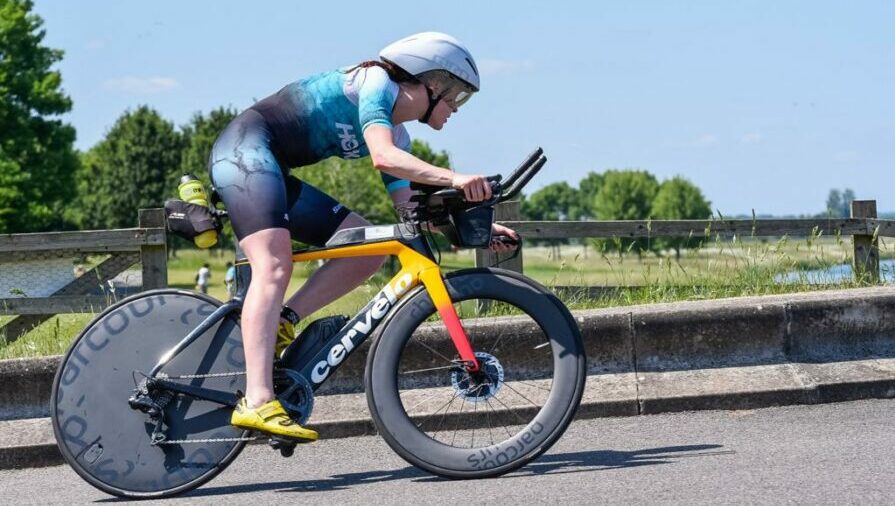 Why am I doing this?
Speaking to Lucy earlier this year after her victory at The Championship, she had indicated then that she had considered quitting triathlon all together, so I wanted to find out a little more about that.
"It all happened within that lockdown period. I'd just started to get into middle-distance racing and I was just unsure of whether I enjoyed it. There were kind of a few things in my head – I was 29 years old, I was aware that I was coming out of my 20's – what am I doing? Am I enjoying it? I guess there were a few doubts about why I was doing it, and I got a bit lost.
"I've actually just been on a run with with one of my training partners and they are going through those same questions now – it's a common place to be in, everyone goes through that in their life, and it might be more than once, but it is getting though that and coming out the other side with a clearer idea of where you want to go and what you want to do.
"Lockdown allowed me to re-evaluate everything, mix things up a bit, so my partner [Ed. fellow athlete, Mark Buckingham 'Bucko'] took control of my program and started to look at how my session structures looked like. There's other people involved as well – we have a swim coach, Coz, she's had a massive impact on how I am as an athlete and continues to be. Her sessions are awesome and so much fun and so helped get me through that tough period.
"We [Ed. with Bucko] did a lot of training together through lockdown, as you couldn't really train with anyone else outside of your household. That really helped, it chilled me out a lot more and I didn't overthink things. So, if it was a 50-minute jog, we just did a jog and had a chat, not worrying about the details of am I doing it right, too fast / too slow.
"Then, when we were able to go back to training with others I really enjoyed being back in the group and chatting on bike rides. I just learned to enjoy it all again."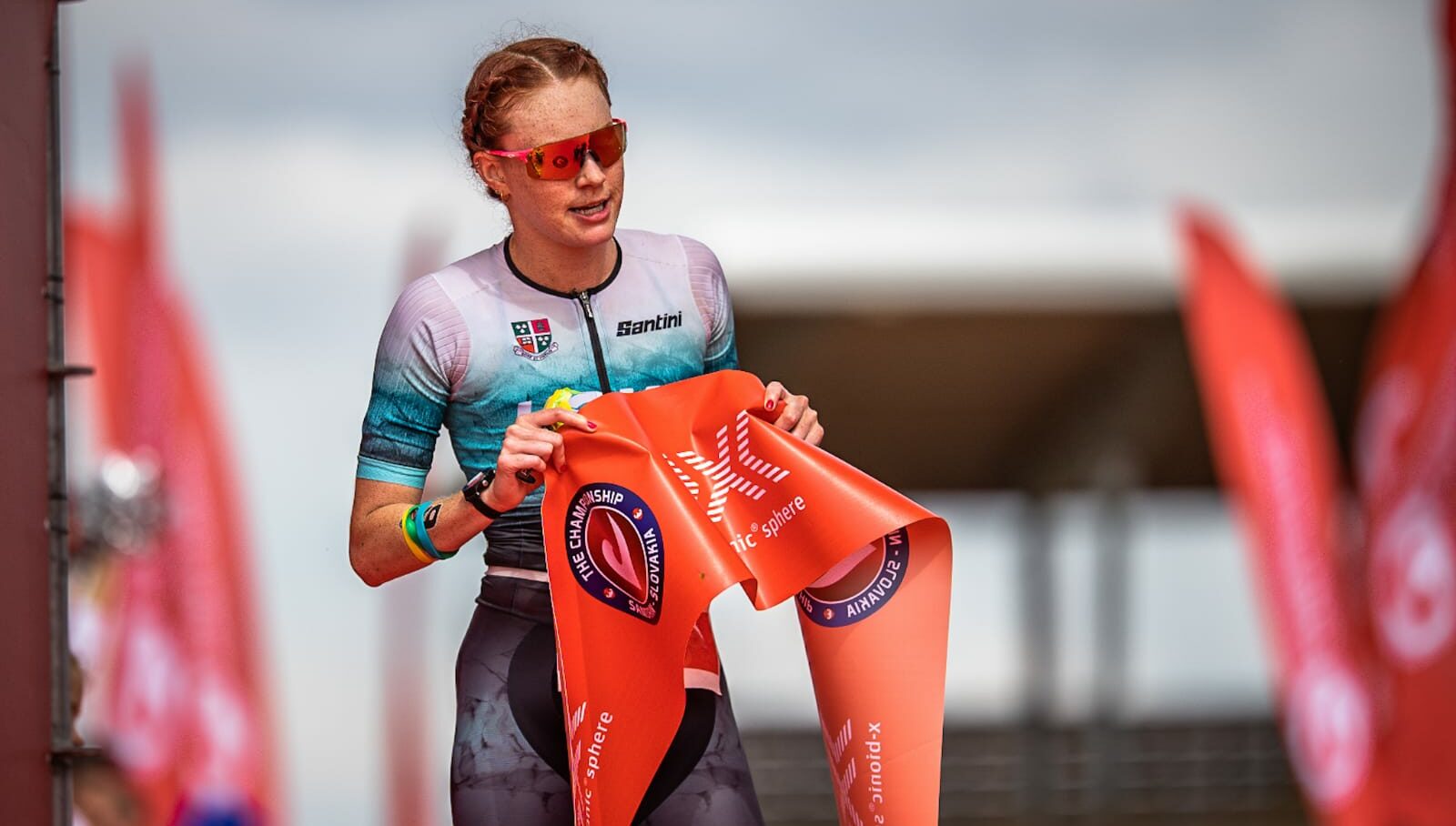 Squad games – a 'chilled' place
Success in Elite triathlon rarely comes from an unhappy athlete, the training is just too hard. With consistency and progression evident in Hall's racing this season, she has managed to find the fun in the hard work she does in training, and that is coming through in her results. Being around like-minded athletes is clearly a part of her success too.
"I really enjoy it. The environment is a lot more chilled to be honest. I really enjoy going to these races, and having age-group athletes there and having a rapport with those guys is great – they are chilled too and down for a chat.
"I like that I can travel to races with Bucko, and now that Jon [Ed. Jonathan Brownlee) is going to be racing more next year too, that will be really cool. There's quite a lot of 70.3 / middle-distance athletes in the squad that I'm in, and it's nice that each week there's usually one of us racing.
"There's Gordon and Beth doing Abu Dhabi this week, then a week after Ruth is doing an Ironman – so each week someone on the squad is racing and they are coming away with a really good result, and that's really good for the squad and everybody individually as well. It gives you that boost that everything we are doing is successful."
Overcoming adversity
With so many good performances this season, both victories and podiums, I was interested to know which has given Lucy the most satisfaction. It wasn't a race that went perfectly either, but one that showed maturity from an athlete who is keen to learn, despite all of years in the sport.
"Well, I think to date it would be Challenge Budva, which was the second race I did in that four consecutive weeks of racing.I'm most proud of that this year.
"I swam well – probably one of my strongest this year – and then I rode relatively strong, to power, and used the course to my advantage. I dropped my chain within the first 30k, and I think if that would have happened to me a couple of years ago, I would have panicked and let it get into my head.
"This time though I kept my cool, got the chain back on and got back on my bike. I lost about two minutes and instead of panicking, rode a little stronger than I was before but then got back into pace and held the gap to Emma [Bilham] who was in second at the time, and then ran off really strong for me. I held a pace that I'd been doing in training off the bike. I took my nutrition on when I needed it and didn't panic.
"I only had about a one minute lead off the bike, and usually I'm used to a bit more, but I was pleasantly surprised that I managed to run strongly off of a hard bike. I don't think I'm typically a very confident person… but it was an, 'ok, I can do it' realisation, and that maybe I can do it again in the not too distant future."
Racing a legend
A week after Challenge Budva, Lucy headed to Challenge Mallorca and would face a strong field which included London 2012 Olympic gold medallist Nicola Spirig. The Superfrau has been crushing everyone over the distance in 2021, but the Brit certainly made her work hard for this one, only making the catch late in the run. That was a performance that certainly impressed me. What was Lucy's perspective?
"I was shocked that I managed to back up after Budva. After not being able to go to the 70.3 World Champs in Utah because I was sick, I had to change my plan for the remainder of the season. So, my revised plan was to race three back-to-back Challenge races, and trying to race them with actual tactics in mind rather than just go off the front and absolutely blow.
"So it's quite refreshing to finish the year with something different. I knew Mallorca was going to be difficult but, like you said, that start line was stacked. Not only Nicola and Imogen, but Jodie [Stimpson] and India [Lee]. There were a lot of big names there.
"It was a challenging course, but I was really looking forward to it. I think being based in Leeds, that sort of terrain you are relatively used to. Budva wasn't an easy course either, there was a lot of climbing, and I ran pretty close to my best there off of a hard bike, so I was a bit dubious as to whether I'd be able to back it up in Mallorca.
"I was really looking forward to Mallorca – it was a technical course too. When the gun went, I sort of face-planted into the sea… I'm really not good at running into the sea! I was trying to get time gaps and it was only at the first roundabout at around 4km in that they said you have about a minute. Only a minute on Nicola…! I kind of knew that the chasers would be together as well, and so that was pretty tough mentally, knowing they were all chasing you!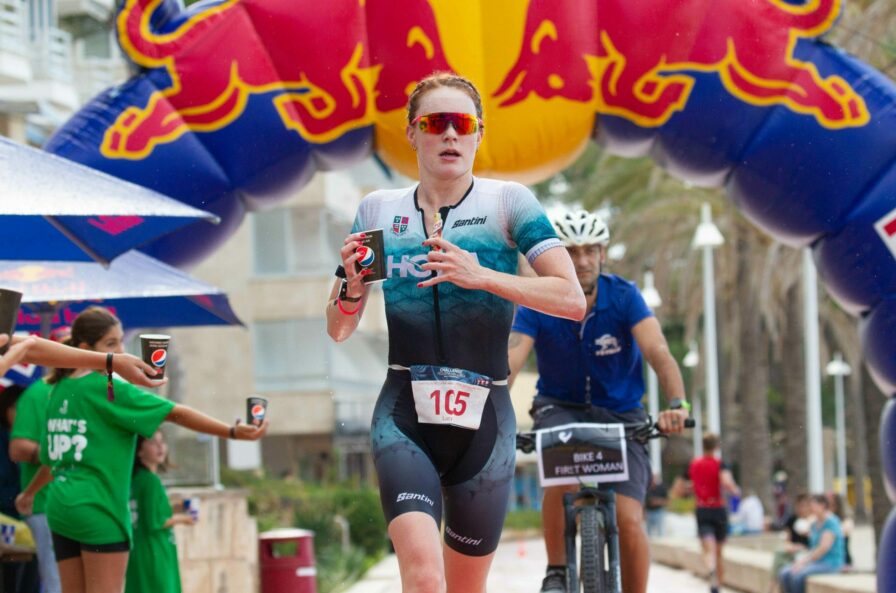 "What I've learned in these last few weeks is that recovery is key. And sleep as well, just getting as much sleep and downtime as possible. Not stressing about getting the miles in or doing 5k swim sets and that kind of thing in between races."
Never stop learning
"What I've learned is that in 70.3 racing, you constantly learn. Every race has been something. Even though my classic way of racing has been try and swim off the front, ride solo and then hang on for dear life – and I'm trying to do that every race – I'm also trying to bank things that I've learned in previous races and add them. So, like Budva, if that happens again, then I've been in that situation before, it doesn't mean the end of my race and you can bring it back.
"That's one of the great things about 70.3 – you are racing for so long that you can turn it around. There might be dips, you might not feel great in the swim, but then you get out and feel amazing on the bike. It's different every time.
"I'm genuinely really enjoying the experiences that I'm having. Especially this last four weeks of back-to-back racing – I didn't think I could do that."
Improving standards
The standard, and also the depth of competition in middle-distance triathlon seems to be improving every year. Faster times, new names appearing and different winners.
"That's what's so cool about triathlon. It allows people who might not necessarily be well established to just race it, give it a go and they might beat the well-established names across the line. And then we go and race again in two weeks time… and it's totally different.
"Courses have a huge impact on results as well – and rules too. We had different rules in different races. Each race seemed to have a different drafting rules, ranging from 20 metres to seven metres and then it changed to 12 metres. Other things like a hilly run – something like Mallorca, it says it is a 'flat' run but it really wasn't. The fourth lap was so tough – up / down / up / down – the only part that was flat was the promenade!
"It's really interesting and exciting and I think the PTO Rankings have thrown excitement into it too. We've got the ITU guys coming into middle / long distance, and now middle distance going into short course. I think it's good for the sport to get triathlon noticed."
One race too many!
Lucy's run of podium success in 2021 came to an end at IRONMAN 70.3 Cascais, Portugal. The final race of four back-to-back weekends, did the wheels finally fall off?!
"Oh Yes! We were always going out there because Jon was racing and to support him, and Bucko was like, 'how are your legs feeling… do you want to give it a go?'.
"I dived in the water – well, more face-planted – and I knew it was going to be tough from the start. I felt flat on the bike… and then I absolutely blew on the run! I actually started walking at 11k I think it was, and thought 'I don't think I can even finish'.
"I was walking, and then Bucko had a chat with me and said, 'right, you either finish, get through this and learn something or you stop now and just leave it there.' I had a gel and it was a death march… but, if I want to do longer distances in the future, I kind of have to get used to this feeling of 'I'm feeling good, I'm feeling good, now I'm feeling crap… and come out the other side', which I did do, and it was kind of a confidence thing that you can push through and get back on it again.
"I just glad that I came away from the four weeks, I didn't get injured, I didn't get sick, I finished in one piece and proved to myself that I can. It meant a lot and did a lot for my confidence."